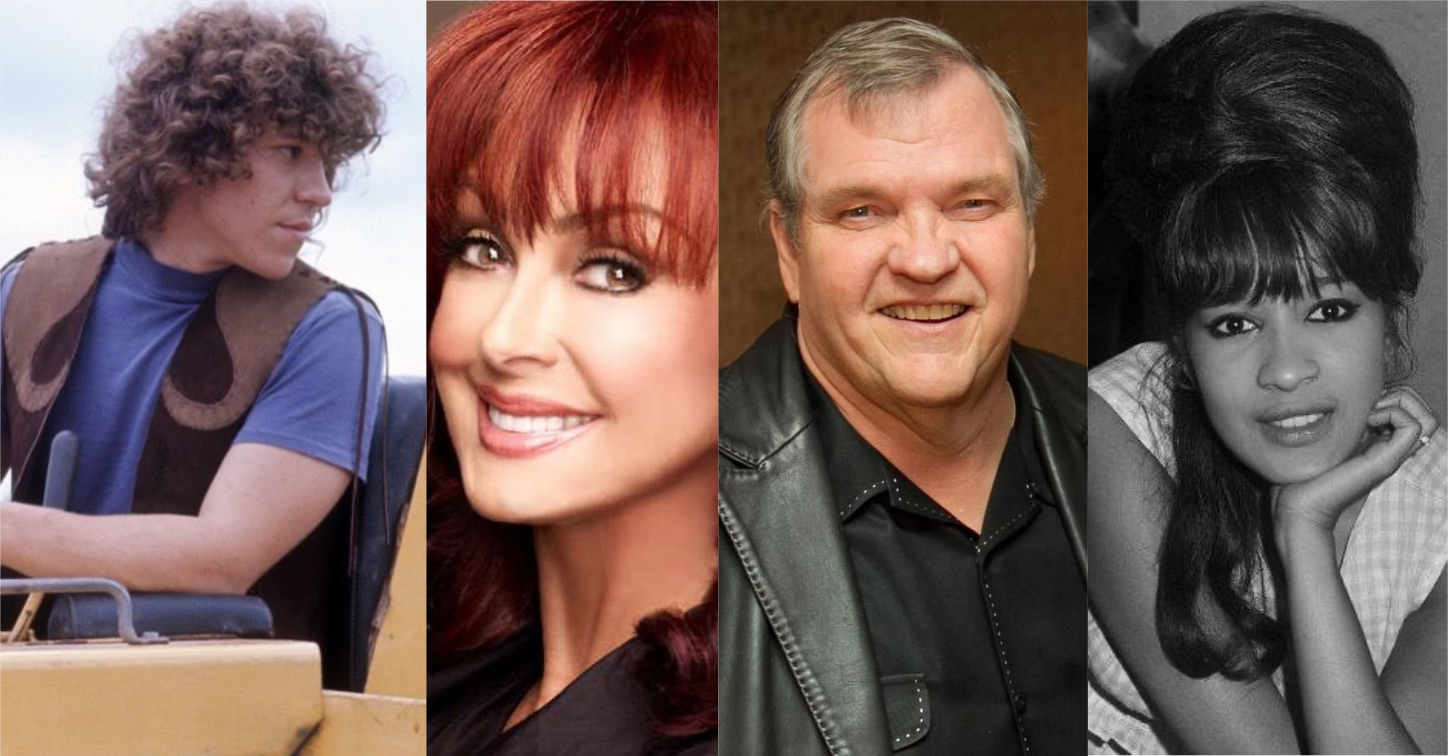 Although the year 2022 is still young, many luminaries within the wide sphere of the music community have already left us.
Below are just some of the artists and music industry influencers we've lost to date this year. They are arranged alphabetically, the person's name followed by the death date and a brief description of who they were.
If an artist's name is highlighted in blue, you can click on it to be taken to Best Classic Bands' full obituary.
Below the list of musical artists, we've also noted several other prominent figures whose lives were lost in 2022.
We will miss all of these great talents. RIP.
Cynthia Albritton—4/21—Groupie better known as Cynthia Plaster Caster, she created plaster molds of rock stars' penises
Ernie Andrews—2/21—Jazz and R&B singer
Barry Bailey—3/13—Atlanta Rhythm Section guitarist
Chris Bailey—4/9—Lead singer of Australian band the Saints
Carlos Barbosa-Lima—2/23—Brazilian classical and jazz guitarist
Marilyn Bergman—1/8—Award-winning lyricist ("The Windmills of Your Mind," "The Way We Were")
Gary Brooker—2/19—Singer, pianist and primary composer for Procol Harum
Jeff Carson—3/36—Country singer
Kerry Chater—2/4—Founding member and bass guitarist for Gary Puckett and the Union Gap
Morty Craft—1/27—Label owner, arranger, producer and songwriter
Don Craine—2/24—Guitarist/vocalist for long-running British band the Downliners Sect
Jerry Crutchfield—1/11—Country/pop songwriter, producer and musician
Miguel Vicens Danus—2/12—Bassist of Spanish pop group Los Bravos ("Black is Black")
Betty Davis—2/9—R&B and funk singer, and second wife of Miles Davis
John Dean—3/8—Singer with the Reflections, of "(Just Like) Romeo & Juliet" fame
Ralph Emery—1/15—Country music disc jockey and TV host
Dallas Frazier—1/13—Songwriter ("Alley Oop," "Elvira")
Ricky Gardiner—5/14—Guitarist who played with David Bowie and others
Donny Gerrard—2/?—Lead singer of Skylark ("Wildflower")
Mickey Gilley—5/7—Country music legend who launched the "Urban Cowboy" movement
Howard Grimes—2/12—Drummer for Hi Records artists (Al Green, Ann Peebles)
Dick Halligan—1/18—Keyboardist, trombonist and flutist for original lineup of Blood, Sweat and Tears
Rosa Lee Hawkins—1/11—Member of the Dixie Cups vocal group ("Chapel of Love")
Taylor Hawkins—3/25—Foo Fighters' drummer
Judy Henske—4/27—Folk singer best known for her rendition of the song "High Flying Bird"
Susan Jacks—4/25—Singer with the Poppy Family ("Which Way You Goin' Billy?")
Joni James—2/20—Popular vocalist of the 1950s, whose hits included "Why Don't You Believe Me?" and a cover of Hank Williams' "Your Cheatin' Heart"
Jimmy Johnson—1/31—Blues guitarist and singer
Syl Johnson—2/6—Blues and soul singer
Naomi Judd—4/30—Country music superstar, with the duo The Judds
David "Guitar Shorty" Kearney—4/20—Blues musician
Mark Lanegan—2/22—Lead singer for Screaming Trees and later a member of Queens of the Stone Age
Michael Lang—1/8—Co-creator and producer of the Woodstock music festival; manager of Joe Cocker and others
Sam Lay—1/29—Drummer for the Paul Butterfield Blues Band, Muddy Waters, etc.
Willie Leacox—2/1—Drummer with America
Emmaretta Marks—1/4—Sang with Jimi Hendrix, Rolling Stones and others; appeared in Hair; inspiration for Deep Purple song "Emmaretta."
Ian McDonald—2/9—Founding member of King Crimson and Foreigner
C.W. McCall—4/1—Singer and co-writer of country hit "Convoy"
Charles McCormick—4/12—Member of R&B group Bloodstone
Sister Janet Mead—1/26—The Catholic nun earned an unlikely pop hit in 1974 with a rock version of "The Lord's Prayer"
Meat Loaf—1/20—Singer/actor best known for his multi-platinum 1977 album Bat Out of Hell
Eric Mercury—3/14—Canadian R&B singer
Joe Messina—4/4—Guitarist with Motown house band the Funk Brothers
Ron Miles—3/9—Jazz cornetist
Charnett Moffett—4/11—Jazz bassist
Barbara Morrison—3/16—Jazz and blues vocalist
James Mtume—1/10—Jazz and R&B musician and songwriter
Rachel Nagy—1/?—Singer for the Detroit Cobras
Bobbie Nelson—3/10—Longtime pianist with Willie Nelson's band, and his sister
Sandy Nelson—2/14—Hitmaking drummer ("Teen Beat")
Bob Neuwirth—5/18—Dylan collaborator, co-composer of Janis Joplin's "Mercedes Benz"
Ric Parnell—5/1—Drummer for Atomic Rooster and (one of several) in the film This is Spinal Tap.
Fred Parris—1/13—Lead singer with the Five Satins ("In the Still of the Night")
Philip Paul—1/30—Drummer for Freddie King, Hank Ballard and other blues/R&B artists
Richie Podolor—3/9—Producer for Three Dog Night, Steppenwolf and others
Rick Price—5/17—Bassist with the Move, Wizard and others
Howie Pyro—5/4—Bassist with punk and metal bands such as the Blessed and D Generation
Mike Rabon—2/11—Lead guitarist and singer for The Five Americans ("Western Union")
Randy Rand—4/?—Founding bassist of Autograph
Hargus "Pig" Robbins—1/30—Session keyboardist for hundreds of artists, mostly country
Marty Roberts—1/13—Half of lounge act Marty & Elayne, featured in the film Swingers
Beverly Ross—1/22—Songwriter ("Lollipop," "Candy Man") and performer
Badal Roy—1/22—Tabla player with Miles Davis and others
Art Rupe—4/15—Founder/owner of Specialty Records, the label that made stars out of Little RIchard, Sam Cooke, Lloyd Price and other early R&B stars
Bobby Rydell—4/5—Pop star and actor in the late '50s and early '60s, considered a teen idol
Klaus Schulze—4/26—German electronic musician/composer
Donald "Tabby" Shaw—3/29—Lead singer of reggae group the Mighty Diamonds
Burke Shelley—1/10—Lead vocalist and bassist with Welsh band Budgie
Paul Siebel—4/5—Singer-songwriter ("Louise")
Calvin Simon—1/6—Member of Parliament-Funkadelic; Rock and Roll Hall of Fame inductee
Fitzroy "Bunny" Simpson—4/1—Member of reggae group the Mighty Diamonds
Ronnie Spector—1/12—Lead singer of the Ronettes ("Be My Baby")
Re Styles—4/17—(Shirley Macleod) Vocalist with the Tubes
John Swenson—3/28—Music journalist
R. Dean Taylor—1/17—Singer and songwriter for Motown (the Supremes' "Love Child") and his own "Indiana Wants Me"
Nicky Tesco—2/26—Founding member of the U.K. punk group the Members
Timmy Thomas—3/11—R&B singer ("Why Can't We Live Together?")
Rosmarie Trapp—5/13—Last of the original von Trapp family, of The Sound of Music fame
Rick Turner—4/17—Luthier who built guitars used by David Crosby, Lindsey Buckingham, Jerry Garcia, Jackson Browne and others.
Sonny Turner—1/13—Singer with the Platters beginning in 1959; sang the hit "With This Ring" in 1967
Vangelis—5/17—Electronic music composer best known for the score of Chariots of Fire
David Tyson—2/17—Singer with the Manhattans
Norma Waterson—1/30—Member of the English folk group the Watersons
Bobby Weinstein—3/16—Songwriter for Little Anthony and the Imperials and others ("Goin' Out of My Head")
Roland White—4/1—Bluegrass mandolinist and singer; older brother of the Byrds' Clarence White
Don Wilson—1/22—Co-founding rhythm guitarist of best-selling instrumental group the Ventures ("Walk Don't Run")
Bernard Wright—5/19—Jazz and funk keyboardist
Jon Zazula—2/1—Founder of Megaforce Records (first label for Metallica, among others)
Related: Musicians who died in 2021
Non-Musicians

Louie Anderson—1/21—Comedian and actor
Peter Bogdanovich—1/6—Director of films such as The Last Picture Show, Mask and Paper Moon; and the Tom Petty documentary, Runnin' Down a Dream
Ron Galella—4/30—Celebrity photographer often considered the "Father of the Paparazzi"
Gilbert Gottfried—4/12—Sharp-witted, often acerbic comic
Howard Hesseman—1/29—Actor best known for his starring role as Dr. Johnny Fever in TV's WKRP in Cincinnati
Dwayne Hickman—1/9—Actor who starred in the 1960s sitcom The Many Loves of Dobie Gillis
William Hurt—3/13—Actor in Body Heat, Broadcast News, Children of a Lesser God and many other great films
Sally Kellerman—2/24—Actress best known for her role as "Hot Lips" in Robert Altman's M.A.S.H.
Yvette Mimieux—1/17—Actress (The Time Machine)
Sidney Poitier—1/6—Actor; first Black man to win Best Actor Oscar
Ivan Reitman—2/12—Film director and producer (Ghostbusters, National Lampoon's Animal House)
Peter Robbins—1/?—Original voice of Charlie Brown in '60s cartoons
Bob Saget—1/9—Stand-up comic and actor known as "America's Dad" on TV's Full House

Latest posts by Best Classic Bands Staff
(see all)