Steppenwolf's Debut Album: Heavy Metal Thunder
by Bill Kopp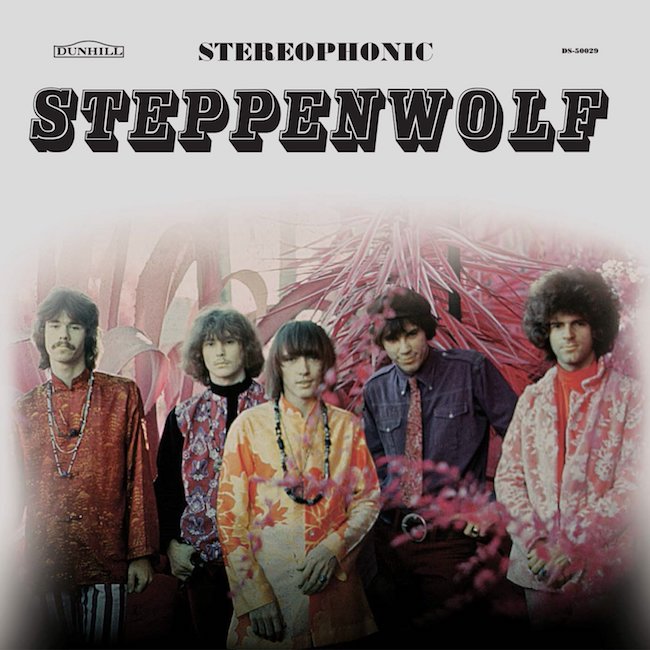 Formed in Toronto and adding two Los Angeles-based musicians, Steppenwolf came on the music scene just as hard rock was heading toward its ascendancy. Looking for all the world like a biker gang, Steppenwolf could have been created by central casting to portray a hard-edged, leather-clad group of rockers. But Steppenwolf was a real group, taking its name from a 1927 novel by Herman Hesse and led by vocalist and guitarist John Kay.
Steppenwolf had released their debut single, "A Girl I Knew" b/w "The Ostrich," in late 1967, but the 45 went largely unnoticed, making not a ripple on the singles charts. Both tunes would be included on the group's self-titled LP, recorded in the fall of '67 and released on January 29, 1968. In fact eight of the album's 11 tracks would eventually appear on singles as the band's reputation took off.
For that debut album, the band worked with Gabriel Mekler, house producer at Dunhill Records. Mekler's résumé at that point was quite thin; his only previous production credits were three singles by the Dunhill act Lamp of Childhood. But working together, Mekler and Steppenwolf crafted a debut that defined the new rock subgenre that would come to be known as heavy metal. (The term would eventually come to represent a very different style of music, but in 1968, heavy rock meant Steppenwolf, Iron Butterfly, Blue Cheer and other loud, aggressive rock acts.)
Related: Steppenwolf and Easy Rider were a perfect match
Steppenwolf opens with the first of three cover songs, a reading of the 1966 Steve Cropper-Don Covay soul tune, "Sookie Sookie." Where Covay's original featured a prominent horn section, Steppenwolf's version features distorted electric guitar. Kay and his band change the key, slow the arrangement down a bit, and mine the blues influences in the song. Goldy McJohn's gurgling Hammond organ underpins the song while the guitar and rhythm section move it forward. Mid-song the band steps up a key as Michael Monarch takes a short electric guitar solo. More a groove than a song, "Sookie Sookie" nonetheless establishes the hard rock template upon which Steppenwolf would find its fortunes.
Listen to "Sookie Sookie"
"Everybody's Next One" is cut from some very different musical cloth. Co-written by Kay and Mekler, the tune opens with some baroque-flavored electric piano from McJohn. Eventually the intro gives way to the main melody. While it's not the most memorable song in the Steppenwolf catalog, the pop-leaning "Everybody's Next One" does display some Who-like power chording. Rushton Moreve's bass guitar work makes good use of the instrument's upper register, inviting further comparisons with the Who.
The title of John Kay's "Berry Rides Again" provides all the clues needed as to its musical character. Based on some Chuck Berry guitar riffs and arrangement cues, the song is a kind of potted travelogue of Berry's 1950s and '60s hits, with lyrics that string together a number of Berry song titles and key phrases. McJohn's piano is prominently featured throughout, most notably in a double-tracked solo.
Willie Dixon's blues classic "Hoochie Coochie Man" is next up for the Steppenwolf treatment. Monarch takes his time getting the tune started, spinning out a sinister, smoldering series of licks before the rest of the band enters. The song is taken at the expected measured tempo, providing plenty of space for Kay to engage in his version of blues wailing. McJohn's organ, with the Leslie speakers spinning wildly, is a centerpiece of the arrangement. The blues-rock boom was just around the corner as Steppenwolf was released, and the band's reading of Dixon's song suggests Steppenwolf could have successfully mined that subgenre. But the band had something else entirely in mind.
Mars Bonfire was a songwriting pseudonym of Dennis Edmonton; he and brother Jerry had had been early members of the Sparrows, a band that would eventually morph into Steppenwolf's first lineup. Jerry would stay on as Steppenwolf's drummer while his brother concentrated on songwriting. Bonfire would provide the band with its signature tune, "Born to Be Wild."
With a forceful snap on his snare drum, Edmonton kicks off "Born to Be Wild." The rest of the band follows immediately. Insistent guitar lines are supported by Moreve's nimble, expressive bass work. In between John Kay's gruff vocal phrases, McJohn inserts splashes of Hammond organ, establishing a musical dialogue in the process. The song's bridges increase the intensity, and that intensity is only partly relieved by the song's soaring, brief choruses. Monarch slips in catchy guitar fills wherever he can, while Kay sings of racing with the wind and, in the phrase that gave birth to a genre, "heavy metal thunder." The song's final 30 seconds feature the band firing on all cylinders, vamping on the song's signature licks.
Along with "Magic Carpet Ride" from the band's second album (and its last with the original lineup), "Born to Be Wild" is the perfect distillation of all of Steppenwolf's virtues. The band's first hit single (backed with "Everybody's Next One"), it would also be Steppenwolf's most successful song, climbing to #2 in Billboard and finding use in countless film soundtracks (Easy Rider being the first and most notable) and becoming a permanent fixture of classic rock radio. Steppenwolf would be repackaged to highlight its inclusion of the song on subsequent re-pressings.
Watch Steppenwolf lip-syncs "Born to be Wild" in a 1969 video
The first minute of "Your Wall's Too High" is half blues, half pop, with some barroom piano from McJohn. The tempo shifts radically after that, but despite the presence of some inventive licks, it feels musically underwritten. Credited to Kay, "Your Wall's Too High" sounds like the product of some collaborative late-night jamming. Still, both Monarch and McJohn turn in some memorable work, elevating what's nearly a one-chord vamp.
A gentle introduction leads into the three-chord meditation of "Desperation." With different vocals ,the song could almost be mistaken for an early Lynyrd Skynyrd tune a la "Tuesday's Gone." Once again it's the twin firepower of Monarch's guitar and McJohn's Hammond (plus, of course, John Kay's soulful growl) that gives the song what character it has.
Hoyt Axton was, and would continue to be, known primarily as a folk and country songwriter, though he had a number of forays into the world of pop, penning songs that would become hits for Three Dog Night, Ringo Starr and many others. But "The Pusher" stands out among his works as one of his most strident and direct sets of lyrics. The song argues that a drug dealer and a pusher are two very different things, and that the latter is evil.
Released as a single, Steppenwolf's reading of "The Pusher" didn't chart; in fact it's surprising that the song wasn't banned from playlists of 1968 for its memorable line, "God damn the pusher." A fixture of the band's live set as early as the Sparrow days, "The Pusher" features some haunting, searing lead guitar work and an equally memorable rhythm guitar part. McJohn's Wurlitzer electric piano work is simple yet a tour-de-force. And while it's buried in the mix, his Hammond organ playing on "The Pusher" is equally tasty. Kay's emotive, nearly over-the-top vocals suit the song perfectly.
Listen to "The Pusher" as heard in Easy Rider (P.S.–Did you know that the fellow in the cap at the beginning of the scene doing the drugs is Phil Spector?)
McJohn's harpsichord forms the musical basis of the introductory section of "A Girl I Knew," Steppenwolf's foray into baroque rock. It's a curio, not awful in any way but far less successful than Love's similarly minded efforts on Forever Changes. Kay's sandpapery vocals are a bit incongruous set against the tinkling harpsichord. But when the arrangement shifts into a high-powered rocker, it's a winner. Monarch tears out a fuzz-drenched solo while McJohn adds insistent piano. Toward the song's end, the fussy arrangement returns, bookending the rock section.
McJohn's piano is at the center of things once again on "Take What You Need," a soulful tune that features Kay's vocals in overdubbed harmony. Another Kay-Mekler co-write, it showcases the pop tendencies of its composers. A false fadeout (a la the Beatles) feels more like a mistake than a production decision.
Steppenwolf closes with "The Ostrich," a John Kay original with no connection to the early Lou Reed composition of the same name. McJohn's Hammond organ is joined by a stinging electric guitar, giving way to a Bo Diddley-style beat that moves the song along. Quite similar in feel and arrangement to "Born to Be Wild," it's perhaps one of the most underrated songs in the band's catalog. Interesting chord changes enliven a blues-based melody, and the song features plenty of space for each of the band members to take a turn at showcasing. The final 30 seconds of "The Ostrich" are made up of studio outtakes and noodling, ending the album on a cacophonous note.
Partly on the strength of "Born to Be Wild," Steppenwolf would climb to the #6 position on the Billboard album chart in 1968, eventually going gold, the first of five Steppenwolf albums (not counting greatest hits collections) to earn the designation. The success of Steppenwolf's debut release established the momentum that would carry the band through lineup changes and a succession of albums that continued through the middle of the 1970s.
Bill Kopp is a lifelong music enthusiast, musician, collector, and – since the 1990s – music journalist. His writing has been featured in music magazines including Bass Guitar, Record Collector, Prog and Shindig! (all in Great Britain), as well as Billboard, Electronic Musician, Goldmine, Trouser Press, Ugly Things and more than a dozen alternative weekly newspapers. He is the Jazz Desk Editor and Prog Editor at BLURT online, and has written liner note essays for nearly 20 albums, including titles by Julian "Cannonball" Adderley, Larry Coryell, Edgar Winter, Rick Wakeman, The Ventures, Dave Mason and Iron Butterfly. He has interviewed several hundred musicians and music industry figures of note, and his musoscribe.com blog has featured new content – thousands of music reviews, essays, interviews and features – every business day since 2009. He lives in a nearly century-old house in Asheville, North Carolina with his wife, two cats, many thousands of vinyl records, and perhaps too many synthesizers and guitars. He's on Twitter @the_musoscribe. His first book, Reinventing Pink Floyd: From Syd Barrett to The Dark Side of the Moon, will be published by Rowman & Littlefield in 2018.
Latest posts by Bill Kopp (see all)