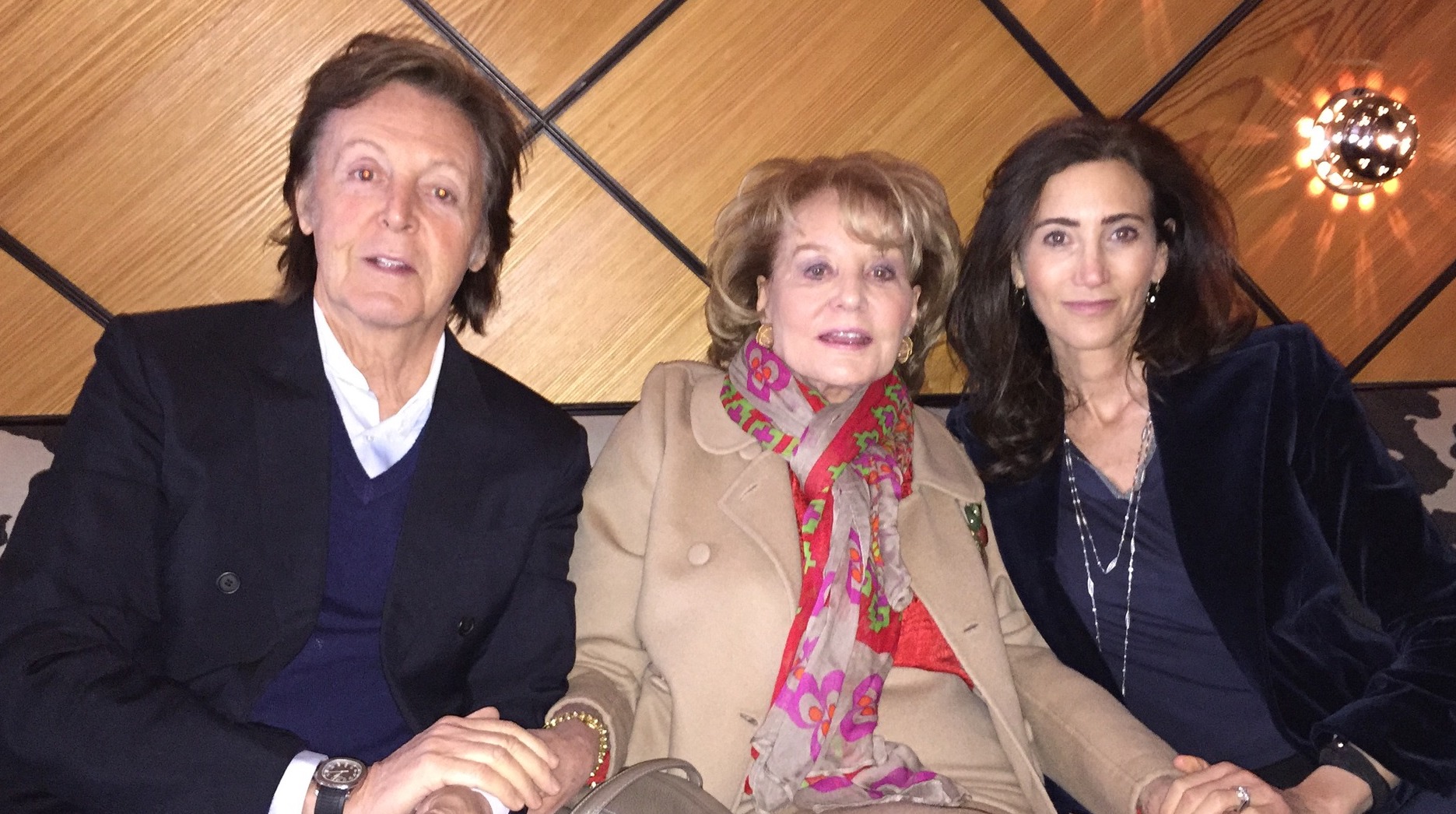 The death of Barbara Walters led to an enormous outpouring of respect for the trailblazing TV broadcast journalist. Walters, who in her remarkable career interviewed a virtual Who's Who of newsmakers and inspired countless women to pursue careers, died on Dec. 30, 2022, at age 93. For someone who was a constant presence in our homes for six decades, her final years were in seclusion at her New York City home.
The consistent words of praise coming from fellow journalists and other celebrities were such phrases as "shattered glass ceilings" and "integrity." We've included a handful of them including a unique one from Paul McCartney.
First, some of her career highlights from her longtime colleagues at ABC News.
View this post on Instagram
It was not that well known that Paul McCartney's wife, Nancy Shevell, was a second cousin of Walters. (Shevell's mother was Walters' first cousin.) McCartney wrote, "Nancy and I are so saddened by the news of her dear cousin Barbara Walters' passing. The two of them enjoyed a deep loving relationship over many years and I was proud to share some of those special moments. Barbara was an amazing woman who more than held her own in the early days of male-dominated television and went on to become a worldwide celebrity known for her many perceptive interviews with stars from every walk of life. We will miss her but always remember her with great fondness. Xx"
Here's a classic clip from when she interviewed the Kardashians. "You don't really act. You don't sing. You don't dance. You don't have any, forgive me, any talent!"
when barbara walters read the kardashians pic.twitter.com/39iURnjRKK

— wolfgang ruth (@itswolfgangruth) December 31, 2022
View this post on Instagram
x
x
On her final show on The View, they brought one A-List female journalist after another to honor her.
Simplest and best tribute to exemplify the Barbara Walters legacy :

On her final show on The View, they just brought one female journalist after another to honour her. All ages, races, from NBC to FOX, to say thank you. She's completely overwhelmed and touched. pic.twitter.com/923BqlU7CG

— Lucas Meyer (@meyer_lucas) December 31, 2022
The world of journalism has lost a pillar of professionalism, courage, and integrity. Barbara Walters was a trailblazer and a true pro. She outworked, out-thought, and out-hustled her competitors. She left the world the better for it. She will be deeply missed. RIP

— Dan Rather (@DanRather) December 31, 2022
Barbara Walters' massive body of work will not be replicated and her legend will remain firmly etched on the Mount Rushmore of our profession.

She was my earliest inspiration, and I was lucky enough to end up calling her a friend. RIP

— Christiane Amanpour (@amanpour) December 31, 2022
Barbara Walters blazed the trail for every newswoman and we will forever follow in her footsteps. May she Rest In Peace

— Meredith Vieira (@meredithvieira) December 31, 2022
Then there's this self-serving tweet from The Walt Disney Company, which owns ABC News.
Remembering Disney Legend Barbara Walters: https://t.co/Ooir2zQ1ix pic.twitter.com/SXEshfhVI6

— The Walt Disney Company (@WaltDisneyCo) December 31, 2022
Related: Musicians and celebrities we lost in 2022

Latest posts by Best Classic Bands Staff
(see all)