Savoy Brown's Kim Simmonds Dies at 75, After Battling Stage 4 Cancer
by Jeff Tamarkin
Kim Simmonds, who led the blues rock band, Savoy Brown, since its formation in the mid-'60s, has died. His death, on Dec. 13, 2022, just eight days after he turned 75 on Dec. 5, was announced on his Facebook page on Dec. 15. The guitarist-singer-songwriter had been in a hospital battling stage 4 signet cell colon cancer (SCCC). The post announcing his death noted, "One of Kim's last requests was to thank the fans of Savoy Brown. Your support was, and shall always be, immensely appreciated."
Simmonds originally shared the news of his health on a Facebook post last August. At that time, he acknowledged that he needed to suspend his live performances for the year. He was originally diagnosed in September 2021 and surgery at that time "kept me going with a decent quality of life." Chemotherapy made it difficult for him to perform. Simmonds noted that one of the side effects is peripheral neuropathy, which deadened the nerves in his fingers and hands.
At that time, he thanked "all the superb health care I've received locally as well as the unending support of my wife, family and friends." While recuperating, he was able to finish a new album that he began prior to his illness. In more recent months, he switched to slide guitar, which made it easier to play with his condition, while acknowledging that his days of playing live were limited. However, in a Dec. 2 Facebook post, his family noted that he was back in the hospital due to "recent complications."
Related: Musicians that we've lost in 2022
Best Classic Bands interviewed Simmonds in 2019. It appears below…
The late '60s gave us, among many other musical revolutions, a blues boom centered in the U.K. Bands like the Animals, the Yardbirds, John Mayall's Bluesbreakers and Cream took a core American roots music, rocked it up and filtered it through their own sensibilities. One such band was Savoy Brown, led by guitarist-singer-songwriter Kim Simmonds. Formed in London in 1965, as the Savoy Brown Blues Band (later shortened), the group has been going strong with changing lineups—but with Simmonds always front and center—for more than five decades now.
With longtime bassist Pat DeSalvo and drummer Garnet Grimm, Simmonds, who was born on Dec. 5, 1947, has released the 40th and 41st Savoy Brown albums, City Night and Ain't Done Yet. We spoke with him about his lifetime commitment to the blues.
Best Classic Bands: What makes City Night special or different from the others?
Kim Simmonds: The guitar sound is more aggressive and in-your-face than recent or even the vintage albums. The production is also very modern and that puts the sound firmly in the present. Most of the songs are also minor-keyed and that gives the album a moody "City Night" vibe that is different from previous albums.
When you go into a new album, do you usually have specific ideas or themes in mind or do you basically just see each new album as a collection of the latest songs you've been working on?
A little of both. Firstly, I write lots of songs and pick the best that will make up an album. Three of the songs on City Night I wrote in the three weeks prior to the studio session, so it's a daily thing. Secondly, I will have a general idea of how I want the album to go. This time it was to have a moody minor-key feel to many of the songs.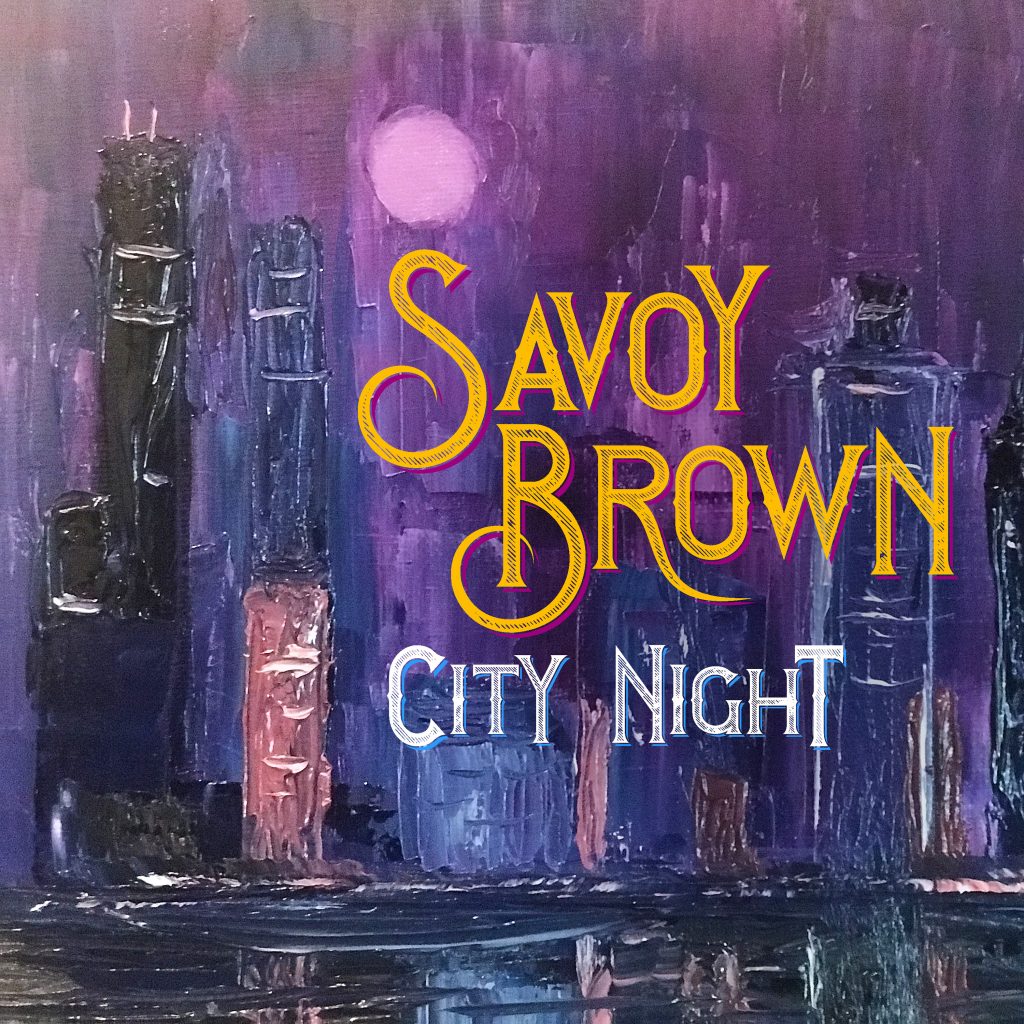 Are there any particular songs on City Night that stand out for you, and if so, why?
We opened the album with what we thought were three of the strongest songs. I think they really stand out. "Don't Hang Me Out to Dry" was one of the first songs I had demoed and it could easily have been the lead-off song instead of being placed second. I particularly like "Payback Time" and "Conjure Rhythm" too.
How do you approach the writing of a new song?
I start writing songs with the lyrics. I often get title ideas or a theme and start writing from there. I try to have a store of lyrics on hand and then if a musical idea comes to my mind, I'll see what lyrics I have to go with the music. At this point I'm just looking for a song that works and sounds good. I'm not thinking of if it will work on stage or not. Only a few album songs get played live after an album is recorded. Some songs just are meant for listening to on a recording. Once I have the music and lyrics melded, I demo all my songs out in my home studio. I use an old drum machine, add bass myself along with guitar and vocals.
You've been with bassist Pat DeSalvo and drummer Garnet Grimm a long time. How would you describe the chemistry there?
The band lineup has lasted so long because Pat and Garnet put up with me! We work together as a team and we have patience for each other. We also recognize the musical chemistry that exists and know from experience that is rare in bands. We're all on the same page, very little ego.
Listen to the title track from City Night
Why did you want to play blues in the first place and what keeps you interested in it?
Blues music appealed to me early on because of its honesty. There was simply talent on display with the records I was listening to. The showbiz element was secondary. The grittiness was also a factor. I liked the tough music and lyrics. Blues guitar playing was my calling and I simply have been true to that. It's the way I can express my inner feelings. I can get my emotions and frustrations out in a positive way. Lots of other blues and blues-rock artists are around and they inspire me to keep going myself.
Which of the legendary blues artists would you single out as your favorite or the most important to you personally, and why?
Freddie King is one who stands out to me among the legendary blues artists now passed away. Freddie wasn't smoothed out and always played with energy and passion. I copied him. He also played Gibson guitars rather than Fender guitars and that influenced me too. Freddie had the energy we now associate with rock 'n' roll. His blues rocked and was straight-ahead.
Watch Savoy Brown perform "Cobra" live at Ohio's Fur Peace Ranch in 2017
Why do you think so many British musicians in the '60s gravitated toward the same kind of music?
We probably were all looking for something more meaningful than mainstream pop/dance music. When I started, all the club bands were playing Motown music. I went against the grain and started a blues band in 1965. The blues boom came about in 1968. Prior to that, bands like the Rolling Stones (when they started) were called R&B bands.
Related: 10 essential Rolling Stones blues songs
What are some of your memories of the first times you came over to the U.S.?
I came over with the band quite late in the '60s; my first dates were in January 1969. The band was an immediate hit and within a short time we were headlining all the major concert halls across the USA. It was terrific fun and very exciting, as you can imagine. I loved American audiences because they were full of energy, passion and optimism. They mirrored my own feelings.
What do you remember about playing the Fillmore East and West?
The East Coast shows were always my favorite because I liked the theater. When the spotlight hit me on stage at both Fillmores I felt I was totally in my element. I knew the audiences were smart and understood what the band had to offer. There was a great to and from of emotions. Simpatico. And I liked Bill Graham. He ran a tight, professional business and I liked that too.
Related: Our chat with John Mayall
The weekend of the Woodstock festival, Savoy Brown was playing a couple hours away in New York City. Why weren't you at the festival?
I had played many big festivals already by that time so I guess I wasn't too upset. It did seem comical, if I remember correctly, that we were playing the wrong gig at the wrong time!
The band's commercial peak came in the early '70s when you had albums like Looking In and Hellbound Train. Why do you think those albums resonated so well with the American audiences?
Each album during my commercial peak in the 1970s was different the others. It kept the listener on their toes and wondering what would come next. I was fearless in those days regarding what musical direction I wanted the band to play. Those albums also were cutting edge and ahead of their time. Even the album covers were groundbreaking, using horror themes that rock bands, coming later in the '70s, were influenced by.
You're into your 70s now. Can you see doing this till you drop or do you see a time when you might want to hang it up and kick back?
I put in my mind many years ago, perhaps even subconsciously, that I'd be playing into my 80s. I obviously was being optimistic in assuming I'd live that long! But I'm sticking to that goal. As long as my health holds up you'll see me on stage at 83! All my blues heroes, the greats that I followed, played until they dropped. I'll do the same. Although touring is hard on my vintage body, I'll go down rocking.
You are also a painter. How does painting compare to making music?
As regards your personality, it comes out in the same way. If you're spontaneous you'll play or paint that way. Likewise, if you're studious, that will reflect in your art. My solos in the recording studio are mostly first takes and my painting is also quick and in the moment. Personality is everything in music and art, in my opinion, of course, and you shouldn't hide behind a facade. Just be yourself, for better or worse.
What is left for you to do that you haven't done yet?
Not much! I do have to write my autobiography and I've got a lot of that already written. That will be great to see on bookshelves and in people's hands. I think I have an interesting life story to tell and one that readers will enjoy. My course of life has been quite different and I certainly haven't been afraid to take life on and take chances. Oh, and reaching my 80s will be a milestone. That's something I haven't done yet!
Watch Savoy Brown perform the title track from their classic 1972 album Hellbound Train

Latest posts by Jeff Tamarkin
(see all)