The Five Americans' Catchy Hit, 'Western Union': Dit-Da-Dit-Da-Dit
by Greg Brodsky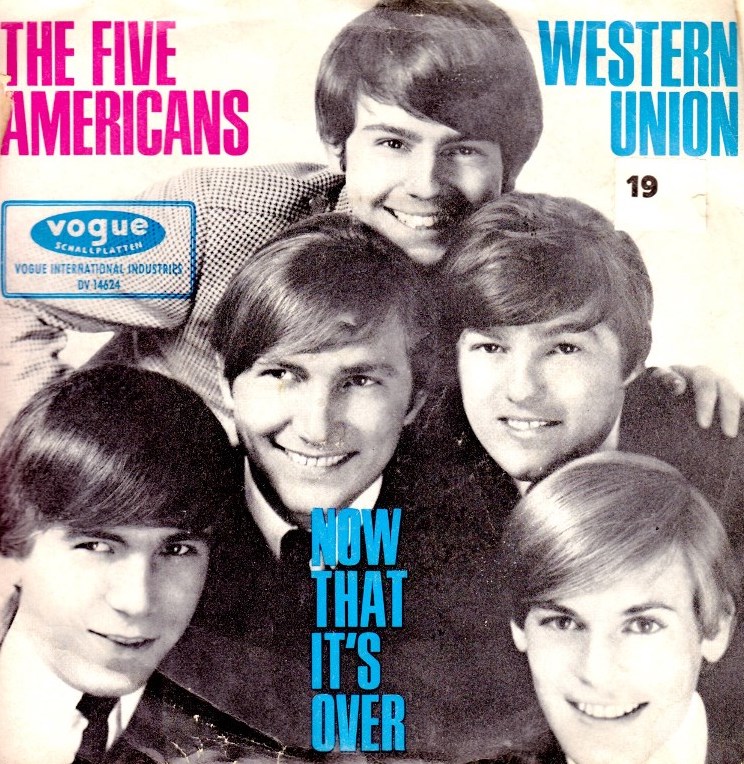 If you were born after, say, 1980, you may not have any idea what a telegram is. If you've even heard of the company Western Union, it is most likely for its financial services division and not for the telegraphy business that it dominated for a century.
For the uninitiated, a telegram was the most efficient way, pre-texting and email, to get a message quickly to its intended recipient. At its peak, all the way back in 1929, it's said that 200 million telegrams were sent. To put that in perspective, one estimate indicates that in America alone, six billion texts are sent every day.
The annual reminder that there was ever such a thing as a telegram business arrives each holiday season when It's a Wonderful Life returns to television. James Stewart's character, George Bailey, receives one in the movie. It's at the 5:30 mark of this clip. (We're not crying… you're crying…)
In 1962, five college classmates in Durant, Okla., formed a band called the Mutineers. As the music scene was adapting, so did the group and with its new sound it signed with Dallas-based Abnak Records. Soon enough, the clean-cut band changed its name to the Five Americans, to help stand out from groups that were part of the British Invasion. In 1966, they earned some modest chart success, most prominently with "I See the Light," which reached #26 on the Hot 100.
At the end of the year, after several follow-up singles failed to chart, their lead guitarist, Mike Rabon, came upon a sound that influenced their next recording. In an interview, his bandmate and fellow guitarist, Norman Ezell, explained what inspired the song:
"Mike was just fooling around with his guitar when he came up with a unique sound," Ezell said. "It sort of reminded us of a telegraph key. That's when we decided to write 'Western Union.'"
The lyrics are fairly sparse, with the protagonist lamenting, "Things went wrong today, bad news came my way," as his girlfriend tells him she's breaking up with him ("says she doesn't care no more").
Following a recurrent "dit, da dit, da dit," made to duplicate the sound of a telegram being transmitted, the singer recovers from his funk ("I'll be on my way 'cause there's another girl for me").
The song is credited to keyboardist John Durrill, Rabon and Ezell. "Western Union" was released as a single in January 1967 with Rabon also on lead vocals, and the catchy song began its climb up the chart.
Thanks to its rapid ascent, their label placed a full-page ad, made to look like a telegram, in the Feb. 11 editions of the music trades. "FLASH!," blared its headline.
On April 26, the song made its chart peak at #5, behind such notable singles as "Happy Together" by the Turtles, "I Think We're Alone Now" by Tommy James and the Shondells, and the Monkees' "A Little Bit Me, A Little Bit You."
Related: The top singles of 1967
There would be two minor chart hits later that year and the Five Americans called it quits in 1969. Durrill joined the instrumental band the Ventures for several years. Ezell became a teacher and minister. He died in 2020. Their bass guitarist, Jim Grant, died in 2004, at just 61. Drummer Jimmy Wright became a freelance photographer and died in 2012.
As for Rabon, he continued performing and later earned a Masters degree in School Administration. He settled with his wife Carla Beth, whom he married in 1979, in Hugo, Okla. He became a teacher, where he served as the band director and taught Computer Science at Hugo High School, and principal of the middle school. After retirement, he began a writing career and authored five books.
Rabon died on Feb. 11, 2022, at age 78.
Watch the Five Americans perform "Western Union" live in this vintage clip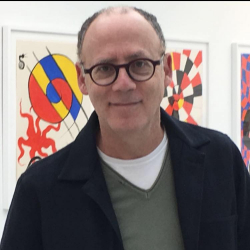 Latest posts by Greg Brodsky
(see all)