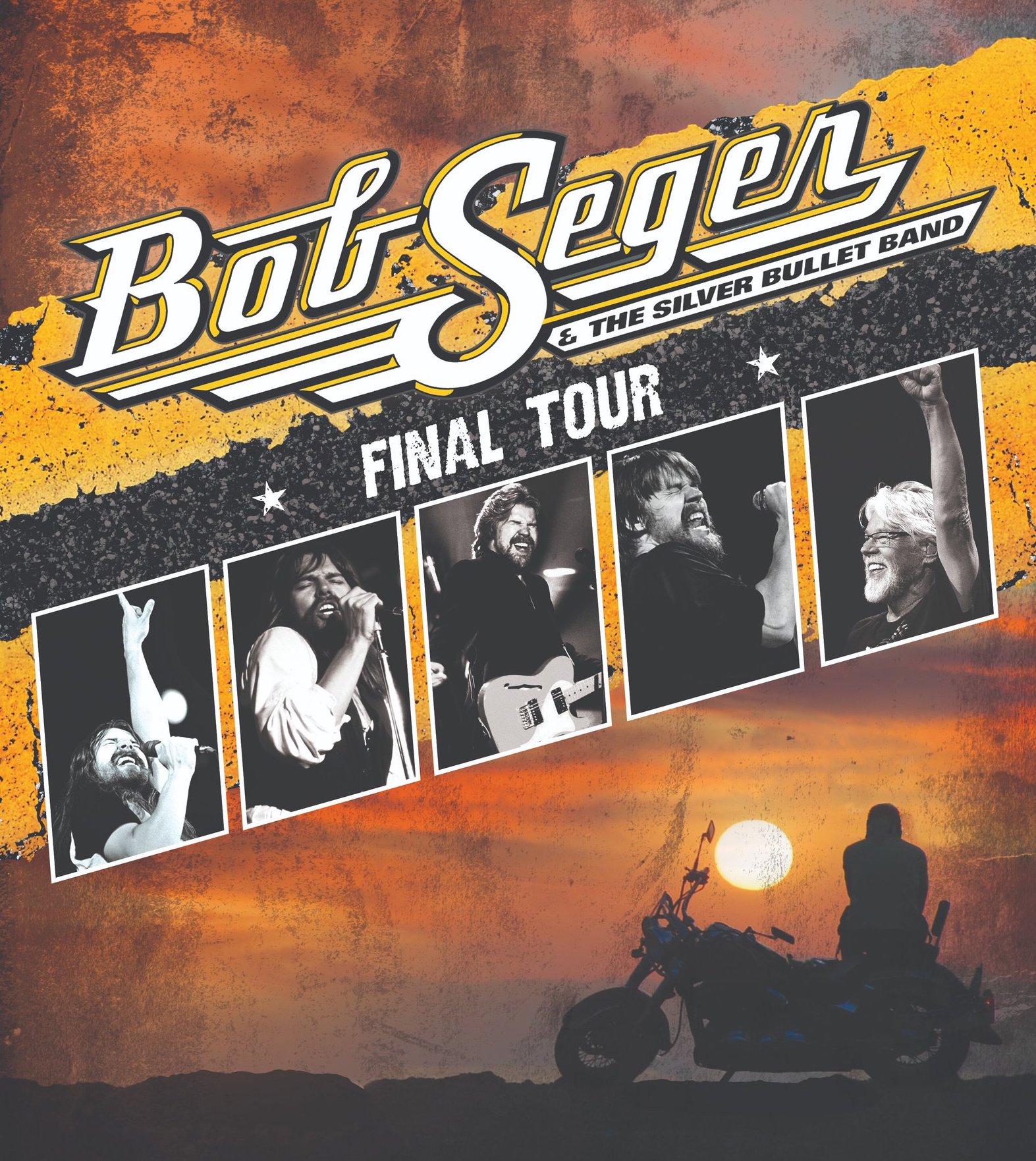 The "Farewell Tour" is a con. If you truly think Elton John and KISS are going to pack it up and go home for good, well, fine. Check out their previous "final" tours. I went to The Who's 1982 farewell tour, and I won't get fooled again. They're on the road again this year, by the way.
Then there are those that look sadly legit, either due to health issues (Peter Frampton) or age (Paul Simon, Joan Baez).
Bob Seger was a road warrior back in the day, but in recent years the tours have been sparse. So when he announced "Roll Me Away: The Final Tour," it was believable and it became a must-see. Then again, he always is.
Watch Seger perform "Roll Me Away" on the current tour
With a couple dozen killer songs, Seger and the latest incarnation of the Silver Bullet Band took a ride on February 17 at Denver's Pepsi Center through songs that have influenced pop culture for decades and show no sign of letting up. He's not as energetic as his heyday—who is?—but his shuffling interpretive-dancing style would find him right at home in a Dead crowd.
Seger has been rotating songs in the opening slot, and of late it has been "Shakedown," his career's sole #1 hit, from Beverly Hills Cop II. From there it was hit after hit, seasoned with album cuts. Two songs in, "Still the Same" reverberated with its dark, cynical portrait of a hustler. "Her Strut" was particularly strong, a misunderstood anthem about feminism rather than a sexist screed. He wrote it about activist Jane Fonda; she endorses it, and that's good enough for me.
Watch Bob Seger perform "Main Street" during a recent tour stop
Rousing cheers greeted the curmudgeonly "Old Time Rock and Roll," with the, um, seasoned crowd lustily agreeing that "today's music ain't got the same soul." And remember, he first covered that song in 1978.
His body of work remains so strong because, like John Fogerty, Seger focuses on some timeless elements and can turn a phrase. Everyone obsesses over the lyrics of that other Bob, but Seger lines like "Wish I didn't know now what I didn't know then," "I stood arrow straight unencumbered by the weight of all these hustlers and their schemes," and "Turning on the charm long enough to get you by" are Dylan-worthy.
The combo of "Travelin' Man"/"Beautiful Loser" gets only more effective and touching as the years roll by, and he covered Dylan's "Forever Young" in tribute to his longtime friend, the late Glenn Frey.
"Turn the Page," the live version that took Seger from being a regional to a national act back in the day, still had all its punch despite the uncomfortable lyric "the woman or the girl you knew the night before."
Watch "Against the Wind" at the Denver concert
Of course, all the hits were there from "Mainstreet" to the final "Rock and Roll Never Forgets."
Related: Seger performed in an Eagles tribute in 2016
One minor disappointment: It's DENVER, Bob! You know what song we needed to hear.
Bob Seger and the Silver Bullet Band, February 17, 2019, Denver Set List
Shakedown
Still the Same
The Fire Down Below
Mainstreet
Old Time Rock & Roll
The Fire Inside
Shame on the Moon
Roll Me Away
Come to Poppa
Her Strut
Like a Rock
You'll Accomp'ny Me
We've Got Tonight
Travelin' Man
Beautiful Loser
Turn the Page
Forever Young
Ramblin' Gamblin' Man
Encore:
In Your Time
Against the Wind
Hollywood Nights
Encore 2:
Night Moves
Rock and Roll Never Forgets
The tour continues through June. Tickets are available here and here. (Two dates in the Pacific Northwest, postponed due to inclement weather, have not yet been rescheduled.)

Latest posts by Mark Brown
(see all)