Top-Selling Albums of 1981: Rock Still Reigned
by Greg Brodsky
In 1981, many established bands were criss-crossing the States before eager concert crowds. Though they were often criticized as "corporate rock" acts they, in fact, had been paying their dues for years, graduating from clubs to theaters to opening slots on arena tours to eventually headlining their own tours before audiences of 15,000+ per night.
MTV had launched on August 1 and though the network was not yet available in most homes, rock music was readily available on AOR radio stations and the genre was still prevalent on Top 40.
Recordings made by some of the biggest classic rock artists of the era dominated the list of 1981's top-selling albums in the U.S. The chart, compiled by the former music industry trade magazine, Record World, features several gargantuan sellers among the year's Top 30. (Note: Many of them were released in 1980, with big sales carrying over into '81.)
We begin our countdown…
Steely Dan's seventh album, Gaucho, was released just in time for the prior year's holiday season, and it continued to sell well enough to rank as the 28th best-selling title of '81, thanks to rock radio airplay and the Top 10 success of "Hey Nineteen."
Stevie Wonder continued his insane level of sustained success with this Sept. 1980 release that featured "Master Blaster (Jammin')," "Happy Birthday" (his tribute to Martin Luther King Jr.), and "I Ain't Gonna Stand For It." It all added up to #26 for the year.
The first studio album following Keith Moon's death (and the first in a new deal with Warner Bros. Records) by The Who gets maligned by some. Sure, it's tough when your best includes Who's Next, Quadrophenia, Tommy, and their early recordings. But this one, with "You Better, You Bet," "Another Tricky Day," "How Can You Do It Alone" and "Daily Records," deserves more acclaim.
Related: Our Album Rewind of Face Dances
With two #1 singles – "The Tide is High" and "Rapture" – it's surprising to see that Blondie's Nov. 1980 Autoamerican peaked at just #7 on the album chart (and #23 for the year).
Billy Squier began an enviable run with Don't Say No which featured a trio of radio favorites: "In the Dark," "My Kinda Lover" and the debut single, "The Stroke." The three-million-seller stayed on the chart for two years, and was #22 for the year.
Tom Petty and the Heartbreakers had now graduated to headlining arenas and they celebrated with Hard Promises, the follow-up to the band's breakthrough album. The year's #21 biggest LP kicks off with a great one-two punch of "The Waiting" and "A Woman in Love (It's Not Me)."
After reaching the Top 25 with their first two releases, The Police entered the big time in America with Oct. 1980's Zenyatta Mondatta. The album, #20 overall for 1981, featured their first two Top 10 U.S. hits, "Don't Stand So Close To Me" and "De Do Do Do, De Da Da Da," and many terrific LP cuts including "When the World is Running Down, You Make the Best of What's Still Around."
She was largely unknown until 1980, when her guest vocal on Kenny Rogers' "Don't Fall in Love With a Dreamer," which she co-wrote, reached #4. That paved the way for Kim Carnes' solo success later that year on a cover of Smokey Robinson's "More Love." Few could have predicted what would happen next. Her recording of "Bette Davis Eyes" became a smash, with nine weeks at #1, propelling the album, Mistaken Identity, to #1 (and #19 for the year). Waddy Wachtel, one of the guitarists on the song, told Best Classic Bands, he knew it was a hit when they recorded it. "I grabbed [producer Val Garay] and I said, 'I bet you this is a smash. This is a fucking smash.' And it was. It happens sometimes."
When Steve Winwood released his solo debut in 1977, the album, bereft of singles, was a commercial disappoint. That all changed with Arc of a Diver, which arrived on the last day of 1980. Side one, track one leads with "While You See a Chance," with that beautiful instrumental intro. The #7 single got the true solo album – Winwood plays all the instruments – all the way to #3 (and #18 for the year).
There are more than 20 guest musicians on Steve Nicks' solo debut including most of Tom Petty and the Heartbreakers; keyboardist Benmont Tench is credited as Musical Director. Others include Eagles members Don Henley, with whom she sings the #6 single "Leather and Lace," and Don Felder. Guitarist Waddy Wachtel, drummer Russ Kunkel, the E Street Band's pianist Roy Bittan and Little Feat's pianist Billy Payne are among the many others whom Nicks and producer Jimmy Iovine enlisted. The #1 album was #17 for the year.
It seems hard to believe in retrospect, but AC/DC's 1976 album, Dirty Deeds Done Dirt Cheap, with then-lead singer Bon Scott, wasn't released in the U.S. until five years later, on the heels of their tremendous success with Highway to Hell and Back in Black. It ultimately sold over six million copies stateside, and was 1981's 16th biggest-seller.
Pat Benatar had just one big pop hit from 1981's Precious Time. And although "Fire and Ice" was no "Love is a Battlefield," it did earn her a Grammy (for Best Female Rock Vocal Performance). And her career momentum helped the album reach #1 just three weeks after its release (and #13 for the year).
The Rolling Stones had a U.S. and European tour set to start in September of 1981. But time was short. As a result, Tattoo You wound up being patched together from recordings left over from earlier sessions. Those vault picks were well chosen, however, and the Stones improved them by going into the studio to enhance their vocals and instrumentation. Their efforts yielded another #1 LP and became the year's 12th biggest.
The Moody Blues' first album in three years and just their second in nine years was a resounding success. And with Patrick Moraz replacing Mike Pinder on keys, they scored a pair of top 15 singles, "The Voice" and "Gemini Dream," where Moraz's synthesizers are prominently featured.
In 1980, six weeks after burying their lead singer, AC/DC announced their new frontman and a staggering task: script a suitably epic album to turn tragedy into triumph. Atlantic Records' president, Jerry Greenberg, said, "They were smart enough to hit on a guy, Brian Johnson, who could step into those shoes." Greenberg put Angus Young together with Mutt Lange. "Angus calls me and says, 'Man, this guy is unbelievable. Oh my God.'" Though Back in Black, #10 for the year, has been certified by the RIAA with U.S. sales of 25 million, it never reached higher than #4 in any given week.
Related: One year earlier, the biggest albums of 1980
It was a banner year for the former Patricia Mae Andrzejewski as her August 1980 release, Crimes of Passion, continued to sell in '81, ultimately passing the four million mark in the U.S. thanks to strong airplay at rock radio. Chrysalis Records played it safe with Benatar's first single – a cover of the Rascals' "You Better Run" – which was a modest hit. The follow-up was a game-changer, as "Hit Me With Your Best Shot" helped make her a star, and the year's #9 biggest seller.
At #8, Moving Pictures from Rush continued the band's strong momentum following 1980's Permanent Waves. Never a Top 40 favorite, the group did score success at rock radio with the album's "Limelight" and "Tom Sawyer."
With four hit singles–including three in the Top 10–Journey's Escape became the biggest-selling studio album of their career with over 10 million in U.S. sales. Though "Who's Crying Now" and "Open Arms" scored slightly higher at Top 40, "Don't Stop Believin'" is the far more enduring hit from the LP, the year's seventh biggest.
It's easy to forget just how popular Foreigner was, right out-of-the-gate. While their fourth album became their first to reach #1, each of their first five made it to the top 5 of the chart, all with multi-platinum sales. 4 was a staple on the rock and pop airwaves thanks to such radio-friendly songs as "Urgent," "Waiting For a Girl Like You" and "Juke Box Hero." It all added up to the #6 album of the year.
"Get wardrobe on the phone… now!"
Someone thought it was a good idea to cast Neil Diamond as the lead actor in a remake of The Jazz Singer. His performance was so lacking that he became the inaugural "winner" of a Razzie for Worst Actor at the first Golden Raspberry Awards. Still, radio and his audience embraced the soundtrack's singles. The three Top 10 hits included his original, "America," written for the movie and which has since become one of his signature songs. The November 1980 release was 1981's fifth biggest.
John Lennon's first album in more than five years, Double Fantasy, with Yoko Ono, was an immediate success upon its Nov. 17, 1980 release. Following the stunning news of his death exactly three weeks' later, it soon reached the top, where it would remain for eight weeks. The album yielded three Top 10 singles, including a #1, "(Just Like) Starting Over."
Though he had scored plenty of crossover hits on the pop chart, Kenny Rogers had never had a #1-seller on the overall albums chart. Boy, did that change with his Greatest Hits collection. Released in Sept. 1980 for the holiday season, it would run the table, finishing the year with eight weeks at the top. (The album included a new recording, the Lionel Richie-penned "Lady," which became the Gambler's first #1 pop hit.) Its strong sales continued into '81 making it the year's #3 biggest. The album has been certified with more than 12 million sold in the U.S.
Like Foreigner (above), Styx had quite a five-album run, beginning with 1977's The Grand Illusion and continuing through 1983's Kilroy Was Here. 1981's Paradise Theatre gave the midwestern band two more big hits, "The Best of Times" and "Too Much Time on My Hands." Their relentless arena tour schedule that year helped them earn a #1 album and the #2 overall for the year.
Make that two midwestern bands at the top of the 1981 list. REO Speedwagon broke the bank with their Nov. 1980 release, Hi Infidelity. The group's previous high water mark was #29 for You can tune a piano, two albums earlier. So what changed? Top 40's acceptance… no, make that embrace of the band. It took 14 weeks, but "Keep on Loving You" finally reached #1, joining the album at the top. And thanks to the ear candy follow-up single, "Take It on the Run," featuring Kevin Cronin's smooth vocal and Gary Richrath's guitar solo, REO Speedwagon's album was on top through the entire spring and well into summer. The 10-million seller was the year's champ. By far.
You'll notice we skipped a few; now you can see why, beginning with #30.
30) The One That You Love – Air Supply (Arista)
29) Share Your Love – Kenny Rogers (Liberty)
28) Gaucho – Steely Dan (MCA)
27) Endless Love (Orig. Soundtrack) – Various Artists (Mercury)
26) Hotter Than July – Stevie Wonder (Tamla)
25) Winelight – Grover Washington, Jr. (Elektra)
24) Face Dances – The Who (Warner Bros.)
23) Autoamerican – Blondie (Chrysalis)
22) Don't Say No – Billy Squier (Capitol)
21) Hard Promises – Tom Petty and the Heartbreakers (Backstreet/MCA)
20) Zenyatta Mondatta – The Police (A&M)
19) Mistaken Identity – Kim Carnes (EMI America)
18) Arc of a Diver – Steve Winwood (Island)
17) Bella Donna – Stevie Nicks (Modern)
16) Dirty Deeds Done Dirt Cheap – AC/DC (Atlantic)
15) Street Songs – Rick James (Gordy)
14) Guilty – Barbra Streisand (Columbia)
13) Precious Time – Pat Benatar (Chrysalis)
12) Tattoo You – Rolling Stones (Rolling Stones)
11) Long Distance Voyager – The Moody Blues (Threshold)
10) Back in Black – AC/DC (Atlantic)
9) Crimes of Passion – Pat Benatar (Chrysalis)
8) Moving Pictures – Rush (Mercury)
7) Escape – Journey (Columbia)
6) 4 – Foreigner (Atlantic)
5) The Jazz Singer (Orig. Soundtrack) – Neil Diamond (Capitol)
4) Double Fantasy – John Lennon / Yoko Ono (Geffen)
3) Kenny Rogers' Greatest Hits (Liberty)
2) Paradise Theater – Styx (A&M)
1) Hi Infidelity – REO Speedwagon (Epic)
Related: 1981 – The year in 50 albums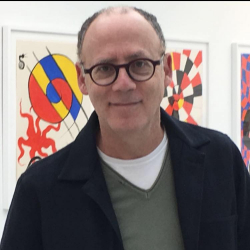 Latest posts by Greg Brodsky
(see all)