Contributors
Our crew of regular and guest contributors features distinguished and experienced music journalists/critics and other luminaries as well as noted artists and photographers.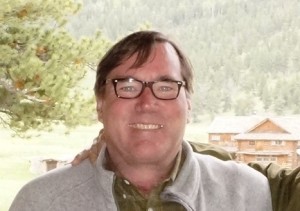 Mark Brown's misguided youth and decision to buy music instead of food in college led to a life covering the music industry. His work has appeared in Newsweek, The Los Angeles Times Magazine, Orange County Register, Rocky Mountain News, San Francisco Chronicle, Trouser Press, Addicted to Noise, MSN Entertainment, Harp and countless newspapers worldwide.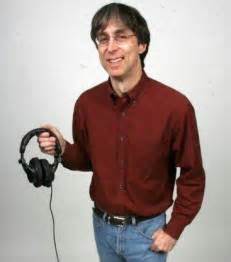 Ken Barnes started writing about music for publications such as Fusion and Phonograph Record, also editing, typesetting and fetching snacks at the latter. He was also co-editor of pioneering rock fanzine Who Put the Bomp after it had already done its pioneering, and wrote for another pioneering zine, The Rock Marketplace. Later he wrote for Rolling Stone and Playboy and had singles columns in New York Rocker, CREEM and Rock & Roll Confidential while maintaining a parallel existence as an editor at music biz trade publication Radio & Records, semi-pioneering Microsoft music website Music Central, and once-prominent newspaper USA Today. He is currently trying to catch up on everything he missed while engaged in those activities.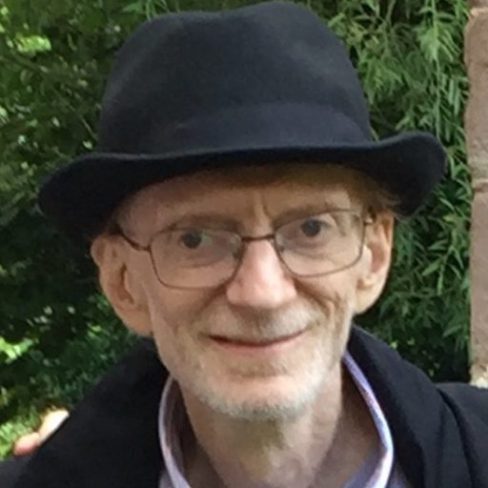 Jeff Burger has covered popular music as a writer and editor throughout his journalism career. His reviews, essays, and reportage on that and many other subjects have appeared in more than 75 magazines, newspapers, and books. He regularly reviews new releases and deluxe reissues for Best Classic Bands.
His books include Dylan on Dylan: Interviews and Encounters, Lennon on Lennon: Conversations with John Lennon, Leonard Cohen on Leonard Cohen: Interviews and Encounters, and Springsteen on Springsteen: Interviews, Speeches, and Encounters, all of which are published in the U.S. and Canada by Chicago Review Press. The books have been republished in numerous other countries.
Burger has been the editor of several periodicals, and is now the editor of Business Jet Traveler, which has won more than 90 major editorial awards since he joined the publication in 2004.
Burger lives in Ridgewood, New Jersey. His wife, Madeleine Beresford, is a puppeteer and former preschool director and teacher. The couple have a son, Andre, and a daughter, Myriam.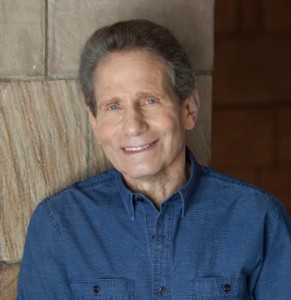 Dennis Elsas grew up in Jackson Heights, Queens with a transistor radio under his pillow, listening to the great New York AM rock'n'roll stations. As FM began to emerge, so did his broadcast career with the founding of campus radio station WQMC at Queens College in the mid '60s. His first paid on-air job was at WVOX, a suburban radio station in New Rochelle, NY, where he created a free-form progressive rock show called Something Else Again. And, then – just after midnight on July 11, 1971 – he launched what would be a 25 plus-year career at WNEW-FM (102.7) in New York City.
Dennis was hired at WNEW-FM by the station's program director, Scott Muni, one of the legendary DJs he had grown up listening to. He quickly ascended to the position of Music Director, and received the rock 'n' roll music industry education of a lifetime. The station was emerging as one of the premier rock radio stations and Dennis was integral to creating its sound. He was also meeting and interviewing a stream of rock 'n' roll heroes, including Elton John, Mick Jagger, Pete Townshend, Paul McCartney and John Lennon.
Lennon was his in-studio guest on Saturday afternoon, September 28, 1974. They had met previously at the Record Plant Recording Studio as Lennon was finishing his latest album Walls and Bridges. During the conversation, Elsas casually invited him to visit WNEW-FM. When Lennon actually showed up, Dennis was more than a little surprised. What began as a discussion of the new album quickly turned into two hours of rare Beatles memories, speculation on a reunion, and candor about his immigration fight. Lennon even took over as DJ, playing some favorite, obscure 45s he'd brought with him, reading live commercials, and giving the weather reports.
Years later, excerpts of that historic afternoon were used in the Beatles Anthology, numerous books, and various documentaries. The entire show has become part of the permanent collection of the Paley Center For Media (formally the Museum of Television and Radio). It is also a pivotal part of the recent award winning PBS American Masters film "LENNONNYC".
The interview also inspired Elsas to produce, co-write and host the radio documentary, It Was Forty Years Ago Today: The Beatles Invade America which won a number of prestigious awards (e.g. New York State Broadcasters Association Best Documentary, New York Festivals World Medal.) It aired on WFUV in February, 2004. Revised for the 50th anniversary in 2014, it is now featured in the Grammy Museum's traveling exhibit Ladies and Gentleman…The Beatles!
In May 1976, Dennis took over the prime 6-10 p.m. slot on WNEW-FM, bringing his creative programming of the station's vast rock 'n' roll record library to the nighttime audience. Rock 'n' roll history was being made at 102.7, and whether he was in the studio with Meat Loaf, backstage with Bob Seger or onstage with John Mellencamp, Dennis was sharing the experience with his listeners. In the 1980's he created the popular Beach Party program. The station became known as the place "Where Rock Lives" and Elsas remained there through 1998.
While still at WNEW-FM, Dennis expanded his broadcasting activities to include two years as the music correspondent for television's PM Magazine, and to host such syndicated radio shows as Rock Today, Rock 'n Roll Never Forgets and Billboard Entertainment News.
Dennis' voiceover career also grew with numerous projects for HBO, Cinemax, Showtime and The Movie Channel. Corporate and commercial clients included American Express, Time, Lancôme, Procter and Gamble, and Kraft Foods. He is now featured as the "Voice of Rock History" at the Museum at Bethel Woods – the story of the Sixties and Woodstock – and has been the announcer for the Rock and Roll Hall of Fame broadcasts and VH1's Concert of the Century at the White House. Dennis was the narrator of Discovery Magazine on the Discover Network and the "voice" of the Smithsonian Channel.
But his abiding passion is to be on the air, programming music that blends old favorites with new discoveries, interviewing artists and interacting with his listeners. Today he's happily doing that seven days a week.
Since the summer of 2000 he's been hosting weekday afternoons (2-6 p.m.) on New York's WFUV (90.7 FM, and streaming at WFUV.org). With an eclectic mix of rock, folk, jazz and blues and, guests in the studio that have included Elvis Costello, Ben Folds, Patti Smith, Edie Brickell and Ringo Starr, Dennis continues the tradition of progressive radio he helped to create.
In May 2004 he joined Sirius/XM's Classic Vinyl (26) and can be heard every Saturday and Sunday sharing his Classic Rock knowledge and memories with a worldwide audience. He also serves as co-host of the weekly Beatles talk and "call-in" show, "Fab Fourum," heard exclusively on the Beatles Sirius/XM Channel (18).
In 2010 Dennis created Rock 'N' Roll Never Forgets – a live multimedia show featuring highlights from his history making interviews with John Lennon, Elton John, Jerry Garcia and more. As one of the pioneers of the progressive FM radio revolution at WNEW-FM and continuing today with new opportunities at WFUV and Sirius/XM, Elsas shares his favorite stories and unique perspective on rock and radio in person with enthusiastic audiences.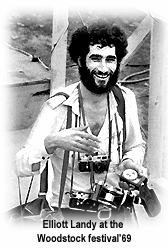 Elliott Landy began photographing the Vietnam antiwar movement and the New York City underground music culture in in 1967. He shot many memorable images of iconic rock 'n' roll artists of that era such as Bob Dylan and The Band, Janis Joplin, Jimi Hendrix, Jim Morrison, Van Morrison and Richie Havens onstage, backstage and in intimate personal settings that can be found on his website, and on the covers of a number of classic albums. His documentation of that pivotal time in music and American culture culminated with the 1969 Woodstock Festival, for which he was the official photographer. His photographs have been published worldwide, including the covers of such major publications as Rolling Stone, Life, The Saturday Evening Post and more as well as calendars and photographic book collections. He has published a compendium of his photos, Woodstock Vision, The Spirit of A Generation, and authored the book Woodstock 69, The First Festival.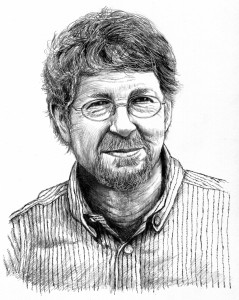 David Ray Skinner was born and raised in Nashville, and he developed an interest in music and drawing at an early age. When he was still in junior high school, he co-founded a garage band called "Swamp Gas" and had his first cartoon published in the Nashville Banner. He studied art and journalism at Carson-Newman College and served as editor-in-chief of the school newspaper his junior and senior years. While at Carson-Newman, he also drew editorial cartoons for the Morristown Citizen-Tribune.
Skinner's first job after college was at an East Tennessee weekly, where he worked as a reporter and editorial cartoonist and also contributed a weekly comic strip called "Tales of Space Helen." In 1977, his love for art, design and music landed him in New York, where he became the cartoonist and, later on, art director, for Record World magazine. While at Record World, he did cartoons for such notables as Elton John, Stephen Stills, Graham Nash, Led Zeppelin, and Billy Joel. He spent his last few years in New York art directing Doubleday's Literary Guild magazine. At Doubleday, he created marketing treatments for books by writers such as James Michener, Peter Maas, Stephen King, and celebrities such as Candice Bergen, Dinah Shore and Dr. Ruth Westheimer.
In 1984, Skinner moved to Atlanta and co-founded a design and advertising agency called Indelible Inc. In the early 90's, Skinner became involved in various musical projects, including Johnny Cash's Return to the Promised Land, for which he designed the logo and co-wrote the title track with Cash and Hugh Waddell. He also wrote and recorded the Civil War concept album, John Hunt Morgan: A Southern Legend, which was considered for Gettysburg College's famed Lincoln Prize, an award given annually to a literary work focusing on the American Civil War.
In 2005, Skinner formed a marketing, design, illustration and advertising agency called Bridgital.  Some of his more recent works include a 20-foot bas-relief sculpture over the entrance to the University of West Georgia's new football stadium, jingles that have aired weekly on the Grand Ole Opry and a watercolor hanging on the office wall of Supreme Court Justice Clarence Thomas.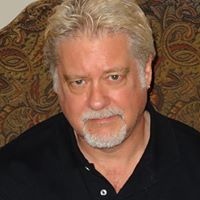 Jim Sullivan: As a high school baseball player growing up in Maine, I used to pump myself up for games by playing Raw Power by Iggy & the Stooges –the ultimate adrenaline rush. My friends and teammates didn't quite get it. They liked Chicago (the band). But that was OK: the punk rock revolution was around the corner, and that's where my musical taste locked in with many others, bored with corporate rock. Yes, I had Slade, Mott, Bowie and Roxy to get me there, too. That punk (and post) period was a time of extreme excitement (friction, joy, conflict) that inspired me to write about what I loved. And it opened the doors to even more worlds.
I wrote about pop music and other arts for the Boston Globe for 25-plus years, with more than 10,000 stories to my credit before leaving in 2005. Since then I've freelanced for the Boston Phoenix, Boston Herald, Where magazine, Boston Common, Yankee magazine online, Time Out Boston, US News & World Report, the Cape Cod Times. I host the XFINITY on Demand music/interview show "Boston Rock/Talk," and continue to write and edit a critical guide to arts and events around metro Boston.