Upcoming Classic Rock Festivals

Best Classic Bands gathers info for festivals around the globe with their dates, locations and a sampling of the top classic rock acts that are appearing.
Links are generally for the festivals' home page (in English, when available). If a festival is sold-out, you can also try StubHub.
November – December
Nov 11-14 Rockville Festival Daytona Beach, FL with Metallica, Lynyrd Skynyrd, Nine Inch Nails, Disturbed, Rob Zombie, Lamb of God
Nov 12-14 Tortuga Music Festival Ft. Lauderdale, FL with Barenaked Ladies, Tim McGraw, Vanilla Ice, Luke Bryan, Miranda Lambert
Dec 2-4 LA3C Festival Los Angeles, CA
January 2022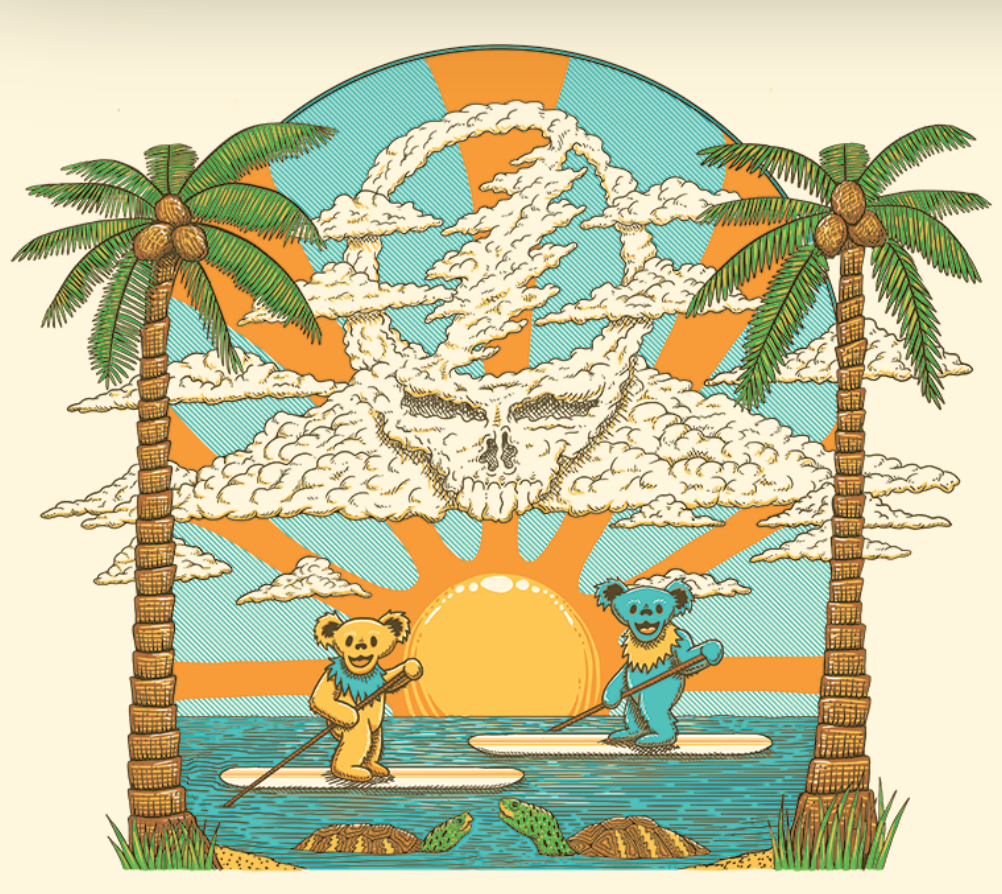 Jan 7-10, 13-16 Playing in the Sand Riviera Cancun, Mexico with Dead & Company
Jan 14-17 30A Songwriters Festival Santa Rosa Beach, FL with Emmylou Harris, Mavis Staples, Rickie Lee Jones, Chris and Rich Robinson, Dawes, Rodney Crowell, Steve Earle, Amy Grant, Carlene Carter
Jan 30 – Feb 5 Little Feat – Feat Camp Runaway Bay, Jamaica with Little Feat, Nitty Gritty Dirt Band, Tommy Emmanuel
February
Feb 1-5 Girls Just Wanna Weekend 3 Riviera Maya, Mexico with Brandi Carlile, Sheryl Crow, Tanya Tucker, Indigo Girls, Lucius
March
March 3-6 Okeechobee Fest Okeechobee, FL with Tame Impala, Gary Clark Jr., Megan Thee Stallion
March TBD Download Sydney + Melbourne, Australia
March TBD Download Japan Nakase, Japan
TBD Rockfest 80's Miramar, FL
April
Apr 1-3  The Fest For Beatles Fans Jersey City, NJ (Hyatt Regency) with Gregg Bissonette, Laurence Juber, Billy J. Kramer
April 7-9 Suwannee Rising Live Oak, FL
April 14-17 Byron Bay Bluesfest Byron Bay, Australia with Midnight Oil, Jimmy Barnes
April TBD Wanee Block Party Ft. Lauderdale, FL
Apr 9-10 Knotfest Japan Tokyo, Japan with Slipknot
April 15-17, 22-24 Coachella Indio, CA
Apr 27 – May 2 Cheltenham Jazz Festival Cheltenham, U.K.
April 28 – May 1 Sunfest West Palm Beach, FL
Apr 29 – May 1 Stagecoach Festival Indio, CA with the Black Crowes, Smokey Robinson, Carrie Underwood, Brandi Carlile, Tanya Tucker
April 29 – May 1 Sweetwater 420 Festival Atlanta, GA with Trey Anastasio Band, Snoop Dogg, Jerry Harrison and Adrian Belew
If a festival is sold-out, you can also try StubHub.
Apr 29 – May 1 Beale Street Memphis, TN
Apr 29 – May 1 Shaky Knees Atlanta, GA
Apr 29 – May 8 New Orleans Jazz and Heritage Festival New Orleans, LA
May
May TBD Epicenter Concord, NC
May TBD Shaky Boots Atlanta, GA
May 14-15 Cruel World Carson, CA with Blondie, Devo, Bauhaus, Morrissey, Psychedelic Furs, English Beat, Echo & the Bunnymen, Berlin
May TBD All the Best Punta Cana, Dominican Republic
May 20-22 Hangout Fest Gulf Shores, AL
May TBD Sonic Temple Columbus, OH
TBD Doheny Blues Festival Dana Point, CA
If a festival is sold-out, you can also try StubHub.
May TBD Cajun & Blues Music Festival Simi Valley, CA
May TBD Mountain Jam Bethel, NY
May TBD Download Paris, France
May 26-29 Bearded Theory Festival Derbyshire, UK
May 26-30 Abbey Road On the River Jeffersonville, IN with Tommy James, the Cyrkle
May 27-29 Boston Calling Boston, MA with Foo Fighters, Rage Against the Machine, Haim
May TBD Delfest Cumberland, MD
May 28 Greenwich Town Party Greenwich, CT
If a festival is sold-out, you can also try StubHub.
June
June 2-4 Northside Festival Aarhus, Denmark
June 3-5 Rock am Ring Nuremberg, Germany with Green Day, Weezer, Muse, Korn, Deftones
June 8-11 Sweden Rock Festival Solvesborg, Sweden with Guns N' Roses, Night Ranger, 10cc, Ten Years After, Social Distortion, Accept
June 9-11 Holland International Blues Festival Grolloo, Netherlands
June 9-12 I-Days Festival Milan, Italy with Aerosmith, Foo Fighters, Nile Rodgers & Chic
June 10-12 Download Donington Park, UK
June TBD BBK Music Legends Festival Bilbao, Spain
June – July Festival Pedralbes Barcelona, Spain with Jethro Tull, Crowded House, Madness, Nile Rodgers & Chic
June TBD Rock the Ring Hinwil, Switzerland with Foreigner, Alan Parsons Live Project
June 16-19 Nocturne Live Blenheim Palace, Woodstock, UK with Simple Minds, Lionel Richie, UB40
June 16-19 Isle of Wight Isle of Wight, UK with Lionel Richie, Nile Rodgers & Chic, Muse
June 16-19 Graspop Dessel, Belgium with Aerosmith, Iron Maiden, Judas Priest
June 16-19 Firenze Rocks Florence, Italy with Red Hot Chili Peppers, Weezer
June 17-19 Hellfest Clisson, France
June 17-19 Pinkpop Landgraaf, The Netherlands with Pearl Jam
June 17-25 Rochester International Jazz Festival Rochester, NY
June TBD Azkena Rock Festival Vitoria-Gasteiz, Spain
June 18-19, 25-26 Rock In Rio Lisbon, Portugal
June 18-20 Copenhell Copenhagen, Denmark with Iron Maiden, Judas Priest
June 20-22 INMusic Zagreb, Croatia with the Killers
June TBD Secret Solstice Reykjavik, Iceland
June Through Aug TBD Stern Grove Festival San Francisco, CA with free Sunday concerts
June 23-25, June 30 – July 2, July 7-9 Summerfest Milwaukee, WI
June 23-25 Tons of Rock Halden, Norway with Iron Maiden, Deep Purple, Faith No More
June 24-26 Glastonbury 50th Anniversary, Pilton, Somerset, U.K. with Diana Ross, Billie Eilish
June 24-26 Retro CTrop Tilloloy, France with Simple Minds, Madness
June – July Lucca Summer Festival Lucca, Italy with Nick Mason's Saucerful of Secrets, Liam Gallagher, John Legend, Celine Dion, Ben Harper
June 25 – July 2 Roskilde Festival Roskilde, Denmark with Kendrick Lamar, the Strokes, Faith No More, Haim
June TBD TW Classic Werchter, Belgium
June 29 – July 2 Open'er Gdynia, Poland with Twenty One Pilots
June 30 – July 3 Rock Werchter Werchter, Belgium
June 30 – July 2 Rock Fest Barcelona, Spain
June 30 – July 9 Festival International de Jazz de Montreal Montreal, Canada with Al Di Meola, Joss Stone, Macy Gray Tommy Emmanuel
If a festival is sold-out, you can also try StubHub.
July
July 1-3 Love Supreme Jazz Festival Glynde Place, Sussex, U.K.
July 1-3 Main Square Arras, France with Sting
July TBD Carcassonne Festival Carcassonne, France
July TBD Peach Music Festival Scranton, PA
July TBD M3 Rock Fest Columbia, MD
July TBD Montreux Jazz Festival Montreux, Switzerland
July TBD Festival d'ete de Quebec Québec, Canada
July TBD Thunder Bay Blues Festival Thunder Bay, Ontario, Canada
July TBD Eaux Claires Eau Claire, WI
July TBD Ride Festival Telluride, CO
July TBD Rock Fest Cadott, WI
July TBD Rock USA Oshkosh, WI
If a festival is sold-out, you can also try StubHub.
July TBD Vieilles Charrues Carhaix, France with Celine Dion
July TBD Big Sky Oro-Medonte, ONT
July TBD Under the Big Sky Whitefish, MT
July TBD Moondance Jam Walker, MN
July TBD Twin Cities Summer Jam Mystic Lake, MN
July 21-24 Latitude Festival Suffolk, U.K.
July TBD Ribfest Romeoville, IL
July 6-9 Mad Cool Festival Madrid, Spain
July 7-10 Great South Bay Patchogue, NY with Tedeschi Trucks Band, Los Lobos
July 7-17 Jazz Open Stuttgart, Germany with Robert Plant and Alison Krauss, Van Morrison, Sting, Stanley Clarke, Herbie Hancock, John Legend
July 8-10 Cornbury Music Festival Oxfordshire, U.K.
July 8-10 North Sea Jazz Rotterdam, Netherlands
July 8-10 Bospop Weert, Netherlands
July 9 Pleasantville Music Festival Pleasantville, NY
July TBD Ottawa Bluesfest Lebreton Flats, Ottawa with Rage Against the Machine
July 16-17 Lollapalooza Paris Paris, France
July TBD Ramblin' Man Fair Maidstone, U.K.
July 19-24 Paleo Nyon, Switzerland
July 21-24 Kemptville Live Music Festival Kemptville, ONT with Randy Bachman and Burton Cummings, Andy Kim
July 22-24 Rewind: Scotland Perth, U.K.
July TBD Forecastle Festival Louisville, KY
July TBD Cambridge Folk Festival Cambridge UK
July – Aug Summer Nights at the Bandstand Glasgow, UK with Van Morrison, Rick Astley, Belinda Carlisle, Suzanne Vega
July 28-31 Herzberg Festival Fulda, Germany
July TBD Under the Southern Stars Various cities in Australia
July – Aug TBD Olavsfest Trondheim, Norway
July 29-31 Lollapalooza Chicago, IL
July TBD Newport Folk Festival Newport, RI
July 29-31 Underneath the Stars South Yorkshire, UK
August
Aug TBD Notodden Blues Notodden, Norway
August TBD Hampton Court Palace Festival London, U.K.
Aug TBD Roots Rock Revival Big Indian, NY
Aug TBD Edmonton Folk Music Festival Edmonton, AB, Canada
Aug TBD The Bath Festival Bath, England
Aug 4-6 Leyendas del Rock Villena, Spain with Testament, Powerwolf
Aug 4-7 Wickham Hampshire, U.K.
Aug 5-7 Outside Lands Golden Gate Park, CA
Aug 5-7 Rewind: North Macclesfield, U.K.
Aug 5-14 Lokerse Feesten Lokeren, Belgium
Aug 6-7 Nostalgie Beach Festival Middelkerke, Belgium
If a festival is sold-out, you can also try StubHub.
Aug TBD Moonlight Musicfest Big Sky, Montana
Aug 11-13 Fairport Cropredy Convention Chipping Norton, U.K. with the Trevor Horn Band, Clannad, Fairport Convention, Richard Thompson, Steve Hackett
Aug 11-14 Bloodstock Walton-On-Trent, U.K. with Testament, Lamb of God
Aug TBD Lockn' Music Festival Arrington, VA
Aug 12-14 The Fest for Beatles Fans Chicago, IL
Aug 12-14 Telluride Jazz Festival Telluride, CO
Aug 19-21 Rewind Festival: South Henley-on-Thames, U.K.
Aug TBD Railbird Lexington, KY
Aug TBD Fuji Rock Festival Niigata Pref., Japan
Aug TBD Knotfest UK Milton Keynes, U.K.
Aug TBD Canada Rock Fest Grand Forks, BC
Aug TBD Summer Camp Festival Chillicothe, IL
Aug TBD Wonder Hall Lancashire, U.K.
Aug 26-28 Reading Festival Reading, U.K.
Aug 26-28 Leeds Festival Leeds, U.K.
Aug 26-28 Beach Road Weekend Martha's Vineyard, MA with Beck, Wilco, the Avett Brothers
Aug TBD Great British R&B Festival Colne, U.K.
Aug 26-29 Shrewsbury Folk Festival Shrewsbury, U.K.
If a festival is sold-out, you can also try StubHub.
September
Sept 2-4, 8-11 Rock in Rio Rio de Janeiro, Brazil
Sept TBD Bourbon & Beyond Louisville, KY
Sept TBD Kaaboo PetCo Park, San Diego, CA
Sept TBD Grand Point North Burlington, VT
Sept TBD Bumbershoot Seattle, WA
Sept TBD Lollapalooza Berlin Berlin, Germany
Sept TBD Bonnaroo Manchester, TN
Sept TBD Rocklahoma Pryor, OK
Sept TBD Bottlerock Napa, CA
Sept 8-11 Blue Ridge Rock Festival Danville, VA
Sep TBD Big Blues Bender Las Vegas, NV
Sept 13-18 Americana Fest Nashville, TN
Sep TBD Pitchfork Chicago, IL
Sept TBD Beach Life Festival Redondo Beach, CA
Sept 16-18 Riot Fest Chicago, IL with My Chemical Romance
Sept TBD Music Midtown Atlanta, GA
If a festival is sold-out, you can also try StubHub.
Sept 16-18 Telluride Blues & Brews Telluride, CO
Sept 16-18 Life is Beautiful Las Vegas, NV
Sept 17-18 SeaHearNow Asbury Park, NJ
Sept 22-25 Louder Than Life Louisville, KY
Sept 22-25 Firefly Festival Dover, DE
Sept TBD Governor's Ball  NYC
Sept TBD Ohana Festival Dana Point, CA
Sept TBD Global Citizen Festival
Sept TBD Farm Aid Location TBA
Sept TBD Knotfest Location TBA
Sept TBD Pilgrimage Franklin, TN
October
Oct TBD  Austin City Limits Music Festival Austin, TX
Oct TBD Hardly Strictly Bluegrass San Francisco, CA
Oct 5-8 King Biscuit Blues Festival Helena, AR
Oct 6-9 Aftershock Sacramento, CA
Oct TBD Colonial Beach Bike Fest Colonial Beach, VA
Oct 7-9 ProgStock Rahway, NJ
Oct 25-30 80s in the Sand Cancun, Mexico with Belinda Carlisle, Lou Gramm, Loverboy, Sheena Easton, Wang Chung, Donnie Iris, Living Colour, Morris Day & the Time
TBD Blues Fest London, U.K.