Susan Jacks, who teamed with her husband, Terry Jacks, in the late '60s as the recording group, the Poppy Family, died April 25, 2022, at 73, in a hospital in British Columbia, Canada, after suffering from kidney disease for several years. The Canadian duo had married in 1967 when she was in her late teens. Their recording of "Which Way You Goin' Billy?," written and produced by her husband, was a significant hit in the U.S. and U.K. reaching #1 on the Cash Box chart (and #2 in Billboard). The group had several other top ten singles in Canada but only modest later success elsewhere. The couple split up in 1973.
Of her passing, Terry Jacks wrote, "I am saddened by the passing of Susan Jacks. She had a kind heart and sang my songs beautifully. I know she will live on Beyond The Clouds."
Susan Jacks became a solo artist and though she continued to have several charting singles in Canada, she never achieved any notable success elsewhere. In the early '70s, her husband was producing the Beach Boys. One of the songs they were considering for the album, Surf's Up, was a French song with English-language lyrics from Rod McKuen. Though the group chose not to use the recording, the song stuck with Terry Jacks. He recorded it in 1973 and in 1974 "Seasons in the Sun" became a #1 single around the world.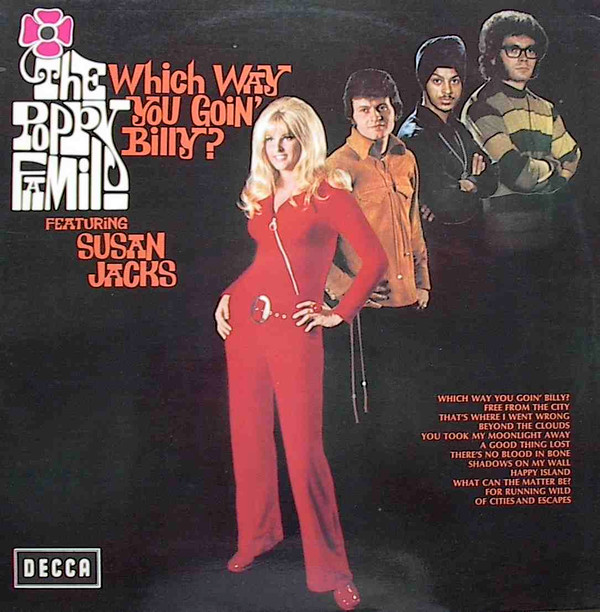 Susan Jacks was born Susan Pesklevits on August 19, 1948, in Saskatoon, Saskatchewan. As a teenager, she began to perform on several Canadian TV shows. She was soon paired with Terry Jacks for several appearances and, with two other musicians, formed the Poppy Family.
A song written by Terry Jacks from a man's perspective, "Which Way You Goin Buddy?" was changed at Susan's request to be sung by a female. The track was first issued in Canada in 1969 and then in March 1970 in the U.S. on London Records. It debuted on the singles chart that April 11 at #83. It caught on quickly with radio programmers and the public, jumping to #38 just two weeks later. On June 20, it reached #1 on Cash Box.
The song earned the group four 1970 Gold Leaf (pre-Juno) Awards for best performance, best production, most popular song and most sales for a single. The single was certified Gold in the U.S. for sales of more than one million copies and went on to sell a reported 3-and-a-half million worldwide.
On March 7 of this year, Jacks wrote on her Facebook page, "I'm so sorry for being out of touch for so long. I had a rough 2021 and spent some time in the hospital but I'm feeling much, much better now. Thank you all for being concerned…it really does give me strength. I'm looking forward to a great year. ❤ ❤ ❤ "
Related: Musicians and other celebrities we lost in 2022

Latest posts by Best Classic Bands Staff
(see all)