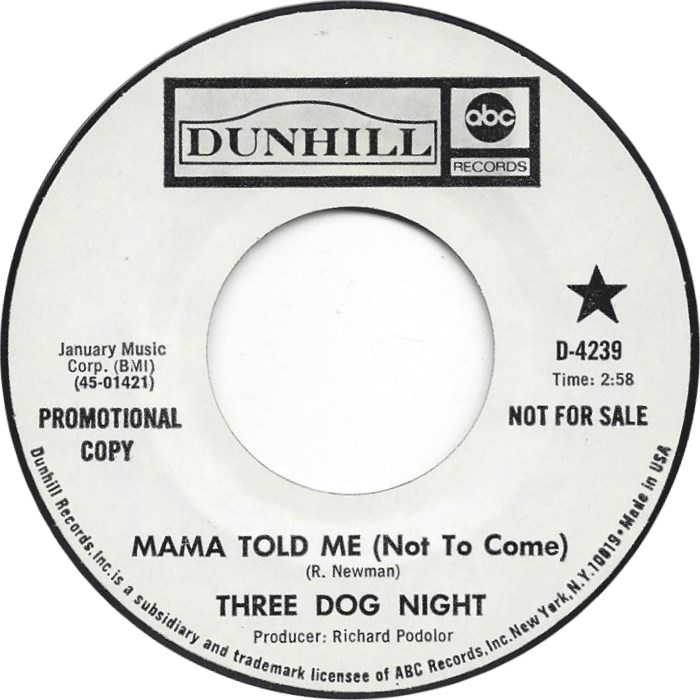 Richie Podolor, a producer of memorable hit recordings for Three Dog Night, and albums for such artists as Steppenwolf, Iron Butterfly, and the short-lived supergroup the Souther-Hillman-Furay Band, died March 9, 2022. His death, at age 86, was reported on March 10 by Danny Hutton on the Three Dog Night Facebook page. Neither the cause of death nor the location was revealed.
Hutton wrote, in part, "Richie… had the best ears of anyone I've ever met. He was the second producer of my band in 1966. When I came [into] the control room to hear the first playback, I heard and felt something I'd never heard in a studio before. It was … magic! I knew right then I wanted to be able to do that myself. I went off and learned what all the knobs did, and less than three years later I begged him to give me a shot, and he graciously took a chance on me. I owe him everything.
"You were my hero, Richie… And you always will be."
Podolor was born January 7, 1936, in Los Angeles. He became a session musician while still a teenager, and by the late 1950s toured with the Pets, a band that featured future Wrecking Crew studio legends Plas Johnson and Earl Palmer. Podolor is credited with co-writing hit singles recorded by drummer Sandy Nelson, 1959's "Teen Beat" and 1961's "Let There Be Drums." (Just weeks ago, Nelson died at age 83.)
By the mid-'60s, Podolor transitioned from a musician (recording under the name "Richie Allen") to engineer, working on recordings by the Monkees and the Electric Prunes. His biggest early break was when he became the recording engineer for Steppenwolf, doing the honors for their first four albums for ABC-Dunhill, spanning such hit singles as "Born To Be Wild" and "Magic Carpet Ride."
By 1970, he became the band's producer, starting with Steppenwolf 7.
At the same time, Podolor began working with ABC-Dunhill labelmates Three Dog Night. He served as their engineer at the outset, beginning with their 1968 self-titled debut that yielded the top 5 single, "One." He continued in that capacity for their 1969 follow-up that included three more hits, "Easy To Be Hard," "Eli's Coming" and "Celebrate."
He became Three Dog Night's producer in 1970, the same year he took over production chores for Steppenwolf. Soon, Three Dog Night was the hottest band on the U.S. singles chart, scoring #1 hits with "Mama Told Me Not to Come," "Joy to the World," and "Black and White."
More hits followed with Podolor at the helm, and longtime partner Bill Cooper now as engineer, including "An Old Fashioned Love Song" and "Shambala."
Podolor became a much in-demand producer, overseeing recordings by Blues Image ("Ride Captain Ride") and Iron Butterfly's first live album, both released in 1970.
Several years later, he produced the highly anticipated collaboration between J.D. Souther, Chris Hillman and Richie Furay. In Best Classic Bands' Album Rewind of the 1974 release, critic Sam Sutherland wrote, "The SHF Band proved to be less than the sum of its parts, any cohesion frayed by internal friction."
In his tribute, Furay wrote, "Richie… was a tremendous record producer that I had the wonderful privilege of working with. I wanted him to record Poco but CBS-Epic wouldn't allow it – finally made it happen with SHF. He was so unique in his approach to recording, capturing the 'live' sound of a band in the studio. My memories of working with him are nothing but the best."
Podolor later produced recordings for Black Oak Arkansas, Alice Cooper, Dwight Twilley and Phil Seymour.
Related: Musicians we've lost in 2022

Latest posts by Best Classic Bands Staff
(see all)