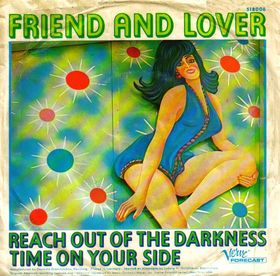 Jim Post, a mainstay of the Chicago folk music scene for more than five decades, died on Sept. 14, 2022. His former wife, Janet Smith Post, said his passing, in Dubuque, Iowa, was caused by congestive heart failure. Post was 82.
After getting his start in a folk group called the Rum Runners, Post first came to prominence in 1968 as half of a duo, with his then-wife Cathy Conn, called Friend and Lover. After moving to New York, the duo scored a national top 10 single in 1968 with the love-and-protest anthem "Reach Out of the Darkness," released on the Verve Forecast label. They had one more minor chart hit later that year, "If Love Is In Your Heart," but were unable to follow that up. The couple's sole album, also titled Reach Out of the Darkness, failed to chart. After their marriage broke up, Post settled in the Chicago area.
Related: For a more extensive look at "Reach Out of the Darkness" and the brief career of Jim and Cathy Post as Friend and Lover, go here.
Jim Post was born Oct. 28, 1939, in Southwest Texas, and performed throughout the Midwest in the '70s and '80s, while also serving as a regular presence on Chicago's Old Town folk circuit. According to his Wikipedia entry, "In 1971, he produced and played on an album of Chicago folk musicians, Gathering at the Earl of Old Town, that included the first recording of [Steve] Goodman's 'City of New Orleans.'"
During the '90s and 2000s, Post performed a one-man show as Mark Twain.
As a solo singer-songwriter, Post released more than a dozen albums for Fantasy, Flying Fish and other labels. He also performed as a children's entertainer.
Related: Musicians we've lost in 2022

Latest posts by Best Classic Bands Staff
(see all)