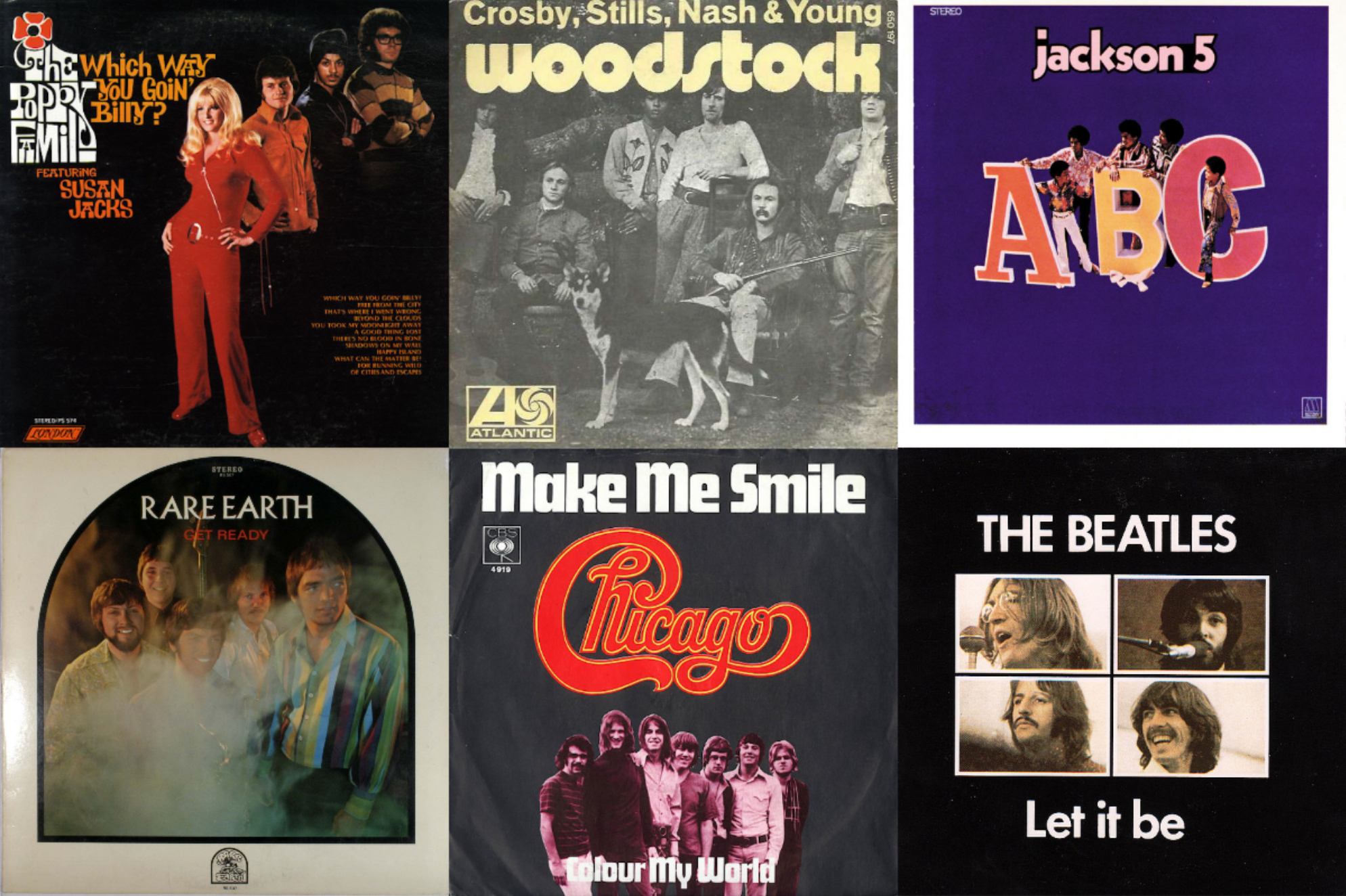 It was springtime in 1970 and the first Earth Day was celebrated in the U.S. on April 22. The American Motors Corporation introduced a new model called the Gremlin. It would stay in production until 1978.
The Apollo 13 lunar mission encountered trouble in space as an oxygen tank exploded. The spacecraft miraculously returned safely.
In the coming days – on May 4 – four students would be shot and killed at Kent State Univ. by Ohio National Guardsmen. And on Los Angeles Top 40 powerhouse KHJ's survey, several future classics were ruling the airwaves.
Bubbling under the Top 10 at #22 was "Up Around the Bend," the newest single by Creedence Clearwater Revival. The song would become one of the band's nine Top 10 hits in just two-and-a-half years.
Canadian pop group the Poppy Family had a big international hit with "Which Way You Goin' Billy?" (#21 this week). The group's rhythm guitarist, Terry Jacks, later married the song's lead vocalist, Susan Pesklevits, and he went on to a solo career, enjoying a #1 smash in 1974 with "Seasons in the Sun." (Our obituary of Susan Jacks, who died in 2022.)
At #18 (on its way to #7) was Joe Cocker's great cover of "The Letter," a hit three years earlier for the Boxtops.
Speaking of covers, Rare Earth's version of "Get Ready" jumped from #22 to #17. (It would peak at #4; the group's first of three Top 10 hits within a year.)
Chicago's "Make Me Smile," at #13, with lead vocals by Terry Kath, would become the band's first of 21 career Top 10 singles.
Crosby, Stills, Nash and Young's recording of "Woodstock" went from #16 to #12 this week. (It would peak at #11 on the Hot 100, making room for their near-instant single, "Ohio.")
Well before he became a country superstar, he led Kenny Rogers and the First Edition to plenty of rock success. "Something's Burning" was at #10 this week on KHJ.
John Lennon wrote, recorded and released "Instant Karma!" in just ten days. The song was at #9 this week (having peaked at #5 nationally).
Related: 50 great rock albums of 1970
Actor Michael Parks had dozens of TV and film roles including the series Then Came Bronson. He was also a recording artist and this week had KHJ's #7 single with the theme song for TV's Long Lonesome Highway.
The Illinois band the Ides of March had one big hit and what a hit it was! The toe-tapping "Vehicle" was #6 this week and ultimately reached #2 nationally.
Related: The story of "Vehicle"
Country-pop vocalist Ray Stevens had six Top 20 pop hits with two that topped the chart. One was "Everything is Beautiful," which moved from #6 to #4 this week.
Related: Top radio hits of 1970
At #2, "Let it Be" from The Beatles ultimately became a #1 U.S. pop hit. Its composer, Paul McCartney, announced his departure from the group shortly thereafter.
And at #1? The Jackson 5's "ABC," one of four straight #1 singles from the Motown act. (The others: "I Want You Back," "The Love You Save" and "I'll Be There.")
22. "Up Around the Bend" – Creedence Clearwater Revival
21. "Which Way You Goin' Billy?" – The Poppy Family
18. "The Letter" – Joe Cocker
17. "Get Ready" – Rare Earth
13. "Make Me Smile" – Chicago
12. "Woodstock" – Crosby, Stills, Nash & Young
10. "Something's Burning" – Kenny Rogers and the First Edition
9. "Instant Karma!" – John Ono Lennon
8. "Turn Back the Hands of Time" – Tyrone Davis
7. "Long Lonesome Highway" – Michael Parks
6. "Vehicle" – The Ides of March
5. "The Bells" – The Originals
4. "Everything is Beautiful" – Ray Stevens
3. "Viva Tirado" – El Chicano
2. "Let it be" – The Beatles
1. "ABC" – The Jackson 5

Latest posts by Best Classic Bands Staff
(see all)