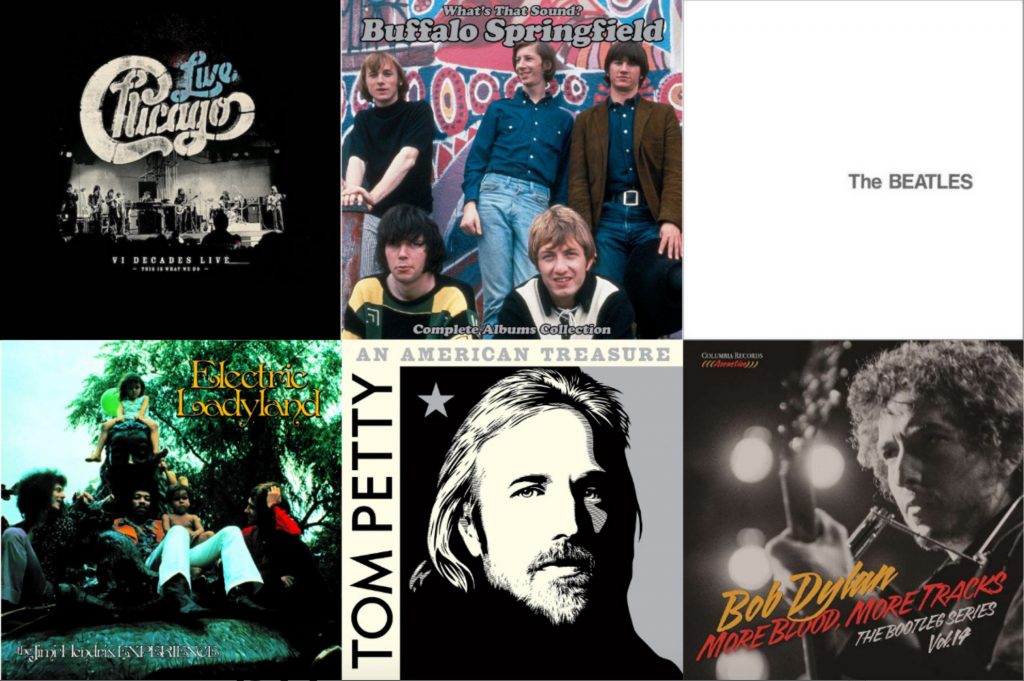 It's that time of year when thoughts turn to that list of stuff we've craved throughout the year—for ourselves and for those we love (if they have good taste)!
For us—and we're guessing for you too—that wish list is always topped by music.
In this first installment we round up the most essential boxed sets, reissues and other historical collections of 2018. In part two we will make our suggestions for the best new releases by classic rock artists. In part three we will highlight the top new holiday music albums. And in part four, we'll recap the year's best music books.
The list is arranged alphabetically by artist (record label in parentheses)—no rankings here because they're all worthy. All of these are available on CD, many also on LP and digitally. The guide does not include titles released on vinyl-only. Ordering links are in the capsule reviews and at the bottom of the page.
Hope you find something you like! We sure did!
The Band—Music From Big Pink 50th Anniversary Super Deluxe Edition (Capitol)
Like many of the titles released this year, this came out in several different configurations. The high-end box offers a single-CD with several outtakes and alternates, a two-LP vinyl plus 45 single, an audio Blu-ray and a beautifully illustrated book. But however you listen to it, it's the fresh Bob Clearmountain mix and brilliant remastering of the original 1968 album that gets the applause.
Watch The Band perform "The Weight" at Woodstock in 1969
The Beatles—The Beatles Super Deluxe 50th Anniversary Edition (The White Album) (Capitol)
A deep, behind-the-scenes look at how the 30-song, double-album masterpiece came to be, the six-CD/one-Blu-ray displays a quartet that still enjoys making music together, even as they were splitting apart. Newly mixed to perfection by Giles Martin (son of George), the Super Deluxe includes the 27 stripped-down Esher Demos, plus other tunes that would find their way to other projects (including Abbey Road and solo albums), a whopping 50 session recordings of in-progress tunes and outtakes galore.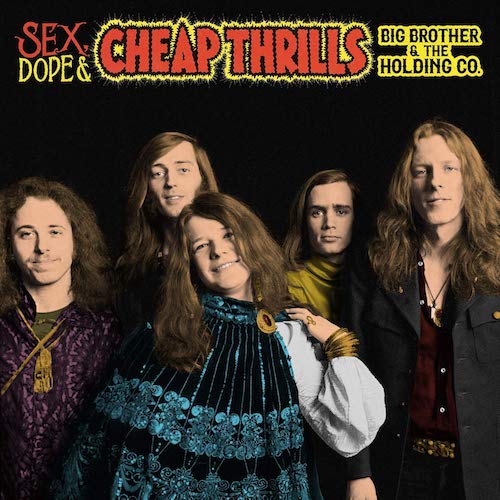 Big Brother and the Holding Company—Sex, Dope & Cheap Thrills (Columbia/Legacy)
The two-CD, 50th anniversary companion piece to Janis Joplin's breakthrough album "restores the band's vision and intent in an essential new collection of 30 rare performances including 29 studio outtakes from the mythic 1968 sessions," said the label's original announcement. Only five of its tracks have been previously released.
David Bowie—Loving the Alien [1983-1988] (Parlophone)
The fourth in a series of career-spanning boxed sets, this one contains 11 CDs, among them three original studio albums, two live sets (one previously unreleased), a new production of 1987's Never Let Me Down and two new compilations. Read more about Bowie here.
Lindsey Buckingham—Solo Anthology: The Best of Lindsey Buckingham (Rhino)
He may have been dumped from the Mac, but Buckingham has plenty of history to draw from as he heads back into his solo career. The three-CD set serves as an overview of his career (mostly), minus that band he was in for 40-plus years. It includes album, live and alternate versions, songs from his 2017 album with Christine McVie, film work and more.
Buffalo Springfield—What's That Sound? Complete Albums Collection (Rhino)
The five discs include all three of the band's original '60s albums in stereo, plus two of them in mono. No bonus tracks or any other surprises, just their original output in stellar fidelity.
Watch Buffalo Springfield perform "For What It's Worth" at the 1967 Monterey Pop Festival
Glen Campbell—Sings for the King (Capitol/UMe)
From 1964 to 1968—in between recording sessions with the Wrecking Crew, touring with the Beach Boys and recording his own albums—Campbell was recruited to record songs for Elvis Presley. Now, 18 of these recently unearthed and unreleased recordings have been released together.
Chicago—VI—Decades Live (Rhino)
Four CDs and a DVD of the band's concert performances, plus several deep cuts that never appeared on any of their live albums. The songs were recorded between 1969-2014, including the band's entire performance at England's Isle of Wight Festival in August 1970. The DVD features a concert that was originally broadcast on the German music television show Rockpalast in 1977. (More details here.)
Gene Clark—Sings for You and Chris Hillman—The Asylum Years (both Omnivore)
In addition to the eight tracks from the Gene Clark Sings for You acetate, recorded in 1967 after he left the Byrds, there are an additional five previously unknown tracks from another 1967 acetate given to the band the Rose Garden for recording consideration. This new compilation also includes a previously unissued demo rescued from a tape, "Till Today." Fans of Clark may also want to check out fellow former Byrd Chris Hillman's single-disc The Asylum Years, focusing on his solo output of the '70s.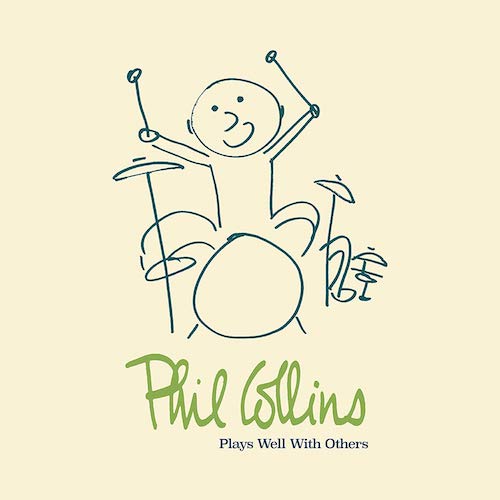 Phil Collins—Plays Well With Others (Rhino)
In addition to Genesis and his solo recordings, Collins has loaned himself out to numerous other artists. These four discs feature his collaborations with everyone from Eric Clapton, Robert Plant, Paul McCartney and George Harrison to David Crosby, Joe Cocker, the Four Tops, Tony Bennett, the Bee Gees, and others.
Neil Diamond—The 50th Anniversary Collection (Capitol/UMe)
He's been around long enough—and is prolific enough—that this retrospective fills six CDs easily. In addition to all the hits it includes demos, rarities and 15 previously unreleased tracks.
The Doors—Waiting for the Sun 50th Anniversary Deluxe Edition (Rhino)
The original album, their third, was somewhat less exciting to behold than the two that preceded it, but still a solid effort. The new deluxe set adds rough mixes and some live tracks from Copenhagen.
Bob Dylan—More Blood, More Tracks and Live 1962–1966: Rare Performances from the Copyright Collection (both Columbia/legacy)
The 14th installment in the "Bootleg Series," released in two-CD and six-CD formats, chronicles the process behind the writing and recording of the 1975 masterpiece Blood on the Tracks. The expanded edition includes every surviving take of the original sessions in New York and Minneapolis—over 70 previously unreleased recordings in all. The new masters also speed-correct some of the original recordings. As is often the case with collections of session takes, some more casual listeners may find it tedious to hear the same song played over and over again, with subtle differences, but completists will savor it. Earlier in the year, Dylan's label also released Live 1962–1966: Rare Performances from the Copyright Collections, a distillation of ancient concert performances issued, as its title implies, to protect the copyrights of the material.
Eagles—Legacy (Rhino)
No big concept here: it's simply a dozen CDs containing all of Eagles' studio album, three more housing their live albums and a compilation of singles and B-sides. It also includes two concert videos: Hell Freezes Over (DVD) and Farewell Tour: Live From Melbourne (Blu-ray). Eagles weren't big on stashing away outtakes and demos and the like, but those looking for everything they released and a small handful of extras can now find it in one well-designed package.
Related: Take a look at our 2017 gift guide and see if you missed one!
Marianne Faithfull—Come and Stay With Me: The UK 45s 1964-1969 (ABKCO)
The 22-track single-disc set includes A- and B-sides of each 45 recorded for the Decca label in the 1960s, and the entirety of her Go Away From My World EP.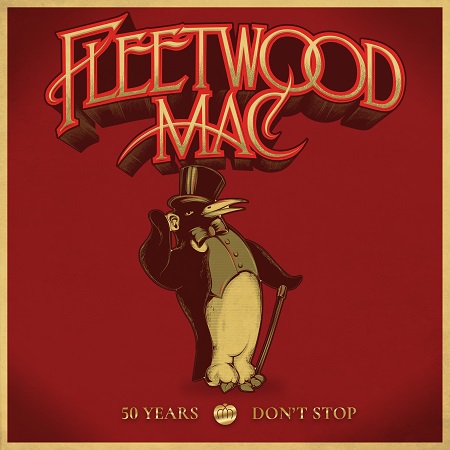 Fleetwood Mac—50 Years—Don't Stop (Rhino)
Described as "the first to explore the group's entire career from its early days playing the blues, to its global success," the three-disc anthology goes back to the pre-Buckingham/Nicks days and includes material showcasing early members Peter Green, Jeremey Spencer, Danny Kirwan, Bob Welch and others.
Glenn Frey—Above the Clouds: The Collection (Geffen/UMe)
The three-CD/one-DVD compendium "compiles the key elements of Frey's music both before and after the Eagles became international superstars," says the original announcement. Included are live recording and early studio material cut in 1969 with J.D. Souther as Longbranch Pennywhistle.
Bobbie Gentry—The Girl From Chickasaw County (Capitol/UMe)
She'll always be best known for her classic "Ode to Billie Joe," but there was a lot more. Now it's all been compiled on an eight-disc, 177-track collection that includes more than 75 previously unreleased tunes. It includes what's been described as her "lost jazz album."
Grateful Dead— Pacific Northwest '73-'74: The Complete Recordings (Rhino), Anthem of the Sun 50th Anniversary Deluxe Edition (Rhino) and Jerry Garcia—Before the Dead (Round)
The Dead continued to release tons of archival material this year, the most impressive product being the 19-disc library of every note they played during their trek through Vancouver, Seattle and Portland in the early '70s. (There's also a three-CD version available for the overkill-averse). The band's second album, Anthem of the Sun, also received the 50th anniversary deluxe upgrade, now augmented with a 1967 live show. But true aficionados will want to check out the revealing four-disc set that captures every available recording of Jerry Garcia in his pre-Dead acoustic music years.
Watch a teaser for Jerry Garcia Before the Dead
Guns N' Roses—Appetite for Destruction Super Deluxe Edition (Geffen/UMe)
A massive celebration of a game-changing hard rock record, its four CDs feature 49 previously unreleased tracks. There's also a Blu-ray audio disc including five bonus tracks and four original videos, a bunch of lithos and a 96-page hardcover book.
The Jimi Hendrix Experience— Electric Ladyland and Both Sides of the Sky (both Experience Hendrix/Legacy)
Another 50th anniversary commemoration, the three-CD/one-Blu-ray Electric Ladyland devotes one disc each to the original Hendrix album, the making of said album (early takes, demos, etc.) and a live Hollywood Bowl show from Sept. 1968. The Blu-ray expands on the "making of" concept in documentary form and includes the album in 5.1 surround sound. Both Sides of the Sky, meanwhile, is a single disc featuring tracks cut between 1968-70, some of which feature contributions by Stephen Stills and Johnny Winter.
Watch a teaser for the Electric Ladyland box
Jethro Tull—This Was 50th Anniversary Edition (Rhino)
At first they were something of a jazz/blues-influenced band—they even got bookings at several prominent jazz festivals. That phase didn't last long but it was captured for posterity on their debut—the only one to feature guitarist Mick Abrahams—which is now getting the 50th anniversary treatment. The three-CD/one-DVD release includes a live BBC session from '68, various bonus tracks, mono and stereo mixes of the album, radio spots and more.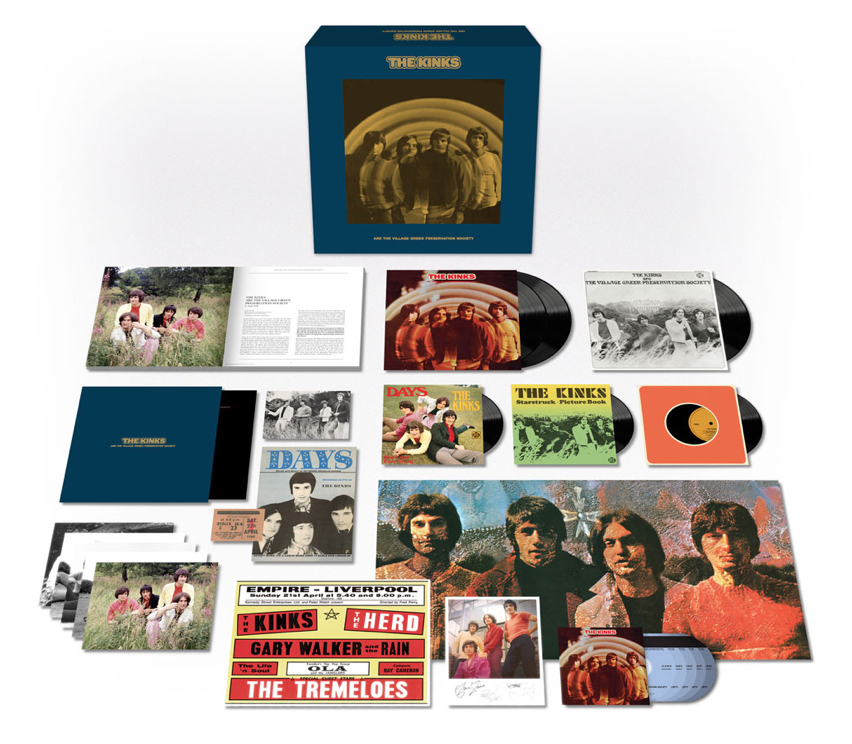 The Kinks—The Kinks Are the Village Green Preservation Society Super Deluxe Edition (BMG) and Dave Davies—Decade (Red River)
The 50th anniversary edition of Village Green Preservation Society comes in various formats. The super deluxe contains includes 174 tracks in al, including the original LPs, CDs of the remastered original albums plus much unreleased bonus material, reproduced 7″ singles, a deluxe hardback photo book and more. For those who want even more Kinks-related material, guitarist Dave Davies has assembled 13 "lost" tracks he wrote and recorded for the Kinks in the '70s but never released.
Led Zeppelin—How the West Was Won and The Song Remains the Same (both Atlantic/Swan Song)
Originally released in 2003, the new super deluxe edition of How the West…, featuring California shows from 1973, includes three CDs, four LPs and a DVD (with the remastering supervised by Jimmy Page), along with a 52-page book. Zep's 50-year anniversary also found them reissuing 1976's The Song Remains the Same, their first live album, this time with the super deluxe featuring two CDs, four LPs and three DVDs, with a 28-page book including an essay by Cameron Crowe. The full album makes its debut in hi-res 5.1 surround sound on Blu-ray audio.
John Lennon—Imagine—The Ultimate Collection (Geffen/UMe)
Spread across four CDs and two Blu-ray discs, this expanded edition offers a variety of listening experiences, ranging from the new "Ultimate Mixes" of the album to the raw studio mixes that allow listeners to hear Lennon and the Plastic Ono Band's original, unadorned performances, to enveloping 5.1 surround sound mixes, and the original four-speaker Quadrasonic mix remastered for the first time in nearly 50 years.
Love—Forever Changes 50th Anniversary Edition (Rhino)
The four-CD/DVD/LP edition of the classic by the L.A. band features a few firsts for the album, including the CD debut of a remastered version made by its original co-producer and engineer, Bruce Botnick, as well as the first-ever release of the mono version on CD. Also included are alternate mixes of the album, as well as a selection of rare and unreleased singles and studio outtakes.
Paul McCartney/Wings—Wild Life and Red Rose Speedway (MPL/Capitol/UMe)
The four-disc (three-CD, one-DVD) limited deluxe edition of Wild Life, the debut album from Wings, originally released December 1971, features the full album remastered at Abbey Road plus 25 bonus audio tracks, including rough mixes of the album, original single edits, B-sides, home recordings and other previously unreleased material across three CDs. And the six-disc (three-CD, two-DVD + Blu-ray) numbered limited deluxe edition of the second Wings album (and first credited to Paul McCartney and Wings), Red Rose Speedway, released in April 1973, features three discs of audio, including the original album remastered at Abbey Road, 35 bonus audio tracks, including a reconstruction of the originally conceived double album version of Red Rose Speedway, singles, B-sides, alternate mixes and previously unreleased tracks.
Metallica—…And Justice for All (Blackened)
The reissue is available in several formats. The expanded edition includes previously unreleased demos and live tracks, rough mixes and an expanded booklet. The limited-edition deluxe boxed set includes the remastered double 180g LP, a "One" picture disc, three LPs featuring their performance from Seattle in 1989, 11 CDs, four DVDs, a 120-page book and more.
The Moody Blues—In Search of the Lost Chord 50th Anniversary Deluxe Edition (Polydor/Republic/UMe)
The three-CD/two-DVD boxed set features the album's remastered original stereo mix and new stereo mix, plus rare and unreleased tracks, including a never-before-heard mono version of "Legend of a Mind." There are BBC Radio One John Peel "Top Gear" and "Afternoon Pop Show" sessions, as well as mono mixes of the related Deram single A- and B-sides.
Graham Nash—Over the Years (Rhino/Atlantic)
The two-disc (or two-LP) anthology features 30 tracks and was released on June 29 as a two-CD set. A 15-track, two-LP version, featuring an etching on "Side Four," has been curated by Nash and longtime associate Joel Bernstein and includes extensive credits and liner notes.
Tom Petty—An American Treasure (Reprise)
An American Treasure, the first posthumous Petty release, is available in a variety of physical formats, including Super Deluxe four-CD box set, standard two-CD set (with 26 songs) and six-LP vinyl box set. The 60-track version unveils dozens of previously unreleased recordings, alternate versions of classic songs, rarities, historic live performances and deep tracks.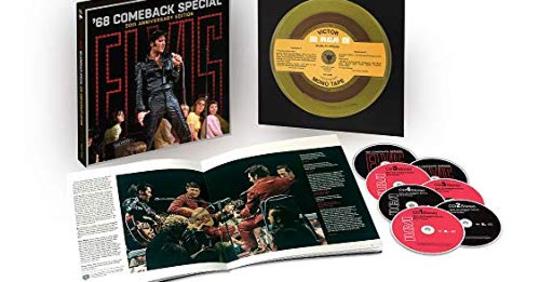 Elvis Presley—'68 Comeback Special—50th Anniversary Edition (RCA/Legacy)
This five-CD/two-Blu-ray deluxe package includes all previously released audio and newly restored video from the taping of the 1968 TV special, including unused performances and studio outtakes. The package contains an entire disc showcasing the sessions for the special with Elvis and the Wrecking Crew, plus an 80-page book featuring rare photographs and ephemera and a new oral history on the special.
Procol Harum—Still There'll Be More: An Anthology 1967-2017 (Esoteric/Cherry Red)
The eight-disc set comprises five CDs and three DVDs, of which the first three discs draw upon the key tracks from Procol Harum's career. Disc four features the band's concert at the Hollywood Bowl on September 21, 1973 (with the Los Angeles Philharmonic Orchestra and the Roger Wagner Chorale), while disc five features a previously unreleased concert at the Bournemouth Winter Gardens on March 17, 1976. The DVD features over three-and-a-half hours of footage, mostly previously unreleased.
The Ramones—Road to Ruin 40th Anniversary Edition (Rhino)
There are two versions of the album: a three-CD/one-LP boxed set, as well as a newly remastered version of the original album. Both titles are also available digitally and via streaming services. The deluxe edition contains two different mixes of the album, unissued rough mixes for every album track and an unreleased 1979 concert recording of the Ramones in New York.
Otis Redding—Dock of the Bay Sessions (Rhino)
Although the 12 individual tracks on this collection have been previously released across a smattering of posthumous albums and compilations, this marks the first time they have been assembled to resemble what this album could possibly have been.
Rolling Stones—Beggars Banquet 50th Anniversary Edition (ABKCO) and Voodoo Lounge Uncut (Eagle Rock)
The Stones' landmark 1968 release is reissued in an overwrap of the "inoffensive" wedding invitation art, which was initially issued as a replacement cover when the original intended album art was rejected. A limited-edition hybrid two-disc Super Audio CD is designed to look like a miniaturized replica of the 12" gatefold double-vinyl edition. The Voodoo Lounge Uncut, meanwhile, presents for the first time the full, unedited show filmed on November 25, 1994, at Miami's Joe Robbie Stadium. The new version features 10 performances omitted from its previous release in the '90s, and the full show is now presented in its original running order.
Watch the Stones perform "Sympathy for the Devil" in 1969 at Mick Taylor's first gig with the band
Rush—Hemispheres (UMe/Anthem/ole)
The Super Deluxe Edition includes two CDs, one Blu-ray Audio disc and three high-quality 180-gram black vinyl LPs. The set encompasses the Abbey Road Studios 2015 remastered edition of the album for the first time on CD, along with previously unreleased and newly restored bonus content consisting of the band's June 1979 Pinkpop Festival performance in the Netherlands. Also included is a 40-page book and other extras.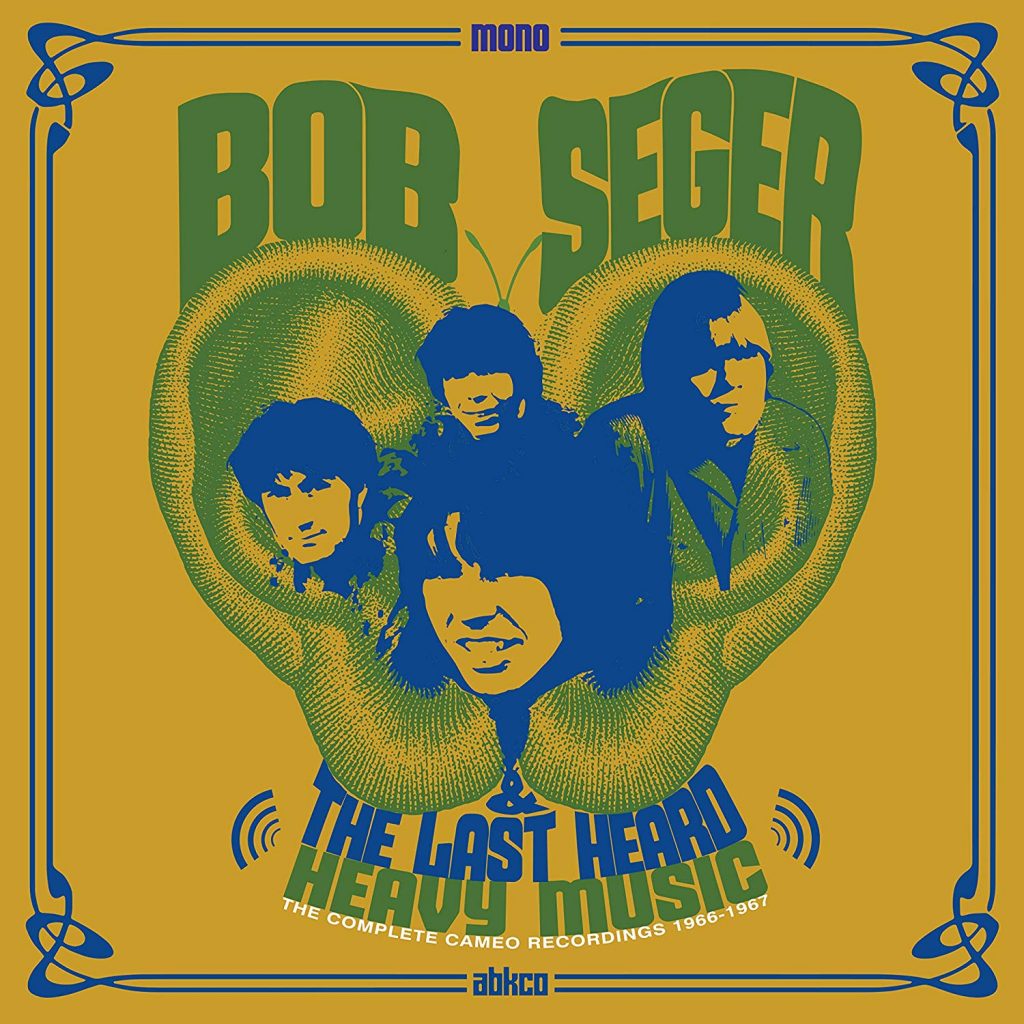 Bob Seger—Heavy Music: The Complete Cameo Recordings 1966-1967 (ABKCO)
This release marks the first time that all recordings by Seger's early Detroit group are available since their original release as 45 rpm singles. The collection is wrapped in a newly designed album package, sold as a single CD, a single 180-gram vinyl LP and on all digital platforms.
Various Artists—Concert For George (Concord)
The historic 2002 tribute concert for George Harrison—featuring Paul McCartney, Ringo Starr, Tom Petty, Eric Clapton, Jeff Lynne and others—was captured on two CDs and two DVDs, released here in a digipak. The DVDs contain the theatrical version and complete concert, including concert highlights, interviews with the performers, rehearsals and behind-the-scenes footage.
Various Artists—Stax '68: A Memphis Story (Craft)
The five-CD collection contains the A- and B-sides of every single released under the Stax Records banner in 1968, including the company's sub-labels. There are 120 songs in all, including some tracks by soul legends (Isaac Hayes, the Staple Singers, William Bell, Booker T. & the M.G.'s, Johnnie Taylor) and some from the deeper Stax catalog (Linda Lyndell, the Soul Children, the Mad Lads).
Loudon Wainwright III—Years in the Making (Storysound)
The singer-songwriter dug out 42 previously unreleased tracks: home recordings, live cuts and more, some of which are decades old. Collaborators include everyone from Wainwright's then-wife Kate McGarrigle and three kids (including Rufus Wainwright) and jazz guitarist Bill Frisell.
The Who—Live at Fillmore East 1968 (Polydor)
Released long ago as a bootleg, the new two-CD version is remastered. The April 1968 show at the New York venue was only the fourth to be booked there by promoter Bill Graham—the band concentrated on material from its albums A Quick One and The Who Sell Out but the entire second CD is given over to an extended take on "My Generation."
Neil Young—Roxy: Tonight's the Night Live (Reprise)
The 1973 concert featured a group Young called the Santa Monica Flyers. The show took place after he had recorded his album Tonight's the Night in the wake of the drug overdose deaths of Crazy Horse guitarist Danny Whitten and Young's friend and roadie Bruce Berry. (The album was not released until 1975.)
Frank Zappa/Mothers—The Roxy Performances (Zappa/UMe)
The seven-CD boxed set collects all four public shows from December 9-10, 1973, and the December 8 film shoot/soundcheck. Each is presented in its entirety for the first time, along with bonus content featuring rarities from a rehearsal, unreleased tracks and highlights from the Bolic Studios recording session.
Watch footage from Zappa and the Mothers' 1973 Roxy show

Latest posts by Best Classic Bands Staff
(see all)