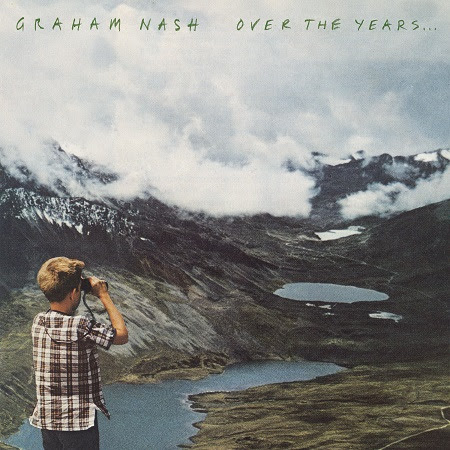 As Graham Nash prepares to launch a European tour in July, Rhino Records will look back at some of his best-known recordings from the past 50 years in a new anthology featuring more than a dozen unreleased demos and mixes. Titled Over the Years…, the set features 30 tracks and was released on June 29 as a two-CD set. A 15-track, 2-LP version, featuring an etching on "Side Four," will be released on August 31. The anthology has been curated by Nash and longtime associate Joel Bernstein and includes extensive credits and liner notes.
"It does my heart good to present my songs this way. I hope that listeners will enjoy hearing the demos of my songs—how my demos of 'Our House,' 'Teach Your Children' and others turned into the records that have endured 'Over The Years,' how I started writing them, and how they became the now familiar recordings when they were released," said Nash in a press release. Listen to many of the demos below.
Over the Years… highlights songs from the CSN debut album ("Marrakesh Express") and its successor album Déjà Vu, for which Neil Young joined forces with CSN ("Our House" and "Teach Your Children") as well as songs from subsequent CSN albums ("Just A Song Before I Go" and "Wasted on the Way").
Listen to the demo of "Just a Song Before I Go"
In addition, the collection highlights songs that Nash recorded for his 1971 solo debut, Songs For Beginners, including "Military Madness" and "Simple Man," and includes unreleased mixes for two other songs from that album: "Better Days" and "I Used to Be a King." The most recent recording on the compilation is "Myself at Last" from Nash's 2016 solo album This Path Tonight.
Two tracks from his duets albums with David Crosby ("Immigration Man" and "Wind on the Water") are also included in the collection.
The CD version of Over the Years… includes 15 demo recordings, 12 of which have never been released. Standouts include the 1968 London demo of "Marrakesh Express," rejected by the Hollies and setting the stage for Nash's relocation to Los Angeles and the formation of CSN. The set contains early versions of CSN classics like "Our House," "Wasted on the Way," "Pre-Road Downs" and "Teach Your Children."
Listen to the demo for "Pre-road Downs"
Other unreleased gems include: "I Miss You" and "You'll Never Be the Same," both from Nash's 1974 solo album Wild Tales, and "Horses Through a Rainstorm," originally intended for Déjà Vu.
Listen to "Wasted on the Way" demo
In addition to his July U.K. and European tour, Nash will continue to support Over the Years… with a fall U.S. tour. See the full itinerary below.
Listen to Nash's demo of "Teach Your Children"
Over the Years…CD Track Listing
Disc One
1. "Marrakesh Express"
2. "Military Madness"
3. "Immigration Man"
4. "Just A Song Before I Go"
5. "I Used To Be King" *
6. "Better Days" *
7. "Simple Man"
8. "Teach Your Children"
9. "Lady Of The Island"
10. "Wind On The Water"
11. "Our House"
12. "Cathedral"
13. "Wasted On The Way"
14. "Chicago/We Can Change The World"
15. "Myself At Last"
* Previously unreleased mixes
Disc Two: The Demos
1. "Marrakesh Express" – London, 1968
2. "Horses Through A Rainstorm" – London, 1968
3. "Teach Your Children" – Hollywood, 1969
4. "Pre-Road Downs" – Hollywood, 1969
5. "Our House" – San Francisco, 1969
6. "Right Between The Eyes" – San Francisco, 1969 *
7. "Sleep Song" – San Francisco, 1969 *
8. "Chicago" – Hollywood, 1970 *
9. "Man In The Mirror" – Hollywood, 1970
10. "Simple Man" – Hollywood, 1970
11. "I Miss You" – San Francisco, 1972
12. "You'll Never Be The Same" – San Francisco, 1972
13. "Wind On The Water" – San Francisco, 1975
14. "Just A Song Before I Go" – San Francisco, 1976
15. "Wasted On The Way" – Oahu, 1980
Previously unreleased demo versions, except *
Related: Our conversation with Nash on "life after CSN"
Graham Nash Tour Dates (Buy tickets here or here)
June 30 I Suoni delle Dolomiti, Val di Fassa, Dolomiti, Trentino, Italy
July 1 Piazza Leopardi – Recanati, Recanati, Italy
July 2 Casa del Jazz, Rome, Italy
July 4 Teatro Manzoni, Pistoia, Italy
July 5 Villa Arconati, Milan, Italy
July 7 Rudolstadt-Festival, Rudolstadt, Germany
July 8 Honberg-Sommer Festival, Tuttlingen, Germany (With Steve Earle & the Dukes)
July 9 Parkbühne Open Air, Leipzig, Germany (With Steve Earle & the Dukes)
July 11 Trifolion Echternach, Echternach, Luxembourg
July 12 Volkshaus, Zurich, Switzerland
July 14 Amsterdamse Bostheater, Amstelveen, Netherlands
July 16 Botanical Gardens (Special Guest to Van Morrison), Gothenburg, Sweden
July 18 De Grote Post, Ostend, Belgium
July 20 The Sage, Gateshead, UK
July 21 Philharmonic, Liverpool, UK
July 22 Bridge Theatre, London, England
July 24 De La Warr Pavilion, Bexhill-on-Sea, UK
July 25 St George's, Bristol, UK
July 26 Town Hall, Birmingham, UK
July 28 Perth Concert Hall, Perth, UK
July 29 The Lowry, Salford, UK
July 31 National Concert Hall, Dublin, RE
Sep 19 – Paramount Theatre – Austin, TX
Sep 20 – Dosey Doe – The Woodlands, TX
Sep 21 – Arlington Music Hall – Arlington, TX
Sep 23 – Chautauqua Auditorium – Boulder, CO
Sep 24 – Stanley Hotel – Estes Park , CO
Sep 25 – Strings Music Pavilion – Steamboat Springs, CO
Sep 27 – The Commonwealth Room – Salt Lake City, UT
Sep 29 – Montbleu Resort Casino & Spa – Lake Tahoe, CA
Oct 01 – Edmonds Center for the Arts – Edmonds, WA
Oct 02 – The Aladdin – Portland, OR
Oct 03 – Cascade Theatre – Redding, CA
Oct 05 – Crest Theatre – Sacramento, CA
Oct 07 – Golden State Theater – Monterey, CA
Oct 10 – Tower Theatre Fresno – Fresno, CA
Oct 13 – Humphrey's Concerts – San Diego, CA
2019
Mar 10 – Avalon Theatre – Easton, MD
Mar 22 – Palladium at the Center for the Perf. Arts – Carmel, IN
Listen to Graham Nash's original piano demo for "Our House"

Latest posts by Best Classic Bands Staff
(see all)