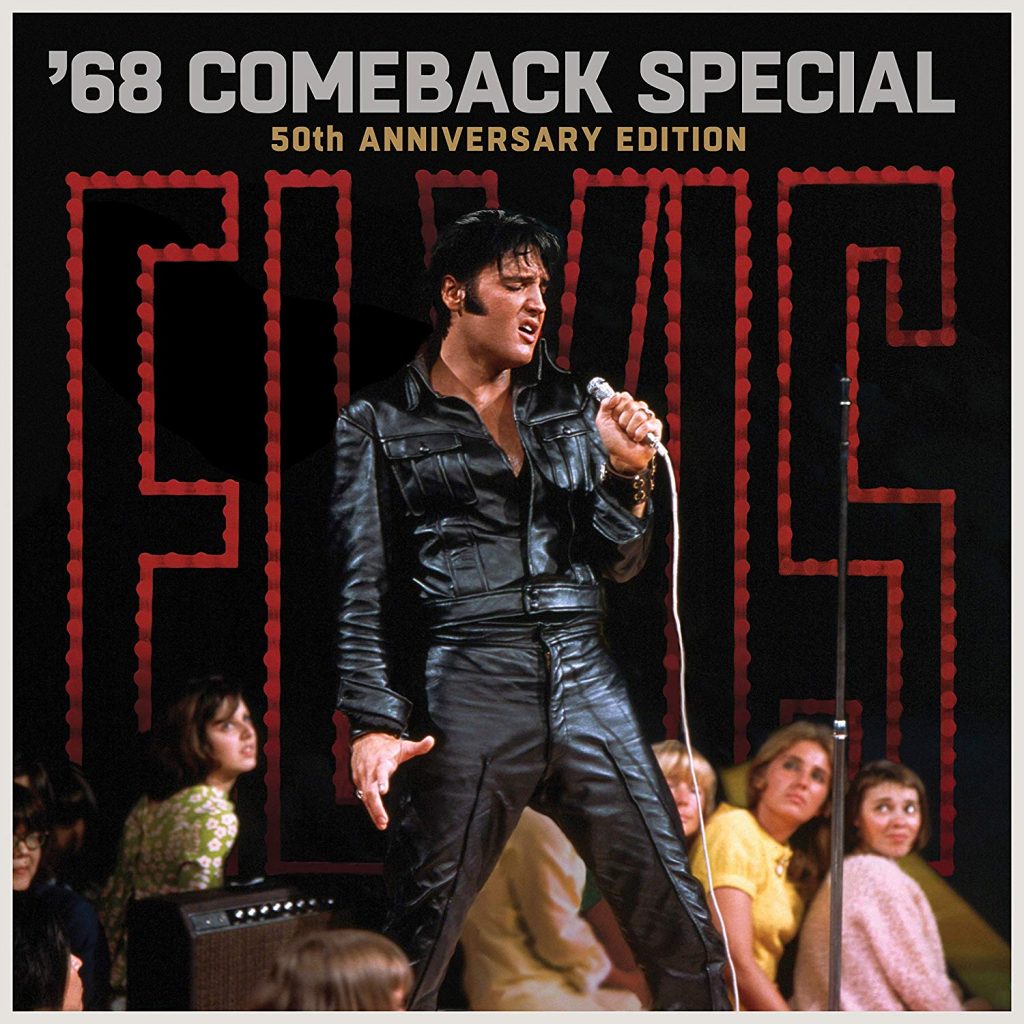 The 50th anniversary of Elvis Presley's 1968 NBC-TV "comeback" special will be commemorated with the release of a deluxe boxed set by RCA/Legacy Recordings, on Nov. 30. The set arrives just days before the anniversary of the world premiere broadcast of the original special on Dec. 3.
Elvis Presley—'68 Comeback Special (50th Anniversary Edition) is described in an Oct. 23 press release as "the definitive chronicle of one of the greatest rock 'n' roll performances ever televised: Elvis Presley at the peak of his powers." For the first time ever, continues the release, "all previously released audio and newly restored video from the taping of the special will be available in one package, including unused performances and studio outtakes that spotlight the real Elvis. The package contains an entire disc showcasing the legendary sessions for the special recorded with Elvis and the Wrecking Crew.
Watch the remastered performance of "One Night"
See the complete track listing below.
This 5-CD/2-Blu-ray disc deluxe package also includes an 80-page book featuring rare photographs and ephemera and a new oral history on the special, crafted from interviews conducted for Thom Zimny's 2018 documentary, Elvis Presley: The Searcher. The newly restored Blu-ray video was also overseen by Zimny. The content from the boxed set will be released digitally as separate audio and video products on Nov. 30.
Related: Elvis' '68 comeback: the story behind the special
Also being released on Nov. 30 is the 2-LP vinyl presentation of The King in the Ring. Originally released on vinyl for the first time earlier this year in a limited-edition run for Record Store Day, this 2-LP set showcases the standout, intimate "sit down" sets from the '68 special. These live performances were recorded in the round before a small audience and featured guitarist Scotty Moore and drummer D.J. Fontana, both part of Elvis' original backing band.
Watch the King perform "Jailhouse Rock"
The anniversary of this moment in rock n' roll history will continue into 2019 when NBC and Ken Ehrlich Productions team up for a two-hour primetime television tribute to the original special.
The 50th Anniversary of the Elvis Comeback Special will feature an all-star group of artists "recreating the spectacle – even the staging – of that legendary night of song," says the press release. In addition to the musical performances, the production will include rare Elvis footage, outtakes and interviews from those involved in the original '68 Comeback Special.
For an in-depth behind-the-scenes look at the making of the '68 Comeback Special, director/producer Steve Binder has written the new book, Comeback '68/Elvis: The Story Of The Elvis Special.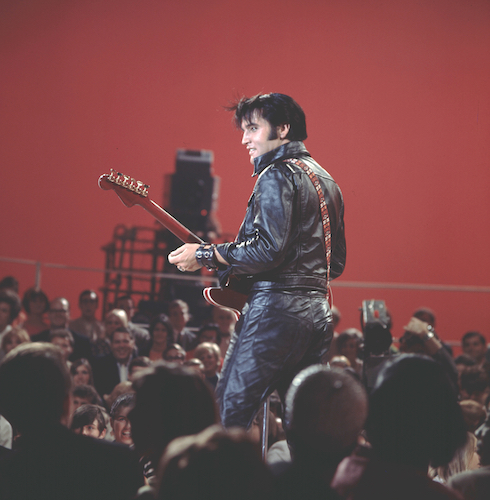 Elvis Presley – '68 Comeback Special (50th Anniversary Edition)
CD1: ELVIS (NBC-TV Special) original album and outtakes
CD2: First "sit-down" and "stand-up" shows – June 27 and 29, 1968
CD3: Second "sit-down" and "stand-up" shows – June 27 and 29, 1968
CD4: First and second rehearsals in Elvis' dressing room – June 24 and 25, 1968
CD5: The Wrecking Crew Sessions: studio outtakes from the special – June 20-23, 1968
BD1-2: Original and extended cuts of television special, complete "sit-down" and "stand-up" shows and outtakes
ELVIS PRESLEY – '68 COMEBACK SPECIAL (50TH ANNIVERSARY EDITION)
CD 1
The Original Album
1. Trouble / Guitar Man (Opening)
2. Medley:
Lawdy, Miss Clawdy
Baby, What You Want Me To Do
Dialogue; Medley: Heartbreak Hotel / Hound Dog / All Shook Up
Can't Help Falling In Love
Jailhouse Rock
Dialogue; Love Me Tender
3. Medley:
Dialogue; Where Could I Go But To The Lord / Up Above My Head / Saved
4. Medley:
Dialogue; Blue Christmas (5:34)
Dialogue; One Night
5. Memories
6. Medley:
Nothingville / Dialogue; Big Boss Man / Guitar Man / Little Egypt / Trouble / Guitar Man
7. If I Can Dream
Bonus Cuts
8. It Hurts Me (splice/edit of part 1 – take 7, part 2 – take 7 & part 1 – take 6)
9. Let Yourself Go (splice/edit of part 1 – take 1 & part 2 – take 2)
10. Memories
11. If I Can Dream
Watch a medley of hits
CD 2
First "Sit Down" show
1. That's All Right
2. Heartbreak Hotel
3. Love Me
4. Baby, What You Want Me To Do
5. Blue Suede Shoes
6. Baby, What You Want Me To Do
7. Lawdy, Miss Clawdy
8. Are You Lonesome Tonight?
9. When My Blue Moon Turns To Gold Again
10. Blue Christmas
11. Trying To Get To You
12. One Night
13. Baby, What You Want Me To Do
14. One Night
15. Memories
Watch "Lawdy, Miss Clawdy" from the "Sit Down" show
First "Stand Up" show
16. Heartbreak Hotel
17. Hound Dog
18. All Shook Up
19. Can't Help Falling In Love
20. Jailhouse Rock
21. Don't Be Cruel
22. Blue Suede Shoes
23. Love Me Tender
24. Trouble
25. Baby, What You Want Me To Do
26. If I Can Dream
Watch "Blue Suede Shoes" from the "Stand Up" show
CD 3
Second "Sit Down" show
1. Heartbreak Hotel
2. Baby, What You Want Me To Do
3. Introductions
4. That's All Right
5. Are You Lonesome Tonight?
6. Baby, What You Want Me To Do
7. Blue Suede Shoes
8. One Night
9. Love Me
10. Trying To Get To You
11. Lawdy, Miss Clawdy
12. Santa Claus Is Back In Town
13. Blue Christmas
14. Tiger Man
15. When My Blue Moon Turns To Gold Again
16. Memories
Second "Stand Up" show
17. Heartbreak Hotel
18. Hound Dog
19. All Shook Up
20. Can't Help Falling In Love
21. Jailhouse Rock
22. Don't Be Cruel
23. Blue Suede Shoes
24. Love Me Tender
25. Trouble/Guitar Man
26. Trouble/Guitar Man
27. If I Can Dream
CD 4
First rehearsal
1. I Got A Woman
2. Blue Moon / Young Love / Oh, Happy Day
3. When It Rains It Really Pours
4. Blue Christmas
5. Are You Lonesome Tonight? / That's My Desire
6. That's When Your Heartaches Begin
7. Peter Gunn Theme
8. Love Me
9. When My Blue Moon Turns To Gold Again
10. Blue Christmas / Santa Claus Is Back In Town
Second rehearsal
11. Danny Boy
12. Baby, What You Want Me To Do
13. Love Me
14. Tiger Man
15. Santa Claus Is Back In Town
16. Lawdy, Miss Clawdy
17. One Night
18. Blue Christmas
19. Baby, What You Want Me To Do
20. When My Blue Moon Turns To Gold Again
21. Blue Moon Of Kentucky
CD 5
The Wrecking Crew Sessions
1. Nothingville (Guitar Man's Evil #1) – takes 5 & 6
2. Guitar Man (Guitar Man's Evil #1) – take 2
3. Let Yourself Go, part 1 (Guitar Man's Evil #2) – take 5 & 7/M
4. Let Yourself Go, part 2 (Guitar Man's Evil #3) – take 7/M
5. Guitar Man (Escape #1, fast) – takes 1, 2 & 5
6. Big Boss Man (Escape #3) – take 2
7. It Hurts Me, part 1 (Escape #4) – take 5
8. It Hurts Me, part 2 (After Karate #1) – take 3
9. Guitar Man (After Karate #2) – take 1
10. Little Egypt (After Karate #2) – take 6
11. Trouble / Guitar Man (After Karate #3) – take 2
12. Sometimes I Feel Like A Motherless Child / Where Could I Go But To The Lord (Gospel #1) – rehearsal & take 1 (5:23)
13. Up Above My Head / Saved (Gospel #2) – takes 4 & 7
14. Saved (Gospel #3) – takes 2 & 4
15. Trouble / Guitar Man (Opening) – takes 6 & 7
16. If I Can Dream – take 1
17. If I Can Dream – takes 2, 3 & 4
18. Memories – takes 3 & 4/vocal overdub #1
19. Let Yourself Go (closing instrumental)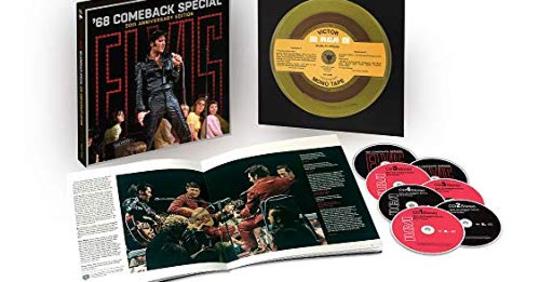 Blu-ray Disc 1
Elvis NBC TV Special originally broadcast on December 3, 1968
Black Leather Sit-Down Show #1 – June 27, 1968
Black Leather Sit-Down Show #2 – June 27, 1968
Black Leather Stand-Up Show #1 – June 29, 1968
Black Leather Stand-Up Show #2 – June 29, 1968
Blu-ray Disc 2
Trouble/Guitar Man TV Show Opener – June 30, 1968 – All Takes and Raw Components
If I Can Dream TV Show Closer – June 30, 1968 – All Takes
Huh-Huh-Huh Promo – June 30, 1968
Elvis Closing Credits Without Credit Roll – June 30, 1968
If I Can Dream Special Music Video 2004 – June 30, 1968
Gospel Production Number – All Takes and Raw Components
Guitar Man Production Number – All Takes and Raw Components
Blu-ray Special Feature Re-Cut
Musicians
Vocal & guitar: Elvis Presley
June 20-23 & 29
The Wrecking Crew:
Guitar: Tommy Tedesco
Guitar: Mike Deasy
Guitar: Al Casey
Bass & keyboards: Larry Knechtel
Bass: Charles Berghofer
Piano: Don Randi
Drums: Hal Blaine
Percussion: John Cyr
Percussion: Elliot Franks
Bongos: Frank DeVito
Harmonica: Tommy Morgan
The NBC Orchestra conducted by Billy Goldenberg
June 20-23
Vocals: The Blossoms: Darlene Love, Fanita James, Jean King
Vocals: Julie Rinker, B. J. Baker, Frank Howren, Bill Lee, Gene Merlino, Thurl Ravenscroft, Bill Brown, Joe Eich, Elaine Black, Dean Parker, Jack Gruberman, Sally Stevens, Jackie Ward, Ronald Hicklin, Tom Bahler, Mitch Gordon
June 24 & 25
Guitar: Elvis Presley
Guitar: Scotty Moore
Percussion: D. J. Fontana
And friends
June 27
Guitar: Elvis Presley
Guitar: Scotty Moore
Guitar & Vocals: Charlie Hodge
Guitar case used as Drums: D. J. Fontana
Percussion: Alan Fortas
Tambourine: Lance Legault
ELVIS PRESLEY – THE KING IN THE RING 2-LP
Disc 1, Side A
1. That's All Right
2. Heartbreak Hotel
3. Love Me
4. Baby What You Want Me To Do
5. Blue Suede Shoes
6. Baby What You Want Me To Do
7. Lawdy, Miss Clawdy
Disc 1, Side B
1. Are You Lonesome Tonight?
2. When My Blue Moon Turns To Gold Again
3. Blue Christmas
4. Trying To Get To You
5. One Night
6. Baby What You Want Me To Do
7. One Night
8. Memories
Disc 2, Side C
1. Heartbreak Hotel
2. Baby What You Want Me To Do
3. Introductions
4. That's All Right
5. Are You Lonesome Tonight?
6. Baby What You Want Me To Do
7. Blue Suede Shoes
8. One Night
Disc 2, Side D
1. Love Me
2. Trying To Get To You
3. Lawdy, Miss Clawdy
4. Santa Claus Is Back In Town
5. Blue Christmas
6. Tiger Man
7. When My Blue Moon Turns To Gold Again
8. Memories
Watch the opening production number from the '68 special

Latest posts by Best Classic Bands Staff
(see all)