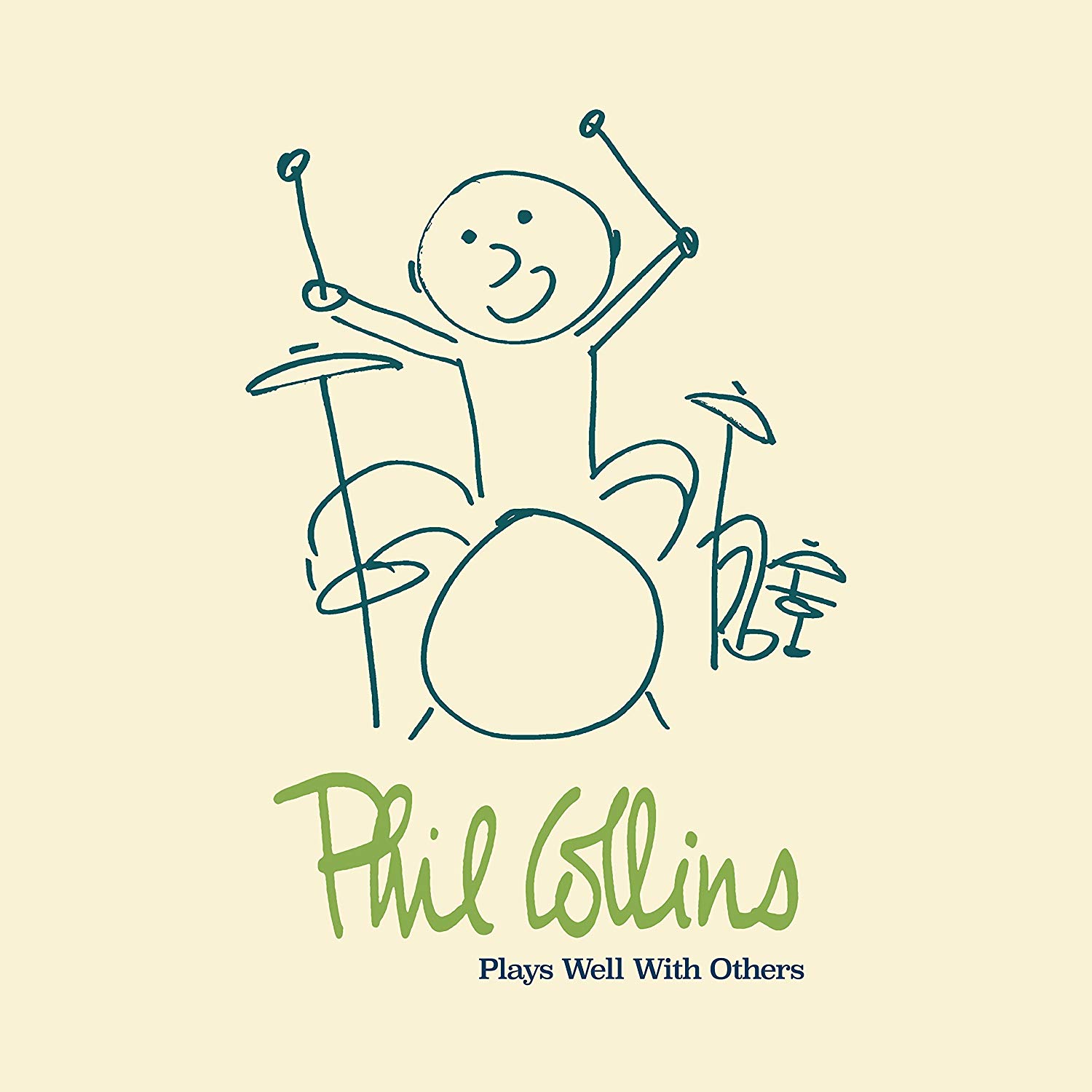 Phil Collins announced on July 18 the release of a box set of his collaborative highlights, covering more than four decades of work with other recording artists. The set, Plays Well With Others, which includes performances with such classic rock stars as Eric Clapton, Robert Plant, Paul McCartney, George Harrison, and many more, was released on September 28 by Rhino, to coincide with his North American tour this fall.
The 59-track, 4-CD collection covers Collins's career from 1969 to 2011, and also includes recordings with Rod Argent, David Crosby, the Four Tops, Tony Bennett, the Bee Gees, and others. (See the complete track listing below; order it here.)
On May 7, Collins announced that his Not Dead Yet, Live! tour is coming to North America in October for 15 shows. The limited engagement runs from Oct. 5-28. On August 22 came the news that he'll be bring the tour to Australia and New Zealand in 2019. (See dates below.)
In the box set announcement, Collins wrote: "Some would say I've lived a charmed life. I've done what I wanted for most of it, and got paid well for doing something I'd have done for nothing: Playing the drums. During that time I've played with most of my heroes, most have become close friends. Over these 4 CDs you'll find a mere smattering of those moments. I thank the artists for letting me put this CD together, no easy task! Love, PC"
The title comes from a joke gift that happened to contain a profound truth. Chester Thompson, the man who became Genesis's day-to-day drummer once Collins had become the frontman, arranged to have a special birthday present made for him. It wasn't a hugely expensive gift – just a t-shirt. On the front, Thompson had a slogan printed to reflect his bandmate's willingness to take his drums along to pretty much any session, his pleasure in working as a producer to help musicians he respected make the records they wanted: "Plays well with others."
In the wake of his solo success with the Face Value album, Collins became sought after by already successful artists who needed to do something different, helping Adam Ant, Clapton, Plant and Abba's Frida into new eras in their careers.
Listen to Collins perform on "Just Like a Prisoner" with Eric Clapton
Plays Well With Others Track Listing
Disc 1
1. Guide Me Orion – Flaming Youth
2. Knights (Reprise) – Peter Banks
3. Don't You Feel It – Eugene Wallace
4. I Can't Remember, But Yes – Argent
5. Over Fire Island – Brian Eno
6. Savannah Woman – Tommy Bolin
7. Pablo Picasso – John Cale
8. Nuclear Burn – Brand X
9. No One Receiving – Brian Eno
10. Home – Rod Argent
11. M386 – Brian Eno
12. …And So To F… – Brand X
13. North Star – Robert Fripp
14. Sweet Little Mystery – John Martyn
15. Intruder (2002 Remastered Version) – Peter Gabriel
16. I Know There's Something Going On – Frida
17. Pledge Pin – Robert Plant
18. Lead Me To The Water – Gary Brooker
Watch the video of his collaboration with Abba's Frida
Disc 2
1. In The Mood (2006 Remastered Version) – Robert Plant
2. Island Dreamer – Al DiMeola
3. Puss 'N' Boots – Adam Ant
4. Walking On The Chinese Wall – Philip Bailey
5. Do They Know It's Christmas? – Band Aid 30
6. Just Like A Prisoner – Eric Clapton
7. Because Of You – Philip Bailey
8. Watching The World – Chaka Khan
9. No One Is To Blame – Howard Jones
10. If Leaving Me Is Easy – The Isley Brothers
11. Angry (1993 Remaster) – Paul McCartney
12. Loco In Acapulco – The Four Tops
13. Walking On Air – Stephen Bishop
14. Hall Light – Stephen Bishop
15. Woman In Chains – Tears For Fears
16. Burn Down The Mission – Phil Collins
Disc 3
1. No Son Of Mine – Genesis
2. Could've Been Me – John Martyn
3. Hero – David Crosby
4. Ways To Cry – John Martyn
5. I've Been Trying – Phil Collins
6. Do Nothin' Till You Hear From Me (feat. Phil Collins) – Quincy Jones
7. Why Can't It Wait Till Morning – Fourplay
8. Suzanne – John Martyn
9. Looking For An Angel – Laura Pausini
10. Golden Slumbers / Carry That Weight / The End – George Martin
11. In the Air Tonite (feat. Phil Collins) [Boogieman's Album Version] – Lil' Kim
12. Welcome – Phil Collins
13. Can't Turn Back The Years – John Martyn
Disc 4
1. In The Air Tonight (Live at the Secret Policeman's Other Ball) – Phil Collins
2. While My Guitar Gently Weeps (Live at the Prince's Trust Concert 1987) – George Harrison
3. You Win Again (Live at the Prince's Trust Concert 1988) – Bee Gees
4. There'll Be Some Changes Made (Live in Montreux 2004) – Phil Collins & Tony Bennett
5. Stormy Weather (Live at The Montreux Jazz Festival 1996) – Phil Collins & Quincy Jones
6. Chips & Salsa – The Phil Collins Big Band
7. Birdland (with The Buddy Rich Big Band) – Phil Collins
8. Pick Up The Pieces (Live at The Montreux Jazz Festival 1998) – Phil Collins
9. Layla (Live at Party At The Palace, June 3, 2002) – Eric Clapton
10. Why (Live at Party At The Palace, June 3, 2002) – Annie Lennox
11. Everything I Do (I Do It For You) [Live at Party At The Palace, June 3, 2002] – Bryan Adams
12. With A Little Help From My Friends (Live at Party At The Palace, June 3, 2002) – Joe Cocker
Phil Collins Not Dead Yet, Live North American Tour (Tickets are available here and here)
Oct 05 – Ft. Lauderdale, FL – BB&T Center
Oct 07 – Washington, DC – Capital One Arena
Oct 08 – Philadelphia, PA – Wells Fargo Center
Oct 09 – Boston, MA – TD Garden
Oct 11 – Toronto, ON – Air Canada Centre
Oct 13 – Newark, NJ – Prudential Center
Oct 14 – Brooklyn, NY – Barclays Center
Oct 16 – Montreal, QC – Centre Bell
Oct 18 – Cleveland, OH – Quicken Loans Arena
Oct 19 – Columbus, OH – Nationwide Arena
Oct 21 – Minneapolis, MN – Target Center
Oct 22 – Chicago, IL – United Center
Oct 25 – Oakland, CA – Oracle Arena
Oct 27 – Las Vegas, NV – MGM Grand Garden Arena
Oct 28 – Los Angeles, CA – The Forum
Australia, New Zealand 2019 Dates
Jan 19 – Brisbane – Suncorp Stadium
Jan 21 – Sydney – Qudos Bank Arena
Jan 22 – Sydney – Qudos Bank Arena
Jan 23 – Sydney – Qudos Bank Arena
Jan 25 – Adelaide – Adelaide Oval
Jan 28 – Perth – RAC Arena
Jan 29 – Perth – RAC Arena
Feb 01 – Melbourne – Aami Park
Feb 02 – Melbourne – Aami Park
Feb 04 – Christchurch – Christchurch Stadium
Feb 06 – Napier – Mission Estate Winery
Related: Listings for 100s of classic rock tours
Collins's solo catalog received a significant overhaul from Rhino in 2016.

Latest posts by Best Classic Bands Staff
(see all)