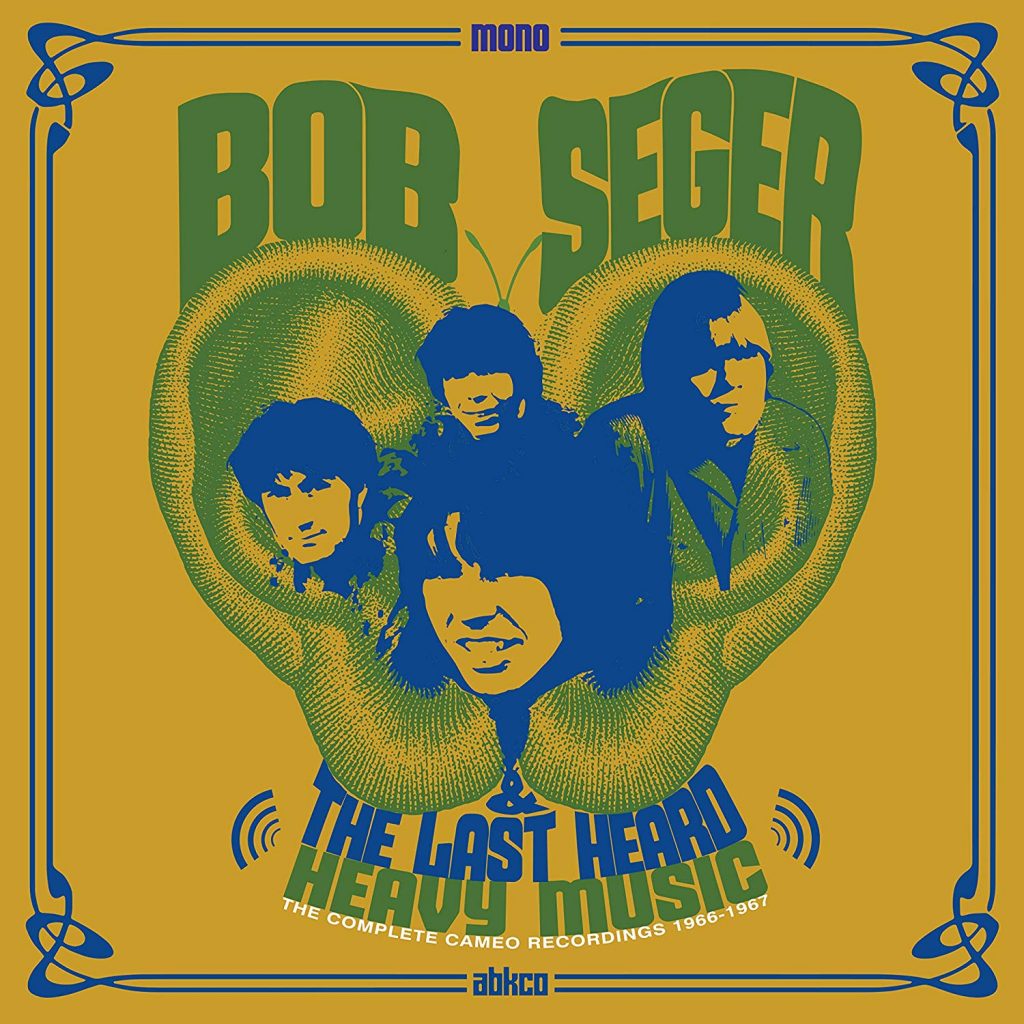 On Sept. 7, ABKCO Music & Records released Heavy Music: The Complete Cameo Recordings 1966-1967 by Bob Seger and the Last Heard. This marks the first time that all recordings by the Detroit group will be made available since their original release as 45 rpm singles. The collection is wrapped in a newly designed album package, sold as a single CD, a single 180-gram vinyl LP and on all digital platforms. Have a listen to several tracks below.
Bob Seger contributed to several local Detroit groups leading up to his breakthrough success with "Ramblin' Gamblin' Man" (1969) and "Night Moves" (1976).
While serving as keyboard player and occasional singer in Doug Brown and the Omens, Seger met his future manager Edward "Punch" Andrews, who co-owned the Hideout Records label. After the Omens split up, Seger formed his own group and while writing for the Underdogs, another band on Hideout,  he co-authored their single "Get Down on Your Knees." After a failed attempt by the Underdogs to record the Seger-penned "East Side Story," Seger was encouraged to record it himself and it was released by Hideout in June 1966 under the name Bob Seger. The single was quickly reissued by Cameo Records just six months later, with Bob Seger and the Last Heard on the label, cementing the band's name.
Listen to "East Side Story"
With the help of former bandmate Doug Brown, the group recorded four more singles for the Cameo label over the course of the next year, culminating with "Heavy Music" in July 1967. \ "Heavy Music" became a hit locally in Detroit, and the band appeared on the local Detroit TV show Swingin' Time. The 45 of "Heavy Music (Part 1)" backed with "Heavy Music (Part 2)" charted at #103 in Billboard and #70 in Cashbox.
Listen to "Heavy Music (Part 1)"
Related: 15 rockers' early days: Before they were stars
According to a press release, "Stylistically, Bob Seger and the Last Heard went beyond the simple garage rock stomp and stammer formula and spread their wings lyrically and sonically in a few short years. 'Persecution Smith' pokes fun at half-hearted revolutionaries in a style reminiscent of 'Bob Dylan's 115th Dream.' 'Sock It to Me Santa' (released for Christmas, 1966) references James Brown's 'Papa's Got a Brand New Bag,' and 'Heavy Music (Part 1)' carries a Spencer Davis Group swagger before 'heavy' music was even a term in the popular vernacular. 'East Side Story' is an urban saga that tells the story of a woman in a tenement apartment begging her man not to head uptown with his knife; placed akin to a tune reminiscent of 'Gloria' by Them."
Listen to "Persecution Smith"
Seger's tour, postponed due to back surgery last fall, is scheduled to resume in 2019. Tickets are available here and here.
Heavy Music: The Complete Cameo Recordings 1966-1967 has liner notes by Jim Allen, original photographs and label art from the Cameo vaults. The monophonic collection was mastered by Robert Vosgien at Capitol Mastering and the vinyl was pressed in Detroit at Third Man Pressing.
Track Listing
1) Heavy Music (Part 1)
2) East Side Story (Vocal)
3) Chain Smokin'*
4) Persecution Smith*
5) Vagrant Winter#
6) Very Few#
7) Florida Time
8) Sock it To Me Santa
9) Heavy Music (Part 2)
10) East Side Sound (Instrumental)
Listen to "Sock it To Me Santa"
Produced & arranged by Bob Seger and Doug Brown except:
*Produced & arranged by Bob Seger
# "A Hideout Production"
Reissue Producer: Teri Landi
Bob Seger – lead vocal, organ, piano guitar
Dan Honaker – bass
Carl Lagassa – guitar
Pep Perrine – drums, percussion
Additional vocals – Doug Brown, David Whitehouse
Personnel on tracks 2 and 10:
Bob Seger – vocal, guitar
Doug Brown – guitar, organ
Dan Honaker – bass
Pep Perrine – bongos
Bob Evans – drums

Latest posts by Best Classic Bands Staff
(see all)