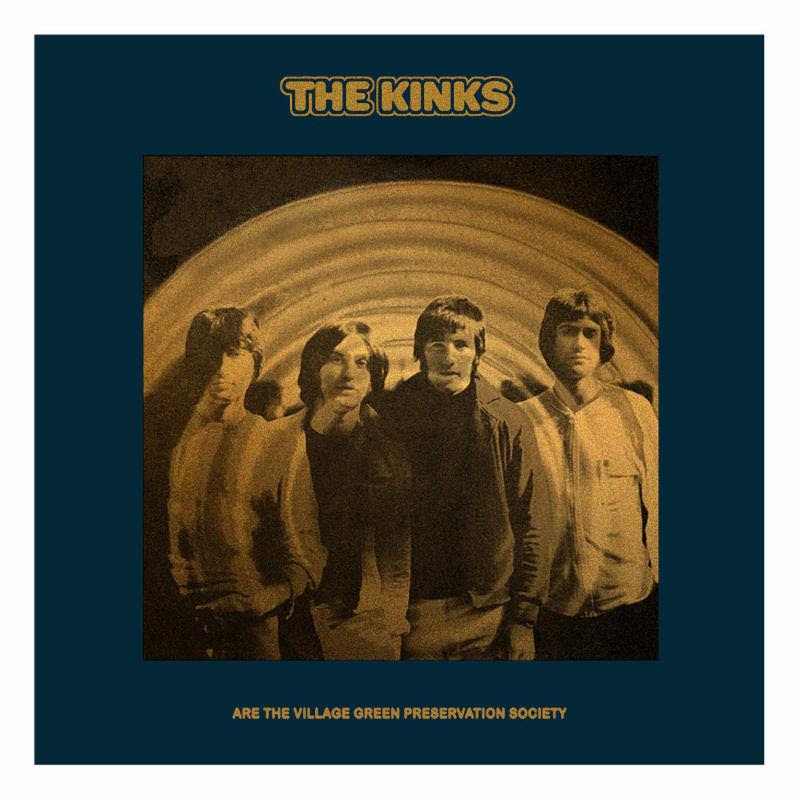 50th anniversary editions of The Kinks Are the Village Green Preservation Society was released via BMG on October 26. The title comes in a variety of formats including a single CD, a 2-CD set, a 2-LP set and a super deluxe edition. A boxed set features many previously unreleased tracks and versions, including the previously unreleased track "Time Song," performed by The Kinks at the Theatre Royal, Drury Lane, in January 1973, celebrating Britain's entry into the Common Market. Listen to it and others, below.
"I think The Village Green Preservation Society is about the ending of a time personally for me in my life," said the Kinks' Ray Davies in a press release announcing the edition. "In my imaginary village. It's the end of our innocence, our youth. Some people are quite old but in the Village Green, you're never allowed to grow up. I feel the project itself as part of a life cycle."
Listen to the 2018 remastered version of the title track
Says the August 15 announcement, "Somewhat overlooked upon its release in November 1968, The Kinks Are the Village Green Preservation Society is now regarded as one of the best British albums ever recorded. Created in difficult circumstances by a band on the verge of disintegration and who refused to follow fashion, it is an album of timeless, perfectly crafted songs about growing up and growing old, and the decline of national culture and traditional ways. Enduring and unsurpassed, with its wit, sadness, quiet anger, regret and charm, it is generally considered the high point of the Kinks' outstanding career and Ray Davies' masterpiece."
Listen to a previously unreleased version of "Village Green Suite"
Related: Will we finally see a Kinks reunion soon?
"When we played a concert at Drury Lane in '73 to 'celebrate' us about to join what was called the Common Market, I decided to use the song as a warning that time was running out for the old British Empire," says Davies in the announcement. "This song was recorded a few weeks later but never made the final cut on the Preservation Act I album. Oddly enough, the song seems quite poignant and appropriate to release at this time in British history, and like Europe itself the track is a rough mix which still has to be finessed."
Watch the lyric video for "Time Song"
Davies mixed the track earlier this year and it is included on the new VGPS deluxe boxed set and deluxe 2-CD. The single version will also be available as a limited-edition 7" single exclusively with pre-orders of the boxed set via The Kinks Music Glue official store, and as a digital download single.
The deluxe boxed set includes extensive sleeve notes, interviews, photography and specially created online and press content "telling the story" of the album's production, release and cultural impact. Also included are two essays on the album written by Pete Townshend and journalist Kate Mossman.
Listen to the 2018 remastered version of "Misty Water (Mono Mix)"
The Kinks Are the Village Green Preservation Society 50th Anniversary Release
Super Deluxe Boxed Set
(In special packaging with debossed box cover, foil and metallic text and linen cloth finish. Bespoke accessories holder. 174 audio tracks total)
LPs (180 gram heavyweight vinyl):
– Gatefold 2LP featuring original album new stereo remaster and new mono remaster. Original artwork faithfully reproduced in high resolution
– Continental (Swedish) original 12 track version of the LP
CD1:
2018 Stereo Remaster, from the original HD tape transfers + bonus tracks of singles, B sides and original album related tracks
CD2:
2018 Mono Remaster, from the original HD tape transfers + bonus tracks of singles, B sides and original album related tracks
CD3:
Village Green Sessions – Including alternate versions, mixes and backing tracks, many previously unreleased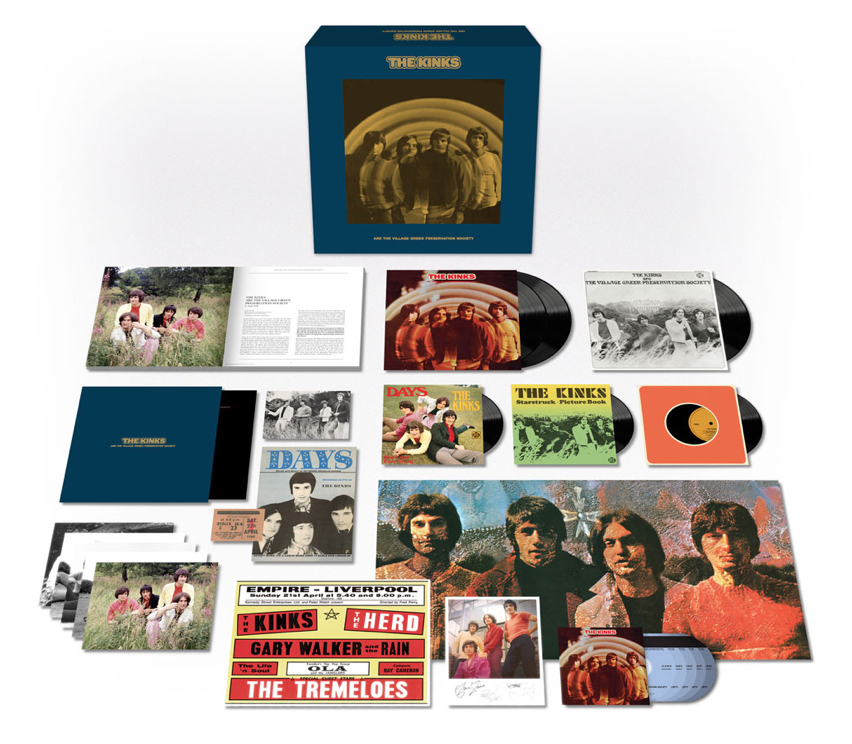 CD4:
Village Green At The BBC – TV performance track audio and band interviews, many previously unreleased
CD5:
Preservation, Sessions, Live & Demos – including mid 70s recordings, previously unreleased home demos, Ray Davies live in Denmark 2010 and unreleased track 'Time Song'.
CD booklet includes notes by Ray Davies on the home demos and comprehensive track source and mastering notes from world renowned mastering engineer Andrew Sandoval
7" singles (reproduced original picture sleeves):
– Days / She's Got Everything (1968)
– Starstruck / Picture Book (1968)
– The Village Green Preservation Society / Do You Remember Walter? (1969)
Book:
Deluxe, beautifully produced, 52-page hardback photo book with extensive sleeve notes and new band interviews, essays by Pete Townshend and other writers, plus rare and unseen Kinks Village Green related photos and imagery
Memorabilia:
Reproduced original memorabilia: Poster of Village Green LP inner gatefold; Empire Liverpool 1968 tour poster; glossy 10" x 8" photos from Hampstead Heath 1968 photoshoot; colour press photo with reproduced band signatures; Bournemouth 1968 gig ticket; PYE Records promo card; 'Days' sheet music
Watch the official unboxing video for the 50th anniversary set
Launched October 4, is an exhibition at London's Proud Central Gallery titled "The Kinks Are the Village Green Preservation Society," which will run until November 18, displaying a selection of rare collectors' items, including specially commissioned artworks by members of the band and vintage memorabilia, together with a collection of photographs documenting this remarkable period in the band's history. Each work is hand-signed by surviving band members Ray Davies, Dave Davies and Mick Avory.

Latest posts by Best Classic Bands Staff
(see all)