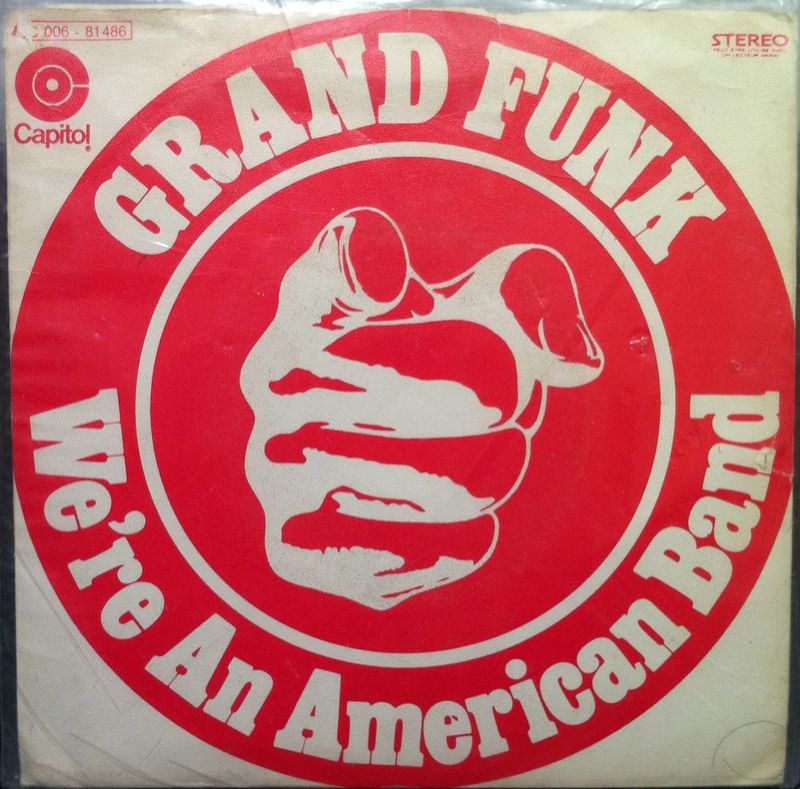 It was a time of change for the power trio from Flint, Mich., of Mark Farner (guitar), Don Brewer (drums) and Mel Schacher (bass). After the just-formed band had played the 1969 Atlanta International Pop Festival, winning an enthusiastic crowd response and a subsequent deal with Capitol Records, Grand Funk Railroad quickly rose to gold album sales status on their first two releases and then platinum with 1970's Closer To Home, and become a popular act on the rock concert circuit.
In 1972, they fired their manager and producer Terry Knight, former singer for Terry Knight and the Pack (in which Farner and Brewer had played), a popular garage band on the Midwest circuit. As GFR's manager, he touted himself as their Svengali, engaged in brash promotions – a $100,000 block-long billboard in Times Square touting Closer To Home and booking the band as the first rock act to follow The Beatles into Shea Stadium for a headlining concert, which sold out in 72 hours – and was thought by the band to be taking an undue share of their revenue. The move snared the group in legal struggles for the next few years.
They had engaged Todd Rundgren as their producer, shortened the band name to Grand Funk, and added keyboard player Craig Frost. For their next album, Brewer had written a song that came out of a tour the group played with Humble Pie. Music writer Dave Marsh wrote in his book, The Heart of Rock and Soul, that one night after a show over drinks, the bands were debating the merits of British vs. U.S. bands. Brewer stood up, recited a list of American rock idols like Jerry Lee Lewis, Fats Domino, Little Richard, and Elvis Presley, and then asserted, "We're an American band!" Sensing a song in what he said, Marsh recounts, Brewer wrote it the next morning.
Brewer, born September 3, 1948, refutes that story. He told Best Classic Bands, "[That] is a longtime 'myth' that is completely WRONG. The song was NOT written as a result of GFR and Humble Pie debating the merits of American vs. British bands. That NEVER HAPPENED! I wrote the song while on tour in 1972 based on my observations and the thought in my head 'we're comin' to your town will help you party it down.' The rest of the song I put together from things going on on the road. Up all night playing poker with Freddy King and his band. Four young Chickitas in Omaha. Sweet Sweet Connie in Little Rock. And the tag 'We're An American Band' just because it sounded great when I sang it to myself."
Its lyrics recounted tales from the band's road travels, name-checking blues legend Freddie King, Omaha and Little Rock, as well as the city's notorious groupie "sweet, sweet Connie" – Connie Hamzy.
Related: "Sweet, sweet Connie" died in 2021
Grand Funk tracked the song with Rundgren during sessions at Miami's famed Criteria Sound Studios in June '73 for an album of the same name, which arrived on July 15. The single, released on July 2, hit #1 on September 29, which was also Farner's 25th birthday. By year's end, "We're An American Band" was the best-selling single in the world and an all-time classic rock hit.
It was also one of the earliest American rock songs to have a promo film clip, the precursor to a music video.
Related: Our two-part interview with Mark Farner; Part 1 (The band's legacy) and Part 2 (The highs and lows)
Related: Biggest radio hits of 1973

Latest posts by Best Classic Bands Staff
(see all)