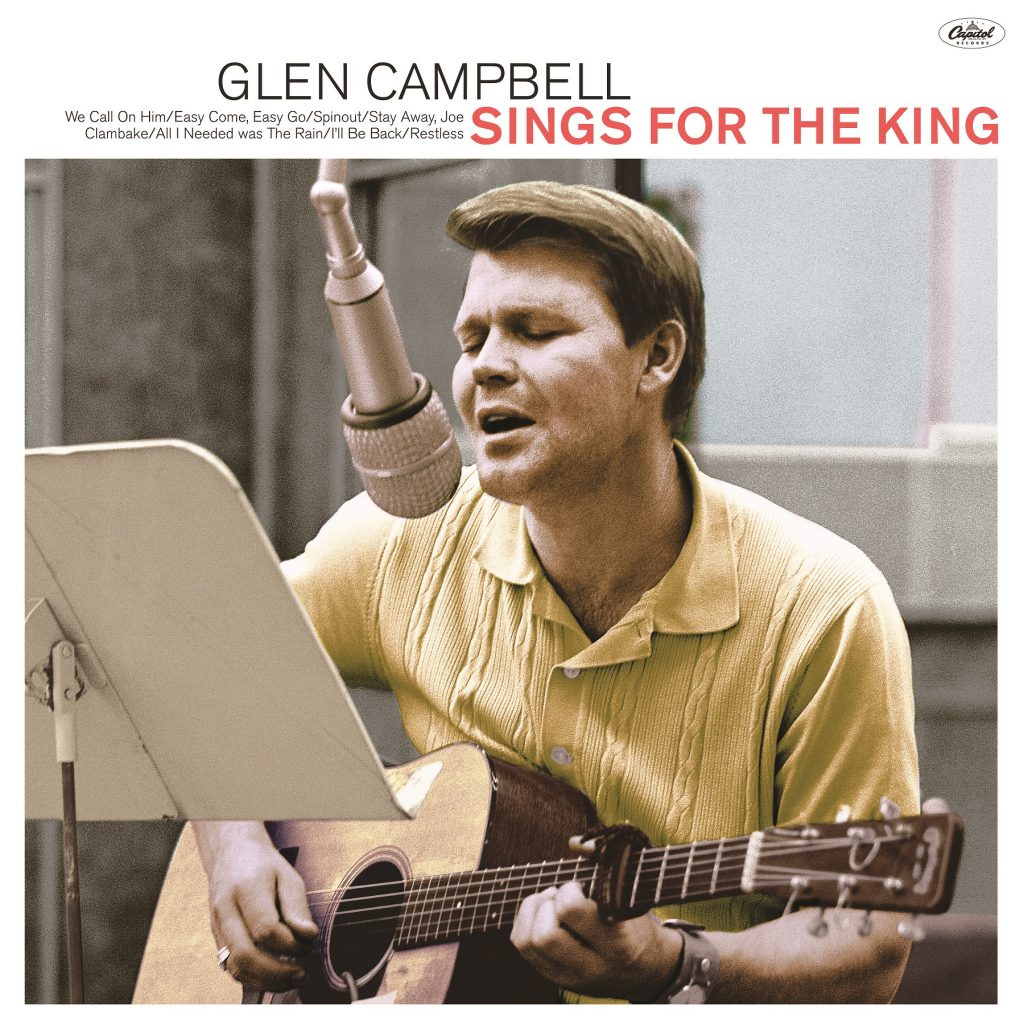 From 1964 to 1968—in between recording sessions with the Wrecking Crew, touring with the Beach Boys, and recording his own albums—Glen Campbell was recruited to record songs for Elvis Presley. Originally intended for Elvis' ears only, 18 of these recently unearthed and unreleased recordings have been released together on CD, LP and digitally for the first time, more than half a century later, as the lost album Sings For the King on Nov. 16 via Capitol/UMe. The collection was announced on Oct. 10; listen to several of the tracks below.
Sings For the King includes songs written by the songwriting team of Ben Weisman and Sid Wayne. Weisman is significant for having written the most songs recorded by Elvis than any other songwriter in history at 57. According to a press release, "Weisman and Wayne turned to Glen Campbell, who had perfect pitch and an uncanny ability to match Elvis's key and even mimic his delivery, to record fully fleshed out studio versions that they could present to Elvis for his recording consideration." The songs were discovered by Executive Producer Stephen Auerbach, who found the 50-year-old recordings on long-forgotten reel-to-reel tapes in a storage space belonging to his uncle-in-law, Ben Weisman. Of the 29 recordings that have been rescued, there are 12 of Campbell's recordings that went on to be recorded and released by Elvis, including "Stay Away Joe," "Clambake," "Spinout" and "Easy Come, Easy Go," which were all made famous with performances of the title tracks in his movies.
Watch the lyric video for "Easy Come, Easy Go," from Sings for the King
Listen to the King's recorded version
Says the release, "The variety of the material is striking and ranges from the country-flavored 'Any Old Time' to the more rocked-up 'I'll Be Back' to meaty ballads like 'I'll Never Know.' On 'I Got Love,' Glen begins the song sounding like himself but then subtly shifts into Elvis' trademark tone. The album opens with the gospel song 'We Call on Him,' which features the two legendary voices fused into a duet, giving a real sense of how Glen's performances teed up these songs for Elvis, and then where The King took them and made them his own. All eighteen songs highlight Glen's incredible vocal range and guitar skills and draw focus to Weisman and Wayne's understanding of all the styles of music Elvis could perform."
Listen to Campbell's demo of "Do the Clam"
Watch Elvis perform it in the film, Girl Happy
Music journalist and author Alan Light writes in the liner notes, "With their genre-bending musical exploration and rural Southern roots, it's no surprise that Glen Campbell and Elvis Presley formed something of a mutual admiration society." 'Elvis and I were brought up the same humble way,' Campbell once said, 'picking cotton and looking at the north end of a south-bound mule.' The friendship between the Rhinestone Cowboy and the King of Rock and Roll spanned three decades, and they often orbited each other professionally."
Campbell and Presley first met in 1956, when Elvis performed in Albuquerque, where Campbell had recently moved to join his uncle's band, Dick Bills and the Sandia Mountain Boys. "I saw him in the rough," Campbell later said. "He was so electrifying." In 1960, Campbell headed to Los Angeles to find work as a session musician and took a regular gig at a club called the Crossbow, where Elvis and his friends would sometimes come watch from a small private room upstairs. As a member of the incomparable group of LA studio musicians known as the Wrecking Crew, Campbell appeared on dozens of hits, from "You've Lost that Lovin' Feelin'" to "Strangers in the Night." In 1963 alone, he added his guitar to almost 600 sessions, including his one and only recording with Elvis, for the Viva Las Vegas soundtrack.
By 1967, Campbell's own career was taking off, yet he continued to knock out songs for Weisman and Wayne in whatever spare time he had.
Related: Glen Campbell's early sessions recalled
When Elvis was assembling his TCB band in 1969, his two finalists for the lead guitar chair were Campbell and James Burton. But while Campbell was riding high as a solo artist following the hits "Gentle on My Mind," "By the Time I Get to Phoenix," and "Wichita Lineman," Burton was available since his previous boss, Ricky Nelson, had recently broken up his backing band.
Listen to Campbell and Presley duet on "We Call On Him"
Track Listing
1. We Call On Him (A Duet With Elvis Presley) *
2. Easy Come, Easy Go *
3. Any Old Time
4. Anyone Can Play
5. I Got Love
6. I'll Never Know *
7. All I Needed Was The Rain *
8. How Can You Lose What You Never Had *
9. Spinout *
10. Magic Fire
11. I'll Be Back *
12. Love On The Rocks
13. Stay Away, Joe *
14. Cross My Heart And Hope To Die *
15. Clambake *
16. There Is So Much World To See *
17. Do The Clam *
18. Restless
* Recorded by Elvis Presley

Latest posts by Best Classic Bands Staff
(see all)