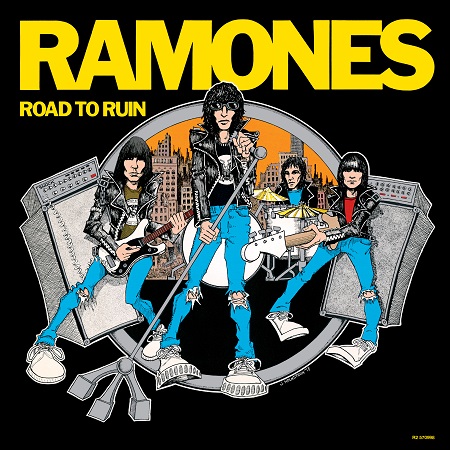 To mark the release today (Sept. 21) of the Ramones' Road to Ruin 40th Anniversary Edition, Rhino Records has released a previously unseen video of the band performing a song from the album, "She's the One." The live video was discovered in a nondescript 16mm film canister that had likely not been opened in 40 years. The performance was presumably shot in the same session as the existing music video for "Don't Come Close," also from the album, but never released at the time. The video can now be seen for the first time below.
Rhino has released two versions of the album, a day before the anniversary of its original release on Sept. 22, 1978: a 3-CD/1-LP boxed set, as well as a newly remastered version of the original album. Both titles are also be available digitally and via streaming services.
Listen to the previously unreleased "Take 2 (Basic Rough Mix)" of "I Wanna Be Sedated" here.
Dee Dee, Joey and Johnny Ramone were joined for the first time on the album by new drummer Marky Ramone, who replaced founding member Tommy Ramone, who'd left to do more producing and writing for the band.
The deluxe edition contains two different mixes of the album, unissued rough mixes for every album track and an unreleased 1979 concert recording of the Ramones in New York. It will be produced in a limited and numbered edition of 7,500 copies worldwide and comes packaged in a 12 x 12-inch hardcover book. Along with the music, the set also features rare photos and artwork, including the unused, alternate cover image, plus essays by former New York Rocker writer Roy Trakin, album cover artist John Holmstrom, and Road to Ruin producer Ed Stasium, who details the making of this classic record.
Related: When the Ramones got their own street
The first disc features a remastered version of the original stereo mix for Road to Ruin and a new 2018 "40th Anniversary Road Revisited" mix created by Stasium, who strips off the original record's commercial gloss and restores the album to its punk rock core. Stasium's new mix is also featured on the 180-gram LP that accompanies this deluxe edition.
The second disc offers up over 20 unreleased recordings, including rough mixes for every album track, starkly different alternate takes of two songs, and two unreleased outtakes: "I Walk Out" and "S.L.U.G.," unfinished during the original recording sessions in 1978, and completed by Stasium for this anniversary release. Other highlights include three different versions of "I Wanna Be Sedated," including the "Ramones-on-45-Mega-Mix!" released in 1988 as part of the campaign for the Ramones Mania compilation, as well as acoustic versions of "Questioningly," "Needles And Pins," and "Don't Come Close."
The final disc has a previously unreleased recording of the band's entire 1979 New Year's Eve concert, which was mixed live by Stasium, and broadcast on WNEW-FM. Recorded in New York City at the Palladium, with audio sourced from Tommy Ramone's original cassette of the console recording, it features blistering performances of "Blitzkrieg Bop," "Rockaway Beach," and "Sheena Is a Punk Rocker," along with several songs from Road to Ruin: "I Don't Want You," "I Wanna Be Sedated" and "I Wanted Everything."
Watch the Ramones perform "Needles and Pins" in 1978
Watch the previously unseen live video of "She's the One"
Road to Ruin 40th Anniversary Deluxe Edition Track Listing
Disc One
Original Mix Remastered
I Just Want To Have Something To Do
I Wanted Everything
Don't Come Close
I Don't Want You
Needles And Pins
I'm Against It
I Wanna Be Sedated
Go Mental
Questioningly
She's The One
Bad Brain
It's A Long Way Back
40th Anniversary Road Revisited Mix
I Just Want To Have Something To Do
I Wanted Everything
Don't Come Close
I Don't Want You
Needles And Pins
I'm Against It
I Wanna Be Sedated
Go Mental
Questioningly
She's The One
Bad Brain
It's A Long Way Back
Disc Two: Rough Mixes & 40th Anniversary Extras
I Walk Out (2018 Mix) *
S.L.U.G. (2018 Mix) *
Don't Come Close (Single Mix)
Needles And Pins (Single Mix)
I Just Want To Have Something To Do (Basic Rough Mix) *
I Don't Want You (Basic Rough Mix) *
I'm Against It (Basic Rough Mix) *
It's A Long Way Back (Basic Rough Mix) *
I Walk Out (Basic Rough Mix) *
Bad Brain (Basic Rough Mix) *
Needles And Pins (Basic Rough Mix) *
I Wanna Be Sedated Take 2 (Basic Rough Mix) *
I Wanted Everything (Basic Rough Mix) *
Go Mental (Basic Rough Mix) *
She's The One (Basic Rough Mix) *
Questioningly Take 2 (Basic Rough Mix) *
S.L.U.G. (Basic Rough Mix) *
Don't Come Close (Basic Rough Mix) *
I Wanna Be Sedated (Backing Track) *
I Don't Want You (Brit Pop Mix) *
Questioningly (Acoustic Version) *
Needles And Pins (Acoustic Version) *
Don't Come Close (Acoustic Version) *
I Wanna Be Sedated (Ramones-On-45 Mega-Mix!)
Listen to a previously unreleased live version of "Gimme Gimme Shock Treatment"
Disc Three: Live At The Palladium, New York, NY, December 31 1979
Blitzkreig Bop *
Teenage Lobotomy *
Rockaway Beach *
I Don't Want You *
Go Mental *
Gimme Gimme Shock Treatment *
I Wanna Be Sedated *
I Just Want To Have Something To Do *
She's The One *
This Ain't Havana *
I'm Against It *
Sheena Is A Punk Rocker *
Havana Affair *
Commando *
Needles And Pins *
I Wanna Be Your Boyfriend *
Surfin' Bird *
Cretin Hop *
All The Way *
Judy Is A Punk *
California Sun *
I Don't Wanna Walk Around With You *
Today Your Love, Tomorrow The World *
Pinhead *
Do You Wanna Dance? *
Suzy Is A Headbanger *
Let's Dance *
Chinese Rock *
Beat On The Brat *
We're A Happy Family *
Bad Brain
I Wanted Everything *
* previously unreleased
Listen to "I Just Want to Have Something to Do" from Road to Ruin

Latest posts by Best Classic Bands Staff
(see all)