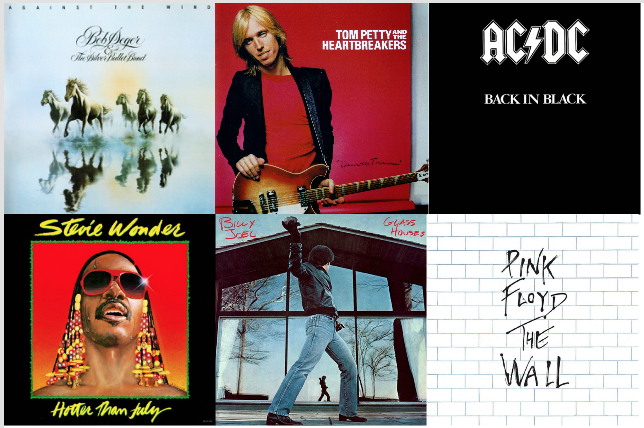 In 1980, America elected Ronald Reagan to be the 40th President of the United States. Rubik's cube was introduced and immediately began to flummox millions. AC/DC's lead singer, Bon Scott, died. And the U.S. Mens Olympic hockey team won the so-called "Miracle on Ice" and won the gold medal in Lake Placid, NY.
Recordings made by some of the biggest classic rock artists of the era dominated the list of 1980's top-selling albums in the U.S. The chart, compiled by the former music industry trade magazine, Record World, features several all-time classics among the year's Top 30 sellers, including legendary albums by Pink Floyd, Bruce Springsteen and AC/DC.
A wild fact: only 10 different albums were number one on the Record World Album Chart in 1980.
Three of the releases are among the all-time U.S. best-sellers as certified by the Recording Industry Association of America: AC/DC's Back in Black (#4 with 25 million), Pink Floyd's The Wall (#8 with 23 million) and Kenny Rogers' Greatest Hits (#42 with 12 million).
We begin our countdown at #30…
At #30 was one of many live recordings in Eric Clapton's discography, Just One Night, a double album recorded at the Budokan in Tokyo, Japan. Stevie Wonder's Hotter Than July included his #5 pop single "Master Blaster (Jammin')" as well as his "Happy Birthday," which helped pave the way to honor Dr. Martin Luther King, Jr. with a national holiday.
The Doobie Brothers were in full Michael McDonald mode with One Step Closer at #26, which featured the hit "Real Love." Though released in 1979, Styx's Cornerstone saw its biggest sales in 1980 thanks to the continued success of the biggest single of the band's career, "Babe."
At #24 was Springsteen's double album, The River, his first album in over two years and the first #1 album of his career. The album's first single, "Hungry Heart," became his biggest up until that point, reaching #5 (and still tied for the second-biggest of his career).
Women and Children First was just the third studio album from Van Halen and though it didn't have a hit single like it's predecessor's "Dance the Night Away," it was still the year's #20 top seller as the band continued to achieve stardom through heavy touring.
It's easy in retrospect to see why AC/DC's Back in Black has enjoyed such a successful legacy. After all, the album–the band's first with lead vocalist Brian Johnson–includes such group classics as "Hell's Bells," "You Shook Me All Night Long" and the title track. None, however, were U.S. radio hits. Though only #19 for the year, as noted above it's the #4 best-selling album of all-time in the U.S.
Pat Benatar was just 26 when she released her second album, Crimes of Passion. The album was a huge success with three hit singles: her cover of the Rascals' "You Better Run," "Hit Me With Your Best Shot" and "Treat Me Right." Though it didn't reach #1, weekly sales were big enough to make it the year's #15 seller.
Related: Our Album Rewind for Crimes of Passion
Though it fell short of its predecessor's success (1978's Some Girls), the Rolling Stones still earned their seventh straight U.S. #1 LP with Emotional Rescue. Mick Jagger, Keith Richards, Ronnie Wood and Charlie Watts were all still in their thirties!
Watch the official video for the title track
Linda Ronstadt's Mad Love featured three songs from Elvis Costello, none of which were released as singles. Those that were: the Top 10 hits "How Do I Make You" and "Hurt So Bad" plus "I Can't Let Go," which arguably featured the best vocal of the bunch.
The breakthrough album for Tom Petty & the Heartbreakers, Damn the Torpedoes, was actually released in October 1979. But the success of the singles "Don't Do Me Like That"–which at #10 would be their highest-charting hit until 1989's "Free Fallin'"–and "Refugee" (#15), kept the album selling well into 1980, as the year's #11 biggest.
Related: Our Album Rewind of Damn the Torpedoes
Jackson Browne would've been hard-pressed to equal the sales of 1977's Running on Empty. 1980's Hold Out sold well enough to be the year's #10 seller, though it fell well short of the earlier effort's seven million in sales.
Though the musical film Xanadu starring Olivia Newton-John and Gene Kelly, among others, was a disaster, its soundtrack album was a smashing success, thanks to no less than five Top 20 singles, including Newton-John's #1 hit, "Magic." Side one featured five ON-J performances; side two was five Electric Light Orchestra songs, including the title cut duet with Jeff Lynne and Newton-John. It all added up to the #9 album for 1980.
With three Top 10 singles, including the #1 smash "Heartache Tonight," 1979's The Long Run more than held its own compared to 1977's monster Hotel California. Those three hits helped the Eagles' LP to sell throughout 1980 (and beyond), making it #6 for the year.
The Elektra/Asylum label had a phenomenal year with four albums in the Top 10 but it's hard to imagine why they waited so long to release "Another One Bites the Dust" from Queen's The Game. "Crazy Little Thing Called Love" had preceded the album by eight months and became the British band's first #1 hit. When finally released, "Another One…" gave them another as it stayed on top for three weeks, helping The Game become #4 for the year and their first (and only) U.S. #1 album.
Talk about paying your dues! Bob Seger had released 10 studio albums prior to 1980. His Against the Wind with the Silver Bullet Band earned the Detroit rock his first #1 album and yielded the big hits "Fire Lake" (#6), the title cut (#5) and "You'll Accomp'ny Me" (#14). It all added up to the year's #3 top seller.
As we've noted in our 9 Signature Rock Classics That Weren't Chart Hits story, Pink Floyd followed up their only #1 hit, "Another Brick in the Wall (Part 2)," with "Comfortably Numb." The latter didn't even chart. That was the only blemish on the phenomenal success of The Wall which topped the album sales chart for 14 weeks, on its way to becoming the year's #2 seller (and the aforementioned 23 million in U.S. sales).
1980's best-selling U.S. album? Somewhat of a surprise… It was Billy Joel's Glass Houses. The Piano Man was on a roll: 1977's The Stranger had reached #2 and 1978's 52nd Street was his first #1 album. Thanks to the #7 single "You May Be Right," Joel's first #1 hit, "It's Still Rock and Roll to Me," and a sold-our arena tour, Glass Houses was #1 for 11 weeks.
30. Just One Night – Eric Clapton (RSO)
29. Go All the Way – Isley Brothers (T-Neck)
28. The Empire Strikes Back (Orig. Soundtrack) (RSO)
27. Hotter Than July – Stevie Wonder (Tamla)
26. One Step Closer – Doobie Brothers (Warner Bros.)
25. Cornerstone – Styx (A&M)
24. The River – Bruce Springsteen (Columbia)
23. The Whispers – The Whispers (Solar)
22. Kenny – Kenny Rogers (United Artists)
21. Phoenix – Dan Fogelberg (Full Moon/Epic)
20. Women and Children First – Van Halen (Warner Bros.)
19. Back in Black – AC/DC (Atlantic)
18. On the Radio – Greatest Hits, Volumes I & II – Donna Summer (Casablanca)
17. Give Me the Night – George Benson (Quest/Warner Bros.)
16. Christopher Cross – Christopher Cross (Warner Bros.)
15. Crimes of Passion – Pat Benatar (Chrysalis)
14. Kenny Rogers' Greatest Hits (Liberty)
13. Emotional Rescue – The Rolling Stones (Rolling Stones)
12. Mad Love – Linda Ronstadt (Asylum)
11. Damn the Torpedoes – Tom Petty and the Heartbreakers (Backstreet/MCA)
10. Hold Out – Jackson Browne (Asylum)
9. Xanadu (Orig. Soundtrack) – ELO, Olivia Newton-John (MCA)
8. Guilty – Barbra Streisand (Columbia)
7. Diana – Diana Ross (Motown
6. The Long Run – Eagles (Asylum)
5. Urban Cowboy (Orig. Soundtrack) – Various Artists (Full Moon/Asylum)
4. The Game – Queen (Elektra)
3. Against the Wind – Bob Seger & the Silver Bullet Band (Capitol)
2. The Wall – Pink Floyd (Columbia)
1. Glass Houses – Billy Joel (Columbia)

Latest posts by Best Classic Bands Staff
(see all)