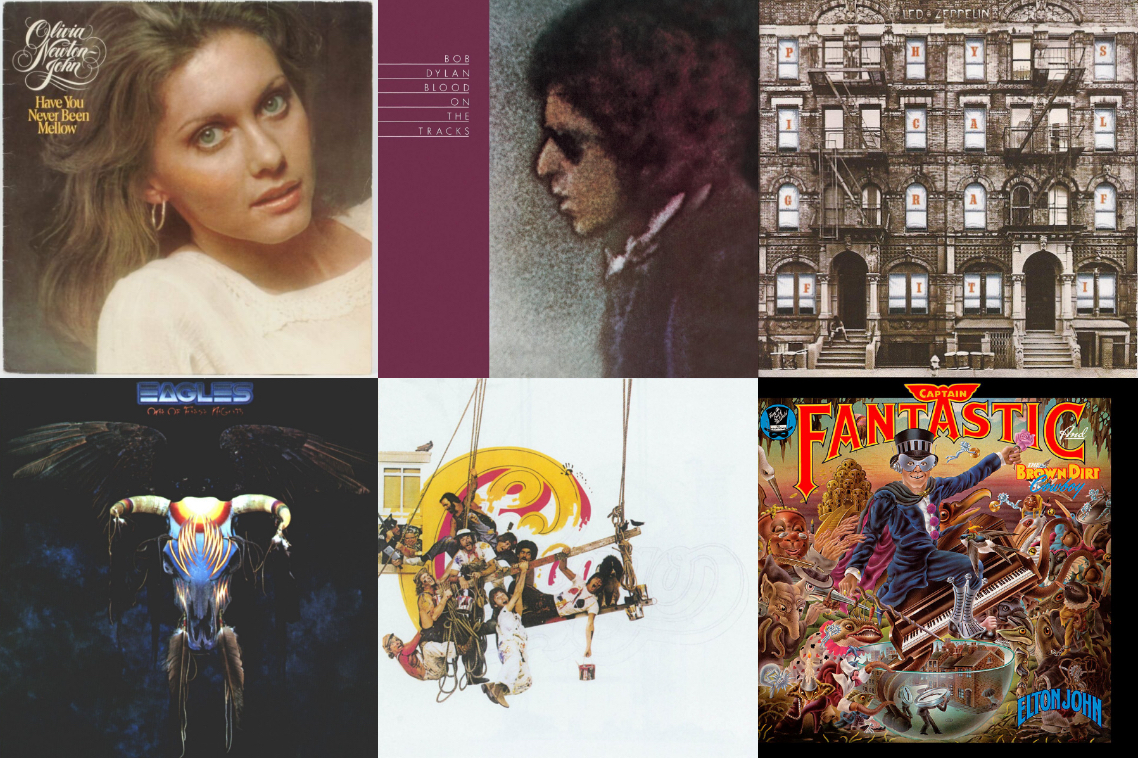 In many years of the classic rock era, a handful of albums dominated the top of the U.S. sales charts, remaining at #1 for weeks on end. In 1976, for instance, Frampton Comes Alive! was #1 for an astounding 17 weeks. Things were different in 1975 when only one artist had an album that spent more than five weeks at the top. That same superstar had three chart toppers that year, totaling 15 weeks in all.
No fewer than 17 different titles were at #1 for at least one week on the Record World sales chart in 1975. (Don't go looking for Fleetwood Mac's 1975 self-titled album; though it finally made it to #1 in '76.)
Here's a recap of this unusual year; listings are in reverse order, saving the longest-running titles for the end.
Pink Floyd – Wish You Were Here (1 week)
The band's follow-up to 1973's The Dark Side of the Moon is something of a tribute to their former member, Syd Barrett. It's dominated by a 26-minute, nine-part suite, "Shine on You Crazy Diamond," sung by bass guitarist Roger Waters, which opens Side One and closes Side Two. The title track, with vocals by guitarist David Gilmour, became a big rock hit. The album, released September 12, reached #1 in early October.
Related: Our Album Rewind of Wish You Were Here
Linda Ronstadt – Heart Like a Wheel (1 week)
The lovely Linda had scored her first hit in 1967 with "Different Drum" recorded with the Stone Poneys. But it wasn't until this November 1974 release that she became a consistent Top 40 favorite. The album, produced by Peter Asher, showcased the ease with which she could change tempos, with the #1 smash, "You're No Good" and a #2 follow-up, "When Will I Be Loved." The great repertoire added up to a #1 album on February 15.
Ohio Players – Fire (1 week)
Wings – Venus and Mars (1 week)
It wasn't easy to follow-up the artistic genius of Paul McCartney and Wings' 1973 Band on the Run album. But this May release, with the somewhat lightweight hit, "Listen to What the Man Said," as well as the more spirited "Rock Show," was just good enough to continue his streak of #1 studio albums, albeit for a single week on July 12. (It's the only solo album from a member of the Fab Four to top the chart in '75.)
Chicago – Chicago VIII (2 weeks)
The annual event, known as a new Chicago canon album, earned the band an incredible fourth straight #1 LP with this March release, which topped the chart for two straight weeks, beginning April 26. Two more hits were added to their list – the Robert Lamm-penned "Harry Truman" (#13) and James Pankow's "Old Days" (#5), with a great lead vocal from Peter Cetera. They would have to wait another year before achieving their elusive first #1 single.
Isley Brothers – The Heat Is On (2 weeks)
The landmark album arrived in early June in the midst of a long run of success for the soul/funk group that gave them eight straight Top 15 studio LPs. It's best known for "Fight the Power (Parts 1 & 2)," a #1 R&B smash that also reached #4 on the pop chart.
Jefferson Starship – Red Octopus (2 weeks)
In 1975, the band accomplished something their predecessors narrowly missed achieving, i.e., reaching the top of the sales chart. It took a little while, though. Red Octopus was released on June 13 but it wasn't until exactly three months later that it hit #1 for the first of two non-consecutive weeks.
That's due largely to the enormous success of the Marty Balin-penned "Miracles" at rock and pop radio (where it ultimately reached #3).
Olivia Newton-John – Have You Never Been Mellow (2 weeks)
The British-Australian star had quite a run during the decade with nine Top 10 singles including the #1 title song from this album. This February release became her second #1 album one month later (and preceded the other-worldly success that was to come three years later in the form of the Grease film and original soundtrack).
Related: Our 2017 ON-J concert review
Bob Dylan – Blood on the Tracks (3 weeks)
The January 17 release is on the short list of the Bard's very best works, with such classics as "Shelter From the Storm," "Simple Twist of Fate," "Tangled Up in Blue," "Lily, Rosemary and the Jack of Hearts," and… You get the picture. One month after it arrived, it hit the top of the chart. Alternate takes were released in 2018 as More Blood More Tracks.
Elton John – Rock of the Westies (3 weeks)
The star was in danger of over-saturating the market, as he released this in October, just five months after his previous studio album. (More on that one below.) And it showed.  Rock of the Westies, featuring the cloying #1 single, "Island Girl," is a very forgettable effort in John's otherwise remarkable '70s catalog.
Chicago – Chicago's Greatest Hits (4 weeks)
Just in time for the holiday season, the band's first hits collection included 11 of their favorites and ran the table, topping the chart each week in December. It remained on the sales chart for a reported 72 weeks.
Earth, Wind & Fire – That's the Way of the World (4 weeks)
The R&B/funk band was making steady progress with each album release. Their self-titled 1971 debut peaked at #172 and their follow-up the same year reached #89. Within a few years, they began to achieve modest pop crossover success. But things significantly changed with this March 15 release. "Shining Star," which preceded the album, was a smash, reaching #1 on the R&B and pop singles charts. The title cut was a strong follow-up and the album was #1 for four consecutive weeks in May.
Led Zeppelin – Physical Graffiti (4 weeks)
The biggest surprise while researching this story was that this late February release only stayed at #1 for four weeks, from late March through mid April. The album has been certified 16x Platinum because the two-LP set gets credit for two sales for each of its eight million sold.
Zep fans may be surprised to learn that it was supplanted at the top by Olivia Newton-John.
Though it was the band's sixth studio effort, Robert Plant and John Bonham were still just 26 when it was released!
John Denver – Windsong (5 weeks)
It's easy to forget just how popular the folk singer-songwriter was. From 1973-1975, he earned four #1 singles including "Sunshine on My Shoulders," "Annie's Song" and "Thank God I'm a Country Boy." That list also includes "I'm Sorry" from his Windsong album. The LP, released in September, hit #1 for five consecutive weeks in October and November.
Eagles – One of These Nights (5 weeks)
The desperados were just coming into their own earlier that year when "Best of My Love" from 1974's On the Border reached #1. So when this follow-up album was released soon after, the public and radio were ready for more. Three of the songs were immediate hits and demonstrate the diversity of the band's talents: "One of These Nights" (#1) with Don Henley singing lead, "Lyin' Eyes" (#2) with lead vocals by Glenn Frey, and "Take it to the Limit" (#4) with Randy Meisner's easy lead vocal.
Elton John – Greatest Hits (5 weeks)
This hits collection ended 1974 at the top for three weeks and continued to rack up huge numbers with another five weeks at #1 at the beginning of this year. It's been certified with sales of more than 17 million copies. If you've seen Rocketman, then you don't need reminding how prolific and successful John was during his mighty '70s run.
Related: The #1 albums of 1974
Elton John – Captain Fantastic and the Brown Dirt Cowboy (7 weeks)
Yup, that's 15 weeks at #1 in 1975 for the superstar, across three albums. This one, released May 19, debuted at the top in early June and remained there for five weeks, returning in September for two more at the top. Surprisingly, only one single was released: "Someone Saved My Life Tonight," which only reached #4. The LP marked the final album with the full original lineup of Davey Johnstone, Dee Murray and Nigel Olsson.
Related: 1975–The year in 50 classic rock albums

Latest posts by Best Classic Bands Staff
(see all)