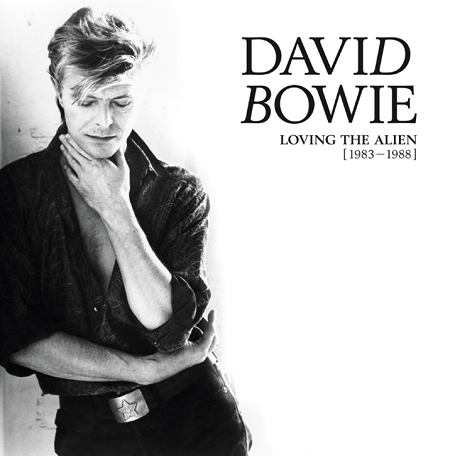 Parlophone Records has announced David Bowie Loving the Alien (1983-1988), the fourth in a series of boxed sets spanning his career from 1969. The follow-up to David Bowie Five Years (1969-1973), David Bowie Who Can I Be Now? (1974-1976) and David Bowie A New Career InaA New Town (1977-1982) will be released on Oct. 12.
David Bowie Loving the Alien (1983-1988) will contain a brand new production of the 1987 album Never Let Me Down by Bowie producer/engineer Mario McNulty with new instrumentation by Bowie collaborators Reeves Gabrels (guitar), David Torn (guitar), Sterling Campbell (drums) and Tim Lefebvre (bass), as well as string quartet with arrangements by Nico Muhly and a guest cameo by Laurie Anderson on "Shining Star (Makin' My Love)."
The 11-CD box, 15-LP vinyl set, and standard digital download boxed set is named after the opening track from the Tonight album and includes newly remastered versions of Bowie's most commercially successful period: Let's Dance, Tonight, Never Let Me Down (original and 2018 versions), the live album Glass Spider (Live Montreal '87), the previously unreleased Serious Moonlight live album, a collection of original remixes entitled Dance and the non-album/alternate version/B-sides and soundtrack music compilation Re:Call 4.
Watch the unboxing video
Exclusive to each of the boxed sets is Never Let Me Down (2018), a new production of the 1987 album. The seeds of this new reimagining of the albums were first sown in 2008 when Bowie asked McNulty to remix the track "Time Will Crawl" and record new drums by longtime Bowie drummer Sterling Campbell along with strings. The track was issued on the iSelect compilation to much acclaim and, in the notes for that record, Bowie remarked, "Oh, to redo the rest of that album."
Related: A record label exec remembers working with Bowie in the '70s
Fast-forward to early 2018, McNulty entered Electric Lady Studios in New York with Campbell, Lefebvre on bass (who was in the Blackstar band) and Gabrels and Torn on guitars. "All of the musicians had a history with Bowie, so were a perfect fit for what now sound like brand new songs. Muhly, whom McNulty first met when they were both interns working for Philip Glass in 2001, has handled the string arrangements," says a press release.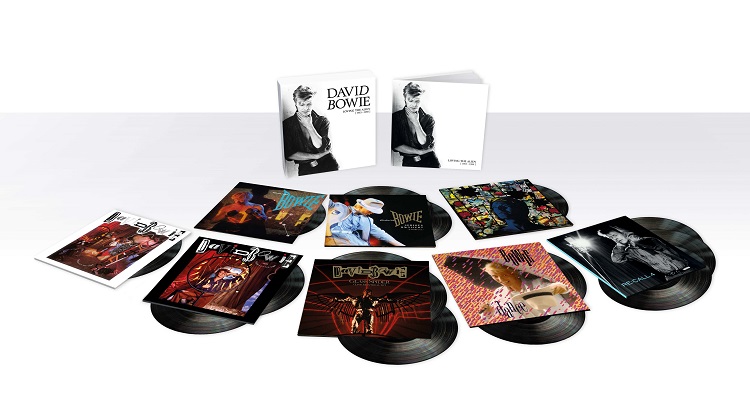 "The new re-workings have revealed Never Let Me Down as a very strong collection of songs with a dark thematic thread running through them. Fans listening to Never Let Me Down (2018) would be forgiven for thinking that they were listening to a brand new 'lost' Bowie record," says the release. A radio edit of the new 2018 version of "Zeroes" is available now as digital single and will be released as a double a-side limited edition 7" picture disc, paired with a radio edit of "Beat On Your Drum" (2018), on September 7.
Listen to "Zeroes"
This 2018 version of the album will also feature newly "remixed" artwork reflecting the album's subject matter and features unseen images from the original cover photographic session from the archive of Greg Gorman.
Also in each box is the never before released Serious Moonlight live album recorded in Montreal in 1983. Originally mixed at the time by Bob Clearmountain, the double album captures Bowie on what at that time was his most successful tour. The artwork features shots taken by photographer Denis O'Regan.
Also included is the 2-CD/3-LP Glass Spider (Live Montreal '87) album, making its debut on vinyl (which is exclusive to the LP box). The tour's innovative set and marriage of music and theatre has been cited as a big inspiration to acts in the 2000s. Speaking in 1991 about Glass Spider, Bowie said, "It was the first time I'd had the opportunity to spend that kind of money and do shows like that! The first time since Diamond Dogs, anyway … I thought, Right! Let's really spend some money! I had all these thwarted dreams of what I'd tried to do with rock 'n' roll in the early '70s."
Exclusive to each box is Re:Call 4 and Dance. The former a new compilation featuring remastered contemporary single versions, non-album singles, album edits, B-sides and songs featured on soundtracks such as Labyrinth, Absolute Beginners and When the Wind Blows.  Dance features 12 contemporaneous remixes, some of which are appearing on CD and vinyl for the first time, and is named after an unreleased Bowie remix album that was originally slated for release in November 1985.
The physical boxed set's accompanying book, 128-pages in the CD box and 84 in the vinyl set, will feature rarely seen and previously unpublished photos by photographers including O'Regan, Gorman, Herb Ritts and many others as well as historical press reviews and technical notes about the albums from producers/engineers Nile Rodgers, Hugh Padgham, McNulty and Justin Shirley-Smith.
The CD boxed set will include faithfully reproduced mini-vinyl versions of the original albums, and the CDs will be gold colored rather than the usual silver. The vinyl boxed set has the same content as the CD set and is pressed on audiophile quality 180g vinyl. As well as Never Let Me Down (2018), Dance and Re:Call 4, both Serious Moonlight  (Live '83) and Glass Spider (Live Montreal '87).
Watch the original "Loving the Alien" video

Latest posts by Best Classic Bands Staff
(see all)