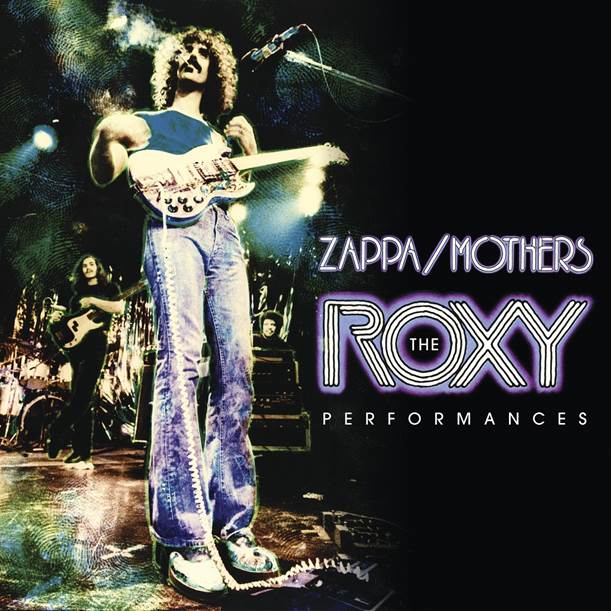 In December 1973, Frank Zappa played a series of concerts at the famed Roxy Theatre on the Sunset Strip in Hollywood. The five shows, across three nights, included a private invite-only performance/soundcheck/film shoot followed by back-to-back doubleheaders. A few days later, continuing this incredibly prolific week, Zappa brought his band and camera crew to Ike Turner's Bolic Sound in Inglewood for a filmed recording session. In typical Zappa fashion, he recorded it all.
On February 2, Zappa Records/UMe will release The Roxy Performances, a definitive seven-CD box set that collects all four public shows from December 9-10, 1973, and the December 8 film shoot/soundcheck, each presented in their entirety for the first time, along with bonus content featuring rarities from a rehearsal, unreleased tracks and highlights from the Bolic Studios recording session. This complete collection, totaling nearly eight hours, documents the Roxy shows as they happened and presents brand new mixes by Craig Parker Adams from new 96K 24 Bit transfers of the multi-track masters.
The set is rounded out with a 48-page booklet that includes photos from the performances, extensive liner notes, reviews and more. Those who digitally pre-order the boxed set will receive an instant free download of "RDNZL." Culled from the very first show on December 9, the track is a live version of the classic song featuring the never-before-heard 2016 mix that exemplifies the sonics of the new box set.
Pre-order The Roxy Performances here.
While portions of these concerts have been released in various formats over the years—first in 1974 on the album Roxy and Elsewhere, which mixed material from the shows with performances recorded in different locations months later, followed by 2014's Roxy By Proxy, which featured Zappa's 1987 digital mixes of tracks from various shows, and most recently the 2015 film Roxy the Movie and its accompanying soundtrack—the shows have never been released in their entirety until now.
Related: The Roxy box follows a Halloween collection
The Roxy Performances capture Zappa and the Mothers at the just-opened venue in their hometown Los Angeles following the release of Over-Nite Sensation. The band included keyboardist George Duke, bassist Tom Fowler, trombonist Bruce Fowler, tenor saxophonist and vocalist Napoleon Murphy Brock, percussionist Ruth Underwood and drummers Ralph Humphrey and Chester Thompson.
The material expertly performed across the five shows consisted mostly of songs from 1969 and beyond, including tracks from Uncle Meat, Hot Rats, Waka/Jawaka and Over-Nite Sensation. The shows also include a number of live favorites like "Village Of The Sun," "Pygmy Twylyte," "Cheepnis," "Penguin In Bondage," "Echidna's Arf (Of You)," and "Don't You Ever Wash That Thing." Many of these ended up on Roxy & Elsewhere.
Track Listing
DISC 1
12-9-73 Show 1
1. Sunday Show 1 Start 4:59
2. Cosmik Debris 11:33
3. "We're Makin' A Movie" 3:16
4. Pygmy Twylyte 9:08
5. The Idiot Bastard Son 2:19
6. Cheepnis 3:44
7. Hollywood Perverts 1:07
8. Penguin In Bondage 5:54
9. T'Mershi Duween 1:56
10. The Dog Breath Variations 1:44
11. Uncle Meat 2:29
12. RDNZL 5:14
13. Montana 7:49
14. Dupree's Paradise 15:25
TT: 76:43
DISC 2
12-9-73 Show 2
1. Dickie's Such An Asshole 10:29
2. Sunday Show 2 Start 4:08
3. Inca Roads 8:27
4. Village Of The Sun 4:19
5. Echidna's Arf (Of You) 4:01
6. Don't You Ever Wash That Thing? 13:22
7. Slime Intro :59
8. I'm The Slime 3:34
9. Big Swifty 9:01
TT: 58:25
DISC 3
1. Tango #1 Intro 3:50
2. Be-Bop Tango
(Of The Old Jazzmen's Church) 18:12
3. Medley:
King Kong
Chunga's Revenge
Son Of Mr. Green Genes 9:46
12-10-73 Show 1
4. Monday Show 1 Start 5:31
5. Montana 6:57
6. Dupree's Paradise 21:26
7. Cosmik Intro 1:05
8. Cosmik Debris 8:05
TT: 74:57
DISC 4
1. Bondage Intro 1:52
2. Penguin In Bondage 6:54
3. T'Mershi Duween 1:52
4. The Dog Breath Variations 1:48
5. Uncle Meat 2:29
6. RDNZL 4:59
7. Audience Participation – RDNZL 3:08
8. Pygmy Twylyte 4:05
9. The Idiot Bastard Son 2:21
10. Cheepnis 4:49
11. Dickie's Such An Asshole 10:21
12-10-73 Show 2
12. Monday Show 2 Start 5:13
13. Penguin In Bondage 6:33
14. T'Mershi Duween 1:52
15. The Dog Breath Variations 1:46
16. Uncle Meat 2:28
17. RDNZL 5:11
TT: 67:50
DISC 5
1. Village Of The Sun 4:05
2. Echidna's Arf (Of You) 3:54
3. Don't You Ever Wash That Thing? 6:56
4. Cheepnis – Percussion 4:08
5. "I Love Monster Movies" 2:10
6. Cheepnis 3:35
7. "Turn The Light Off"/Pamela's Intro 3:59
8. Pygmy Twylyte 7:23
9. The Idiot Bastard Son 2:22
10. Tango #2 Intro 2:01
11. Be-Bop Tango
(Of The Old Jazzmen's Church) 22:08
TT: 62:46
DISC 6
1. Dickie's Such An Asshole 15:39
Bonus Section: 12-10-73 Roxy Rehearsal
2. Big Swifty – In Rehearsal 2:50
3. Village Of The Sun 3:13
4. Farther O'Blivion – In Rehearsal 5:34
5. Pygmy Twylyte 6:17
Unreleased Track
6. That Arrogant Dick Nixon 2:19
12-12-73 Bolic Studios Recording Session
7. Kung Fu – In Session 4:50
8. Kung Fu – with guitar overdub 1:17
9. Tuning and Studio Chatter 3:38
10. Echidna's Arf (Of You) – In Session 1:22
11. Don't Eat The Yellow Snow – In Session 9:49
12. Nanook Rubs It – In Session 5:41
13. St. Alfonzo's Pancake Breakfast – In Session 2:46
14. Father O'Blivion – In Session 2:31
15. Rollo (Be-Bop Version) 2:36
TT: 70:31
DISC 7
12-8-73 Sound Check/Film Shoot
1. Saturday Show Start 2:20
2. Pygmy Twylyte/Dummy Up 20:25
3. Pygmy Twylyte – Part II 14:25
4. Echidna's Arf (Of You) 3:42
5. Don't You Ever Wash That Thing? 6:01
6. Orgy, Orgy 3:39
7. Penguin In Bondage 6:30
8. T'Mershi Duween 1:53
9. The Dog Breath Variations 1:45
10. Uncle Meat/Show End 4:01
TT: 64:46
Watch Zappa and the Mothers play three tunes at the Roxy in 1973

Latest posts by Best Classic Bands Staff
(see all)