11 Great Classic Rock Driving Songs: Reader Favorites
by Greg Brodsky
Your bags are packed, the car is gassed up, and you're ready to hit the road.
Years ago, the founding editor of Guitar World offered us a list of 10 great rock driving songs. Over time, Best Classic Bands readers suggested some key omissions to his list. So on this new edition, we're turning it up to 11… as in eleven classic rock greats to drive to.
Don't go looking for Golden Earring's "Radar Love," The Doors' "Roadhouse Blues" or ZZ Top's "La Grange" on this list. They're all on that earlier story.
So lock the doors, strap in and turn the music up.
"Roll on Down the Highway" – Bachman-Turner Overdrive
What a great way to kick things off! From the band's great 1974 album, Not Fragile, this one's got a great lead vocal from Fred Turner and an absolutely nasty guitar lick from Randy Bachman. Time to open the windows…
"Life is a Highway" – Tom Cochran
The former Red Rider frontman scored a big hit in 1992, his first of seven Top 10 singles in his native Canada. The anthem was his only U.S. hit. Don't worry… no one's watching. Go ahead and sing along… Life is a highway, I wanna ride it all night long…
"Under My Wheels" – Alice Cooper
Though the 1971 single was only a modest hit, the crowd pleaser has been a staple of his live shows ever since. The telephone is ringing…
"Highway Star" – Deep Purple
This one has that slow build up with Ian Paice's drums and Ritchie Blackmore's guitar and then… whoosh! You'll be tapping your fingers to the steering wheel in no time. One of the best things about this 1972 number is that all five members of the band get their time to shine bright.
"Rockin' Down the Highway" – The Doobie Brothers
Yep, that's the unmistakable voice of Tom Johnston, who also wrote the song for the band's 1972 album, Toulouse Street. The classic LP cut was never released as a single.
"LA Woman" – The Doors
This 1971 tour de force practically defines the experience of driving on the open road. Be honest: How many times have you sung this – loudly – while in your car alone? Particularly the lyrics: Cops in cars, the topless bars, Never saw a woman, So alone, so alone, so alone…
"I Can't Drive 55" – Sammy Hagar
Though its video was a MTV staple, this 1984 single was only a modest hit, peaking at just #26. And it remains one of the song's most closely associated with the Red Rocker.
"Autobahn" – Kraftwerk
This unique song introduced most of us to electronic music, when it became a worldwide phenomenon in 1975. Here's the whole 22+ minute version to help you pass the time.
Related: "Autobahn" is one of our surprising radio hits of the '70s
"Black Betty" – Ram Jam
Oh yeah! Two-and-a-half minutes of toe-tapping greatness. The founder of the boogie rock group, Bill Bartlett, had been lead guitarist for the bubblegum group, the Lemon Pipers, of "Green Tambourine" fame. This YouTube clip has an astounding 150 million views since it was uploaded in 2017.
"Hollywood Nights" – Bob Seger
Absolute perfection… That piano (courtesy of Little Feat's Bill Payne)… David Teegarden's drums… Bullet Bob's outstanding vocal, and those gorgeous background vocals. How do you not get chills when he sings: Night after night, day after day, it went on and on… ? (And how did this song peak at just #12?)
"Roundabout" – Yes
Road intersections in the U.K., particularly outside the cities, are more likely to use traffic circles – roundabouts – than traffic lights. A 1971 drive in Scotland inspired Jon Anderson and Steve Howe to write about their trip. (More details are here.) Enjoy this live version from London's legendary Rainbow Theatre that features what many feel is the classic Yes lineup.
Drive safely!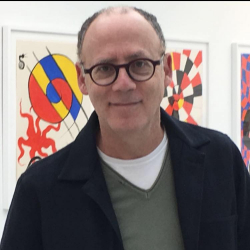 Latest posts by Greg Brodsky
(see all)