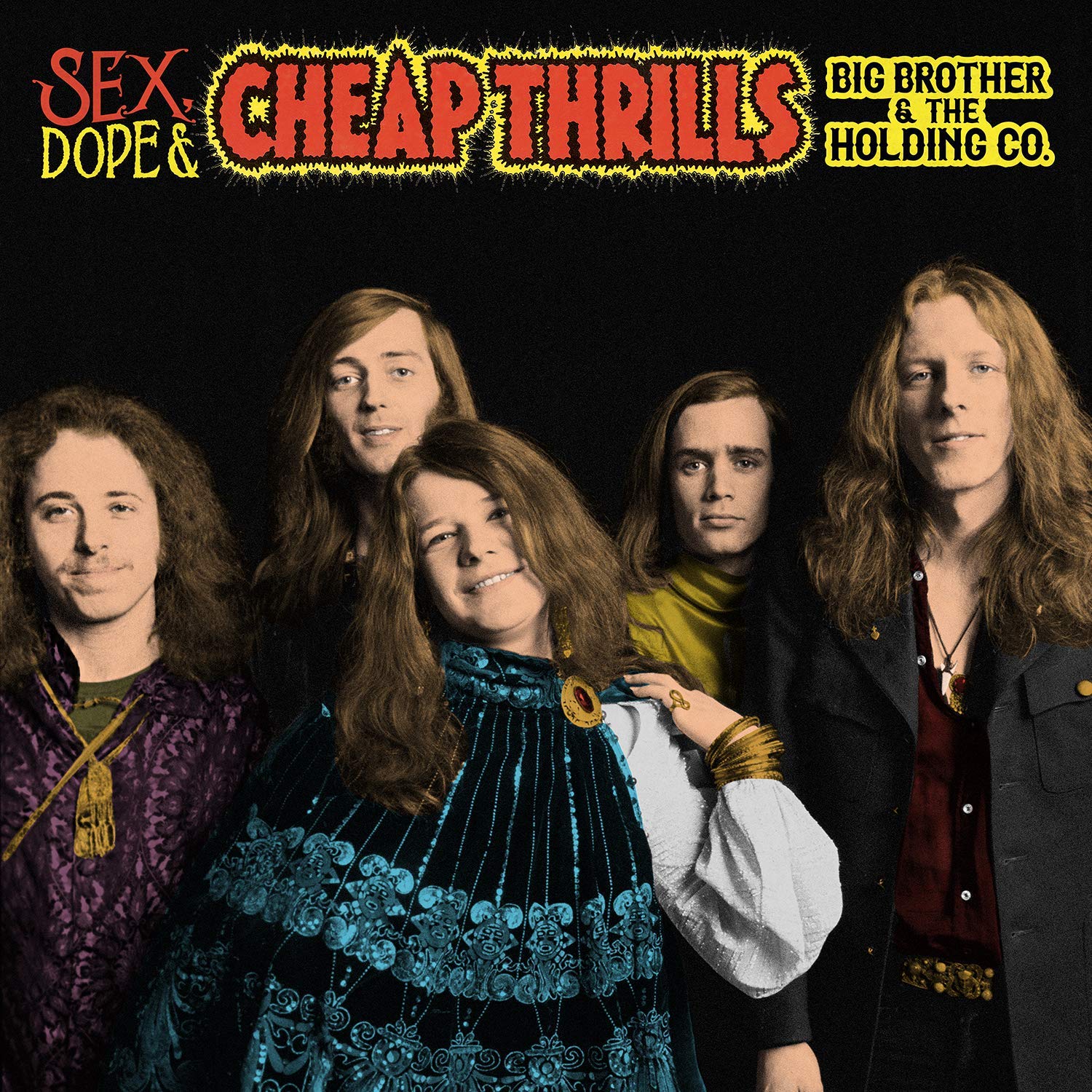 The legendary Cheap Thrills album from Big Brother & the Holding Company that introduced Janis Joplin to the world is finally being released as the band intended with a 50th anniversary edition including 25 previously unreleased performances. Equally noteworthy: the November 30 release will be issued under its originally intended title, Sex, Dope & Cheap Thrills. The announcement was made on September 18 by Columbia/Legacy Recordings, a division of Sony Music Entertainment.
The new release will be available on 2-CDs (30 tracks) and 2-LPs (16 tracks).
The expanded title, notes the announcement, "restores the band's vision and intent in an essential new collection of 30 rare performances including 29 studio outtakes from the mythic 1968 sessions that resulted in Cheap Thrills, the breakout album that introduced Janis Joplin to the world." The album's original title had been nixed by the label as too controversial a half century ago. The upcoming Sex, Dope & Cheap Thrills includes a previously unreleased live performance of "Ball and Chain," recorded live at Winterland Ballroom on April 12, 1968.
Listen to a previously unreleased version of "Piece of My Heart"
Sex, Dope & Cheap Thrills includes liner notes penned especially for this commemorative release by the Jefferson Airplane's Grace Slick as well as Big Brother & the Holding Company drummer David Getz. "Then I heard that voice," writes Slick. "Good Lord–spontaneous explosions of every emotion–no holds barred…. Janis had no trouble sliding from the apron clad fifties into the no bra sixties. We all took every advantage of the new freedoms, and it was reflected in the music…. This album, because of its worldwide success, made it possible for everybody to hear the phenomenon that was previously limited to the San Francisco Bay Area."
The original Cheap Thrills has been certified 2x Platinum by the RIAA.
Related: Cheap Thrills is included in our feature, 1968: The Year in 50 Classic Rock Albums
From the announcement: Originally released on August 12, 1968, Cheap Thrills was an out-of-the-box smash, a #1 album for eight weeks that–building on the heat she'd generated at the 1967 Monterey Pop Festival–established Joplin as rock's foremost primordial psychedelic soul singer, a musical archetype whose influence has never waned.
The original album features an iconic cover by artist R. Crumb.
Of the 30 tracks showcased on the 2-CD edition of Sex, Dope & Cheap Thrills, only five have been previously released: "Summertime (Take 2)" (on a 1993 Joplin compilation); "Roadblock (Take 1)" (on the 1999 Cheap Thrills reissue); "It's A Deal (Take 1)" and "Easy Once You Know How (Take 1)" (both on the 1999 "Rare Pearls" disc in the Box of Pearls set); and "Magic Of Love (Take 1)" (from the Columbia/Legacy Record Store Day release, Move Over!).
The original Cheap Thrills featured dubbed-in crowd noise to create the sonic illusion of a live album, though only "Ball and Chain" was actually recorded in concert. An alternate live version of the song–recorded at The Winterland Ballroom in San Francisco on April 12, 1968–is included on Sex, Dope & Cheap Thrills. The album was the culmination of several years of hard work for the psychedelic quintet, consisting of Joplin on lead vocals, Sam Andrew and James Gurley on guitar, Peter Albin on bass and Getz on drums. In 1967, a year after recruiting Joplin, they released their self-titled debut album while continuing to build a devoted fan base in their native San Francisco and the Bay Area.
A performance at the Monterey Pop Festival in June 1967 earned Big Brother national recognition. CBS Records President Clive Davis attended the group's performance and signed Big Brother & The Holding Company to Columbia Records. Produced by John Simon, Cheap Thrills included originals ("I Need a Man to Love," "Combination of the Two") as well as covers of jazz and blues favorites (George and Ira Gershwin's "Summertime," Big Mama Thornton's "Ball and Chain," and, notably, "Piece of My Heart," penned by Jerry Ragovoy and Bert Berns, that became one of Janis' signature songs (and her top charting single during her lifetime).
Sex, Dope & Cheap Thrills 2-CD Track List
Disc One
1. Combination Of The Two (Take 3)
2. I Need A Man To Love (Take 4)
3. Summertime (Take 2) *
4. Piece Of My Heart (Take 6)
5. Harry (Take 10)
6. Turtle Blues (Take 4)
7. Oh, Sweet Mary
8. Ball And Chain (live, The Winterland Ballroom, April 12, 1968)
9. Roadblock (Take 1) *
10. Catch Me Daddy (Take 1)
11. It's A Deal (Take 1) *
12. Easy Once You Know How (Take 1) *
13. How Many Times Blues Jam
14. Farewell Song (Take 7)
Disc Two
1. Flower In The Sun (Take 3)
2. Oh Sweet Mary
3. Summertime (Take 1)
4. Piece of My Heart (Take 4)
5. Catch Me Daddy (Take 9)
6. Catch Me Daddy (Take 10)
7. I Need A Man To Love (Take 3)
8. Harry (Take 9)
9. Farewell Song (Take 4)
10. Misery'n (Takes 2 & 3)
11. Misery'n (Take 4)
12. Magic Of Love (Take 1) *
13. Turtle Blues (Take 9)
14. Turtle Blues (last verse Takes 1-3)
15. Piece Of My Heart (Take 3)
16. Farewell Song (Take 5)
All tracks previously unreleased except*

Latest posts by Best Classic Bands Staff
(see all)