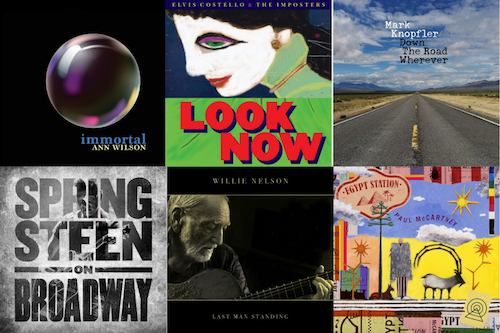 In part one of our four-part 2018 holiday gift guide, we looked at the best of the boxed sets, reissues and historical collections aimed at classic rock fans.
For this second part, we're focusing on newly recorded albums by classic rockers, including Paul McCartney, Neil Young, Elvis Costello, Bruce Springsteen, Mark Knopfler, Ann Wilson and many others.
Part three focuses on new holiday music releases and part four covers the year's best music books.
As with the first part, this list is arranged alphabetically by artist (record label in parentheses)—no rankings here because they're all worthy. All of these are available on CD, many also on LP and digitally. All can be found via the handy ordering links at the bottom of this story.
Happy listening!
Ace of Cups—Ace of Cups (High Noon)
They're probably the least known name in our year-end survey—unless you happened to live in the San Francisco Bay area in the '60s. The all-female band was ubiquitous there from 1967-72, playing gigs on their own and opening for the big names. But they never got around to making an album—till now. Guests include the Dead's Bob Weir, Taj Mahal , Hot Tuna's Jorma Kaukonen and Jack Casady, and others.
Randy Bachman—By George—By Bachman (Universal)
The Canadian superstar of Guess Who and Bachman Turner Overdrive fame was heavily influenced by George Harrison, and this is his way of saying thanks. The album includes his own versions of tunes like "While My Guitar Gently Weeps," "Something" and "Think for Yourself."
Related: Our interview with Randy Bachman
The Beach Boys—The Beach Boys with the Royal Philharmonic Orchestra (Capitol/UMe)
The U.K.'s Royal Phil has collaborated with many rock groups before, but they seem particularly well-attuned to the music of the Sunshine Boys of California. Their classical accents on tunes like "California Girls," "Help Me, Rhonda" and "In My Room" put a whole other spin on them.
David Byrne—American Utopia (Todomundo/Nonesuch)
The one-time Talking Heads mastermind, on his first solo album in 14 years, questions the current state of society while offering solace through song; the content recognizes the darkness and complexity of today while showcasing alternatives to the despair that threatens us.
Related: David Byrne covered David Bowie's "Heroes"
Rosanne Cash—She Remembers Everything Memory Box (Blue Note)
For her first album in nearly five years, Rosanne Cash offers a superfan-friendly box that nods to her literary bona fides as well as the set's underlying "feminist gothic" #MeToo theme. The bundle includes an expanded deluxe, case-bound CD that adds three additional songs, a pink vinyl LP of its original 10-song track list, a hardbound copy of Bird on a Blade (Univ. of Texas Press) featuring Cash's lyrics and illustrations by Dan Rizzie, with an 8×10 lithograph of one of Rizzie's illustration, and a folder of correspondence that traces the songs' evolution through emails between Cash, her songwriting partners and the producers. Rounding out the package is Rosanne Cash at SFJAZZ, a CD featuring guests Emmylou Harris and Lucinda Williams.
Ry Cooder—The Prodigal Son (Fantasy)
The album's 11 tracks, including three Cooder originals and a collection of Cooder's favorite spirituals of the last century, "share a particular resonance in this time and place, forming an unflinching look at the state of play in modern America," said a press release about the album.
Elvis Costello and the Imposters—Look Now (Concord)
Costello co-wrote two of the songs with Burt Bacharach, who makes a guest appearance on piano on those two ballads, "Don't Look Now" and "Photographs Can Lie." The album is Costello's first with his regular band in a decade.
David Crosby—Here if You Listen (BMG)
For his fourth new album in five years, the CSN expat teamed with his Lighthouse Band: Becca Stevens, Michael League of Snarky Puppy and Michelle Willis. Croz launched a five-week tour in support of the album. Watch for a documentary on the singer from director Cameron Crowe.
Roger Daltrey—As Long As I Have You (Republic)
The album is a mixture of self-penned tracks such as "Certified Rose" and the soulful ballad "Always Heading Home," along with songs that have inspired Daltrey over the years, including Nick Cave's "Into My Arms," "You Haven't Done Nothing" by Stevie Wonder, Stephen Stills' "How Far" and the title track, originally recorded by Garnet Mimms in 1964. The Who frontman also toured this summer, presenting the band's classic rock opera Tommy in full.
Ray Davies—Our Country—Americana Act II (Legacy)
A follow-up to his 2017 album and 2013 memoir, Americana, the album continues the story of the Kinks' co-founder's journeys through America—how it shaped him and evolved through the years. His reflections on his experiences in America instigate personal reformation, and eventually rediscovery and celebration of his own origins.
Marianne Faithfull—Negative Capability (BMG import)
The British singer's 21st album, said a press release before it came out, "is charged with brutal honesty and autobiographical reflection as she addresses losing old friends, her loneliness living in her adopted city of Paris, and love…[It's] Marianne's unflinchingly honest and relentlessly beautiful late-life masterpiece."
Related: Our interview with Marianne Faithfull
Steve Forbert—The Magic Tree (Blue Rose)
The singer-songwriter's album accompanied his memoir and is a series of songs gleaned from previously recorded acoustic demos, augmented with new backing tracks. "The collection rings with the verve and vitality that Forbert's fans have always come to expect," says a press release.
Billy F Gibbons—The Big Bad Blues (Concord)
The album, only the second solo effort from the ZZ Top co-founder, focuses on Gibbons' lifelong love of the blues and rock 'n' roll, showcasing the blues-influenced vocals and guitar licks that have together served as the foundation for his numerous hits over the past five decades. The album features 11 tracks balancing some classic covers like "Rollin' and Tumblin'' and "Standing Around Crying," along with some of Gibbons' signature new blues originals.
John Hiatt—The Eclipse Sessions (New West)|
The singer-songwriter was experiencing writer's block when he was inspired by a full solar eclipse. The 11 new self-composed tunes of mixed tempos, recorded in Nashville, are instilled with the authenticity and hominess that's always marked Hiatt's output.
Mark Knopfler—Down the Road Wherever (British Grove)
The album features new songs inspired by a wide range of subjects, including Knopfler's early days in Deptford with Dire Straits, a stray soccer fan lost in a strange town, the compulsion of a musician hitching home through the snow and a man out of time in his local greasy spoon diner.
Little Steven and the Disciples of Soul—Soulfire Live (Wicked Cool)
The three-CD collection includes 24 tracks released alongside an exclusive third disc highlighted by guest performances recorded throughout the band's trek, including Bruce Springsteen, Richie Sambora, Peter Wolf and Jerry Miller (of Moby Grape).
John Mayall—Three for the Road (Forty Below)
The album was recorded live in Dresden and Stuttgart, Germany, in March 2017. The nine tracks include fan and personal song favorites played by his trio: John Mayall (vocals, keyboard, and harmonica), Greg Rzab (bass) and Jay Davenport (drums).
Paul McCartney—Egypt Station (Capitol)
His first album of new material to top the charts since 1982—and only his third outside of the Beatles and Wings—offered a cross-section of material, including "Fuh You," which he described as a "raunchy love song." (Watch the video below.) About the album title, Macca said, "I think of it as a dream location that the music emanates from."
Roger McGuinn—Sweet Memories (self-released)
His first new album in 14 years consists of 12 new recordings, including remakes of the Byrds' first two hit singles, "Mr. Tambourine Man" and "Turn! Turn! Turn!," as well as a newly recorded "So You Want to Be a Rock 'n' Roll Star" and an update on "Chestnut Mare," titled "Chestnut Mare Christmas" here.
Related: McGuinn and fellow ex-Byrd Chris Hillman have been celebrating the 50th anniversary of a classic album
John Mellencamp—Other People's Stuff (Republic)
Culled from his albums, compilations, unearthed sessions and documentaries, this record of cover versions "serves as a proud homage to some of the greatest songs in history," says the album's press release.
Van Morrison—You're Driving Me Crazy (Legacy) and The Prophet Speaks (Caroline)
You're Driving Me Crazy is a collaboration with the jazz organist Joey DeFrancesco. The pair interprets a variety of jazz and blues standards and classics alongside fresh interpretations of songs from Morrison's own catalog. On The Prophet Speaks, Morrison takes on a series of blues/soul classics by the likes of John Lee Hooker, Sam Cooke and Solomon Burke (among others) and adds in six new Van Morrison compositions.
Willie Nelson—Last Man Standing and My Way (both Legacy)
Last Man Standing consists entirely of songs newly penned by Willie Nelson (and longtime collaborator and producer Buddy Cannon). My Way, meanwhile, is Nelson's take on standards and classics popularized by Frank Sinatra, including "Fly Me to the Moon," "It Was a Very Good Year" and "One for My Baby (And One More For the Road)."
Willie Nile—Children of Paradise (River House)
Says the veteran singer-songwriter, "It's full of fire and passion and spirit, and it feels like real life to me. The songs come out of the box roaring and rocking, yet there are also songs of intimacy and tenderness. It's got all the power and promise of what I love best about rock 'n' roll."
Ted Nugent—The Music Made Me Do It (Round Hill)
The first album by the Motor City Madman in four years features Greg Smith on bass, Jason Hartless on drums and Nugent on lead guitar and vocal. It's accompanied by a full-length concert DVD.
Yoko Ono—Warzone (Chimera)
The latest from the now-85-year-old is described as "very stripped down, with a particular emphasis on Yoko's voice and lyrics. Here in this minimalist landscape the content of her message rings clear and unencumbered; sometimes somber warnings, sometimes uplifting encouragement, but her wisdom and fortitude are unflinchingly strong, her power having intensified with time and life experience."
Graham Parker—Cloud Symbols (100%)
For the album, the British singer-songwriter is accompanied by a new band, the Goldtops, which features former Rumour member Martin Belmont. "It's exactly the kind of music I should be making today," Parker says.
Joe Perry—Sweetzerland Manifesto (Roman)
The Aerosmith guitarist's sixth solo album features 10 tracks all written or co-written by Perry (many with the album's guest vocalists), except for a cover of "Eve Of Destruction" with Perry on lead vocals and his Hollywood Vampires bandmate Johnny Depp on drums. Other guests include Robin Zander of Cheap Trick and terry Reid.
Steve Perry—Traces (Fantasy)
The ex-Journey singer came out of retirement after three decades and said, "It has certainly been an emotional experience for me. I started writing and recording these songs with the creative freedom that I was the only one who would ever hear them. Along the way, I rediscovered my love for music."
John Prine—The Tree of Forgiveness (Oh Boy)
The Rock and Roll Hall of Fame nominee's newest album includes 10 new songs written or co-written by Prine. One song is co-credited to Phil Spector.
Paul Rodgers—Free Spirit (Quarto Valley)
On the 16-song collection, Rodgers performs classic rock favorites of his former band Free, like "All Right Now," "Wishing Well," "Fire and Water," and many deep tracks—, some of which were never performed live by the original band, such as "Love You So" and "Catch a Train."
Boz Scaggs—Out of the Blues (Concord)
The new album features both vintage and original tracks, with performances by guitarists Doyle Bramhall II, Ray Parker Jr. and Charlie Sexton, bassist Willie Weeks, drummer Jim Keltner and keyboardist Jim Cox, and others.
Paul Simon—In the Blue Light (SMG)
Produced by Simon and Roy Halee, who have worked together since the 1960s, the album features musicians—including jazz greats Wynton Marsalis and Bill Frisell—who have joined Simon on fresh perspectives of 10 of his favorite (though perhaps less-familiar) songs, drawn from his large body of work.
Bruce Springsteen—Springsteen on Broadway (Columbia)
Due out in mid-December, the album is described as an audio souvenir of The Boss' long-running, Tony-winning one-man show on the Great White Way. The solo acoustic recording of one of the 236 shows includes stories and solo Springsteen classics such as "Born to Run," "Dancing in the Dark" and "Tenth Avenue Freeze-Out."
Related: Our review of a more standard kind of Bruce show
Rod Stewart—Blood Red Roses (Republic)
"The new songs fearlessly address life's thornier issues from first infatuation to our final words to a friend, and all the agonies and ecstasies along the way," says a press release. Stewart added, "I always think I make albums for a few friends and this record has that intimacy, I hope. Sincerity and honesty go a long way in life and the same is true in songwriting."
Richard Thompson—13 Rivers (New West)
The singer/songwriter/guitarist's first self-produced album in over a decade was recorded 100 percent analog in just 10 days. The former Fairport Convention member describes it as "a bare-bones, emotionally direct album that speaks from the heart with no filters."
Tower of Power—Soul Side of Town (Artistry)
It's described as a "cranial-crushing funk amalgamation of soul, vintage R&B, groove, pop and rock," and serves as the centerpiece of the California band's 50th anniversary campaign.
Paul Weller—True Meanings (Warner Bros.)
The British singer/songwriter's 14th solo release is described as "an album characterized by grandiose-yet-delicate, lush orchestration: an aesthetic to which Weller's better-than-ever voice, singing some of his most nakedly honest words, is perfectly suited."
Tony Joe White—Bad Mouthin' (Yep Roc)
The singer/songwriter best known for "Polk Salad Annie" died on Oct. 24. Just weeks before his passing he released this album, described as a blend of classics and originals. He explained: "When and where I grew up, blues was just about the only music I heard and truly loved. I've always thought of myself as a blues musician, bottom line, because the blues is real, and I like to keep everything I do as real as it gets. So, I thought it was time to make a blues record that sounds the way I always loved the music."
Related: Our Tony Joe White obituary
Ann Wilson—Immortal (BMG)
The 10-track solo album by the Heart co-founder pays tribute to some of Wilson's influences and friends who've recently passed, including Glenn Frey, Amy Winehouse, Tom Petty and David Bowie. Wilson said about her choices, "They had to be songs I could get inside of authentically as a singer. Lyrics are important to me but the most important thing is always the marriage of words and melody that makes the song magic!"
Neil Young—Paradox and Songs for Judy (both Shakey Pictures)
The ever-prolific Young released Paradox (Original Music from The Film), music cut with his newest band Promise of the Real for a film written and directed by Daryl Hannah, Young's new wife. Songs for Judy, meanwhile, features live acoustic performances culled from Young's November 1976 solo tour and features 22 songs from various cities along the tour.

Latest posts by Best Classic Bands Staff
(see all)