Legacy Recordings will release Van Morrison's new studio album, You're Driving Me Crazy, a musical collaboration with Hammond organist/trumpeter Joey DeFrancesco, on April 27. The album is Morrison's 39th studio release since his debut in the 1960s.
The successor to Versatile, Morrison's jazz album from 2017, You're Driving Me Crazy will be available in 1-CD/2-LP physical configurations. A limited edition 7-inch single, featuring Van Morrison's "Close Enough For Jazz" b/w his rendition of Guitar Slim's "The Things I Used To Do," was released for Record Store Day 2018 on April 21.
You're Driving Me Crazy finds the Irish singer-songwriter-performer exploring a variety of jazz and blues standards and classics ("Miss Otis Regrets," "The Things I Used to Do," "Everyday I Have the Blues") alongside fresh interpretations of songs from his own catalog ("Have I Told You Lately," "The Way Young Lovers Do," "Magic Time").
Pre-order You're Driving Me Crazy on CD here.
On You're Driving Me Crazy Morrison collaborates in the studio with DeFrancesco and his band, including Dan Wilson (guitar), Michael Ode (drums) and Troy Roberts (tenor saxophone). DeFrancesco, who signed his first deal with Columbia Records at the age of 16, has performed with Miles Davis, John McLaughlin, Grover Washington Jr. and many more while leading his own band, and is considered one of the leading organists in jazz today.
Listen to "Close Enough For Jazz" from the new recording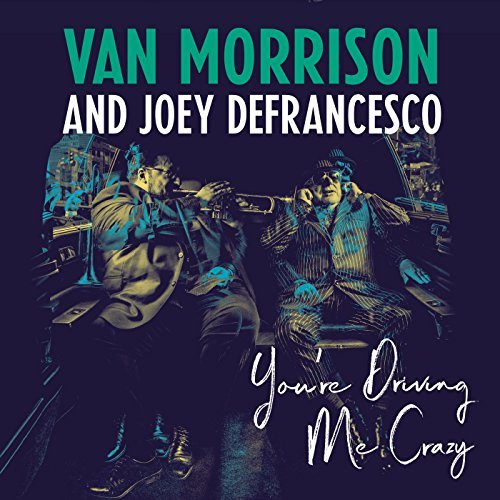 The release of You're Driving Me Crazy caps more than a year of non-stop activity for Morrison, who released his two studio albums (Roll with the Punches and Versatile) in quick succession in the fall and winter of 2017. Roll With The Punches became his 13th album to reach the Top 10 of the U.K. charts, while Versatile topped Billboard's jazz chart.
Related: Links to 100s of concert listings (including Van Morrison)
According to a press release, "The world of jazz has provided a vital ongoing influence on the music of Van Morrison, whose acclaimed 1968 studio masterpiece, Astral Weeks, showcased jazz musicians Connie Kay, Jay Berliner and Richard Davis. Inspired by the spontaneity, soul and sound of jazz, Morrison has performed on stage and/or in the studio with a variety of jazz and blues musicians including John Lee Hooker, Ray Charles, Mose Allison, Bobby Bland, Solomon Burke, Jeff Beck, Georgie Fame, Robbie Robertson, Freddie Hubbard, Chick Corea, Herbie Hancock, Maceo Parker, Candy Dulfer and others.
Watch Van Morrison with the Joey DeFrancesco Band, performing "Ballerina" from Astral Weeks
Joey DeFrancesco is a Grammy-nominee who has released more than 30 albums. He has performed on stage and in the studio with a wide variety of artists including Miles Davis, Jimmy Smith, Ray Charles, Bette Midler, David Sanborn, Arturo Sandoval, Larry Coryell, Frank Wess, John McLaughlin, Danny Gatton, Elvin Jones and many more. DeFrancesco is a nine-time winner of the DownBeat Critics Poll (organ) and has won the DownBeat Readers Poll every year since 2005. He has won a number of JazzTimes Awards and is an inaugural member of the Hammond Hall of Fame.
Listen to "Everyday I Have the Blues"
Track Listing
1. Miss Otis Regrets (Cole Porter)
2. Hold It Right There (Terry, Grey, Vinson)
3. All Saints Day (Van Morrison)
4. The Way Young Lovers Do (Van Morrison)
5. The Things I Used To Do (Eddie Jones)
6. Travellin' Light (John Mercer, James Mundy, James Young)
7. Close Enough For Jazz (Van Morrison)
8. Goldfish Bowl (Van Morrison)
9. Evening Shadows (Van Morrison / Acker Bilk)
10. Magic Time (Van Morrison)
11. You're Driving Me Crazy (Walter Donaldson)
12. Everyday I Have The Blues (Peter Chatman)
13. Have I Told You Lately (Van Morrison)
14. Sticks and Stones (Titus Turner)
15. Celtic Swing (Van Morrison)
Listen to the title track from You're Driving Me Crazy

Latest posts by Best Classic Bands Staff
(see all)