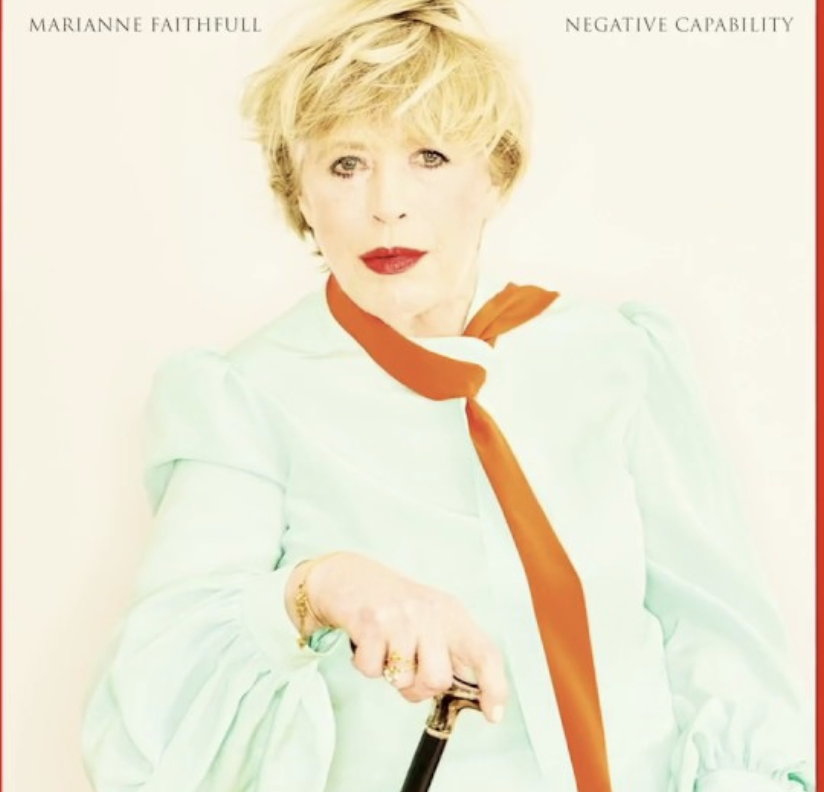 British vocalist Marianne Faithfull will release Negative Capability, the 21st album of her 54-year recording career, on Nov. 2. The album features collaborators Warren Ellis, Nick Cave, Rob Ellis, Ed Harcourt and Mark Lanegan and, according to a press release, "is charged with brutal honesty and autobiographical reflection as she addresses losing old friends, her loneliness living in her adopted city of Paris, and love."
Says the release: "Driven by her supernatural reinterpretative skills, florid lyricism, battle against the pain she lives with, and realized with her stellar group of musicians, Negative Capability is Marianne's unflinchingly honest and relentlessly beautiful late-life masterpiece. The stark emotional heft, exquisitely framed by ornately sensitive musical backdrops can only be likened to the late-life works by Johnny Cash or Leonard Cohen."
"It's the most honest album I've ever made," Faithfull says in the same release. "I've always tried not to reveal myself. There's nothing like real hardship to give you some depth. I've had terrible accidents and I'm really damaged. It's changed my life forever. I'm in a lot of pain and worked really hard to get strong so I can do my work. The great miracle is I was able to make this beautiful record. I really had no idea how it would turn out. I just jumped in and hoped I would be able to do it. This is all what's happened to me since my life changed but obviously if I do something I must do it really well.
Related: BCB's interview with Marianne Faithfull
Recorded at La Frette studio on the outskirts of Paris, Negative Capability, continues the release, is inexorably overshadowed by grief at losing close friends from the '60s such as Anita Pallenberg, Martin Stone and Cream album designer Martin Sharp. It's produced by both Rob Ellis—the PJ Harvey producer who's been Marianne's collaborator for five years—and Warren Ellis from Nick Cave and the Bad Seeds.
The first single, "The Gypsy Fairie Queen," inspired by Shakespeare's Midsummer Night's Dream, was co-written with Cave and features his vocals and piano playing. "It's a little miracle," says Faithfiull. "I asked Nick if he would put music to it and he wrote back saying, 'I'm so busy.' I said, 'I understand, sorry to bother you.' Then he just wrote back, 'Thank you so much for understanding; here's the song.' It's just gorgeous."
Negative Capability sees Faithfull composing songs with her musical collaborators more than on any previous album. Mark Lanegan supplied the music for '"hey Come At Night," inspired by the attacks in Paris and performed at the Bataclan while they were "wiping the blood off the walls." Ed Harcourt sculpted "No Moon In Paris" that closes the album, with Faithfull reflecting on her life.
Track List
Misunderstanding
The Gypsy Faerie Queen
As Tears go By
In My Own Particular Way
Born to Live
Witches Song
It's All Over Now, Baby blue
They Come At Night
Don't Go
No Moon In Paris
Watch the lyric video for "The Gypsy Faerie Queen"

Latest posts by Best Classic Bands Staff
(see all)