Bruce Springsteen Review: Live in Boston 2016
by Jim Sullivan
Bruce Springsteen and The E Street Band
TD Garden/Boston, MA
February 4, 2016
There's a pretty good chance that if you're on this site, you have a keen interest in how classic rockers are faring today. Does the recorded music hold up over time? If they're still playing out, does the concert experience still work? Does it take you back in time? Does it feel fresh in the here and now? Even something that is, say, 35 years old?
Bruce Springsteen would be the number one guy in terms of classic rock affirmation, the prove-it-all-night flesh and blood embodiment of his triumphant line from "Badlands": "It ain't no sin to be glad you're alive."
He was back in Boston at the TD Garden for yet another rock 'n' roll marathon – A long, twisting, turning set of exhilarating, exhausting music with the singer and his nine-piece E Street Band members proving it all night, as the song says.
A Springsteen concert is as religious and ceremonial as rock 'n' roll gets and the faithful re-assembled in Boston at the Church of Bruce. Call them the chosen few or the few that chose to buy tickets early, because the Garden sold out in a flash; last time the Springsteen caravan came to town he packed Fenway Park.
The primary theme of this night: The River and its many tributaries – ecstasy, ennui, redemption, fate itself. And while many of those songs from that 1980 double album had to do with cars and girls – his early wellspring – not all of these tales were about joyrides or love that lasts forever.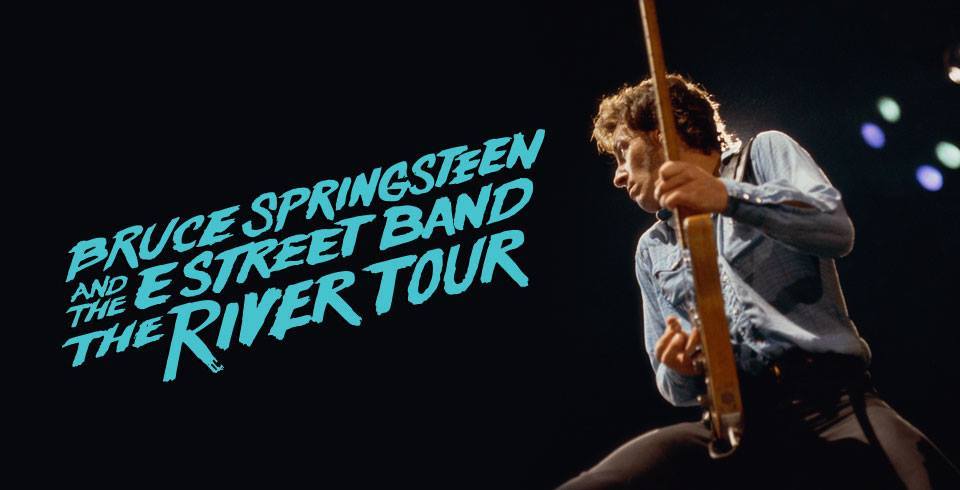 After starting with "Meet Me in the City" – originally an outtake, but now a single and part of The Ties That Bind: The River Collection CD/DVD package – Springsteen explained how The River was a record where he was trying to figure where he fit in in the broader community, writing about people's lives and commitments. He said he wanted to make a big record that felt like life, like life for an E Street Band show.
He works hard for the money, Springsteen does. (And no, the tickets weren't cheap either at Ticketmaster or on the resale sites.) When I first saw him in the mid-'70s I was floored by what he delivered – the breadth and depth of the material and a set up to four and-a-half hours. Now, at 66, the set is down to a shade under three and-a-half hours, which is maybe even more amazing. The only real negative comment: a vocal mix that was sometimes rough.
He's showing how to age – not gracefully, but with passion – and be able to reflect on your youth, your idealism and your fantasies. Call it luck of the genetic pool or dedicated workout ethic, but it doesn't hurt at all that, though Springsteen has crease lines on his face (as the high-defiinition cameras and side-stage video screens told you), he's lean, fit and dressed in that familiar vest, work shirt, jeans outfit. He slings the guitar over his back, still, the classic Bruce pose. He looks pretty much like he did decades back and, watching him, you can't help feeling like maybe you look (almost) and feel the same, too.
There are many different shades and tones on The River. For every pop burst – "Sherry Darling," "Two Hearts," "Hungry Heart" (Springsteen in the crowd, on his back, supported by upheld fans hands), "Crush on You" – there's something knottier down the road.
"Independence Day" was the first of those, with Springsteen explaining this breakaway-from-home song – "They can't touch me now" – as a time when you realize your parents had "their own hopes that maybe didn't pan out." It had a poignancy and depth that balanced the previous upbeat rockers and added gravitas. That's what Springsteen has done throughout his career, delivering a series of ups, downs and turnarounds.
The centerpiece songs were the album's title track – the river as metaphor, the once flowing water had gone dry – and the next song, "Point Blank." The stark ballad, led by pianist Roy Bittan, remains Springsteen's most wrenching, despairing song as he sings about a woman whose dreams have crashed and burned: "Point blank, right between the eyes… They must have shot you in the head/'cause point blank baby, bang bang baby you're dead."
Lots of songs ran together – separated by Springsteen's ecstatic "1-2-3-4!" count – but occasionally he stepped back to explain context. "I Wanna Marry You," he said, was "a daydream … imagining the life of a person… that's the life without consequences that doesn't exist… a song of youth, imagining it in all of its glory and sweetness… It's not the real thing, but you gotta start someplace." The woman in that song does not fare well. "In the end true love can't be no fairy tale," sang Springsteen.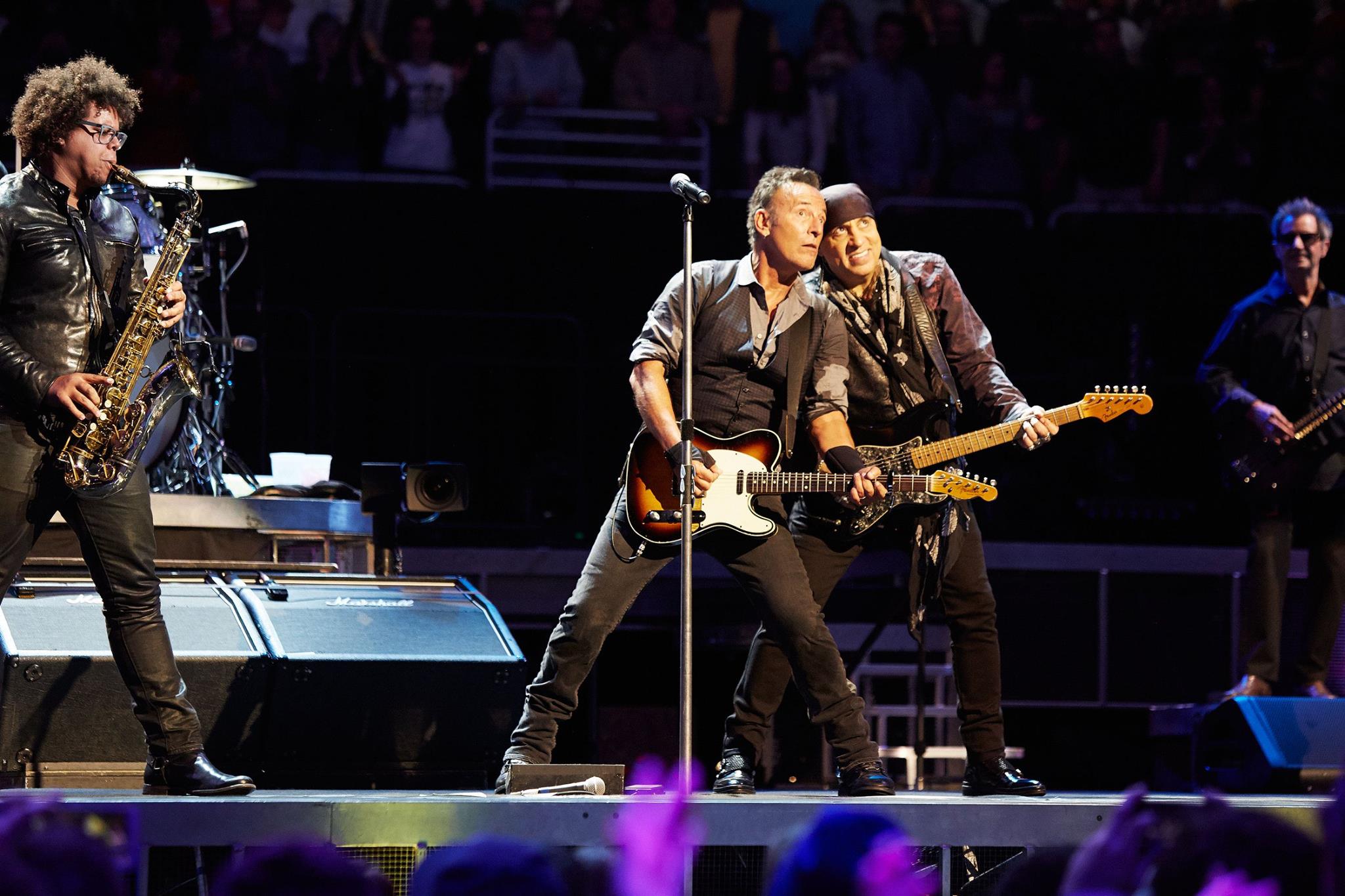 Then, they jumped into the slam-bam pulse of "Cadillac Ranch" and "I'm a Rocker," the E Streeters strutting like gunslingers, backs to the crowd. Between "Ramrod" and "The Price You Pay," Springsteen announced "It's booty-shaking time!" and band members did just that.
Springsteen and company played The River songs sequentially and then 13 more, beginning with "Roulette" (its tour debut) and rocking through (among others) "Prove It All Night," "She's the One," Candy's Room," "Because the Night," "Thunder Road," "Badlands," and, of course, the still-chill inducing rush of "Born to Run," with the late Clarence Clemons' nephew Jake Clemons pumping that sax next to the Boss.
Springsteen brought a little girl out on stage to dance with during "Dancing in the Dark" (recalling the video with a young Courteney Cox), and during "Rosalita (Come out Tonight)" I swear he was yipping into the mic like Shemp of the Three Stooges when he and guitarist Steve Van Zandt were swapping vocals. At the end, the gang was joined by longtime friend and Bostonian Peter Wolf of the J. Geils Band on vocals for the Isley Brothers' "Shout."
This night of rock? Pretty much as good as it gets. So many emotions tapped and memories stoked. And the reminder that the music created so long ago remains just as meaningful now as it did then. No small trick.

Latest posts by Jim Sullivan
(see all)