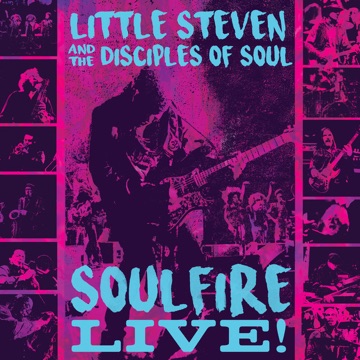 A 3-CD collection featuring Little Steven and the Disciples of Soul's Soulfire Live! is available now via Little Steven Van Zandt's Wicked Cool Records and UMe. The set includes 24 tracks released digitally in April alongside an exclusive third disc highlighted by guest performances recorded throughout the trek, including Bruce Springsteen, Richie Sambora, Peter Wolf and Jerry Miller (of Moby Grape).
Pre-order Soulfire Live! at the links below. Also, scroll to the bottom to watch the live video of Little Steven's performance of "Can I Get AaWitness," featuring Richie Sambora.
Recorded last year at the famed Orpheum Theatre in Los Angeles, the video captures Little Steven and his 15-piece band, the Disciples of Soul, which will be on full display on the Blu-ray coming later this year.
Soulfire Live! will also be available later this year as a 7-LP vinyl box, and on Blu-ray video, exclusively at Little Steven's just-launched new webstore. The vinyl box set will incorporate an exclusive bonus LP capturing Little Steven's surprise set at Liverpool's legendary Cavern Club recorded in November 2017 during his band's sold-out European tour. The intimate lunchtime gig saw Little Steven and the Disciples of Soul paying tribute to the Beatles with renditions of "Magical Mystery Tour," "Good Morning, Good Morning," "Got To Get You Into My Life" and "All You Need Is Love," alongside songs performed by the nascent Fab Four, including "Boys" (originally by the Shirelles), "Slow Down" (by Larry Williams) and "Soldier Of Love" (first recorded by Arthur Alexander).
Related: Little Steven was inducted into the New Jersey Hall of Fame this year 
The Soulfire Live! Blu-ray video edition will include Little Steven and the Disciples of Soul's complete Cavern Club concert alongside video performances of each song on the 3-CD/vinyl set, exclusive interviews, and behind-the-scenes footage. In addition, the Blu-ray edition will feature a special documentary about the Cavern Club performance that sees Little Steven honored with a brick in the club's Wall of Fame before leading his band through swift rehearsals of Beatles songs.
The exclusive Soulfire Live! third disc showcases special guest appearances from some of Little Steven's closest friends, collaborators, plus the Disciples of Soul's takes on a number of Little Steven's all-time favorite rock 'n' roll songs, including Tom Petty and the Heartbreakers' "Even the Losers," AC/DC's "You Shook Me All Night Long," John Lennon's "Working Class Hero," The Allman Brothers Band's "It's Not My Cross To Bear," The Animals' "We Gotta Get Out of This Place" and the Ramones' "Merry Christmas (I Don't Want To Fight Tonight)."
Soulfire Live! was produced and arranged by Van Zandt; the album was mixed by Bob Clearmountain and mastered by Bob Ludwig.
Little Steven And The Disciples of Soul: Soulfire Tour 2018
OCTOBER
18 – Wilkes-Barre, PA – Kirby Center
20 – Rochester, NY – Kodak Theater
23 – Atlantic City, NJ – Hard Rock
24 – Munhall, PA -Carnegie of Homestead Music Hall
29 – Wabash, IN – Honeywell Center
31 – Milwaukee, WI – Pabst Theater
NOVEMBER
2 – Burnsville, MN – Ames Center
5- Chicago, IL – Copernicus Center
7 – Tulsa, OK – Club Brady
9 – Detroit, MI @ Detroit Music Hall
10 – Peoria, IL – Monarch
12 – Louisville, KY – Mercury Ballroom
14 – Columbus, OH – Newport Music Hall
16 – Cleveland, OH – Hard Rock
17 – Morgantown, WV – Metropolitan Theatre

Latest posts by Best Classic Bands Staff
(see all)