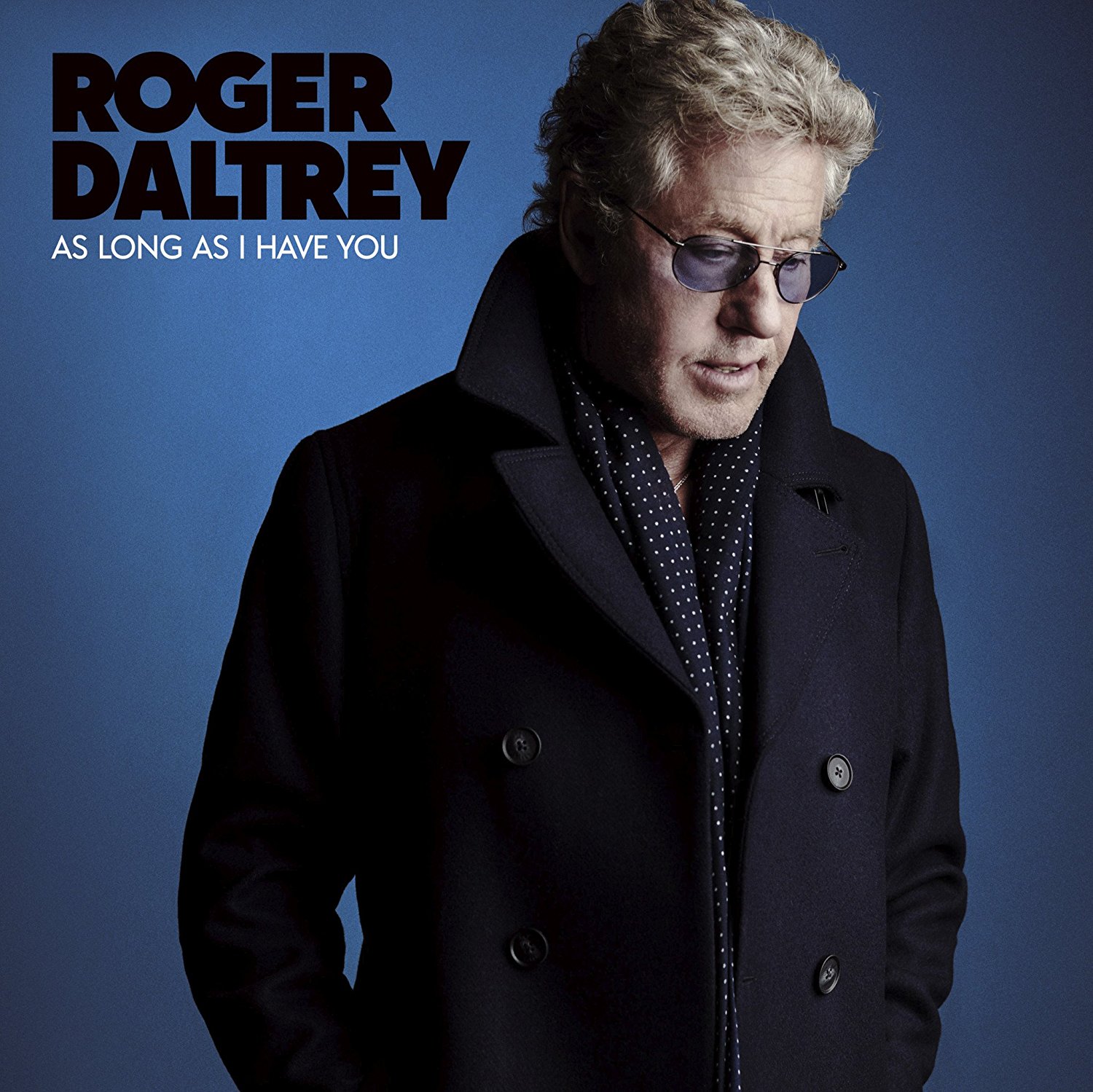 The Who's Roger Daltrey announced on March 15, the release of a new studio album, As Long as I Have You, on June 1 and his first solo LP since 1992. The album, on Republic Records, features Pete Townshend on guitar on seven of its tracks. Listen to many of the songs below.
From the original announcement: The album is a mixture of self-penned tracks such as "Certified Rose" and the soulful ballad "Always Heading Home" along with songs that have inspired Daltrey over the years including Nick Cave's "Into My Arms," "You Haven't Done Nothing" by Stevie Wonder, Stephen Stills' "How Far" and the title track originally recorded by Garnet Mimms in 1964; the year that Daltrey, Townshend, Entwistle and Moon changed their name from the High Numbers and became The Who.
Order the CD.
Listen to his cover of Stephen Stills' "How Far"
It's a busy year for Daltrey, who is touring The Who's Tommy in North America. He returns in August for additional concerts. (See the dates below.) His memoir, still untitled, is being released Oct. 23.
Listen to "As Long as I Have You"
As Long as I Have You was produced by Dave Eringa, best known for his work with the Manic Street Preachers and on Daltrey and Wilko Johnson's 2014 album Going Back Home. It features Townshend's guitar on seven tracks as well as guest performances from Mick Talbot (Dexy's Midnight Runners, the Style Council) on keyboards and Sean Genockey on lead guitar (Suede, Shame and The Proclaimers).
Listen to "Get on Out of the Rain," with a muscular vocal from Daltrey
Daltrey said: "This is a return to the very beginning, to the time before Pete started writing our songs, to a time when we were a teenage band playing soul music to small crowds in church halls. That's what we were, a soul band. And now, I can sing soul with all the experience you need to sing it. Life puts the soul in."
Listen to "Where is a Man to Go?"
"I've always sung from the heart but when you're 19, you haven't had the life experience with all its emotional trials and traumas that you have by the time you get to my age. You carry all the emotional bruises of life and when you sing these songs, those emotions are in your voice. You feel the pain of a lost love. You feel it and you sing it and that's soul. For a long time, I've wanted to return to the simplicity of these songs, to show people my voice, a voice they won't have heard before. It felt like the right time. It's where I am, looking back to that time, looking across all those years but also being here, now, in the soulful moment."
Listen to Daltrey's take on Stevie Wonder's "You Haven't Done Nothing"
Watch Daltrey perform the title track at London's Royal Albert Hall on March 22
Work on As Long as I Have You was started shortly after 2014's Going Back Home was released and continued during breaks on The Who's 50th anniversary tour.
In the announcement, Townshend said: "It shows Roger at the height of his powers as a vocalist."
Listen to the Daltrey-penned "Certified Rose"
As Long as I Have You Track Listing
As Long as I Have You
How Far
Where is a Man to Go
Get on Out the Rain
I've Got Your Love
Into My Arms
You Haven't Done Nothing
Out of Sight, Out of Mind
Certified Rose
The Love You Save
Always Heading Home
Watch "the Guv'nor" sing a Who's Next LP cut on his 2017 tour
Roger Daltrey Performs The Who's Tommy Tour Dates (Tickets are available here and here)
June 08 – Bethel, NY – Bethel Woods for the Arts (with the Hudson Valley Philharmonic Orch.)
June 10 – Vienna, VA – The Wolf Trap (with the Wolf Trap Orchestra)
June 12 – Vienna, VA – The Wolf Trap (with the Wolf Trap Orchestra)
June 15 – Lenox, MA – Tanglewood (with the Boston Pops)
June 17 – New York, NY – Forest Hills Stadium (with the New York Pops)
June 19 – Philadelphia, PA – Mann Center for the Perf. Arts (with the Chamber Orchestra of Philadelphia)
June 23 – Highland Park, IL – Ravinia Festival (with the Ravinia Festival Orchestra)
June 25 – Highland Park, IL – Ravinia Festival (with the Ravinia Festival Orchestra)
June 27 – Nashville, TN – Ascend Amphitheater (with the Nashville Symphony Orchestra)
June 30 – Canandaigua, NY – CMAC (with orchestra TBA)
July 02 – Kettering, OH – Fraze Pavillion (Dayton Philharmonic Orchestra)
July 05 – Rochester Hills, MI – Meadow Brook Amphitheater (with the Detroit Symphony Orchestra)
July 08 – Cuyahoga Falls, OH – Blossom Music Center (with the Cleveland Orchestra)
July 10 – Verona, NY – Turning Stone Resort Casino
Additional Concerts
Aug 10 – Saratoga, CA – Mountain Winery
Aug 12 – Paso Robles, CA – Vina Robles Amphitheatre
Aug 15 – San Diego, CA – Bayside Summer Nights
Aug 18 – Indio, CA – Fantasy Springs Resort Casino
Related: Links to 100s of classic rock tours

The BCB team brings you the latest Breaking News, Contests, On This Day rock history stories, Classic Videos, retro-Charts and more.

Latest posts by Best Classic Bands Staff (see all)