Singer-songwriter Steve Forbert will publish his memoir, Big City Cat: My Life In Folk Rock, co-written with Therese Boyd, on September 14 via PFP Publishing. Simultaneously, Forbert will release a new album via Blue Rose Music, titled The Magic Tree. He will also be on tour beginning in August. (Scroll down for current itinerary.)
The press release for the book states, "More than four decades have passed since Steve Forbert made his way to New York City from his Meridian, Mississippi, birthplace in quest of a career in music. It was the most unlikely time and place for a folk singer to leap into the fray in a burgeoning scene where new wave and punk were emerging while he took the stage as the archetypal folkie, armed with just an acoustic guitar and sheaf of very personal songs.
"After busking on the street for change from passersby, he rose to sharing bills at CBGB's with the likes of Talking Heads, The Shirts and John Cale as well as headlining more traditional venues such as The Bitter End and Kenny's Castaways. Against staggering odds, he found blazing success early on with a string of critically acclaimed and commercially accepted albums including Alive on Arrival (1978), Jackrabbit Slim (1979) and Little Stevie Orbit (1980) and a most unlikely smash hit single, 'Romeo's Tune.'" Pre-order the book here.
The release continues: "His career had its share of triumphs as well as stumbles and disappointments as did his private life. Through it all, over the course of a marriage, divorce, raising three children, writing and recording 18 studio albums and fronting an ever-changing line-up of supporting musicians, he persevered and stayed true to his roots and the folk ethos."
Related: A Steve Forbert covers album was released last year
Forbert's memoir, originally conceived as a stage play, "offers a uniquely introspective view of a life and career during a period of cultural upheaval and the author's emerging self-awareness. Sharing reflections and journals he kept at the time, Forbert weaves an absorbing narrative that fully addresses the trials, travails and triumphs that would eventually play out over the course of his prolific 40-plus-year year career. With a colorful cast of characters that includes managers Danny Fields and Linda Stein, along with such music legends as Doc Pomus and John Simon, it offers a revelatory look at his personal life and family, as well. Big City Cat: My Life In Folk Rock features first-person commentary from those who worked with Forbert on the road and in the studio."
Forbert's new album, The Magic Tree, is produced by Karl Derfler (Tom Waits, No Doubt, Two Gallants). It offers a series of songs gleaned from previously recorded acoustic demos, augmented with new backing tracks. "The collection rings with the verve and vitality that Forbert's fans have always come to expect," says the press release. "It takes on special meaning in light of the recent health scare that sidelined him for several months while he recovered from kidney surgery and chemotherapy with the help of his girlfriend of 17 years. Consistently upbeat and optimistic, the album's songs recorded in Meridian, Nashville, New York, New Jersey and Virginia convey a firm sense that age ought not diminish a lust for living. Pre-order it here.
Watch the lyric video for "That'd Be Alright"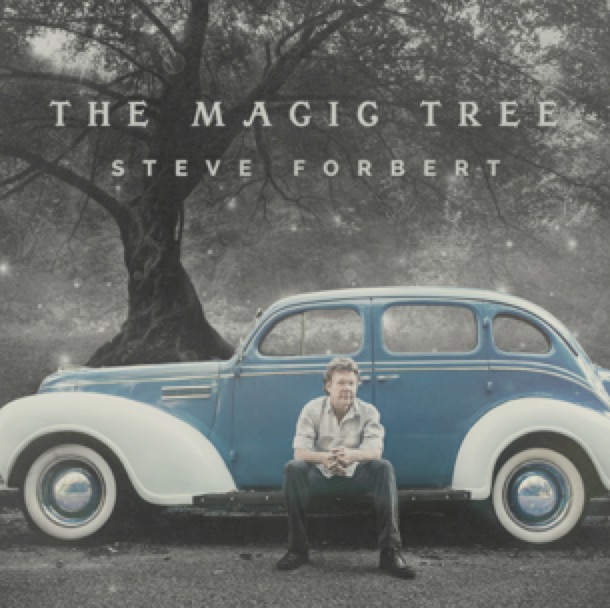 The Magic Tree Track Listing (All songs written by Steve Forbert except #11 which was written by Steve Forbert and Robert Johnson)
1. The Magic Tree (Version One)
2. That'd Be Alright
3. Carolina Blue Sky Blues
4. Let's Get High
5. Tryna Let It Go
6. Lookin' At The River In The Rain
7. Diamond Sky
8. Movin' Though America
9. I Ain't Got Time
10. The Magic Tree (Version Two)
11. Only You (And Nobody Else)
12. The Music Of The Night
Steve Forbert Tour Dates 2018-2019
Jul 27 – Kennett Flash – Kennett Square, PA
Aug 03 – Wonder Bar – Asbury Park NJ
September
13 – One Longfellow Square – Portland ME
14 – Iron Horse – Northampton MA
15 – Towne Crier – Beacon NY
27 – Maynard Public Library – Maynard MA (signing Big City Cat at 7 PM)
29 – Porter Square Books – Cambridge MA (signing Big City Cat at 3 PM)
29 – Club Passim – Cambridge MA
30 – Turning Point – Piedmont NY
October
05 – Hopmonk Tavern – Sebastopol CA
06 – Hardly Strictly Bluegrass Festival – San Francisco CA
13 – Club Café – Pittsburgh PA
14 – Natalie's – Worthington OH
20 – Ramblin Roots Festival – Utrecht NL
21 – Nell's Jazz & Blues – London UK
27 – Split Level Concerts – Scotch Plains NJ
November
02 – Mucky Duck – Houston TX
03 – Cactus Café – Austin TX
09 – World Café Live – Philadelphia PA
15 – Capital Ale House – Richmond VA
16 – The Spot on Kirt – Roanoke VA
17 – Forty Acres – Durham NC
30 – Union Stage – Washington DC
Dec 01 – Godfrey Daniels – Bethlehem PA
Jan 11 – Red Dragon Listening Room – Baton Rouge LA
Jan 12 – Duling Hall – Jackson MS
Mar 01 – The Soundry – Columbia MD
Mar 02 – Havana New Hope – New Hope PA

Latest posts by Best Classic Bands Staff
(see all)