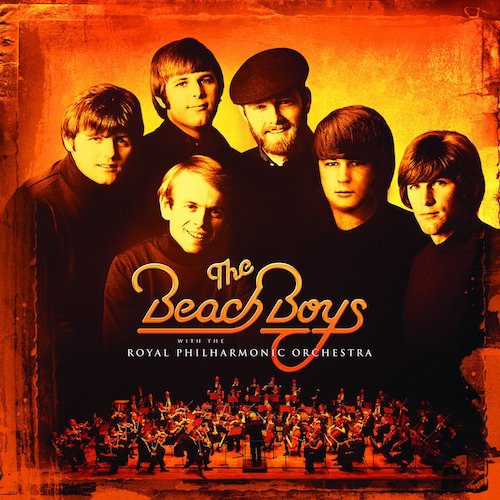 Capitol/UMe released The Beach Boys with the Royal Philharmonic Orchestra worldwide on June 8 on CD and digitally, with the 2-LP vinyl version coming August 17. Produced by Nick Patrick and Don Reedman, the 17-track album pairs The Beach Boys' original vocal performances with new symphonic arrangements, newly recorded by the Royal Philharmonic Orchestra at Abbey Road Studios.
Order the album here.
According to the press release, on March 8 and 9, 2018, the Royal Philharmonic Orchestra convened in Studio 2 at Universal Music Group's Abbey Road Studios in London, "the storied room where The Beatles, Pink Floyd, and other legendary artists have recorded some of the world's most cherished music. There, they recorded new orchestral arrangements to complement the Beach Boys' classic vocal harmonies from the legendary group's original recordings."
Conducted by Steve Sidwell and Sally Herbert, who also wrote several of the album's new symphonic arrangements, the orchestra dove into the Beach Boys classics, including the new album's earliest hit, 1964's "Fun, Fun, Fun," and its most recent one, 1988's "Kokomo."
Listen to the new arrangement of "Fun, Fun, Fun"
The album also features the orchestra's new turns on "Good Vibrations," "California Girls," "Wouldn't It Be Nice," "God Only Knows," "Sloop John B," "Help Me, Rhonda," "In My Room," "Disney Girls," and several more.
Listen to "Good Vibrations" from the new album
Related: The story behind "Good Vibrations"
Beach Boys co-founder Brian Wilson says in the press release, "I always knew the vocal arrangements I did back in the 1960s would lend themselves perfectly for a symphony and there is no better one in the world than the Royal Philharmonic. I am both proud and humbled by what they have created using our songs and I hope everyone falls in love with it like I have."
Listen to "Wouldn't It Be Nice"
Related: The Beach Boys' Al Jardine talks about Pet Sounds
Co-producer Nick Patrick says, "I'm a complete and utter fan of the Beach Boys and the way their music makes you feel. The Beach Boys' music is so multi-layered—you can experience it on so many layers. You've got the obvious harmonies, which are amazing. But what we found making this record is when you dig down into the arrangements, they're extraordinary. They're fresh. They're new. They're complex. They're beautiful and constructed in a completely original way."
Listen to "God Only Knows"
Track Listing
1. California Suite
2. California Girls
3. Wouldn't It Be Nice
4. Fun, Fun, Fun
5. Don't Worry Baby
6. God Only Knows
7. Sloop John B
8. Heroes And Villains
9. Disney Girls
10. Here Today
11. In My Room
12. Kokomo
13. The Warmth Of The Sun
14. Darlin'
15. Help Me, Rhonda
16. You Still Believe In Me
17. Good Vibrations
Watch a trailer for the album here

Latest posts by Best Classic Bands Staff
(see all)