Most musicians are lucky to find success with one band but Randy Bachman has won that lottery twice, first with the Guess Who, whose incredible string of hits included such classics as "These Eyes," "Laughing," "Undun," "No Time" and "American Woman." After leaving that band, he returned a few years later with Bachman-Turner Overdrive, best remembered for their pair of 1974 hits, "Takin' Care of Business" and the #1 "You Ain't Seen Nothing Yet."
And he's still going strong today.
Born in Winnipeg, Canada, on September 27, 1943, Bachman started playing guitar in the '50s, learning licks hits on the radio and taking lessons from future jazz guitar great Lenny Breau. In 1960 Bachman and singer Chad Allan formed a band that underwent a few name changes until it eventually became the Guess Who. They scored a #1 hit in their homeland in 1965 with a cover of "Shakin' All Over," which they heard from a British group called Johnny Kidd and the Pirates. Later in that decade, with Burton Cummings now in the lead vocalist spot, they became a major band of their time.
It was another British band that truly inspired Bachman though, and his 2018 solo album, By George—By Bachman, is dedicated to that band's guitarist, featuring songs such as "Something," "While My Guitar Gently Weeps," "Taxman," "Here Comes the Sun" and "Don't Bother Me," all given new interpretations by Bachman. In the first half of this two-part interview with Randy Bachman, the Canadian rock giant talks about his love for the music of the Beatles, and George Harrison in particular, and the earliest days of the band that would become the Guess Who.
Best Classic Bands: What was your first exposure to the Beatles and what impact did George make on you as a guitarist?
Randy Bachman: Before they were on Ed Sullivan I was a Beatles fan for a couple of years because I was a follower of Cliff Richard and the Shadows out of England. I had a Cliff Richard and the Shadows scrapbook. I was a cuckoo 13-year-old kid—I had an Elvis scrapbook too. I had Elvis hair. Then I changed to Beatle hair. And even as a teenager I would subscribe to [the British music weeklies] Melody Maker and New Musical Express.
The Beatles changed everything. Up to that point, it was Elvis, Gene Vincent, Eddie Cochran—a front guy, shaking his legs a little bit, with the hair and sideburns, and a backup band. Then suddenly there was a band where—and I don't want to start a Twitter war over this—the drummer, not a handsome guy, the runt of the litter, at least compared to McCartney—sang three songs. And all the girls screamed. So suddenly all the drummers got to sing "Boys" and "I Wanna Be Your Man" and, later, "Yellow Submarine." That was a big moment for every drummer.
Watch Bachman explain how the Beatles came up with "that chord" in "A Hard Day's Night"
The big moment for every lead guitar player, which was me, was the George songs. We had a front guy in the Guess Who, who always did Paul McCartney and John Lennon stuff, so the first song I ever did was "Don't Bother Me." Then, as the lead guitar player, you wait for the next George song and you've pretty much got that part reserved, because the other guys have got the two mountains.
That's why I wrote [the first and last song on the new album] "Between Two Mountains," the mountain of Lennon and the mountain of McCartney. You've got to stand between them and shine and grow your own mountain. So that was it—I got a Gretsch guitar like George. I got a Country Gentleman like George. I got a Rickenbacker. You learn very early that how to get the sound of the guitar players you like is to get the same guitar and the same amp. If you had a Gibson guitar and a Gibson amp, you sounded like Chuck Berry. If you got a Gretsch, you sounded like Duane Eddy. I had a series of George guitars. Then you get pretty sick of everyone going crazy over Lennon-McCartney and you cheer for the underdog. Then the underdog starts to become popular and starts to rise and you become cool: You do the Indian thing, you have a beard and a mustache and long hair and you have a sitar and wear all these clothes. You take coolness to the next level.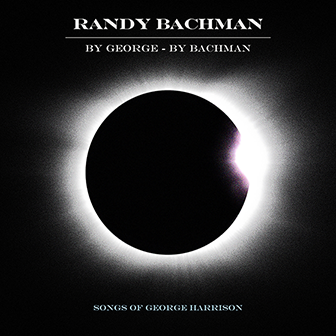 The first sound we hear on this album is a sitar and tabla drums. It's an interesting way to introduce us to the essence of George.
I wanted to emulate all of George. In "Between Two Mountains," my [guitar] solo is the solo from "And I Love Her." I put solos of his in other songs too, so if you're a total Beatles fan you'll go, "Wait a minute, what's that line?" This is a tribute to his songwriting, to amplify his songs and say, "These can be done in different styles and look how great they are; they stand up over 50 years." I was floored when Jr. Walker did "These Eyes" and Lenny Kravitz did "American Woman" and Kurt Elling did "Undun" in a nice jazz style. As a writer you go, "What is this guy doing?" And then you hear other people go, "This is amazing. It proves it's a great song." I wanted to do the same thing with George, to show that his songs stand up, that you can take something in a major key, like "Here Comes the Sun," into a darker minor key and put it in a reggae—even though in the end we get sunny and do a Gipsy Kings tag on it, which we improvised in the studio out of nowhere.
Watch Bachman and his band perform "Give Me Love" at B.B. King's in 2018
How did you approach the arrangements of George's songs?
I've been asked to do a lot of tribute albums. I did a Thin Lizzy one and I said I'll only do it if I can do "The Boys Are Back in Town." I did a Del Shannon tribute and said, I'll only do it if I can do "Runaway." Well, believe me, that's a big mistake. You can't outdo the original. It's magic. It's in everybody's hearts and minds and souls. It's etched in granite all over the world. Treat it like a song. I listen to jazz a lot and there's a lot of guys, like John Pizzarelli, who would take a Joni Mitchell song, and a Beatles song, and totally jazz it up. You know the lyrics, you know the melody. I use rock grooves; I'm a rock guy. So I just kind of reinvented each song. Also, about four or five years ago, I was touring with Burton Cummings as Bachman and Cummings and we had an album called Jukebox. We each picked six or seven songs that influenced us, and the one I picked was "I'm Happy Just to Dance With You." George didn't write it, Lennon and McCartney did, but George sang it in A Hard Day's Night. With that in mind I went to these drum loops with a list of 30 George songs, printed up the lyrics and tried to sing George's melodies to these drum loops.
[Bachman and Cummings are reuniting for a North American tour, which has been rescheduled for 2021. Tickets are available here and here.]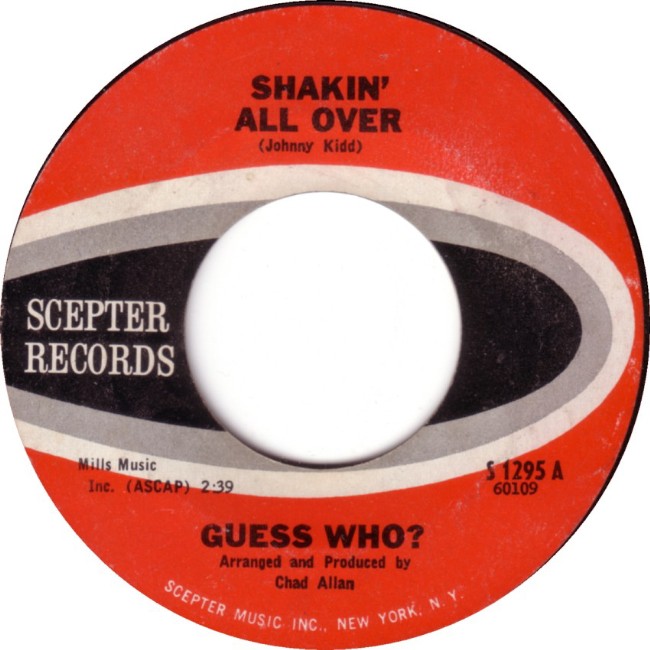 The first Guess Who song that we heard in the States was "Shakin' All Over," which was originally done by a pre-Beatles British band, Johnny Kidd and the Pirates. How did you find that record?
Winnipeg is at the top of the Great Plains, and late at night on AM radio we'd get Oklahoma City, Chicago, we'd get Wolfman Jack, St. Louis. And we'd hear all this great music. We had guys in our band whose parents were from England and they had British cousins who for Christmas would send over a 7-1/2-inch tape reel with all of their friends' 45s. We would get this reel and put it on and it was magical because they were hit singles bought by teenage girls and kids.
So when we got the tape with "Shakin' All Over," we thought, this is amazing! We put it in our set and everybody was dancing to it. We recorded it along with three or four other songs that were on the tape and out of nowhere it became a real special song. The label, Quality Records in Toronto, called us and said, "What's your name?" and we said, "Chad Allan and the Reflections." They said, "You can't use Reflections." There was a hit out called "(Just Like) Romeo & Juliet" by the Reflections, a band from Baltimore. We said, "How about Expressions?" They said, "No, there's a band by that name that just signed to Motown." So we said, "We're just gonna send it out with a white label to radio stations and see what they think."
We printed up 50 copies with a white label and they printed on it "Shakin' All Over" and then "Guess Who." It went to number one in Canada and everybody thought it was a British band—it had the echo on it. This was an unknown song in Canada and the States. It was done with one microphone in mono in a TV studio. It's got the magic. It's all in the song.
That was our first hit and that brought us to New York and we did the Kingsmen's "Louie Louie" tour in '64-'65. We recorded at Scepter Records, which was owned by Florence Greenberg, who managed the Shirelles, Dionne Warwick, the Kingsmen, Chuck Jackson, Maxine Brown. We were in with all these people. Bacharach and David would come to the studio in blue jeans and play their songs for Dionne Warwick.
Related: Looking back at the Guess Who's American Woman album
For us, from Winnipeg, this was amazing. We got to back the Ronettes, the Crystals and the Shirelles in New York and then down the coast in New Jersey. We were a jukebox band—if we copied "Da Doo Ron Ron" or "Soldier Boy" we sounded like the record. In Winnipeg you grew up playing jukebox records if you wanted to play the high school dances. You had to sound like what was on the radio. For us it was a great experience.
Related: Part two, in which Bachman talks about the Guess Who's later years, as well as BTO

Latest posts by Jeff Tamarkin
(see all)