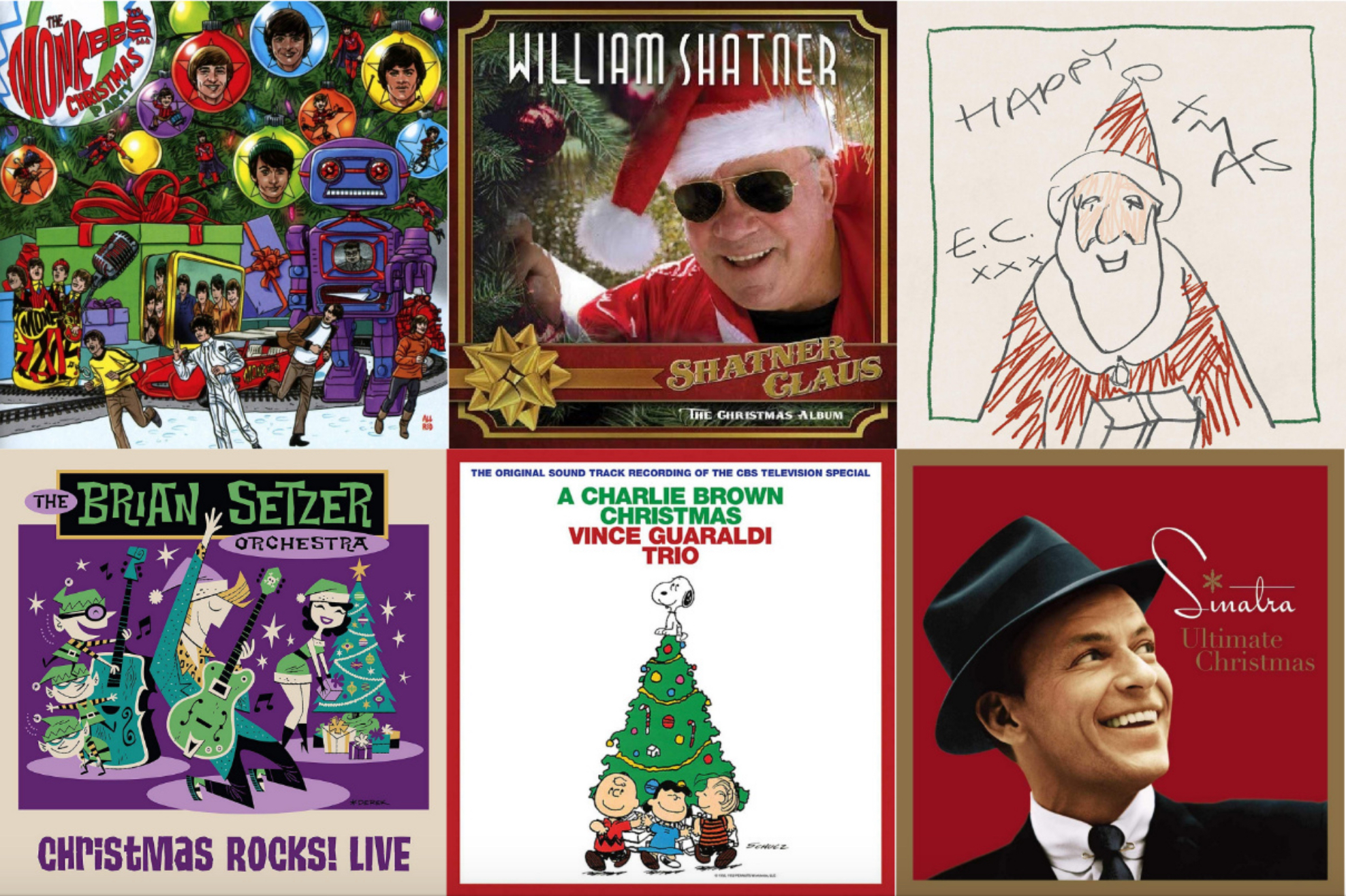 In part one of our 2018 holiday gift guide, we look at the best of the boxed sets, reissues and historical collections aimed at classic rock fans. For the second part, we focus on newly recorded albums by classic rockers.
And in part four, we examined the best music books of the year.
Many classic rock acts have released new (or reissued) Christmas albums this year. For part three, we've assembled some choice picks and added links below for some older holiday favorites.
The releases are arranged alphabetically; no rankings here because they're all worthy. All of these are available on CD (except one); many also on LP and digitally.
Happy shopping!
Herb Alpert—The Christmas Wish (Herb Alpert Presents)
The musician's 2017 holiday album – and first in almost 50 years – features a 10-piece rhythm section and 45-piece orchestra on "Santa Baby" and "Merry Christmas, Darling."
The Beatles—Christmas Records Box (Apple Corps Ltd./Capitol/UMe)
A 2017 limited-edition collection of 7″ singles, pressed on colored vinyl, of the Fab Four's annual holiday messages that were sent to their fan club members from 1963-1969.
Cheap Trick—Christmas Christmas (Big Machine)
Includes three CT recordings plus classics from the Kinks ("Father Christmas"), Harry Nilsson ("Remember Christmas") and Chuck Berry ("Run Rudolph Run"), and more.
Eric Clapton—Happy Xmas (Bushbranch/Surfdog)
The collection of 14 songs includes covers of many holiday standards including "Merry Christmas Baby" and "Have Yourself a Merry Little Christmas."
Vince Guaraldi Trio—A Charlie Brown Christmas (Craft)
Audiophile vinyl reissue of the holiday classic with tracks like the instantly recognizable "Linus and Lucy," and yuletide favorite "Christmas Time Is Here."
Mike Love—Reason For the Season (BMG)
The 12-track album features an array of new holiday songs and Christmas classics, traditional carols and ballads.
Michael McDonald—Season of Peace: The Christmas Collection (BMG)
The album compiles McDonald's favorite Christmas recordings, including "White Christmas/Winter Wonderland" (feat. Jonny Lang) and "Oh Holy Night."
The Monkees—Christmas Party (Rhino)
Their first holiday album, featuring new vocals by Micky Dolenz, Michael Nesmith and Peter Tork, also includes the late Davy Jones' voice, taken from vintage recordings, on two songs.
Elvis Presley—Christmas With Elvis and the Royal Philharmonic Orchestra (RCA/Legacy Recordings)
This 2017 collaboration includes such Presley holiday favorites as "Merry Christmas Baby," "Blue Christmas" and "Santa Bring My Baby Back (To Me)."
Diana Ross—Wonderful Christmas Time (Ross Records/UMe)
The 20-track collection of many standards includes five where she's accompanied by the London Symphony Orchestra.
Mitch Ryder—Christmas (Take a Ride (Cleopatra)
The Motor City rocker released his first holiday album in 2018 with fresh takes on such classics as "Blue Christmas" and "Jingle Bell Rock."
Brian Setzer Orchestra—Christmas Rocks! Live (Surfdog)
A new concert film on Blu-ray from the Granada Theatre in Santa Barbara, Calif. features the star's arrangements of such holiday classics as "Rockin' Around the Christmas Tree" as well as Stray Cats favorites "Stray Cat Strut" and "Rock This Town."
William Shatner—Shatner Claus (Cleopatra)
The actor has assembled a great cast of classic rock stars including Todd Rundgren, Ian Anderson, Rick Wakeman, Billy Gibbons and more on what's sure to become a camp classic.
Frank Sinatra—Ultimate Christmas (Capitol)
20 classics ("White Christmas," "Have Yourself a Merry Little Christmas," "I'll Be Home For Christmas") from The Voice span 1954 to 1991, with arrangements by Nelson Riddle, Don Costa and Gordon Jenkins, among others.

Latest posts by Best Classic Bands Staff
(see all)