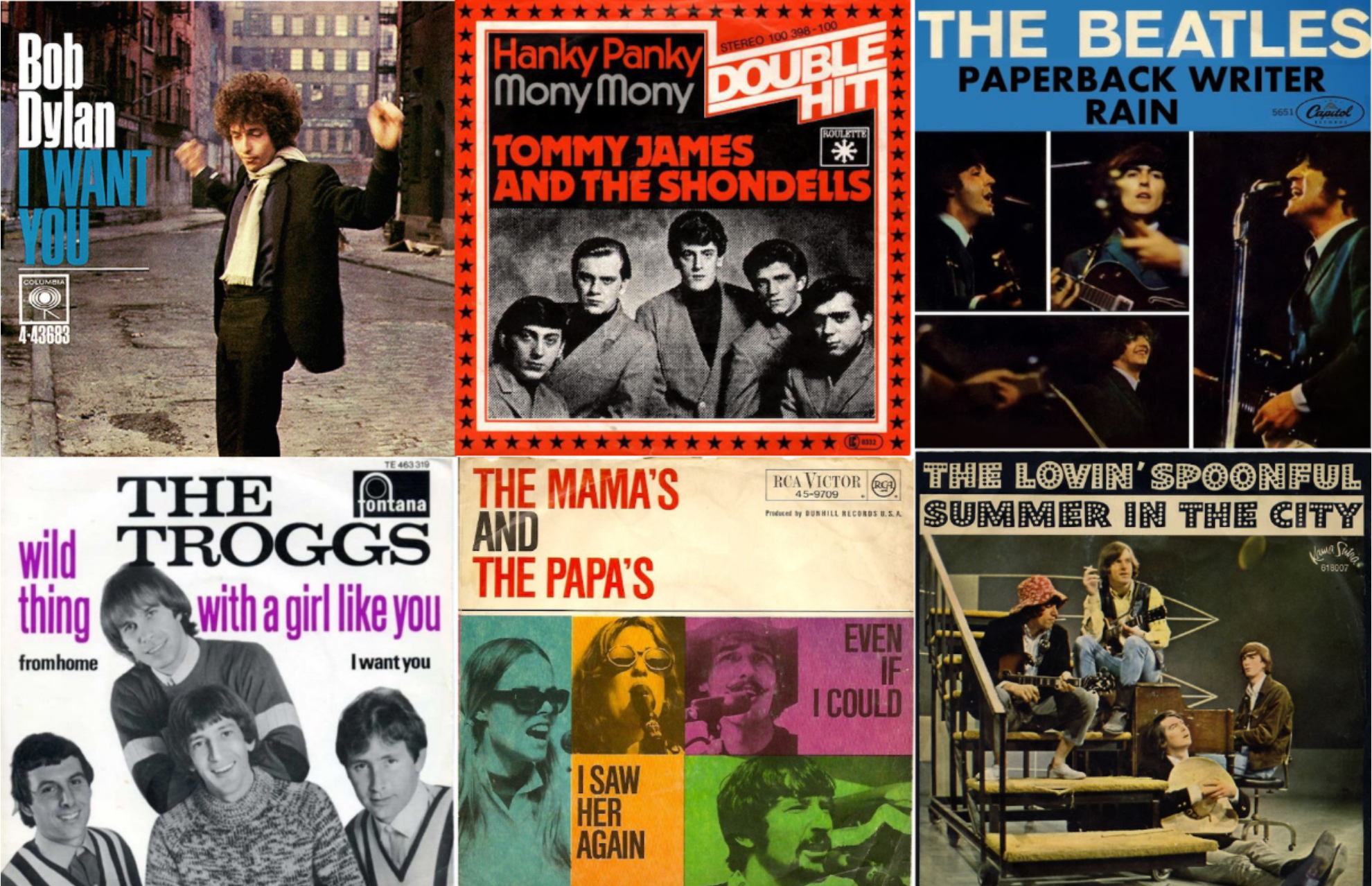 Before we get to this week's survey, we'll first set the stage for what was going on in July 1966… The gothic soap opera Dark Shadows began its run. If you've personally been given the warning "You have the right to remain silent…" you have a fellow named Ernesto Miranda to thank. The U.S. Supreme Court ruled that the police must give suspects their so-called "Miranda rights" before questioning them.
A recent Time magazine cover story declared London as "The Swinging City."
And in early July 1966, Los Angeles Top 40 station KHJ was blasting with hits, many of which ultimately became classic rock staples.
Bubbling under the Top 10 at #18 (up from #28) was Bob Dylan's "I Want You," one of his six career Top 20 U.S. pop singles.
#15 was The Rolling Stones' "Mother's Little Helper," which would ultimately peak nationally at #8. A few spots ahead at #11 was the third smash hit of many from The Mamas and The Papas, "I Saw Her Again," which would eventually reach #5.
Jumping this week from #24 all the way to #9 was one of the songs that would become closely identified with the summer of 1966: The Lovin' Spoonful's signature hit, "Summer in the City." (In August, the song was #1 for three weeks.) Besides the opportunity to hear this great song again, it's worth watching this clip just to see John Sebastian's sideburns…
A Top 10 in 1966 without a Beatles song? Impossible! At #7 this week, "Paperback Writer" was one of their many #1 chart hits.
Those looking for a bit of bubblegum music would've enjoyed Tommy Roe's "Sweet Pea." It was at #5." And if you are assuming that "Tommy Roe" was a stage name, you would be incorrect. He was born Thomas Roe in Atlanta, Georgia. He announced his retirement in 2018.
The writing combo of Jeff Barry and Ellie Greenwich wrote "Hanky Panky" in 1963. When Tommy James & The Shondells covered it, the song became the group's first #1 single (and one of their seven Top 10 hits).
Related: Our interview with Tommy James on his big hits
Throughout the '60s, it wasn't unusual for pop and rock bands to share Top 40 airwaves with popular vocalists. This week was no exception: one of Frank Sinatra's many signature songs, "Strangers in the Night" was at #3. The song would earn the Grammy Award for Record of the Year.
While there have been many versions of "Wild Thing," the biggest was by garage rock band The Troggs, at #2 this week.
At #1? Well, in Los Angeles it was Sam the Sham & the Pharoahs with "Li'l Red Riding Hood," though the song peaked at #2 nationally.
18. "I Want You" – Bob Dylan
15. "Mother's Little Helper" – The Rolling Stones
11. "I Saw Her Again" – The Mamas & the Papas
10. "Searching For My Love" – Bobby Moore
9. "Summer in the City" – The Lovin' Spoonful
8. "Dirty Water" – Standells
7. "Paperback Writer" – The Beatles
6. "Double Shot of My Baby's Love" – Swingin' Medallions
5. "Sweet Pea" – Tommy Roe
4. "Hanky Panky" – Tommy James & The Shondells
3. "Strangers in the Night" – Frank Sinatra
2. "Wild Thing" – Troggs
1. "Li'l Red Riding Hood" – Sam the Sham & the Pharoahs

Latest posts by Best Classic Bands Staff
(see all)