"Godfather of British Blues" and Blues Hall of Fame inductee John Mayall will release an album of live recordings titled Three for the Road on Feb. 23 via the Forty Below Records label. Produced by Mayall and Forty Below Records president Eric Corne, the new album was recorded live in Dresden and Stuttgart, Germany, in March 2017. The nine tracks on Three for the Road include fan and personal song favorites played by his trio: John Mayall (vocals, keyboard, and harmonica), Greg Rzab (bass) and Jay Davenport (drums).
"I hope the fans will enjoy the fireworks that the three of us came up with during a subsequent tour of Europe last year," Mayall says. "We opted for recording in East Germany purely as a convenience and availability of a recording company. They specialize in live recordings and I must say they captured the energy that took place onstage. The songs come from my extensive library of material composed by some of my favorite blues players. Naturally, my playing is featured quite a lot more than usual in this format, and I hope listeners will enjoy the performances that capture a new chapter in my live shows."
Watch a fan video of "The Sum of Something" from the Dresden concert
Related: A chat with John Mayall
Adds Mayall, "I've been using the trio format for our live shows for a year already, and the reason for that came about quite accidentally when my guitarist Rocky Athas wasn't able to make a festival gig due to airline cancellations. Since then, I found that the interplay and dynamics have created a more personal upfront sound in my live performances. I can't speak too highly of bass player Greg Rzab and drummer Jay Davenport, who have been my bandmates for the last ten years or more. Their Chicago roots are to the fore every time we get onstage together."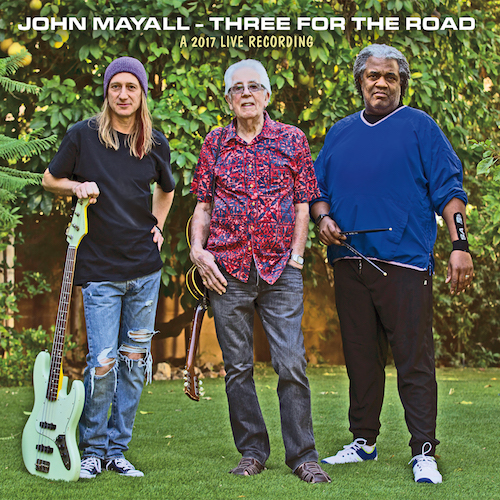 Three for the Road comes one year after the release of his last studio CD, Talk About That, which saw Mayall's then-four piece band joined by a special guest, guitarist Joe Walsh, who played on two tracks, "The Devil Must Be Laughing" and "Cards on the Table," both Mayall compositions.
As for what's next on Mayall's horizon, he's giving fans an early head-up as what's to come in the future. "As for recording, I shall still be exploring the talents of guitar players who will be pretty well-known to all lovers of rock and roll. They will be strongly featured on the next studio album. I have already got songs lined up for our sessions in the studio at the end of this month. So look out for the prominent interplay and surprises that will be coming your way later this year. Thanks for all your support as usual. I couldn't do it without you!"
Track Listing
1 Introduction
2 Big Town Playboy (Eddie Taylor)
3 I Feel So Bad (Sam "Lightnin'" Hopkins)
4 The Sum Of Something (Curtis Salgado)
5 Streamline (John Mayall)
6 Tears Came Rollin' Down (Henry J. Townsend)
7 Ridin' on the L&N (Lionel Hampton/Dan Burley)
8 Don't Deny Me (Jerry Lynn Williams)
9 Lonely Feelings (John Mayall)
10 Congo Square (Sonny Landreth/Dave Raonson/Mel Melton
Watch John Mayall perform last year with Todd Rundgren sitting in on guitar

The BCB team brings you the latest Breaking News, Contests, On This Day rock history stories, Classic Videos, retro-Charts and more.

Latest posts by Best Classic Bands Staff (see all)