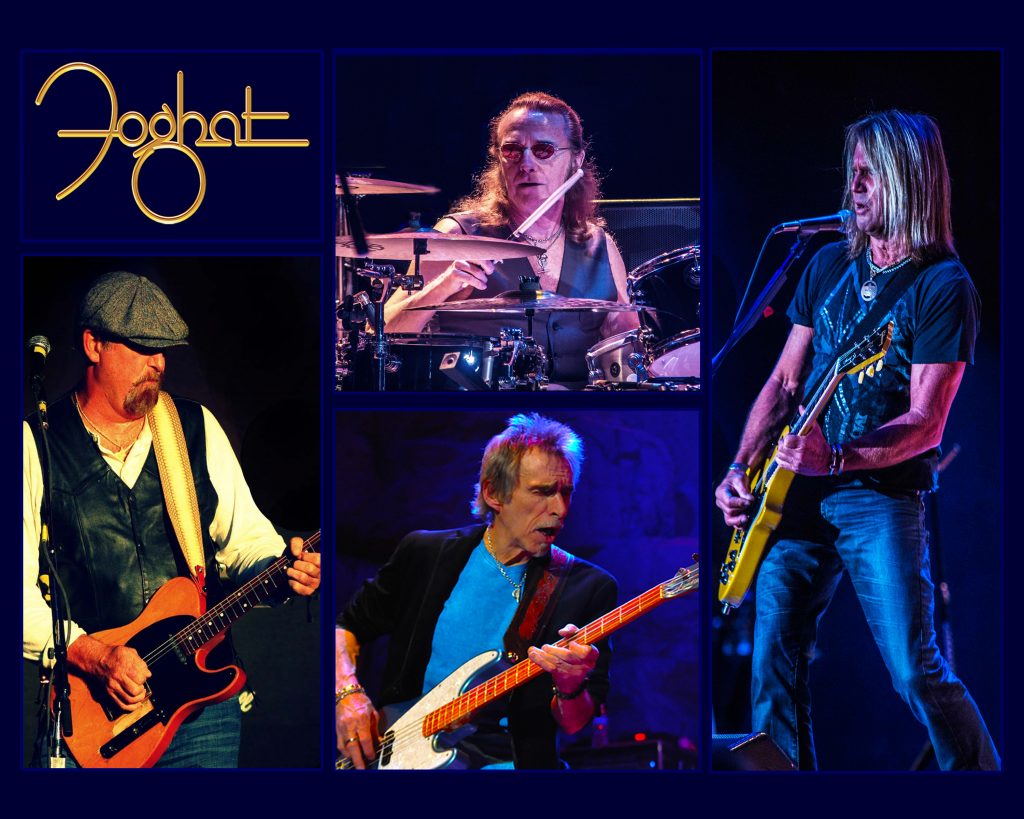 Back in the '70s, you could count on a new Foghat album every year, starting with their 1972 self-titled debut. And back in the days when Top 40 radio played rock 'n' roll, the British rock band enjoyed their share of airplay with songs like "Fool For The City," "Drivin' Wheel" and their cover of Willie Dixon's "I Just Want to Make Love to You." But their biggest hit – and one that remains a staple on classic rock stations – was "Slow Ride."
Earlier this year, Foghat came full circle with their first new album in six years, Under The Influence. And on Friday, October 21, the group's own label, Foghat Records, will be issuing a double/180-gram vinyl edition of their latest release of the album. (Order it here.)
Select indie record stores will be giving away posters with purchase (and select stores are throwing listening parties for the LP along with tastings of Foghat Cellars wines).
Cactus – Houston, TX
Music Millennium – Portland, OR
Fingerprints – Long Beach, CA
Record Archive – Rochester, NY
Park Ave CDs – Orlando, FL
The band not only brought in some special guests from their past who helped launch and inspire the Foghat story, but also invited some new friends into the mix to continue the journey of this never idle band.
Related: Our interview with Foghat founder Roger Earl and bassist Craig MacGregor
Included on the album is a great new recording of "Slow Ride" to celebrate its 40th anniversary. They invited Nick Jameson, (original bass player and producer of "Slow Ride" on the 1975 Fool for the City album) to play along with Foghat bassist Craig MacGregor who played bass on the band's 1977 Live LP. Lead singer Charlie Huhn provides inspired vocals. An extended guitar solo results in a terrific updating of the classic song. Clocking in at 7:43, it's close in length to the original's 8:14 and not the truncated single version one normally hears on the radio.
Related: Foghat: The Complete Bearsville Album Collection Released
Foghat started recording Under The Influence at their Florida studio, Boogie Motel South, in 2013. In addition to original drummer Roger Earl, long time bass player Craig MacGregor, Huhn and guitarist Bryan Bassett, two additional figures helped shape the sessions: Buddy Guy alum, Scott Holt, who lent a hand in the writing, and added guitar and vocals to several tracks, and Grammy winning producer/songwriter, Tom Hambridge.
Best Classic Bands premiered the kick-ass "Hot Mama" from the new album here.
Foghat started when Earl, bassist Tony Stevens and singer-guitarist Dave Peverett left the British blues band Savoy Brown, and were joined by guitarist Rod Price. Helping to bring things full circle, Savoy Brown founder and guitarist Kim Simmonds performs on Under The Influence. As Earl puts it "Kim gave me my shot!" Singer-actress Dana Fuchs adds vocals to several songs. Foghat enjoys an active – and entertaining – presence on Facebook.
Don't miss a post! Sign up for Best Classic Bands' Newsletter; form is on every page.
Under The Influence track listing:
Under The Influence
Knock It Off
Ghost
She's Got A Ring In His Nose
Upside Of Lonely
Heard It Through The Grapevine
Made Up My Mind
Hot Mama
Heart Gone Cold
Honey Do List
All Because Of You
Slow Ride
If you're a new Best Classic Bands reader, we'd be grateful if you would Like our Facebook page and/or bookmark our Home page.
Foghat have 2016 tour dates through December 17. Cclick here for tickets; if sold-out, some dates are also available here.

Latest posts by Best Classic Bands Staff
(see all)