Donovan Interview: Sunshine Superman and Jimmy Page
by Jeff Tamarkin
Donovan—full name Donovan Philips Leitch—was born on May 10, 1946, but when the renowned Scottish singer-songwriter opens his mouth to sing, he reveals few hints of having aged since he first came into prominence in the mid-'60s. He arrived first as a young acoustic troubadour, singing anthems such as "Catch the Wind," "Colours" and his cover of Buffy Sainte-Marie's "Universal Soldier," but then, newly signed to Epic Records in the U.S., he quickly found his voice with "Sunshine Superman," which went to #1 on the Billboard chart in the summer of 1966.
Donovan then followed that first hit with an unbroken string of classic rock staples including "Mellow Yellow," "Epistle to Dippy," "There Is a Mountain," "Wear Your Love Like Heaven," "Jennifer Juniper," "Hurdy Gurdy Man," "Lalena" and "Atlantis," songs that all sound as glorious today as they did back then.
Best Classic Bands—in a freewheeling, often revealing conversation—spoke with the Rock and Roll Hall of Fame legend about that first big hit.
In part two of our interview, Donovan talks about the other landmarks of his remarkable career. You can read it here.
Best Classic Bands: How does it feel to look back at 50 years of creating music?
Donovan: Yeah, I've been everywhere, man! My 50th anniversary grew legs and now it's the 50th anniversary of "Sunshine Superman." People sometimes ask me why my music is so infectious, and the first thing is it doesn't matter whether it was made then or last week. Donovan music is infectious. Certain songs that I and my generation made have an extraordinary longevity. I think there are some songs in the last 50 years that have the same power to remind us how wonderful they are, but there's something about the Donovan sound. It seems to appeal to each new generation of songwriters and bands. They write to me and say how wonderful it is that I encourage them to experiment and break the rules and that we can write about anything we want, especially about our feelings.
What is "Sunshine Superman" about?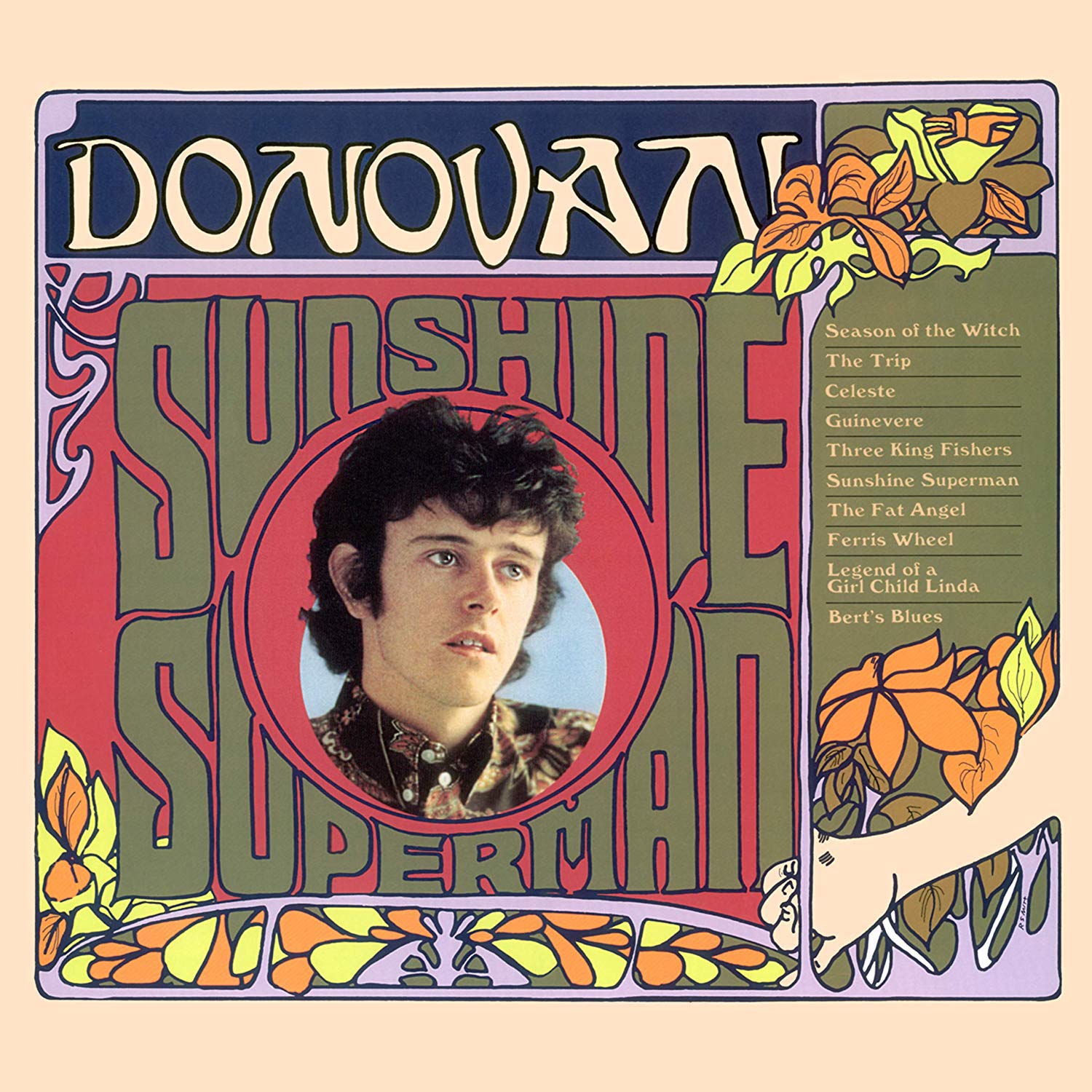 It's about my Sunshine Supergirl, Linda [Lawrence, his wife]. I'm still with Linda after 50 years. But it's also about a new level of consciousness. It's not a love song; it's opening up a completely new way of looking at everything. That's what the '60s is about. And it still means the same thing. I'll tell you a story. We [Linda and Donovan] were in the car, and the car radio was on really quietly and you know how people are influenced by my music? I said, "Hey, listen to that. It's another band that was influenced by what we did." And she said, "Don't be stupid, Don. That is you!" It was "Sunshine Superman," and I was listening to it at such a low level that all I could hear was the essence of the track and all I could think was here's someone who has lifted the essence of "Superman" and made a wonderful new record themselves.
That record was produced, like many of your best tunes, by Mickie Most, and you had Jimmy Page and John Paul Jones on the session. What do you remember about that day?
The first thing that happened was Mickie said, "What've you got?" The first time we met we sat around with my acoustic guitar. That's how it was for the Beatles, the Who, the Kinks, the Stones, the Hollies. We sat around with acoustic guitars, not electric, not drums. That's for the studio and the concert but when songs are written, they're basically written on acoustic guitar. I asked Jimmy Page recently about that and he said, "Yeah, all the Zeppelin stuff was written on acoustic guitars." I was looking for a producer like Mickie; I needed a producer. I was hearing sounds. I'm studying Buddy Holly and the Everly Brothers' records. I know that it's not only just songs, it's production and making the sounds in the studio, and making experiments in the studio. So I played him two or three songs and when he heard "Sunshine Superman" he said, "That's it." I said, "That's what?" He said, "That's the single." He was the master of singles and I'd been listening to singles. The songs in those days were two minutes and 34 seconds long. There wasn't much to them. The DJs, our best friends, would play the songs one after another. So when he said, "What do you hear on it?" I said, "I hear two basses, a jazz bass and an electric bass. But I also hear a harpsichord and Latin American congas." He said, "You need an arranger. I can't put this together. Let me introduce you to somebody."
Did you understand why he was suggesting that?
See, I'm a solo artist and in the '60s there were bands. These were guys that grew up together in school and made a band, or someone like Brian Jones, who looked around for guys to play in his band, which he called the Rolling Stones. But I'm a solo so I would have to be playing with these others, and that would be the session guys. So for "Sunshine Superman" I met John Cameron, who was an arranger. So now I had somebody to tell my ideas to. Then I'd play the guitar and Jimmy Page said, "The way you play guitar, everything is there: the bass part, the rhythm parts, the center, and you are actually picking the melody on the top. You're also playing the pattern of the drums." Now that was interesting because I played drums before I played guitar. I wanted to be a jazz drummer. I didn't have a jazz band, just a kit of drums. My father was playing [records by] Gene Krupa and Art Blakey at the Blue Note. He came from '30s and '40s big band jazz.
Your song "The Trip," the B-side of "Sunshine Superman," was very jazzy.
Yeah, John Cameron said, "OK, I see what you're doing. You actually want to illustrate your lyrics with sounds." Now, Mickie Most was very smart. He said, "Let's keep all the sounds acoustic for the most part, unless Don wants a electric." I said, "It has to have an electric guitar and a harpsichord." I was listening to baroque music. I thought, let's do some baroque and roll. I was breaking the rules. When we got in the studio it was live. In those days there was no multiple tracking; it was only four tracks. Everybody had to be ready. The four-piece bands and five-piece bands were ready because they'd been doing one-night stands for weeks before the sessions. Everything was live in the studio. So when we got in the studio I said, "Who's gonna play the jazz guitar part?" John Cameron said, "Him," and he pointed to this young man and it was Jimmy Page.
Page was playing bass in the Yardbirds around that time but he was also still actively doing sessions.
Right, Jimmy was doing sessions but I didn't know about Jimmy yet. I knew about Eric Clapton. We're still talking about late '65 here. We knew we were doing something extraordinarily different and later people would say that "Sunshine Superman" was the initiator not only of the psychedelic era but laid the groundwork for a lot of bands, especially the Beatles, to do exactly what they would like, with no qualms about it.
Related: 10 of Jimmy Page's best non-Led Zeppelin songs
Were you surprised when "Sunshine Superman" went to #1?

We were more interested that it was entering the Top 20. It was wonderful to be #1. The Beatles and Elvis would have multiple #1s but that wasn't the main thing. The main thing was making the music and getting it to the fans. The other main thing is the DJs. The DJs are really interesting because most of them in America were in suits; we had those kind of DJs in Britain too but the BBC didn't play pop music in '64, '65 or '66. The radio stations wouldn't play us. But the fans came to see us live and they went crazy. There was one radio station called Radio Luxembourg and I wondered why this was and I figured it out. After the Second World War, the Americans and the British took Germany and they controlled the radio stations. You have to control the radio stations if you want to control the people. So the Americans were in the south in Frankfurt and the Brits were in the north in Hamburg and Bremen. When we toured there, if you wanted your music played, you had to play it live in the studio because they weren't going to play your records at all. Nobody played records on the radio. Can you imagine that? People bought them in the stores and there was a chart [that tracked] plastic records that were sold, that went to the charts, not the amount of plays on the radio.
Watch a recent Donovan performance of "Sunshine Superman"

Latest posts by Jeff Tamarkin
(see all)