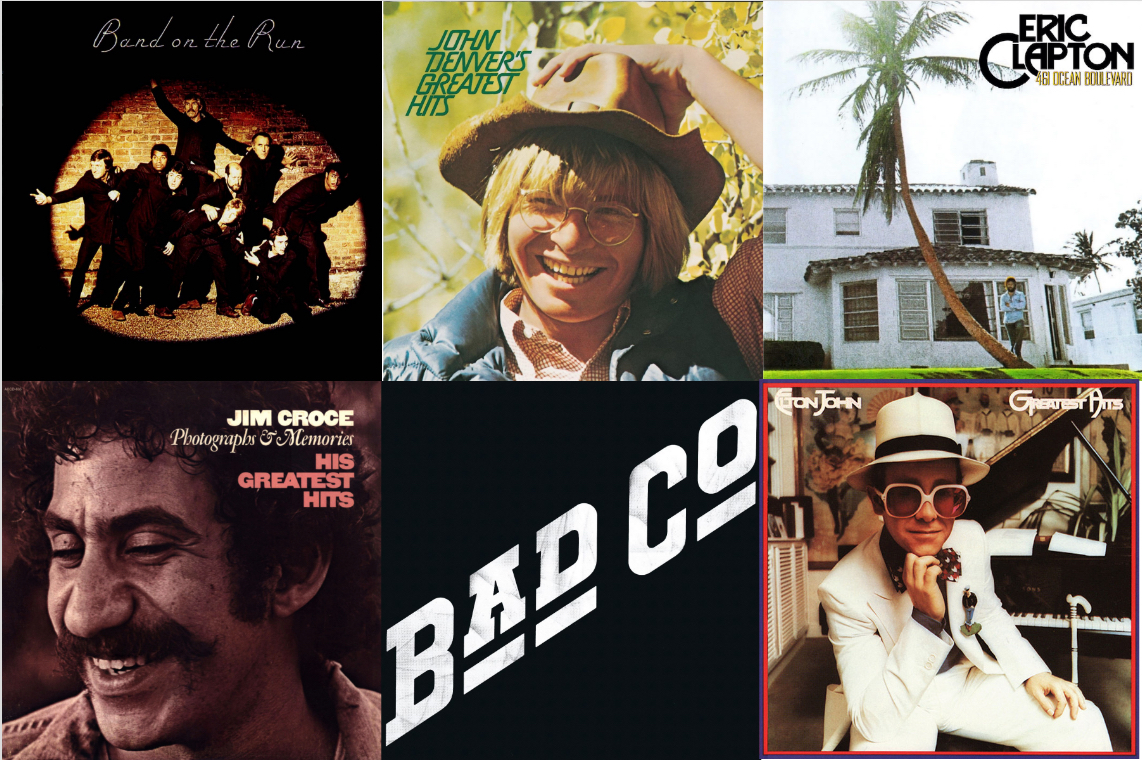 In many years of the classic rock era, a handful of albums dominated the top of the U.S. sales charts, remaining at #1 for weeks on end. In 1976, for instance, Frampton Comes Alive! was #1 for an astounding 17 weeks.
For whatever reasons, things were different in 1974 when no single album spent more than five weeks at the top. In fact, no fewer than 25 different titles were at #1 for at least one week on the Record World sales chart. Here's a recap of that unusual year; listings are in reverse order, saving the longest-running titles for the end.
1 Week
Bad Company – Bad Company
The supergroup's self-titled LP was released on June 26. And thanks to a handful of well-received singles on AOR and Top 40, led by "Can't Get Enough" (which reached #5), their debut album hit the top on October 5.
Beach Boys – Endless Summer
The two-record compilation album, featuring such classics as "I Get Around," "California Girls" and "All Summer Long," was released June 24. On week after summer officially ended, it reached #1 on September 28. Endless summer, indeed.
Bachman-Turner Overdrive – Not Fragile
The Canadian rockers' third album included two enormous hits, "Roll on Down the Highway" (#14) and their biggest single, "You Ain't Seen Nothing Yet," which topped the chart. Not Fragile was released in September and quickly rose to #1 on October 19.
Carpenters – The Singles: 1969-1973
The first album to top the 1974 sales chart was this 1973 compilation that has been certified with over seven million sales in the U.S. Small wonder: it includes such classics as "We've Only Just Begun," "Top of the World," "Superstar" and "Rainy Days and Mondays."
Cheech & Chong's Wedding Album
The comedy duo was, uh, riding high when this was released. It reached #1 on November 23.
Carole King – Wrap Around Joy
The studio album, released in September, yielded two big singles: "Nightingale" (#9) and "Jazzman" (#2). The LP topped the sales chart on November 30.
John Lennon – Walls and Bridges
The former Beatle returned to the top of the sales chart for the first time since 1971's Imagine with this album recorded during his so-called "lost weekend." It includes the singles "#9 Dream" (which peaked, naturally, at #9) and the #1 smash, "Whatever Gets You Thru the Night." (The latter, a tour-de-force that features Elton John, as well as Bobby Keys' great saxophone throughout, is Lennon's only solo single to reach #1 during his lifetime.)
Joni Mitchell – Court and Spark
The singer-songwriter came into her own with this release, the most successful of her career thanks to such radio-friendly songs as "Help Me" (at #7, her biggest pop hit) and the wonderful "Free Man in Paris." It was released on January 17; by March 9, it was #1.
Related: Our Album Rewind of Court and Spark
Olivia Newton-John – If You Love Me, Let Me Know
It's hard to believe that this album didn't stay at the top longer. Its two singles were enormous radio hits: the title cut reached #5 and was followed by the breathy ballad, "I Honestly Love You," ON-J's first (of five) career #1's in the U.S.
The Rolling Stones – It's Only Rock 'n Roll
The October 18 release continued the band's streak of eight straight #1 studio albums, a phenomenal run. Top 40 radio failed to truly embrace the catchy title cut, which peaked at "just" #16. Their cover of the Temptations' hit, "Ain't Too Proud to Beg," reached #17. The LP's sole week at the top was on December 7.
Barbra Streisand – The Way We Were
The singing legend returned to the top on March 16 for the first time in a decade, thanks to the success of its #1 title track and her starring role in the 1973 film.
Barry White – Can't Get Enough
The singer with that distinctive voice was 29 years old when he released his third studio album on August 6. And thanks to the twin hits, "Can't Get Enough of Your Love, Babe" (#1) and "You're the First, the Last, My Everything" (#2), it became his soul, er, sole #1 album. (Note: his first four albums reached #1 on the R&B sales chart.)
2 weeks
Eric Clapton – 461 Ocean Boulevard
Following his well-documented drug addiction, Slowhand returned to the recording studio in 1974 and made this classic rock gem with producer Tom Dowd. Though 461 includes Clapton's only #1 single, a cover of Bob Marley's "I Shot the Sheriff," its strength lies in such tracks as "Steady Rollin' Man," "Let it Grow" and "Willie and the Hand Jive." Released in July, it rose quickly to the top on August 17. On the opening song, "Motherless Children," EC's guitar takes command for more than a minute before a single word is sung, as if he's announcing, "I'm back."
Related: Our Album Rewind of 461 Ocean Boulevard
Jim Croce – I Got a Name
One of three albums to reach #1 in 1974 from the gifted storyteller was this December 1, 1973, LP, released a little over two months after his tragic death. It includes a pair of Top 10 hits–the title cut and "I'll Have to Say I Love You in a Song"–as well as the clever "Workin' at the Car Wash Blues."
Jim Croce – Photographs & Memories: His Greatest Hits
The compilation album, released one year after his September 1973 death, collected 14 of his songs including the stories about bad guys named Leroy Brown and Jim, as well as such favorites as "Time in a Bottle" and "Operator (That's Not the Way it Feels)." It topped the sales chart for the first two weeks in November.
Related: Jim Croce – What might have been
Bob Dylan – Planet Waves
For a moment, the Bard recorded a studio album for a label not named Columbia. This January release for Asylum featured a backup band of some repute called The Band (with whom he toured and recorded the live double, Before the Flood, this same year, also via Asylum). This one, featuring "Forever Young" and "On a Night Like This," was the first of his three consecutive #1 studio efforts.
Gordon Lightfoot – Sundown
No overnight sensation, this fellow. The Canadian singer-songwriter enjoyed a breakthrough with this January release, thanks to the success of its two hit singles, "Carefree Highway" (#10) and the #1 title cut. As the latter was peaking on the chart, so did the album, which hit the top on June 15 and 22.
Stevie Wonder – Fulfillingness' First Finale
The July 22 release was a surprising choice to win Album of the Year. It was the first of his studio albums to hit #1 (on August 31 and September 7), aided by the #1 hit, "You Haven't Done Nothin'" (featuring backup vocals by the Jackson 5) and "Boogie On Reggae Woman" (#3).
3 weeks
Elton John – Caribou
Just eight months after releasing the double album Goodbye Yellow Brick Road, he was back with a new studio effort and two more big singles, "Don't Let the Sun Go Down on Me" (#2) and "The Bitch is Back" (#4). Though it was nominated for Album of the Year, it was too much new material, too soon.
Elton John – Greatest Hits
His first compilation album sold by the truckload, ending 1974 with three consecutive weeks at the top (with plenty more to come in 1975). It's been certified with sales of more than 17 million copies.
4 weeks
Jim Croce – You Don't Mess Around With Jim
Its four non-consecutive weeks at the top in January and February were interrupted by his own I Got a Name album. This LP was actually released in 1972; its "Time in a Bottle" single was released posthumously in September 1973 and the song's swift rise to the top helped elevate the album to #1.
John Denver's Greatest Hits
The singer-songwriter's first hits compilation was released in November 1973 and soared to the top in March for four non-consecutive weeks thanks to the success of "Sunshine on My Shoulders," which was released as a single right before the album came out. Its U.S. sales are over nine million.
Related: John Denver – From pop singer to country boy
John Denver – Back Home Again
Thanks to his second consecutive #1 single, "Annie's Song," as well as the title track, the man born Henry John Deutschendorf, Jr., enjoyed his second big album within the calendar year.
5 weeks
Paul McCartney and Wings – Band on the Run
Though the album was released in December 1973, it took four months to reach the top, which it did for one week on April 13. Seven weeks later, it was back on top for two weeks in early June, returning there for another two weeks in late June/early July. The album gifted us such classics as "Jet," "Nineteen Hundred and Eighty-Five," and the #1 title track.
Related: Band on the Run – The album that saved McCartney
The Sting (Original Motion Picture Soundtrack)
The Paul Newman/Robert Redford film about two con men, released on Christmas Day 1973, dominated the 46th Academy Awards, winning seven Oscars, including Best Picture, Best Director and Best Original Score, for Marvin Hamlisch's work. The Scott Joplin song, "The Entertainer," was adapted by Hamlisch and released as a single, reaching #3 on the pop chart. The Sting soundtrack reached #1 on April 27 and ran the table through May.
While the results don't reveal which albums sold the most in 1974, who would've guessed that albums from Croce and Denver ended up with more cumulative weeks at #1 (with eight each) than any other artist?

Latest posts by Best Classic Bands Staff
(see all)