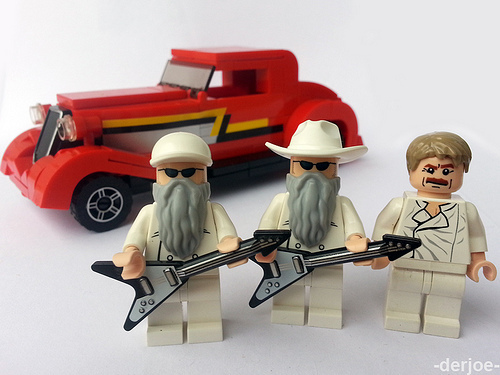 As the Stones were wont to say about the swelter season, the most tune-a-licious prospects for the well-appointed classic rocker are just down the road apiece. All you need to do is get in your car and drive.
Is there anything that goes together better than cruising in your wheels and with some great tuneage blasting away to set the soundtrack? Actually, yes. Make the music some cool driving songs and it all aligns as a peak experience.
The right driving songs set the pace, enhance the experience, and provide hi-test fuel for the driver and passengers. And these classic cuts will have you bouncing up and down in the fast lane, so remember to keep your seat belt buckled.
10) "Roadhouse Blues" by The Doors
Jim Morrison opens this live version of the cautionary tale with a stop at a New York roadhouse, invoking to the audience, who are ready to ride along with him, "Hi, how you doin' there? Y-e-ah. Looking good. Everything is fucked up as usual… you know…" A psychedelic way to prepare for a road trip with L.A.'s finest, as long as you don't forget to "A-keep your eyes on the road, your hands upon the wheel."
9) "Drive My Car" by The Beatles
Van Halen covered it, and so did the Jonas Brothers. And Paul McCartney does a rockin' version of it on tour. But the meanest way to motivate to this tune is to crank up the original, off Rubber Soul by the Fab Four. But wait … sadly you can't get this recording on YouTube anymore. So Macca it is. Beep beep, yeah!
8) "Radar Love" by Golden Earring
The Dutch band's 1973 thumper has fueled many a half-crazed jaunt up the freeway. While the live versions have their period charm, this pastiche-y music video is quaint yet comical. You will be amused.
7) "Little Floater" by NRBQ
"I'm in love with an automobile and I know it's in love with me/When I get behind the wheel I know what it is to be free," is the refrain crooned in this actual love song to a car off the band's 1989 Virgin Records release, Wild Weekend. It's a little bit more lilting than you'd expect from the often more hard-chargin Q, but hey, let's lilt again like we did last summer.
6) "Truckin'" by The Grateful Dead
The Grateful Dead is not known for three-minute singles by any means, so if you want to hear/see the extended version of this song, whose title is synonymous with four-wheel transportation, get yourself a copy of The Grateful Dead Movie, the feature-length film shot by cinematographer Leon Gast during the Dead's so-called "retirement run" of shows at San Francisco's Winterland Arena during mid-October 1974 – after which the band was to take an extended sabbatical from touring. Get your doo-dah on right here.
5) "You Can't Catch Me" by The Rolling Stones
When the Stones released their take on Chuck Berry's ultimate drive-and-pursuit saga in 1964 on the U.K. studio album The Rolling Stones No. 2, they were at the height of their good-times get-happy phase in which they introduced white audiences to black R&B and blues. So when Mick says, "…bye bye New Jersey I was so airborne … if you get too close I'll be gone like a cool breeze," we are literally transported to the New Jersey Turnpike in the wee wee hours. About two-thirds of the way in, check out a playful Keith as he channels Chuck, even way back then. Trivia bit: John Lennon's "Here come ol' flat top…" that starts "Come Together" is derived from Chuck's "Up come a flattop/he was movin' up with me…" from this very song.
4) "Crawling From The Wreckage" by Dave Edmunds
Ya'd think that the retro-rocker would learn from his experiences in this cautionary tale – from 1979's Repeat When Necessary, composed by the very-sober Graham Parker – not to go right back "into a brand-new car." But crawl back he does, and we are happy as a sow in a Studebaker to ride along with him and his crew: Nick Lowe, Billy Bremner and Terry Williams, collectively known as Rockpile.
3) "La Grange" by ZZ Top
Whether you got here by way of the Geico Motorcycle ad, or you got disoriented at the corner of Red Light and Going My Way, Big Boy, you are definitely motivatin' now, or at least you will be by the second "haw, haw, haw." Then you get run over by a Greatest Guitarists of All Time-level riff that powers this homage to sin, John Lee Hooker and "a lotta nice girls, ah." From ZZ Top's 1973 album Tres Hombres. Have mercy!
2) "Two Trains" by Little Feat
Who says the ultimate driving song has to be about a car? I've had some fairly unique road experiences riding the rails. Not to be confused with that other iron horse classic, "Two Trains Running" by the Paul Butterfield Blues Band, this boogie-down get-down off 1973's Dixie Chicken by the ultimate funky slide guitarist, Lowell George, god rest his wise old soul, makes you want to dance. Revisiting this tune caused me to reach up for my dog-eared copy of the LP (the greatest in the Feat canon) and wear the grooves down even further.
1) "Born To Run" by Bruce Springsteen and the E Street Band
The best live version of this certified classic drivin' song – with Clarence Clemons pumping the overdrive – is agreed to be his performance at London's Hammersmith Odeon in 1975, but the YouTube video for it is audio only. Have no fear. A most rockin' live version was captured of Bruce and the E Street Band at the Capital Centre in Landover, MD on August 15, 1978.
Related: Our readers have spoken! Here are 11 more