Fleetwood Mac Finds Fame in the '70s: A Vintage Interview
by Harvey Kubernik
For the June 12, 1976, issue of the now defunct U.K. music weekly Melody Maker, American journalist Harvey Kubernik interviewed Fleetwood Mac co-founders Mick Fleetwood and John McVie for a feature story. He also attended several recording sessions when the band was cutting Rumours in West Hollywood at Larrabee studios. Looking back at the story now, it reveals a band still getting accustomed to the idea that—with its latest personnel changes—fame has finally arrived, after a decade together.
We present the 1976 interview here for the first time since it was originally published. [Some edits have been made for style and to reflect the decades gone by.]
***
The last year has brought Fleetwood Mac a platinum LP, simply titled Fleetwood Mac, their eighth album for Reprise Records, from which two top 10 singles, "Over My Head" and "Rhiannon," have been culled.
Last week, months after its release, Fleetwood Mac was still lodged at number 5 in the American chart. Fleetwood Mac (the band) exemplifies the notion that if you stick around and work hard enough, success is bound to happen.
Initially a byproduct of the John Mayall School of Blues, circa 1967, Fleetwood Mac's emphasis has shifted, due to personnel changes, coupled with the growing sophistication of '70s audiences. The group's music has moved from a blues-based British rock sound to a softer, song-based style reflecting the languid life of Southern California, where they now reside.
Listen to "Monday Morning," the opening track on the self-titled 1975 LP
Enter tall and lanky drummer Mick Fleetwood. Sixteen months ago, when Bob Welch, after a four-year stint with the Mac, was leaving to form another group (later to be called Paris), Fleetwood ran into a guy at a supermarket.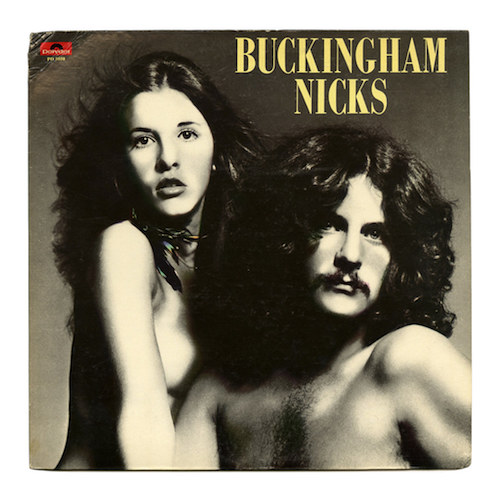 "He told me about a studio, Sound City in Van Nuys," recalls Fleetwood in an interview. "I went out there, since I was looking for a studio to do our next album, and they played me a tape of Stevie Nicks (female vocalist) and Lindsey Buckingham (guitars, vocals), which they had done a couple of years ago.
"At the time I made a mental note about them, and soon after made a phone call to them asking if they wanted to join."
The two recruits brought new influences and stylistic direction, Buckingham contributing a harder rock sound, and Nicks providing a second female voice (augmenting longtime keyboardist/vocalist Christine McVie), which allowed greater scope for harmonies.
"They called up and said, 'Do you want to do an album together?" remembers Stevie Nicks, then working as a waitress at Clementine's, a Beverly Hills singles joint. "Lindsey and I said, 'Are you kidding?' and joined." Buckingham was then punching the clock in the advertising world after the flop of their joint debut Polydor album, Buckingham-Nicks.
One of the reasons for Fleetwood Mac's current success is that they've always been a working group, but they had to make huge efforts to re-establish themselves after the "fake" Fleetwood Mac episode. [The band's former manager, Clifford Davis, put an ersatz Fleetwood Mac band on the road and lined up a series of appearances. But, after much dispute, the real Fleetwood Mac, i.e., the one containing original members, won an injunction prohibiting the ex-manager from using the group's name. The suits and countersuits are still pending.]
"We had to keep working and touring to establish our credibility. Musically, the band on record and live has always been fairly effective," says bassist John McVie.
"There's more room to stretch out, and it's more fun to play now," he adds. "There's only so many ways you can play 12-bar blues, but I never felt restricted, and there's never been a conscious change in musical direction. The last album was more melodic, though, and we were able to bounce off harmony structures and ideas."
"Over My Head" was a monster hit in America. "We would never have picked 'Over My Head' as a single," Christine McVie said recently. But the radio stations did, and "Rhiannon," the next 45, cemented a relationship with the important AM audience that Fleetwood Mac has been seeking in the States for years.
"People come up to me every place we play and tell me what an effect 'Rhiannon' has had on their lives, as if it has some spiritual power over them," offers Nicks, whose tune about a Welsh witch, written two years earlier, is never off United States radio. Onstage, she is a focal point, and enlivens Mac's past low-profile performances.
"The success of the last album went beyond my wildest expectations," admits Fleetwood. "I mean, we were confident that we had made a dynamite recording, and felt a hell of a lot of new energy and dimension from Stevie and Lindsey.
"We concentrated on the U.S. In the States our albums pretty much sold in the 200-250,000 range. We were always appreciated and we never lost anyone. The cult kept growing. Wide-scale acceptance has always been around the corner. We started here at the club level and worked all the way up through small halls, second and third billings, headline status and some outdoor things."
"We've always kept a low profile and away from hype," explains John McVie. "That's the way we are as people. That was the only conscious thought about the band. We never wanted to be viewed or reported as the biggest thing since sliced bread.
"Me, Chris [McVie] and Mick have been working for a long time. We've eaten every day and had money for smokes. I'm proud we pushed ahead. The success now makes some justification for the effort of the past."
But there's an incredible dichotomy between their status in America and in England.
"What happened," suggests Fleetwood "is that the band was really big in England when Peter [Green] was in the band. We had hits, and everybody in the group was nurtured, and the people became possessive over the players.
"We started working less over there and more over here, even when Peter was in the group. People lost a grip on something that had been very intense. We started getting a following over here, and the band has been evolving since. Hopefully, towards the end of the year, if we do a European/English tour, they'll get a taste of the band, and I think they'll really like it."
John McVie: "We moved here two-and-a-half years ago. We moved after spending nine months in a lawyer's office, going through all the legal trips. Obviously, Los Angeles was the place to go. The record company was here, and communication is easier in America. We had to get out of England 'cause we were going crazy. We were driving up to London every day and spending all our time in an office.
Related: Mick Fleetwood reflects on Rumours
"I think one day John and I will write a book on what's gone down," says Fleetwood.
"The only problem is that no one will believe us," adds McVie.
"John and I have been through some unbelievable moral/mental decisions," says Fleetwood. "But we never wanted to kick it. Perseverance and work kept Fleetwood Mac together and a lot of people before us gave up, sayin' this isn't worth it."
"We did interviews with Newsweek and People magazine recently," says John McVie. "It's funny being on the same page next to a big article on Jimmy Carter. We're reaching audiences that never heard of Fleetwood Mac, and it's good to have finally gotten away from questions like, 'Whatever happened to Peter Green or Jeremy Spencer?' If Mick and I write the book, most people would think it was a science fiction story."
"People tell me all the time they hear our songs and old LPs on the radio. It's a buzz and a beautiful feeling to be discovered and rediscovered," says Fleetwood. Indeed, the very tentative title for the next album is Yesterday's Gone, also the title of one of the songs. [Editor's note: That album ultimately came out as Rumours, and the song was retitled "Don't Stop." They both did pretty well.]
"This album reflects every trip and breakup," says Fleetwood. "It isn't a concept thing, but when we sat down listening to what we had, we realized every track was written about someone in the band. Introspective and interesting, kind of like a soap opera. The album will show sides of people in this group that were never exposed before."
Watch the "Landslide" video, recorded live in 1975
Latest posts by Harvey Kubernik
(see all)