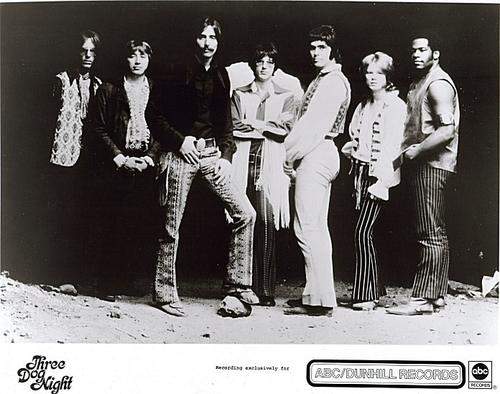 Some memorable classic rock hits dominated the Top 10 on Los Angeles' KHJ radio in September 1972. But the lower part of the survey is also notable for some huge chart hits by several all-time greats.
Bubbling under at #29 was Elvis Presley's "Burning Love." The song would ultimately peak nationally at #2, his final Top 10 U.S. single.
Rick Nelson's "Garden Party," written in response to his being booed for the Madison Square Garden stage a year earlier, debuted at #25. It would eventually reach #6, also marking his final Top 40 hit.
The O'Jays' classic "Back Stabbers" jumped from #24 to #20 (on its way to #3).
The hits just keep on coming! At #18 (up from #26) was Rod Stewart's "You Wear It Well." And at #17: Leon Russell's "Tight Rope," (from #21).
The Raspberries' biggest hit, "Go All The Way," jumped from #18 to #14. It would peak at #5 nationally.
Argent's signature hit "Hold Your Head Up" was at #9 and was the only charting single they ever had in the U.S.
The Moody Blues' "Nights In White Satin" took a huge jump from #14 to #8 on its way to #2 on the Billboard Hot 100 to become their highest-charting single. (The song was originally released in 1967 and is featured in Best Classic Bands' feature, 10 Re-released Songs That Became Hits.)
At #5, "Honky Cat" was the third in a phenomenally successful string of 15 Top 10 singles in six years for Elton John.
Gilbert O'Sullivan's huge hit "Alone Again (Naturally)" was at #4, following six weeks at #1. (It was the year's #2 biggest hit.)
Chicago was at #2 with "Saturday In The Park," their highest charting hit up to that point in their career although it stalled nationally at #3. (No need to shed a tear: they ultimately enjoyed three songs that went to #1 among their 21 Top 10 singles.)
Meanwhile, Three Dog Night were also in the midst of a stretch of chart dominance: "Black And White" was one of nine Top 5 hits they charted from 1969-73.
Did you know that "Black And White" was written in 1954 in reaction to the landmark U.S. Supreme Court decision, Brown v. Board of Education, which banned racial segregation of public schools?
Related: The top radio hits of 1972
25. "Garden Party" – Rick Nelson (Decca)
20. "Back Stabbers" – The O'Jays (Phila. Intl.)
18. "You Wear It Well" – Rod Stewart (Mercury)
17. "Tight Rope" – Leon Russell (Shelter)
14. "Go All The Way" – The Raspberries (Capitol)
10. "I'm Still In Love With You" – Al Green (Hi)
9. "Hold Your Head Up" – Argent (Epic)
8. "Nights In White Satin" – The Moody Blues (Deram)
7. "You're Still A Young Man" – Tower Of Power (Warner Bros.)
6. "Beautiful Sunday" – Daniel Boone (Mercury)
5. "Honky Cat" – Elton John (Uni)
4. "Alone Again (Naturally)" – Gilbert O'Sullivan (MAM)
3. "Play Me" – Neil Diamond (Uni)
2. "Saturday In The Park" – Chicago (Columbia)
1. "Black And White" – Three Dog Night (Dunhill)

Latest posts by Best Classic Bands Staff
(see all)