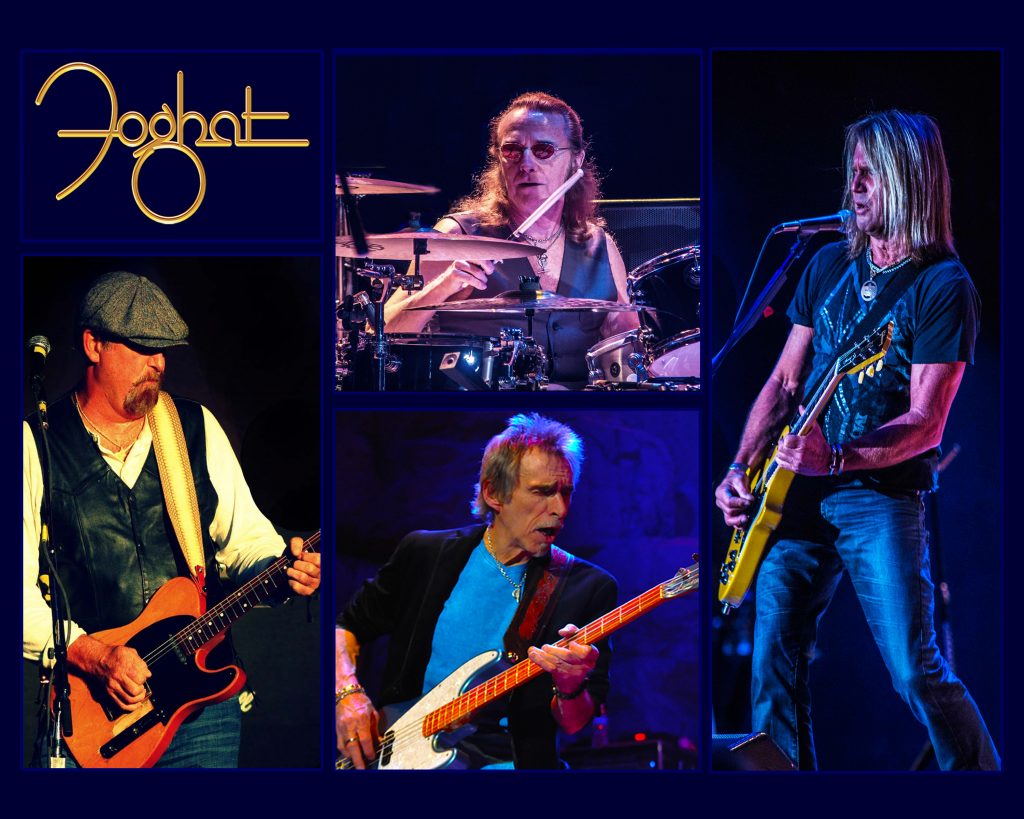 Fans of great '70s boogie-rock could always count on a new Foghat album every year, starting with their 1972 self-titled debut. The band is well known for "Fool For The City," "Drivin' Wheel," their cover of "I Just Want to Make Love to You" and their biggest hit – and one that remains a classic rock staple – "Slow Ride."
Now, as Foghat readies the June 24 release of their first new album in six years, Under The Influence, the band is sharing one of their new songs exclusively with Best Classic Bands readers.
"Hot Mama" is 3:43 of explosive guitar-driven rock 'n' roll with that signature Foghat sound and a perfect anthem for the summer of 2016. You want new '70s classic rock from one of the bands that perfected it?  That guitar!  Those drums! The kick-ass vocals! What are you waiting for? Give it a listen!
For Under The Influence the band not only brought in some special guests from their past who helped launch and inspire the Foghat story, but also invited some new friends into the mix.
Included on the album is a great new recording of "Slow Ride" to celebrate its 40th anniversary. They invited Nick Jameson, (original bass player and producer of "Slow Ride" on the 1975 Fool for the City album) to play along with Foghat bassist Craig MacGregor who played bass on the band's 1977 Live LP. Lead singer Charlie Huhn provides great vocals and Bryan Bassett's extended guitar solo results in a terrific updating of the classic song. Clocking in at 7:43, it's close in length to the original's 8:14 and not the truncated single version one normally hears on the radio.
Related: Foghat: The Complete Bearsville Album Collection Released
Foghat started recording Under The Influence at their Florida studio, Boogie Motel South, in 2013. In addition to original drummer Roger Earl, and the long time members MacGregor, Huhn and Bassett, two additional figures helped shape the sessions: Buddy Guy alum, Scott Holt, who lent a hand in the writing, and added guitar and vocals to several tracks, and Grammy winning producer/songwriter, Tom Hambridge.
Bonus: Foghat has shared a second track; check out the title cut from the new album…
Foghat started when Earl, bassist Tony Stevens and singer-guitarist Dave Peverett left the British blues band Savoy Brown, and were joined by guitarist Rod Price. Helping to bring things full circle, Savoy Brown founder and guitarist Kim Simmonds performs on Under The Influence. As Earl puts it "Kim gave me my shot!" Singer-actress Dana Fuchs adds vocals to several songs. Foghat enjoys an active – and entertaining – presence on Facebook.
Don't miss a post! Sign up for Best Classic Bands' Newsletter; form is on every page.
Under The Influence track listing:
Under The Influence
Knock It Off
Ghost
She's Got A Ring In His Nose
Upside Of Lonely
Heard It Through The Grapevine
Made Up My Mind
Hot Mama
Heart Gone Cold
Honey Do List
All Because Of You
Slow Ride
(If you're a new Best Classic Bands reader, we'd be grateful if you would Like our Facebook page and/or bookmark our Home page.)
Foghat 2016 Tour Dates (click here for tickets; if sold-out, some dates are also available here):
June 17 – Marion, IL – Black Diamond Harley-Davidson Summer Concert Weekend
June 18 – Florence, KY – Florence Freedom Ballpark
June 25 – Sunbury, PA – Spyglass Ridge Winery (with Joan Jett and Early & the Agitators)
June 30 – El Cajon, CA – Sycuan Casino
July 02 – Sherman, TX – Pecan Grove Park
July 16 – Albany, OR – Linn County Fair
July 20 – Omaha, NE – Baxter Arena (with Boston and Blue Oyster Cult)
July 22 – Walker, MN – Moondance Jam 25
Aug 03 – Columbus, OH – Ohio State Fair (with John Kay and Steppenwolf)
Aug 04 – Kitchener, ON – Kitchener Blues Festival (with Earl & the Agitators)
Aug 06 – Okoboji, IA – Arnold's Park
Aug 08 – Sturgis, SD – Full Throttle Saloon
Aug 09 – Ridgefield, WA – Clark County Fair
Aug 12 – Santa Cruz, CA – Santa Cruz Beach Boardwalk
Aug 19 – Wendover, NV – Peppermill Casino
Aug 22 – Airway Heights, WA – Northern Quest Resort & Casino
Aug 28 – Uncasvile, CT – Mohegan Sun
Sept 2 – Woodward, OK – Woodward County Fairgrounds
Sept 3 – Walla Walla, WA – Walla Wall Frontier Days 2016
Sept 4 – Huron, SD – South Dakota State Fair
Sept 17 – Cottonwood, AZ – Thunder Valley Rally
Sept 21 – New York, NY – BB King's
Sept 23 – Yakima, WA – Central Washington State Fair
Oct 08 – Colonial Beach, VA – Colonial Beach Bike Festival
Oct 14 – Las Vegas, NV – Golden Nugget Casino
Oct 15 – Tyler, TX – Rock the Square
Nov 12 – Miami, FL – Magic City Casino (with The Guess Who and War)

Latest posts by Best Classic Bands Staff
(see all)