The Glory of 'Gloria': Behind Van Morrison's Most Resilient Rock 'n' Roll Anthem
by Jeff Tamarkin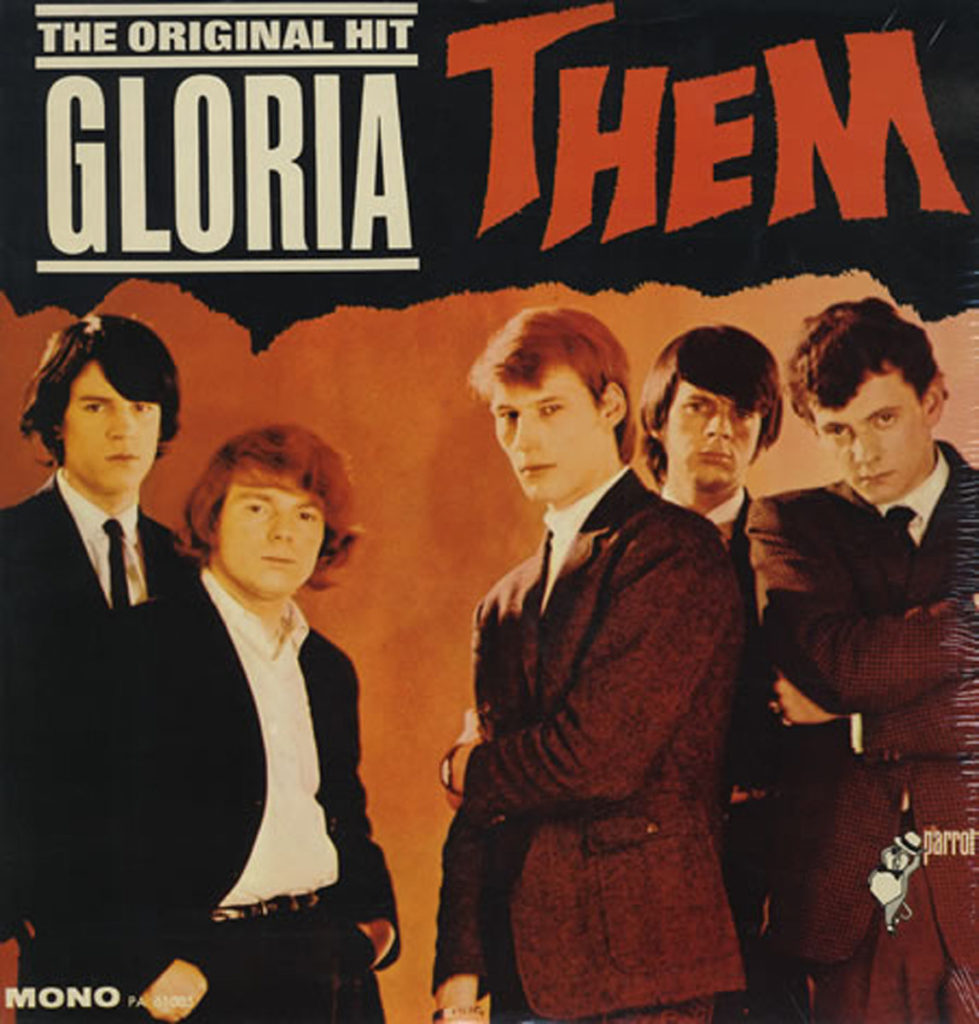 "And her name is G-L-O-R
Ah-ah-ah-ah
G-L-O-R-I-A (Gloria)
G-L-O-R-I-A (Gloria)
I'm gonna shout it all night (Gloria)
I'm gonna shout it every day (Gloria)
Yeah-yeah-yeah-yeah-yeah-yeah"
So goes the chorus of one of the greatest, and most covered, garage-rock anthems of the 1960s. That was it, nothing more to it. Our boy is so taken by this glorious being whose name is Gloria that he's going to shout her name all night; in fact, he's gonna shout it every day. You could say he's smitten.
Written by 18-year-old George Ivan Morrison, better known as Van, "Gloria" has received the Grammy Hall of Fame Award and is included in the Rock and Roll Hall of Fame's 500 Songs That Shaped Rock and Roll—twice, although neither of the recorded versions cited is Morrison's original.
Perhaps that's because "Gloria," credited to Them, the Irish band Morrison fronted, was not a hit in the United States in its original form. It peaked at #93 on the Billboard singles chart, slightly higher than its flip side, "Baby, Please Don't Go." In the U.K., "Gloria" was the B-side and "Baby, Please Don't Go" what radio folks called at the time the "plug side." The latter made the top 10; "Gloria" was noticed only by the few who bothered to turn the record over.
Watch a video of Them (with a young Van Morrison) performing Gloria" live
Maybe we need to back up a bit to understand how a song originally considered a throwaway became so ubiquitous and influential.
But before we do even that, it should be noted that the "Gloria" from Van Morrison wasn't even the first song by that name to make its presence known during the rock era. First there was the R&B ballad "Gloria," a street-corner staple written by Leon René in 1940, then covered by numerous singing groups, notably the Cadillacs (1954) and Vito and the Salutations (1962), and probably dozens of other purveyors of harmony, all the way up to 1975 when it was revived yet again by Manhattan Transfer.
The tale told in that tune was pretty simple too. The gist: She's Gloria. She's not Marie. She's not Sherie. Get her name right: Gloria. It seems this particular Gloria is "not in love with me." That may change, the singers hope: "Well, maybe she'll love me, but how am I to know?/And maybe she'll want me, but how am I to know?" We never find out—as the song ends, Gloria still hasn't come around.
Nor is doo-wop Gloria the same lass who's at the heart of Laura Branigan's 1982 disco hit of the same title. That song, written three years earlier by the Italians Umberto Tozzi and Giancarlo Bigazzi, was then rewritten with new English lyrics that, Branigan once said, were about "a girl that's running too fast for her own steps." She took her "Gloria" to #2 in the States but, sadly, Branigan died in 2004 at age 47, the result of a brain aneurysm.
Listen to the original "Gloria" by Them–in stereo.
In any case, the Gloria on the mind of Van Morrison in the summer of 1963, when he penned his song during an engagement in Germany with his group the Monarchs, bore little in common with doo-wop Gloria or disco Gloria. Morrison's Gloria had one purpose in life: to please him.
It begins, inexplicably, with a description of her height:
"Like to tell you about my baby
You know she comes around
About five feet four
A-from her head to the ground"
She may be fairly short, the singer then explains, but she's determined:
"You know she comes around here
Just about midnight
She make me feel so good, Lord
She make me feel all right"
The aforementioned chorus follows, sung—one might say snarled—by the precocious red-headed Morrison, only five-foot-five himself and already so excited that a guitar solo is needed to give him a few seconds to catch his breath.
But he's just starting to get worked up. When he returns from the chorus, our young stud, a teasing organ riff helping him along, goes graphic. You can hear his lust:
"You know she comes around here
At just about midnight
She make me feel so good, Lord
I wanna say she make me feel all right
Comes a-walkin' down my street
When she comes to my house
She knocks upon my door
And then she comes in my room
Yeah, an' she make me feel alright"
Another chorus or two, the band builds its slinky, bluesy vamp to a frenzied crescendo, and Gloria and Van are presumably on their own in his private lair, doing whatever.
Watch: Van Morrison was still singing "Gloria" when he performed at the Hollywood Bowl in 2008
Before we continue though, this is as good a time as any to wonder why there have been so many different songs named "Gloria." What's so special about Gloria?
The word gloria, according to our friends at the Merriam-Webster dictionary, goes all the way back to the 13th century. In Latin it means, simply, glory. In common usage, it was usually seen as Gloria in Excelsis: glory (be to God) on high. Apparently, it didn't become popular as a given name until the 20th century, following the publication of George Bernard Shaw's 1898 play You Never Can Tell. Only then did it take off. Actress Gloria Swanson was born in 1899 and by mid-century, Gloria had become quite popular as a baby name: Gloria Estefan, Gloria Steinem and Gloria Gaynor are just a few of the better known Glorias. It has since basically dropped off the charts as a baby name. So long, Gloria.
Related: Van Morrison is one of the great blue-eyed soul singers of all time. Who are some of the others?
It's doubtful that Van Morrison, born Aug. 31, 1945, was considering any of that when he wrote his song. More likely, the name's six letters just happened to fit the particular rhythm he'd conjured up, sounded especially cool when shouted, and worked well with the three chords he assigned to his tune: E, D and A. (So easy, anyone can play it!)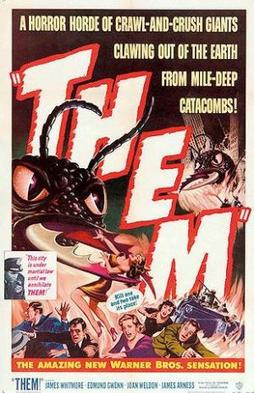 Morrison didn't perform his new composition regularly until the year after he'd written it, upon his return to his home base of Northern Ireland from his stint in Germany. By that time, he'd decided to leave his then-current band, the Golden Eagles, and quickly hooked up with an already-working group called the Gamblers: Billy Harrison (guitar, vocals), Eric Wrixon (keyboards), Alan Henderson (bass) and Ronnie Milling (drums). Morrison both sang and played the saxophone.
A new, more memorable name was needed, they decided, and so they became Them, taken from a campy 1954 sci-fi film about colossal ants attacking L.A. "Gloria" made its debut when Them performed one of their regular gigs at Belfast's Maritime Hotel. The song, Morrison once recalled, could last up to 20 minutes onstage, with long improvised sections that found him extending the story of his nighttime visitor every which way.
Decca Records took notice, and on July 5, 1964, with Pat John McAuley replacing Wrixon on keyboards and session musicians filling in some of the parts, Them recorded "Gloria."
Them steadily grew their audience not only in Ireland but in England, touring frequently, and soon set their sights on America, where, by mid-1965, the British Invasion was in full swing. Signed to Parrot Records in the U.S., which had recently hit the jackpot with Tom Jones' It's Not Unusual," Them sat back and waited for "Gloria"/"Baby, Please Don't Go" to take off.
And waited, and waited…
But Them simply did not make a dent in the U.S., even while they continued to score in the U.K. (the phenomenal "Here Comes the Night" reached #2 there in the spring of '65). By 1966, Morrison had decided it was time to strike out on his own. He has since done OK for himself considering his early band's relative failure outside of its homeland, having released more than 40 albums and attained the status of rock god. Inducted into the Rock and Roll Hall of Fame in 1993, the famously curmudgeonly Van Morrison became the first living inductee to not attend his own ceremony.
Related: Our Album Rewind review of Van Morrison's equally timeless Astral Weeks
"Gloria," of course, did not die with Morrison's split from Them (who continued for some time without him). Its ascendance to garage-rock immortality began soon after its failure to score big in the U.S. Seemingly every local rock 'n' roll band worth its twang had discovered the tune despite its lack of airplay and sales, and had begun including it in their own sets. Among those was the Shadows of Knight, a band from the Chicago suburb of Mt. Prospect that took the British version of blues favored by groups like the Rolling Stones, the Yardbirds and the Animals—and Them—and gave it a tough, soulful, Chicago-style toughening up.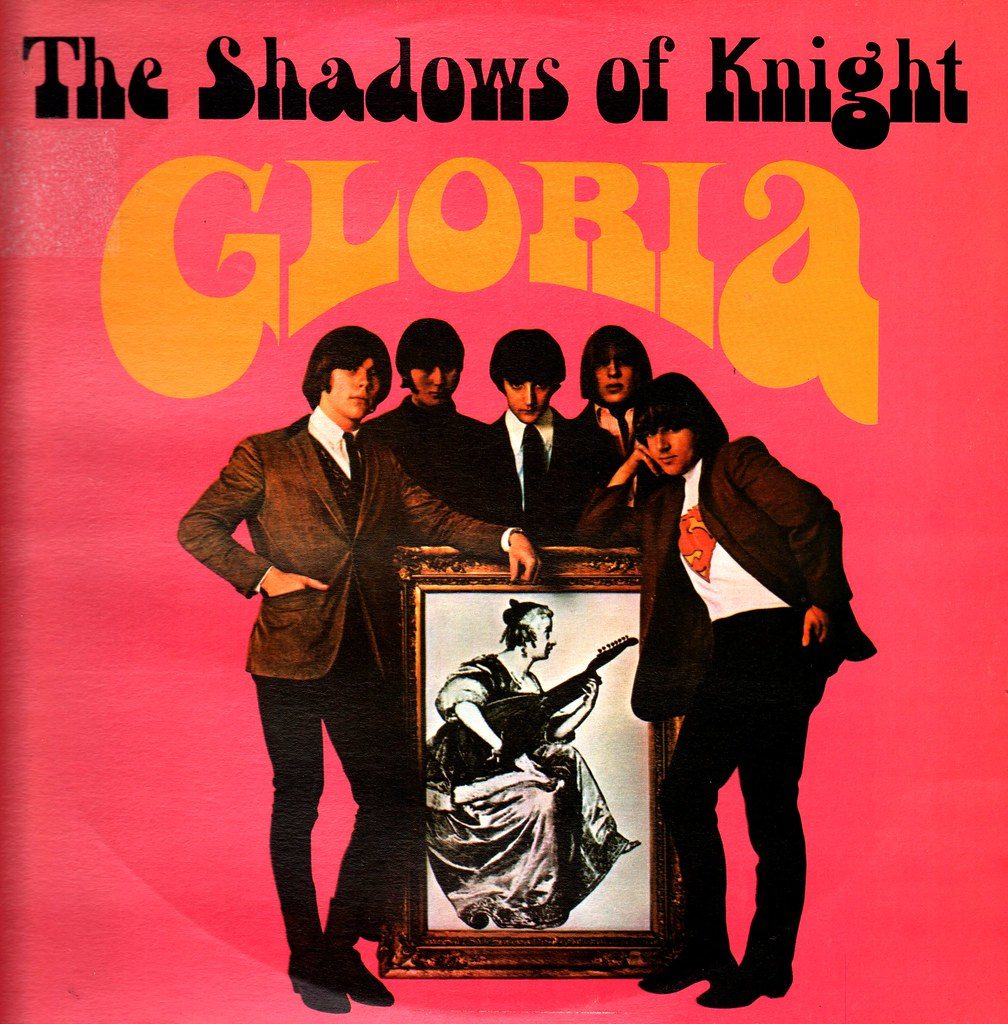 Fronted by 16-year-old Jim Sohns, the Shadows of Knight had formed in 1964 as the Shadows, but when it was pointed out to them that a very popular group existed in Britain by that name, they added the "of Knight" and carried on. Their live performances of "Gloria" went over well with audiences and when they were signed by the local Dunwich label, the group recorded its own take on "Gloria," close in its approach and arrangement to the Irish original, changing a few words to make it radio-friendly in America (no more "She comes in my room").
Released in December 1965, "Gloria" was a local hit at first, aired all over Chicago radio. Eventually, it was picked up by other stations around the country and on March 19, 1966, the Shadows of Knight's "Gloria" entered the Billboard singles chart. It wouldn't stop climbing until it perched at #10 the week of May 7.
Listen to the Shadows of Knight's hit version
The Shadows of Knight placed four more singles on the chart, but none approached the success of "Gloria." They also recorded three albums, with Sohns the only remaining founding member after 1967. He continues to front a lineup of the group today.
"Gloria" went into temporary hibernation as the '60s faded into the more cerebral 1970s. The garage sound in general became dormant as new offshoots of rock came into play. In 1972, rock journalist/record store clerk Lenny Kaye created, for Elektra Records, a two-LP collection of '60s singles titled Nuggets: Original Artyfacts from the First Psychedelic Era, which included the Shadows of Knight's cover of Bo Diddley's "Oh Yeah," their followup single to "Gloria," but only a few took notice of the album at first. (Later it would become massively influential.)
Among the handful that did pay attention to Nuggets, however, were other budding musicians, who were growing tired of the excesses of '70s rock and longing for a return to the simple, more aggressive sounds proffered by bands like the Shadows of Knight, the Standells, the Count Five and the Barbarians.
Some of those musicians might even have taken notice of the phrase "punk-rock," which Kaye used in his liner notes.
Among those who got what Kaye was offering was a young woman from New Jersey named Patti Smith, a poet who had begun setting her words to music onstage around New York City—with Lenny Kaye backing her on guitar. Signed by Clive Davis to his Arista Records in 1975, Smith and her eponymous band cut their debut album, which quickly became a sensation among critics, some of whom began comparing her with Bob Dylan.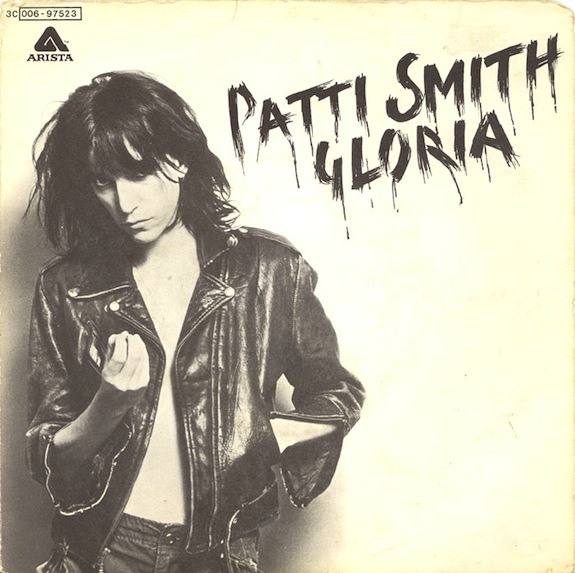 The album, Horses, launched with Smith's own interpretation of the now-10-year-old Van Morrison tune, "Gloria," which she retitled "Gloria: In Excelsis Deo" and reworked so completely that the familiar "G-L-O-R-I-A" chant doesn't surface until halfway into its six minutes. Starting with the provocative lyric "Jesus died for somebody's sins but not mine," Smith's slow-building "Gloria" is a tour de force of the emerging punk rock, nothing less than one of the most exhilarating and thought-provoking marriages of rock and poetry ever committed to tape.
Listen to Patti Smith's unique reboot of "Gloria"
Horses wasn't a big hit, stalling at #47 on the Billboard LP chart in early 1976. Although her concerts sold out and her reputation as an innovator was stellar, Smith wouldn't enjoy a hit single until "Because the Night" in 1978, which she co-wrote with Bruce Springsteen. But she too, like Van Morrison, managed to survive any disappointing lack of early commercial success: Smith was inducted into the Rock and Roll Hall of Fame in 2007, is still recording and performing today (with Lenny Kaye still accompanying her) and her version of "Gloria" is considered a classic in its own right.
It's the Shadows of Night and Smith versions that the Rock Hall honored on its "Songs That Shaped…" list. Morrison's original was shunned, although he did make that list with two other classics, "Brown Eyed Girl" and "Moondance."
The song has, in fact, long lived a life of its own. Among those who've covered it over the decades are the Doors, who performed it between 1968 and '70 (Jim Morrison, just to be clear, was no relation to Van) and included it on their 1983 live album Alive, She Cried.
AC/DC covered the tune in their early days, U2 grafted it onto the ending of their song "Exit," and David Bowie sang it on his 1990 Sound and Vision tour. The Jimi Hendrix Experience's version can be found on a few different compilations and boxed sets, Tom Petty included it on his 2006 Highway Companion tour, and Bruce Springsteen has also been known to perform it at select live shows. Iggy Pop's 2011 album Roadkill Rising features his take, while Green Day, Bon Jovi, Robert Plant and the Grateful Dead have also bowed to its genius.
Watch Robert Plant sing the song live
In 2007, actor Bill Murray attempted to play it at the Crossroads Guitar Festival, claiming it was the only song he knew. Festival host Eric Clapton helped him finish it.
"Gloria" began life humbly, as a barely acknowledged vamp by an up-and-coming Irish blues-rocker. More than half a century later it's recognized as a cornerstone of rock music. That's something to shout about—all night long!
Listen to Van Morrison and John Lee Hooker teaming up on a "Gloria" duet in 1993
How about a 9-minute version from the Grateful Dead?
Watch: And now it's Bruce Springsteen's turn
And, to wrap things up, Tom Petty and the Heartbreakers…

Latest posts by Jeff Tamarkin
(see all)