Henry Diltz: Eyewitness to Laurel Canyon's '60s Music Legends
by Greg Brodsky
The outstanding Laurel Canyon documentary that Epix premiered in June 2020 offered renewed attention to that vibrant music scene in the period between the mid-'60s and mid-'70s. One of the program's most important storytellers is photographer Henry Diltz.
Diltz didn't pick up a camera until 1966 when he was in his late twenties. "I didn't go to photography school," he says. "I've never developed a roll of film in my life." But through friendships and a shared brotherhood, he ultimately became an eyewitness to the tremendous evolution of popular music that developed in the Los Angeles neighborhood known as Laurel Canyon. "For 50 years, I never once thought I'm recording 'this historical archive.'" Luckily for us, that's exactly what happened.
Diltz was a founding member of the Modern Folk Quartet, which toured extensively in the early '60s, and it was this shared experience as a successful, working musician that helped make him part of the scene.
"I just felt at home on the stage as a musician," he says. "We were kind of a brotherhood…a club. Everybody knew each other. All I knew were musicians. That was my life. We lived a certain lifestyle. We were up all night. We slept late. We saw each other at clubs. We hung out. We smoked pot. That was my whole group of friends: musicians, always."
Like most musicians of his era, there was a specific moment when everything changed. It was 1964. "We [the Modern Folk Quartet] were doing a college tour," he recalls. "We knew [the Beatles] were gonna play that night, so we pulled into a motel early to get a room to watch them on TV. We'd heard of the Beatles but had never actually seen them. And we saw them and…wow! I would say every folk group that night watched the Beatles and watching them singing 'She loves you, yeah…yeah…yeah…' (sings) And so to see this, it was like, 'Why the hell are we singing about the ox driver?'" And Diltz, laughing, starts to sing, "I crack my whip…"
"And we said, 'Boy, they're having fun! That's what we want to do!' And we noticed that they were playing electric instruments and we're playing acoustic instruments. We had a standup bass that we'd carry around. We went out the next week, and our bass player, Chip Douglas, got an electric bass and we electrified our instruments."
For the most part, up until then, there were the singers and there were the songwriters. "The sea change was now the singers were gonna write their own songs," says Diltz. "You not only get their voice, but you get their feelings and their thoughts and their attitudes in the songs, too."
Best Classic Bands asked Diltz, born September 6, 1938, for his recollections—snapshots—of many of Laurel Canyon musical fixtures of the '60s.
So many of the bonds were formed at the Troubadour nightclub in West Hollywood. "We all hung out [there]. People would be inside watching the music or backstage or in the bar," Diltz recalls. "I remember being there one night in '64 with David Crosby and Roger McGuinn…he was Jim McGuinn then. He said, 'Henry, meet our new friend, Gene Clark. He just moved here from Missouri. And we're gonna start a group. We're gonna call ourselves the Beefeaters.' (laughs) And then it became the Byrds. Of course, it was all based on the Beatles. You got an English name that began with a 'B.'
"John Phillips kind of broke the rule of a folk singer writing a song," Diltz says. "He was early, feeling that in the air. His songs were so amazing. And the Mamas and the Papas: two guys and two girls…the way they sang and the way they had the harmonies."
Could Michelle Phillips take a bad picture, he's asked? "Oh, God, no. Yeah, she was so beautiful…like an angel. And a sweet lady. Of course, she and John had their ups and downs.
"And there was Mama Cass, one of the best voices that ever came along in our lifetime. She was just a natural phenomenon. It was something to behold.
"But the genius was, I think, John Phillips. And his arranging and his songwriting. Good lord."
Watch the Mamas and the Papas sing about the canyon on The Ed Sullivan Show, on June 22, 1968
Diltz's first paid assignment was to shoot the Monkees on the set of their TV series, for Tiger Beat in 1967. "I got to be friends with them almost immediately because I was roughly their age. I was a hippie. I had long hair, the love beads, and was just like they were. Before I got there, it was always these professional AP photographers. They hated those guys. It was, 'Hey, boys, do something zany!' And they hated that.
I just watched and waited and took the photos as they happened. I would hide among the light stands where I could just sit there with my telephoto lens trained in on Davy Jones' face. He would turn around and laugh and I would get it."
While on the set, Diltz and Micky Dolenz would often horse around. "We'd be inside a soundstage of a big, wooden warehouse, with sets and lights," he recalls. "We'd climb up these steps way up to the top where there were catwalks. That was the world of the lighting guys up there. And we would walk across these catwalks. You'd look down two or three stories at all the heads of the people walking around and we would smoke a joint." [Diltz refers to it as "God's herb."]
The place to be was Mama Cass' house. "Cass was always going on these TV programs where they would have a new group just over from England. Bunch of young guys who had never been in America before. It happened with Cream one day and she met Eric Clapton, who was very shy, very quiet. And she said, 'Look you don't know anybody in town. Why don't you come up to my house tomorrow afternoon? I'll have some friends over.'"
Among those friends were David Crosby, who brought Joni Mitchell, since he was producing her first album. "So we were just hanging out and David was sitting out under the little birch trees at the edge of the property, smoking a joint. And Joni was sitting next to him with her guitar. Eric sat down. And David said, 'Hey, Joni, play us a tune.' And she sat and played the entire album that no one had heard yet.
"And Eric is sitting there staring at her. He's staring right at her fingers and notices how her finger is just laid over the fret board. She's not playing a C chord or a D chord or a G chord. She's just laying her finger over the whole fret board because she tunes her guitar to a chord. And then to change the chord, she just moves her one finger up and down, right across the fret board. And he'd never seen that before. The great blues player had never seen anything like that. You can tell just by looking at him. Years later, a friend of Eric's told me that that had blown his mind to see somebody playing such beautiful music without even playing a chord."
Diltz is asked if he can close his eyes and picture that moment. "Oh…right back there," he says. "The whole day."
Before a certain legendary trio formed, Diltz knew them all individually. He met Stephen Stills in New York City in '63 when he was singing at the Village Gate with the Modern Folk Quartet. "Stephen was this young kid," he says. "I don't know if he was 18 or 19, maybe, and he was singing at a little coffee shop where they would pass the basket. And in between sets, he would come and visit us because he really liked our sophisticated, four-part vocal harmony. A few times in between our sets, we'd go down and see him playing. I remember one song he was always playing was 'The Bear Went Over the Mountain.' (laughs) The guy who wrote 'Helplessly Hoping,' right?
"And I met David Crosby on the road. I think he was singing with Les Baxter's Balladeers. It was in Florida. We went by their club after we played a concert and I met David in the lobby. I remember he was wearing boots up to his knee. I remember thinking, 'Wow, look at that! It's like a pirate.'"
Then, in 1968, after Crosby had left the Byrds, and Buffalo Springfield had broken up, Mama Cass introduced Graham Nash to them. "She knew they needed a third voice. And she also knew that Graham wasn't happy in the Hollies. And he had that great high voice that they needed."
Related: Diltz shares the inside story of his famed 'Nash, Stills & Crosby' album cover
"I was very interested in people. I still am. That's the best part of this adventure of being alive…watching other people."
In the second part of our interview, Diltz talks about how the scene continued to evolve in the '70s.
Diltz' iconic works are available for purchase at the Morrison Hotel Gallery, which he co-founded.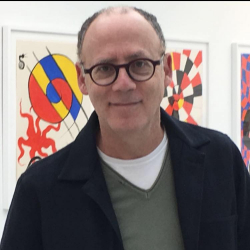 Latest posts by Greg Brodsky
(see all)