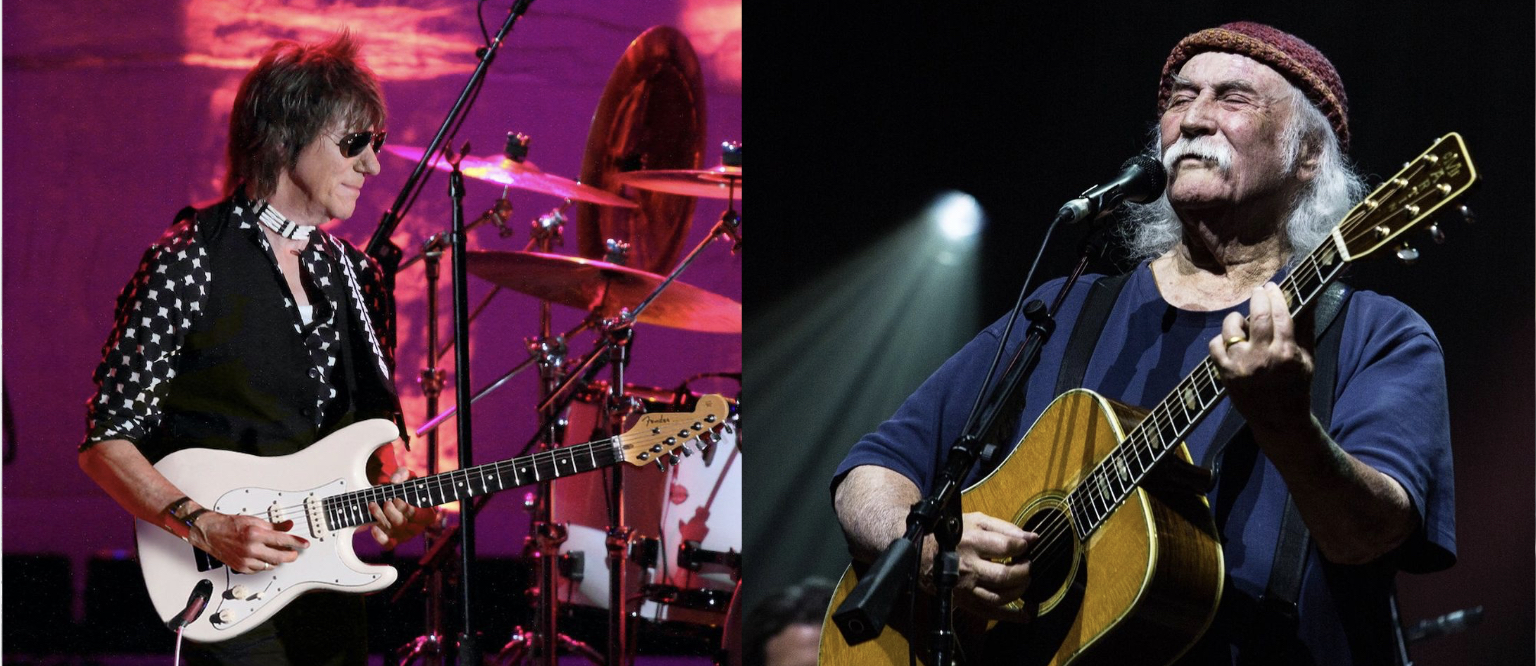 Although it is early in the year, we have already lost numerous luminaries within the wide sphere of the music community.
Below are just some of the artists and music industry influencers who have passed in 2023. They are arranged alphabetically, the person's name followed by the death date and a brief description of who they were.
If an artist's name is highlighted, you can click on it to be taken to Best Classic Bands' full obituary.
Below the list of musical artists, we've also noted several other prominent figures whose lives were lost in 2023.
We will miss all of these great talents. RIP.
Burt Bacharach—2/8—Masterful songwriter of hits for Dionne Warwick, Carpenters, B.J. Thomas, and more
Robbie Bachman—1/12—Drummer for Bachman-Turner Overdrive
Bruce Barthol—2/20—Founding bassist of Country Joe and the Fish
Paul Beasley—3/13—Tenor vocalist for the gospel group the Blind Boys of Alabama
Keith Beaton—1/13—Singer with Blue Magic ("Sideshow")
Jeff Beck—1/10—Trailblazing rock/blues/jazz guitarist
Jeff Blackburn—1/6—Half of the '60s folk-rock duo Blackburn and Snow; co-writer of Neil Young's "My My, Hey Hey (Out of the Blue)"
Jerry Blavat—1/20—Legendary Philadelphia disc jockey
Lin Brehmer—1/22—Disc jockey at WXRT-FM Chicago
Victor Brox—2/20—British blues musician
Dennis Budimir—1/10—Guitarist with the Wrecking Crew
Brian Bukantis—2/17—Founder of the long-running record collecting publication Goldmine magazine
Nigel Burlinson—1/18—Music publishing executive with key role in administering multiple song catalogs including the Beatles, Beach Boys, Yes, Supertramp and Bob Marley
Bobby Caldwell—3/14—R&B/jazz singer ("What You Won't Do for Love")
Nick "Chinga" Chavin—3/15—Leader of the '70s band Country Porn
Van Conner—1/17—Co-founder and bassist of Screaming Trees
David Crosby—1/18—Co-founder of the Byrds and Crosby, Stills and Nash; singer/songwriter
Carl D'Errico—1/3—Songwriter who co-wrote the Animals' hit "It's My Life" and songs for the Yardbirds and others
Dean Daughtry—1/26—Keyboardist and founding member of the Atlanta Rhythm Section and the Classics IV
Simon Emmerson—3/13—Co-founder of Afro Celt Sound System
Bobbi Ercoline—3/18—Woman pictured on the cover of the iconic Woodstock soundtrack LP
Renée Geyer—1/17—Jazz and soul singer popular in Australia
Jim Gordon—3/13—World-class drummer (with Eric Clapton, Joe Cocker, George Harrison and many others), who was imprisoned for killing his mother
Burt Gowers—1/15—Director of music videos, including Queen's "Bohemian Rhapsody"
Robert Haimer—3/4—Half of the duo Barnes & Barnes ("Fish Heads"), along with actor Bill Mumy
Gordy Harmon—1/5—Singer with R&B group the Whispers
Clarence "Fuzzy" Haskins—3/16—Co-founding vocalist with Parliament-Funkadelic
Leon Hughes—3/1—Member of the Coasters
Chuck Jackson—2/16—R&B singer ("Any Day Now")
David Jude Jolicoeur ("Trugoy the Dove")—2/12—Co-founder of rap group De La Soul
Howie Kane—3/27—Founding member of Jay and the Americans
Tom Leadon—3/22—Co-founder of Mudcrutch with Tom Petty
David Lindley—3/3—Multi-instrumentalist who worked with Jackson Browne and as a solo artist
Levi Lloyd—1/15—California-based blues guitarist
Glen "SPOT" Lockett—3/4—Producer for SST Records artists incuding Black Flag and the Minutemen
Robin Lumley—3/9—Fusion keyboardist; founding member of Brand X
Steve Mackey—3/2—Bassist with Pulp
Stanley Mieses—2/3—Music journalist for The New Yorker, Newsday and others
Butch Miles—2/2—Jazz drummer who played with Count Basie, Frank Sinatra, others
Joe Millar—2/10—Member of the Irish Rovers ("The Unicorn")
Johnny Powers—1/16—Rockabilly singer/guitarist
Lisa Marie Presley—1/12—Singer/songwriter and daughter of Elvis Presley
Alan Rankine—1/3—Keyboardist/guitarist for Scottish band the Associates
Keith Reid—3/23—Lyricist for Procol Harum ("A Whiter Shade of Pale")
Michael Rhodes—3/4—Session bassist who played on recordings by Bob Seger, Johnny Cash, Mark Knopfler, Brian WIlson, Stevie Nicks, Merle Haggard and many others
Larry Rivera—1/30—Hawaiian entertainer who worked with Elvis Presley on the film Blue Hawaii
Gary Rossington—3/5—Guitarist who was the last remaining member of the original Lynyrd Skynyrd lineup
Jerry Samuels—3/10—As Napoleon XIV, one-hit wonder who recorded the novelty song "They're Coming to Take Me Away, Ha-Haaa!" in 1966
Wayne Shorter—3/2—Jazz saxophonist and composer who co-founded the fusion band Weather Report
Huey "Piano" Smith—2/13—New Orleans R&B pioneer ("Rockin' Pneumonia and the Boogie Woogie Flu")
Floyd Sneed—1/27—Three Dog Night drummer
Phil Spalding—2/5—Bassist with GTR, Right Said Fred and others
Barrett Strong—1/29—Singer of Motown hit "Money (That's What I Want)" and co-writer of several Temptations hits
Yukihiro Takahashi—1/11—Vocalist for Yellow Magic Orchestra
Ted "Kingsize" Taylor—1/2—Leader of pre-Beatles Liverpool band
Charlie Thomas—1/11—Longtime member of R&B vocal group the Drifters
Anthony "Top" Topham—1/23—First guitarist for the Yardbirds
Tom Verlaine—1/28—Guitarist, singer and primary songwriter for the punk-era band Television
Lillian Walker—2/5—Vocalist with the Exciters ("Tell Him")
James "Owl" Walsh—3/4—Keyboardist with Gypsy
Fred White—1/1—Drummer with Earth, Wind & Fire
Frank Wyatt—1/11—Keyboardist for Happy the Man
Jeff Young—2/23—Keyboardist for Jackson Browne, Steely Dan and others
NON-MUSIC
Richard Belzer—2/19—Comedian and actor
Louise Harrison Caldwell—1/29—Sister of George Harrison
Bobby Hull —1/30—NHL star known as "The Golden Jet"
Charles Kimbrough—1/11—Best known for his role as news anchorman, Jim Dial, on TV's Murphy Brown
Gina Lollobrigida—1/16—Legendary Italian actress
Lisa Loring—1/28—Actress who played Wednesday on The Addams Family sitcom
Tim McCarver —2/16—All star catcher and Hall of Fame broadcaster who called 24 World Series as an analyst
Lance Reddick —3/17—Actor who frequently played an authority figure on such TV shows as The Wire, Bosch and Oz
Willis Reed —3/21—The Captain. Inspirational leader of the New York Knicks' first NBA Championship in the 1969-70 season.
Adam Rich —1/7—Child actor on TV's Eight Is Enough
Tom Sizemore —3/3—Actor well known for supporting roles in Saving Private Ryan and Heat
Stella Stevens —2/17—Actress who starred opposite Elvis Presley in Girls! Girls! Girls! and Jerry Lewis in The Nutty Professor
Raquel Welch—2/15—Actress and sex symbol
Cindy Williams—1/25—Actress in Laverne & Shirley sitcom and American Graffiti

Latest posts by Best Classic Bands Staff
(see all)